January 16-20 – 2018 – 16-20 de Enero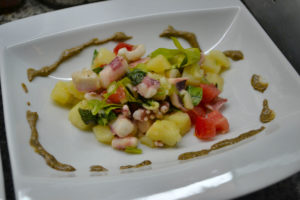 Squid / Potato / Lemon – chilled salad of blanched squid, celery, potato, red onion, tomato, mint, basil, Garlic, lemon, olive oil; salsa negra (charred rocoto, onion, and garlic blended with lime juice and olive oil).
Calamár / Papa / Limón – ensalada enfriada de calamár pochado, apio, papa, cebolla morada, tomate, menta, albahaca, ajo, limón, aceite de oliva; salsa negra (rocoto, cebolla, y ajo quemados y liquado con jugo de lima y aceite de oliva).
Philippe Caraguel Extra Brut, Mendoza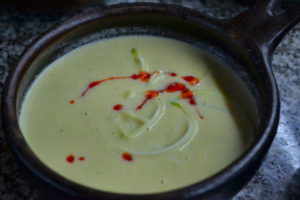 Zucchini / Shallot / Piquillo Pepper – pureed soup of sauteed zucchini, garlic, shallots, cumin, coriander, white wine, chicken stock, cream; zucchini julienne; pureed piquillo pepper.
Zapallito Largo / Echalote / Pimienta Piquillo – sopa en puré de saltado de zapallito largo, ajo, echalotes, cómino, coriandro, vino blanco, caldo de pollo, crema de leche; julién de zapallito largo; puré de pimienta piquillo.
Clara Benegas Chardonnay 2015, Luján de Cuyo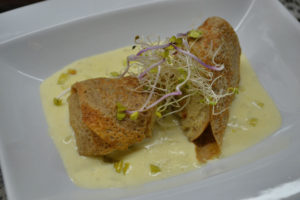 Chicken / Leek / Black Garlic – semolina and black garlic crepe; chicken mousse – chicken, onion, tomato, ginger, garlic, chili, cinnamon, turmeric, fennel seed, cumin, clove, black pepper, salt, cream, egg; leek, garlic, and serrano chili cream with goat cheese; sprouts.
Pollo / Puerro / Ajo Negro – panqueques de semolín y ajo negro; mousse de pollo – pollo, cebolla, tomate, jengibre, ajo, ají, canela, cúrcuma, anís, cómino, clavo de olor, pimienta negra, sal, cream, huevo; crema de puerros, ajos, y ají serranos con queso de cabra; brotes.
Monteviejo "Festivo" Rosé 2016, Valle de Uco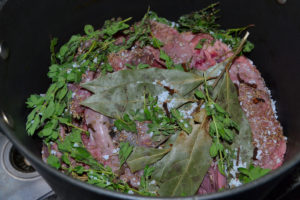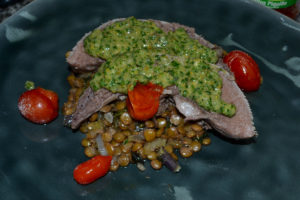 Pork Tongue / Lentil / Cilantro – four hour braised pork tongues infused with bay leaf, oregano, cumin, cloves; lentils in bacon stock with caramelized onions and kale; Cilantro ravigote sauce – cilantro, parsley, mint, olive oil, white wine vinegar, dijon mustard, capers, shallots, salt, pepper; roasted cherry tomatoes.
Lengua de Cerdo / Lenteja / Cilantro – lenguas de cerdo braseado durante cuatro horas con laurel, orégano, cómino, clavo de olor; lentejas en caldo de panceta con cebollas acaramelizadas y kale; salsa ravigote de cilantro – cilantro, perejíl, menta, aceite de oliva, vinagre de vino blanco, mostaza dijon, alcaparras, echalotes, sal, pimienta; cherys asados.
Gonzalo Tamaginin "Desquiciado" Garnacha 2017, Tupungato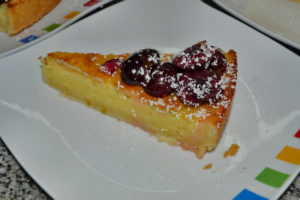 Lime / Egg / Cherry – lime custard tart; cherries macerated in limoncello; grated white chocolate.
Lima / Huevo / Cereza – tarta de quajada de lima; cerezas maceradas en limoncelo; chocolate blanco rallado.
Ruca Malen "Aimé" Moscatel de Alejandria 2016, Mendoza
---
Copyright © 2018
SaltShaker
. This feed contains copyrighted photos and text from SaltShaker. If you are not reading this material in a feed aggregator or by e-mail subscription, the site you are viewing may be guilty of copyright infringement. Please contact
[email protected]
so that I can take appropriate action.
Plugin by Taragana






This post first appeared on SaltShaker, please read the originial post: here