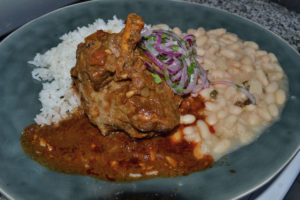 I promised a couple of months ago a step-by-step recipe for preparing a Peruvian Seco. Here I'm using cabrito, or baby goat, but it's the exact same process for cordero (lamb) or carne (beef), or, I suppose, for pollo (chicken), pato (duck), or whatever other meat you may care to make into this dish. This is going to look long and complicated, but it's really not, it's actually a pretty simple home cooked dish. It does take a little planning, but it's easy to do.
The particular accompaniments of Rice, white beans, and a red onion salad, are the way they make it in the north, around where Henry's from, but there are variations on what goes with it – a single rice and peas side is common in the south, I've seen it with potatoes, and even with pasta.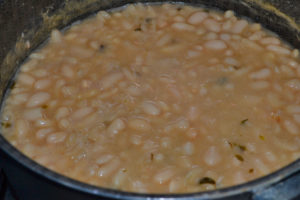 Let's start the night before – soak white beans in water overnight, then drain them, put them in a pot with about one and a half times the amount of water. For norteamericano tastes, these beans end up overcooked – falling apart – but that's the traditional way they're cooked. Add a small piece of pork skin into the pot and a couple of sprigs of oregano. Bring to a simmer and cook, covered, until they're more or less like in the picture. Maybe three hours. Soft and falling apart. Remove the stems from the oregano and the piece of pork skin.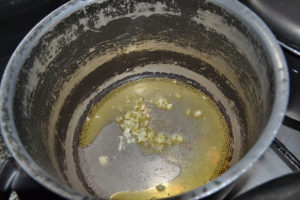 I don't think I've ever done a step-by-step of Peruvian rice. There are a couple of ways to do it – this is by far the easiest. A couple of tablespoons of olive oil in a pot, and some chopped garlic, cook until just starting to color.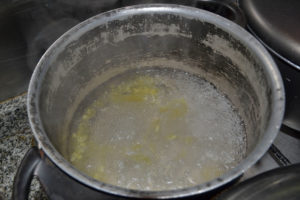 Add water – one and a half times the volume of the rice, plus a teaspoon or so of salt. Bring to a boil.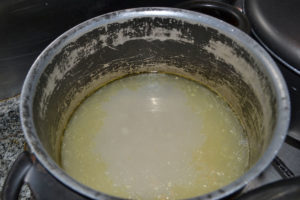 Add the rice. Stir well once, turn the heat down to minimum and cover the pot.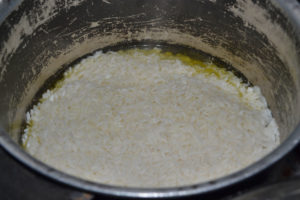 Cook for about 15-20 minutes over lowest heat and it should look like this.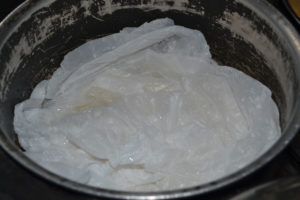 Here's the weird step – I've never seen this in any other rice-cooking culture, but it's common in Peruvian. Take a plastic bag and run it under cold water, all sides. Then spread it out, dripping wet, over the rice, and then cover the pot again. Continue to leave it over lowest heat for another 10-15 minutes. Fluff it once with a fork and let it sit, covered with the plastic bag.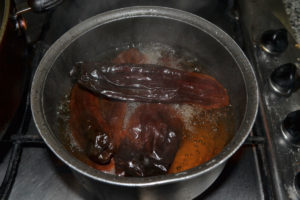 Take a few ají panka dried red chilies and simmer them in water until soft. Takes about half an hour over low heat, covered.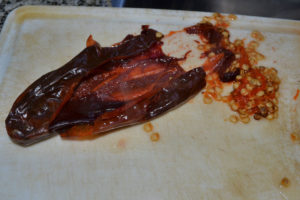 Seco is not a particularly spicy dish, so we usually remove the seeds. But you can leave them in if you want to make it hot.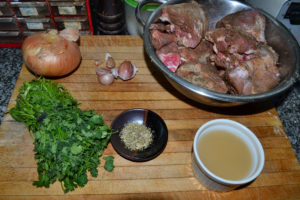 The rest of the ingredients. The cabrito cut into portions. The spice rub is equal parts of ground cumin, black pepper, and salt, and make sure they're really well coated. Let sit for a couple of hours. Garlic, onion, cilantro, dried oregano, and chicha de jora, a Peruvian corn beer. If you don't have access to that, use about a half cup of a light ale or lager with a tablespoon of white vinegar added, as chicha tends to be slightly sour. Missing from the picture, a large tomato.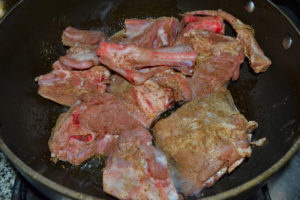 Brown the meat in a large, deep skillet (I used our dutch oven skillet) in a little olive oil.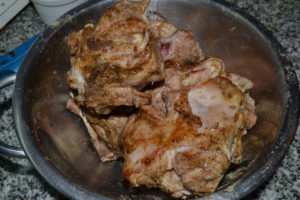 Remove from the pan and set aside.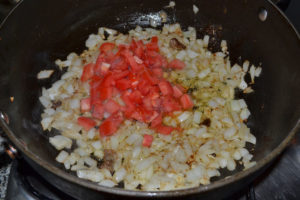 Saute the chopped onions and garlic in the oil left in the pot (add more if needed, but probably not between the oil and the fat that comes off the meat). When soft and translucent, add the tomato and oregano and cook another 5 minutes.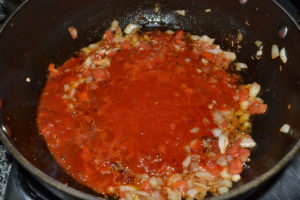 Puree the rehydrated ají panka with the chicha and add to the skillet.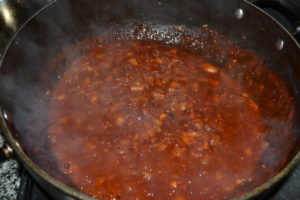 Cook for about 10 minutes until the mixture darkens.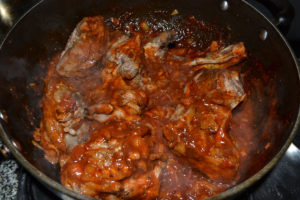 Add the meat back in and turn to coat well. Cook for about 10 more minutes, turning regularly.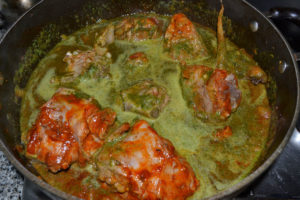 Puree the cilantro with just enough water to do so. Add to the pot. Bring to a simmer, cover the pot, and continue to cook for about an hour and a half to two hours, turning the meat now and again. During the last half hour we take the lid off and turn the heat up to medium and cook off at least half the liquid.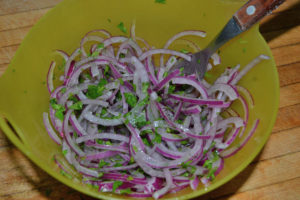 Thinly slice some red onions and soak in cold salted water for about 10 minutes, then drain and mix with some chopped cilantro, chilies if you like, a pinch of salt, and a splash of vinegar.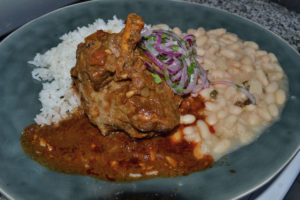 And… we're back to our finished plate. A big scoop of rice, a big scoop of beans, a piece of meat, a ladle of the cooking liquid, and the salad.
---
Copyright © 2018
SaltShaker
. This feed contains copyrighted photos and text from SaltShaker. If you are not reading this material in a feed aggregator or by e-mail subscription, the site you are viewing may be guilty of copyright infringement. Please contact
[email protected]
so that I can take appropriate action.
Plugin by Taragana






The post Seco de… Meat appeared first on SaltShaker.
This post first appeared on SaltShaker, please read the originial post: here