I mentioned stopping in at a Kosher pizzeria in my last Bite Marks, more or less on a whim, but no doubt fired a bit by a conversation about kosher restaurants I had with a rabbi friend of mine here. I don't expect this to become a full fledged project, but I'm finding myself curious as I wander across places to see how they fare. I've even created a little page, having realized how many I've already checked out over the years.
So here I checked out what the city has to offer in kosher Sushi. As best I can tell, there are only three kosher sushi bars in town (two of them have more than one locations). There used to be both a Dashi Kosher in Palermo, and a Go Sushi (thankfully short lived) in the Buenos Aires Design Center, but both are gone. I haven't found reference to any others on the various kosher restaurant websites out there.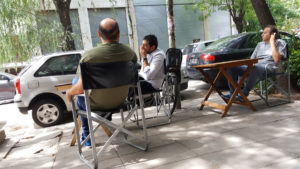 Sushi KO, Argerich 922, Floresta – I spotted this one while wandering about looking for Korean restaurants in the area, an area which, along with being a somewhat scattered Koreatown, is also home to one of BA's garment districts, and connectedly, a big orthodox Jewish population, with markets and restaurants that are kosher. This is a small outpost of a larger sushi restaurant I haven't checked out in the section of Palermo over by the Japanese gardens. It's primarily just a takeout and delivery spot, but they have a few small folding tables and chairs that they'll set up on the sidewalk in front of the next building over (which is odd placement, given that it's an occupied building).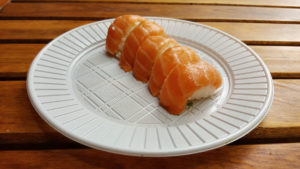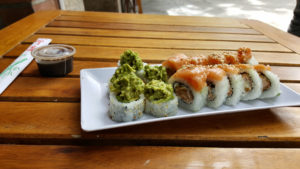 The options are salmon. Also salmon. I guess they have a couple of vegetarian sushi rolls as well, but no other fish. And the menu, while listing a dozen or so different sushi rolls, the only fish is salmon. So, I ordered… salmon. Five pieces of nigiri, and two five-piece rolls (their menu is priced by the piece of a roll, most of them around 12-15 pesos/piece, but you can only order the pieces in multiples of 5). I got a simple salmon roll with cream cheese, and another with guacamole. All were fine, the fish was fresh, none were anything special. They're all a bit smaller than the norm. Service is friendly, but given the setup isn't really oriented around table service – it's more that you order inside at the counter, and if you want to stay, someone sets up, or cleans a table for you, and brings you the food when it's ready. While I imagine it's nice for those who work and/or live in the 'hood to have a kosher sushi place, it's not one I'd make an effort to go to again.
---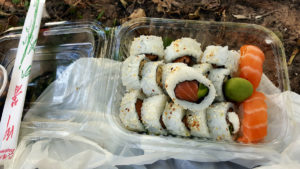 Sushi KO, Juan Francisco Seguí 3809, Palermo – So, the "larger space" that appears on their website isn't theirs. It's just a series of photos from events they've catered elsewhere. Because if anything, this space is even smaller, and doesn't have the option of even a sidewalk table. Luckily, it's just a block from Parque 3 de Febrero and spots to sit and nibble at some sushi before wandering on.
More of a selection of rolls – actually, it's the same, but here they had half a dozen different ones already to go, and they also offer that you can order exactly as many pieces of the rolls and nigiri as you want. So I had them just put together a combo of 15 pieces of mixed everything for a flat 200 pesos. I should have told them not the canned tuna roll. But other than that, all quite fresh and quite good. At least for the days I visited, a step up from the Flores location in quality and variety. Favorite, I think, was the salmon, avocado, and palm heart roll.
---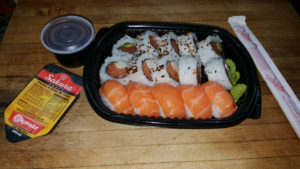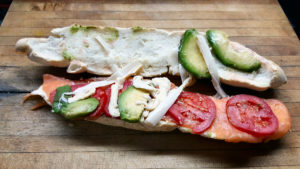 Salemttino, Paso 751 (corner of San Luis), Once – Bustling little corner spot that looks very hip and trendy from the outside. Friendly staff. They're trying to do to much. Not so much the staff themselves, but the location. They're trying to be a little bit of something for everyone. So there are take out containers of sushi, premade sandwiches, salads, and more. They'll also make some stuff to order, but mostly it's grab and go, or grab and sit at one of the counter stools along the windows.
Unfortunately, the quality level sort of fits the grab and go model. Over-chilled sushi from a refrigerator case, the rice gummy, the fish, while not bad, not as fresh as it was probably a couple of hours earlier. A smoked salmon sandwich suffers from much the same – first off refrigerating a baguette is rarely a good idea (and these are not high quality baguettes), second, it has a thin layer of smoked salmon, a few slices of now mealy avocado and tomato, and some strips of palm heart. No condiments. Meh all around. I can't find the receipt, but recollection is the mixed tray was 150 pesos and the sandwich was 80.
---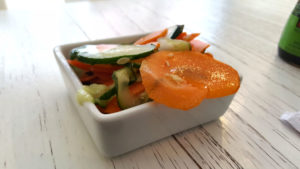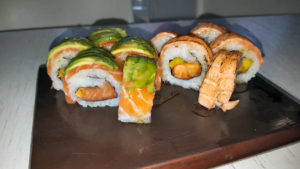 Pi-Chi-Klin, Tucumán 2648, Once – This one's a good one to finish up with. First off, real dining room, and a decent sized place. Packed with people, happily eating. Very modern, sleek. And, a menu that, other than eschewing shellfish and any sort of random meat selections, looks as creative as any of the many nikkei cooking spots in town (and, the menu includes hot food as well as sushi). While you peruse the menu they serve up a little cucumber and carrot salad in a rice vinegar dressing (I suppose that justifies, to some, the 35 peso cubierto charge).
It's a bit pricier than the others, which goes with the setting and the creativity. I was just grabbing a snack, so two half rolls, at 120 pesos per half, both as good and interesting as those I've had at many of the fusion sushi places in town. High quality fish, well made rolls, interesting combos, and white fish in addition to salmon and canned tuna. And, although fish and dairy are not forbidden for most folk on a kosher diet, there are some who choose not to have them combined (it's an automatic in kosher restaurants that you don't mix dairy with red meat or poultry), and, in looking over the selection, it was a nice touch that the waiter asked if I wanted rolls that included cheese or not, and steered me to those that didn't have it (not a kosher thing, I just don't like cheese on sushi).
All around, quite good, and I'd happily go back. They also have locations at Aranguren 2887 in Floresta, and Moldes 2287 in Belgrano.
---
Copyright © 2017
SaltShaker
. This feed contains copyrighted photos and text from SaltShaker. If you are not reading this material in a feed aggregator or by e-mail subscription, the site you are viewing may be guilty of copyright infringement. Please contact
[email protected]
so that I can take appropriate action.
Plugin by Taragana






This post first appeared on SaltShaker, please read the originial post: here