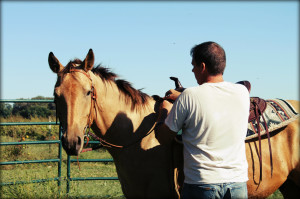 We have reached another milestone in our Horse life: we rode Cletus, our four year old buckskin gelding! If you remember, we bought him as a baby alongside his mother, Penny, in the fall of 2011. Last November, we sent him to the Rosebud Indian Reservation for a crash course in behaving under saddle….the trainer raved about him and said he was the best horse he's ever trained. So then we brought him home and (due to me being pregnant and my husband being very busy) he stood around in our corral for almost another year. The good news is that we have been riding him this summer!
In August we decided it was high time to be using him. We had just sold Bluebird, who rode out beautifully and didn't even blink at being saddled and carrying a rider. So we got Cletus in the Round Pen and put a saddle on him. I could tell by his body language that it just wasn't feeling right to him. His head was up, neck stiff, ears back….he had fidgeted a little when I put the saddle pad on, as if he thought it might swallow him up and he just couldn't stand it. But I got the cinch fastened and figured I'd let him get comfortable…I undid the halter and clucked to him, and he went nuts!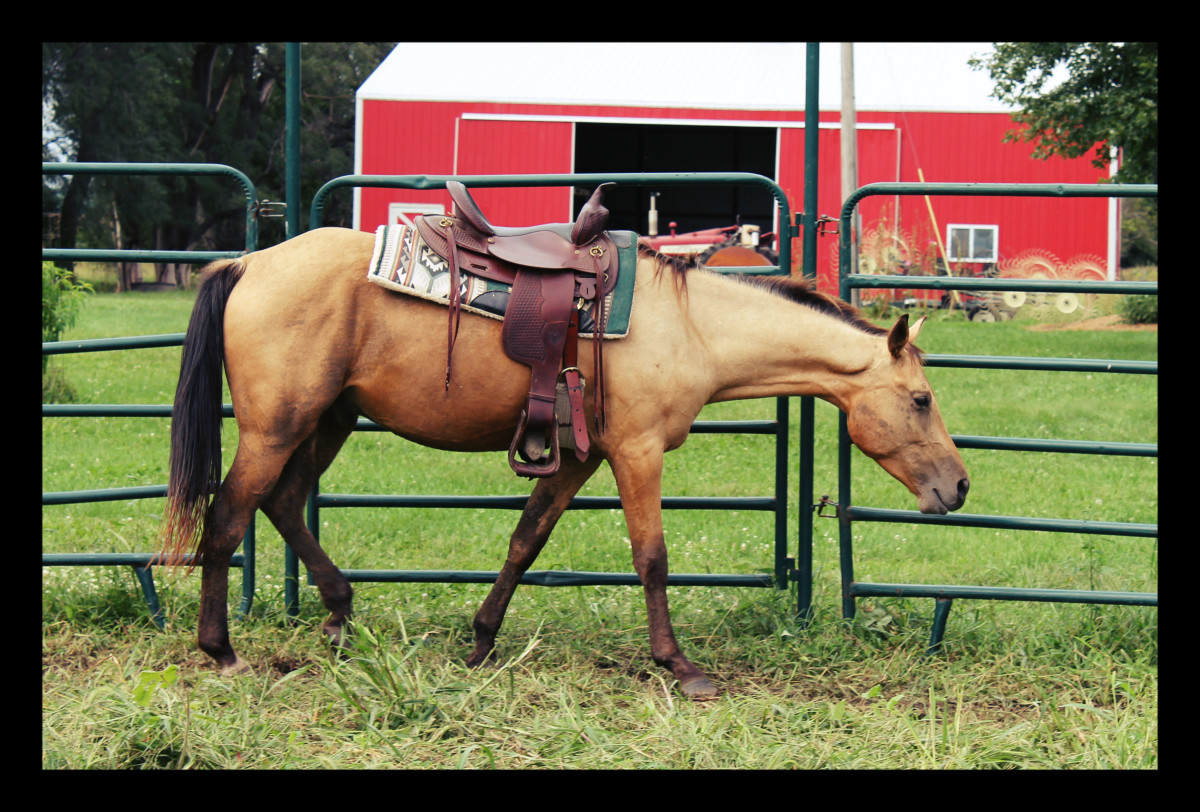 Cowboy Dad, who was watching it all, said afterwards that he really didn't buck that hard. But this little buckskin gelding can put on quite a show! He circled the round pen about three times, in a wild crow-hop kind of gallop, bucking straight ahead, not really hard but consistently without stopping. I stood in the center with the coiled-up lead rope, encouraging him to keep moving. He wanted to stop on the side of the pen nearest the mares, who were out grazing and completely ignoring his antics. So I kept him loping until he quit the bucking and would just circle the pen smoothly.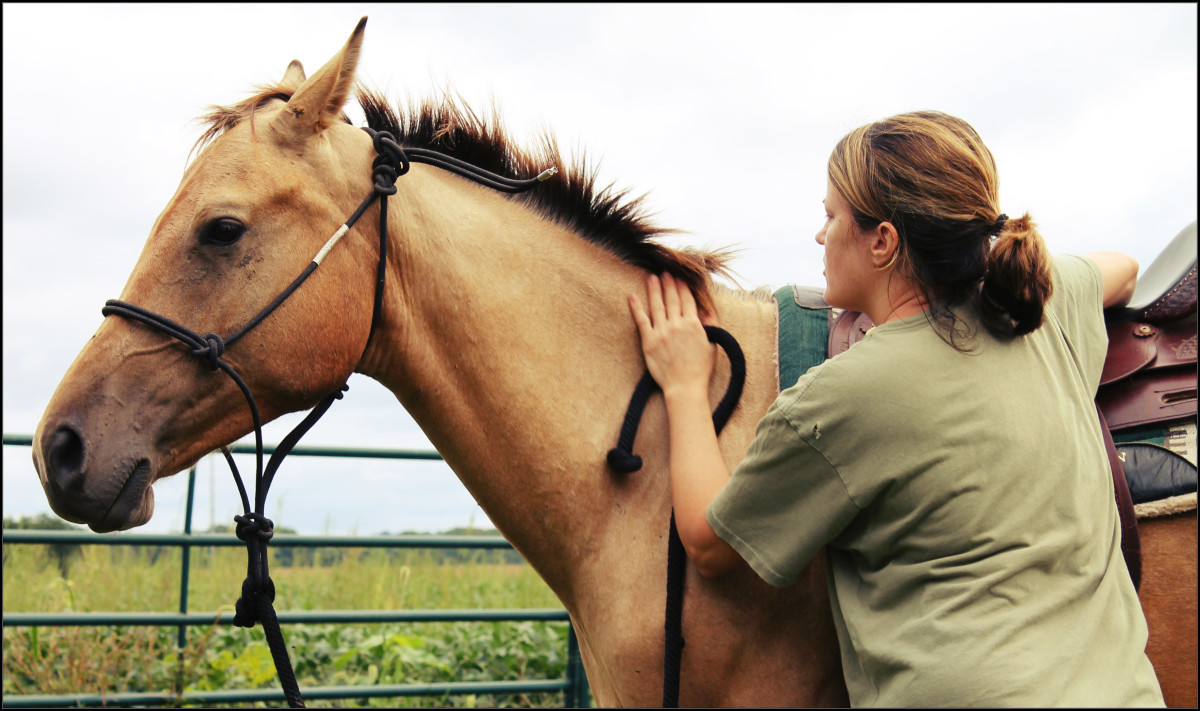 His bucking made me step back a little and re-think climbing into the saddle that day. I told my husband that he needed a little more groundwork. Cowboy Dad said he could have stuck with him, if that was all Cletus was going to do. I wasn't so eager to get on him, so I just free-lunged him a little more and then did some groundwork exercises like hindquarter yielding and so forth.
We talked about it afterwards, and I mentioned to my husband that once you put a bit in the horse's mouth and get him to bending and giving to the reins, he won't be so inclined to buck, as he won't feel as free and unencumbered. We were pretty sure this was the first time Cletus had bucked under saddle, because the trainer said he saddled just fine at first, and if he did have any problems with him he never said so.
My philosophy is to let a horse buck if he thinks he needs to. Just do it before you get on him, and let him get it out of his system. Sometimes they will still buck, later on, if something spooks them or they feel excess energy and just can't behave. But more than likely, they are testing out that saddle and just wanting to get it off them, and after a few bucks they realize that thing is sticking with them no matter what, and it's an awful lot of work to buck, so they quit it.
So we should have gone back out the next day and worked him, and done that for a week. But I have four kids now, and a full life, and not much time to devote to horse stuff. So it wasn't until the following weekend that we worked with Cletus again.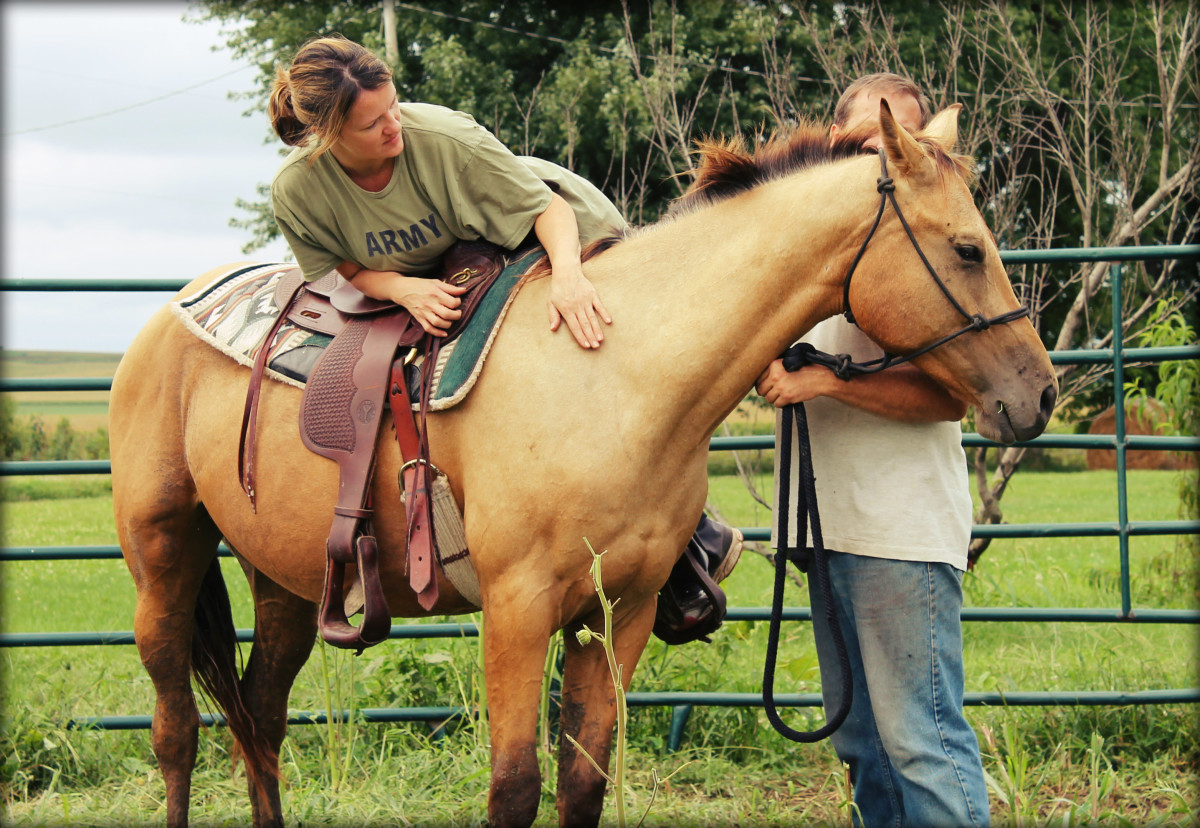 This time I put the saddle on and didn't turn him loose to buck. I just led him a little, worked on bending and yielding the hindquarters, and then my husband held him while I got on. Cletus was a little stiff, but didn't spook at me in the saddle. I petted him all over, rubbing his neck and back and moving around in the saddle a lot. I wanted him to know I was up there, so he didn't discover it later and get spooked by it. Cowboy Dad led us around the round pen for several minutes, and that's really all we did that day.
So then last weekend we went out and rode him, for real. I started out with a little saddling practice—flopping the saddle pad still kind of spooks him, so I laid it over his hindquarters, pulled it up over his neck, put it under his neck against his front legs (that was really weird, to Cletus, he would step away from it quickly, so we did that over and over again until he was bored with it)….and then I put a bridle with a ring snaffle on him, and got on.
He started off walking, and I asked for an arc, and he yielded his face really nicely to the bit. It was amazing. Of course, he had two months of training, but it was nice to feel that "give" in a colt with so little experience. The trainer did a really nice job getting him to rein well. We circled the pen, did figure-eights, and serpentines, and then we were ready for the great outdoors. The kids were riding the mares on leadline with my husband and his brother, so they opened the gate and we all went down the gravel road.
Cletus led right out, in a nice fast walk. Since he was the lead horse, his ears were up and he was looking hard at everything: the gate, the gravel piled alongside the road, the weeds, the entrance into a neighboring farm, everything needed a good long stare. He wasn't spooking, but he was on the alert for anything to spook at.
We rode for only a quarter mile or so, and then came back home. But the whole time I was exclaiming: "He turns better than Daisy!" "He has a really nice fast walk." "This horse is going to be a lot of fun!"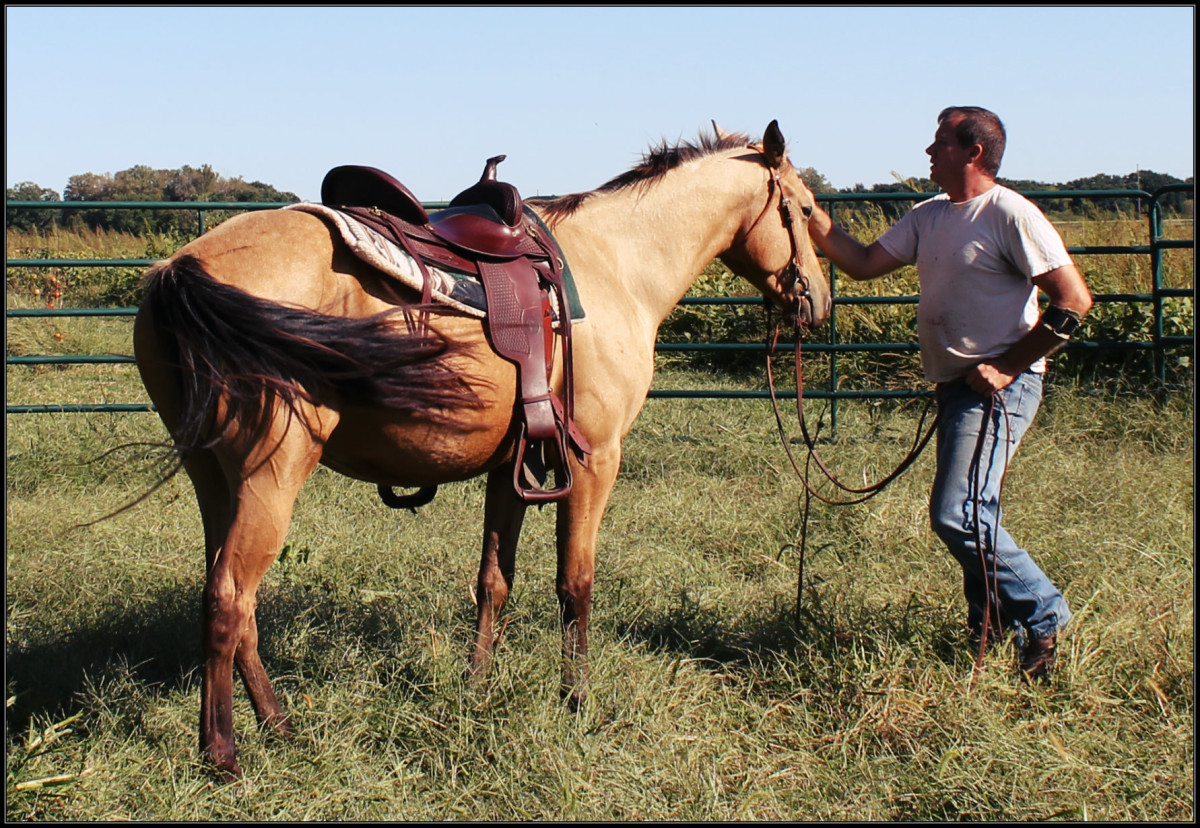 When we got back to the farm, my husband wanted to ride Cletus. So I went and got the camera and took a bunch of pictures while he rode. I think he was really pleased with our little yellow gelding, too. We hope to ride him often this fall.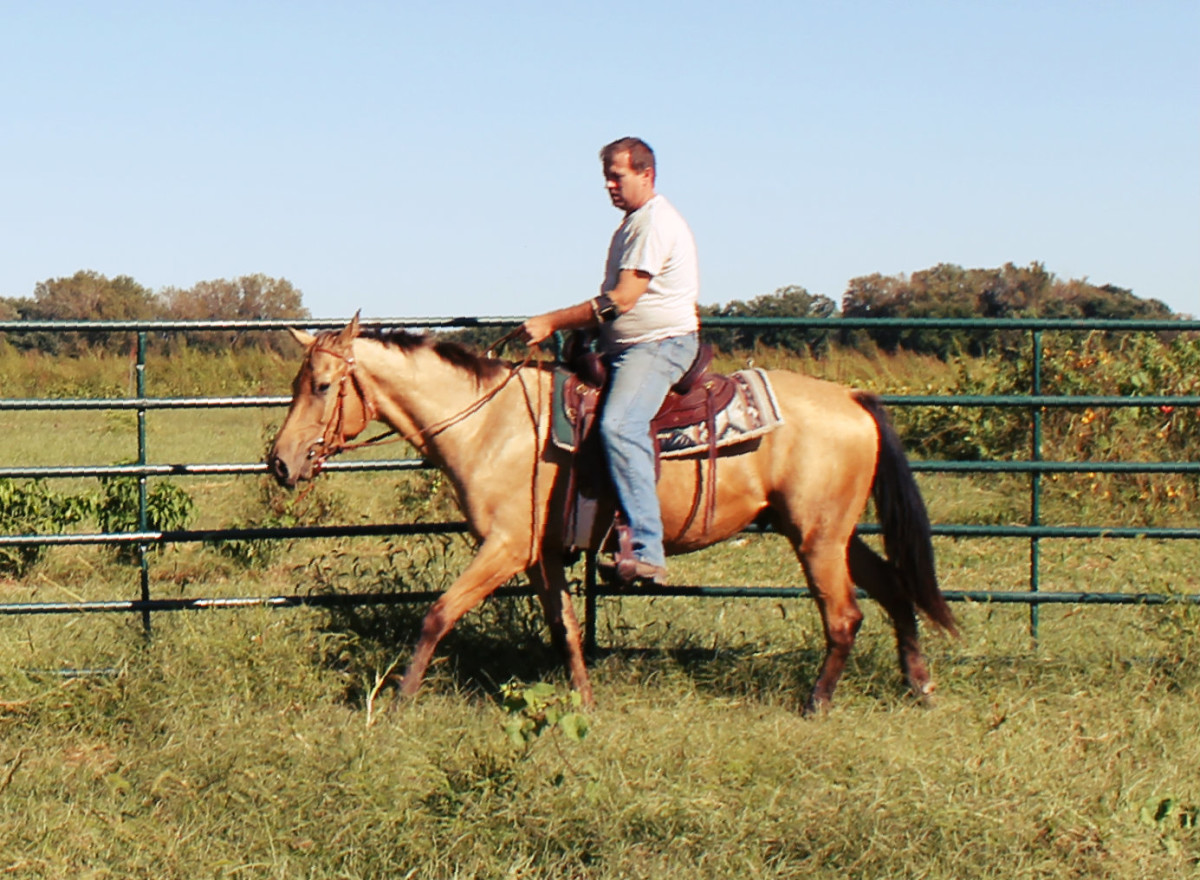 If you haven't noticed, I move really fast from one thing to the next. Never very good at groundwork, and quickly bored of the round pen, I am planning to take him trail riding this weekend! It probably isn't the best way to train a horse, but I have limited time to devote to riding, so I just jump right in when I get the chance to ride. I'll keep you posted on how it goes!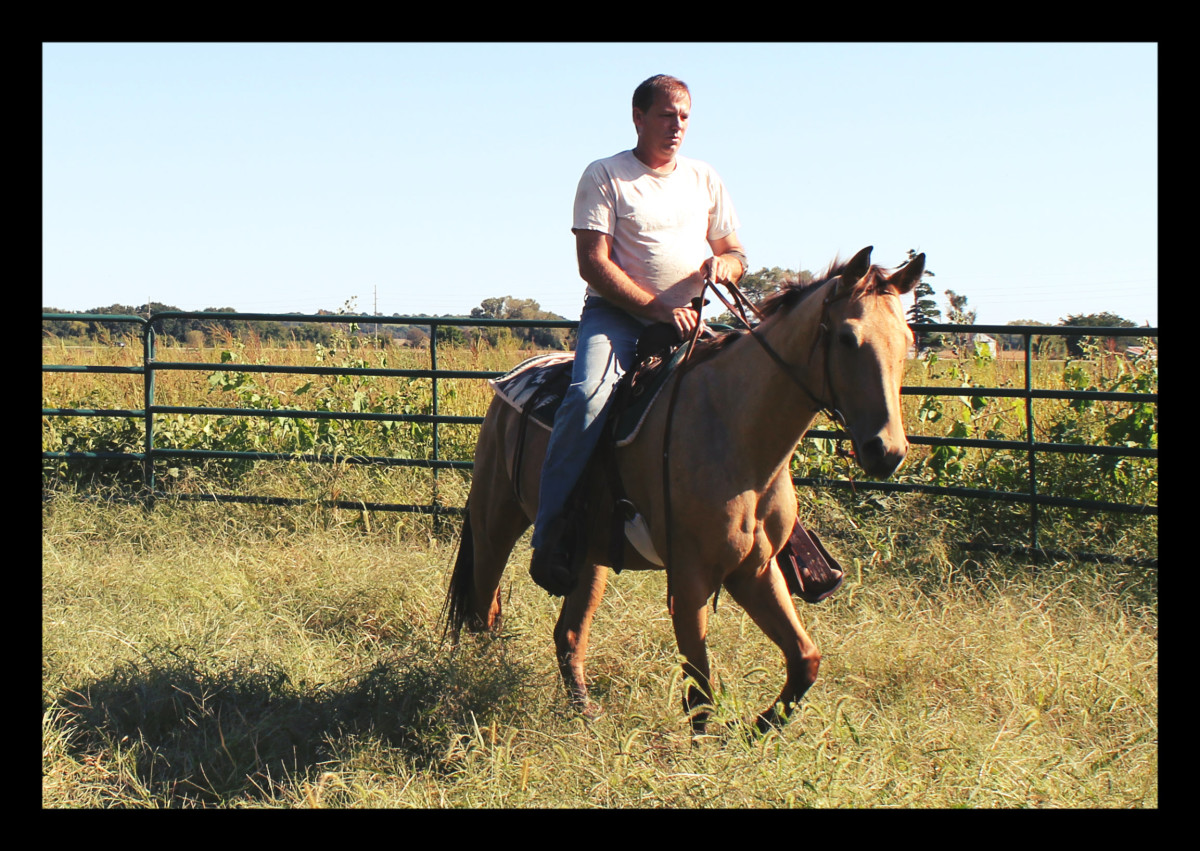 Riding Cletus is an original post by CowgirlDiary.com , written on September 30, 2015. If you are reading this on any other website other than CowgirlDiary.com, please understand this is stolen material and the site owners should be ashamed of themselves. Thank you!