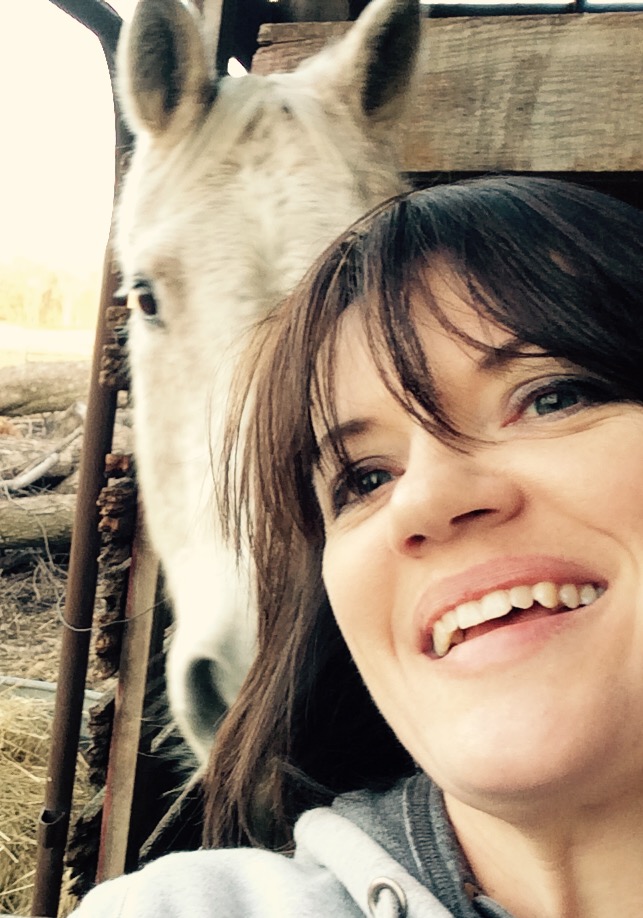 This time of year, it's an expected thing to receive gifts. Around Christmas time you get a new calendar from the feed store, a pair of gloves from the company you buy your calf vaccine from, a candy cane from some random Santa you meet while shopping, a bonus from the work place…and so it goes. It can become an expected thing, if you aren't careful.
But there is great joy in the unexpected, and it's often in the little things you observe at Christmas. Whether it's the surprised look on your child's face when an actual live Santa speaks to him and asks him if he's been good this year….or when a stranger holds the door for you at the shopping center with a smile and a "Merry Christmas"….or the feeling you get when you help a family in need. When giving is unearned and unexpected, it produces real joy in both the recipient and the giver.
I experienced this feeling recently when I got a phone call from my husband's former boss. We had seen him and his wife while out to dinner with our family a few days prior, and they had met our youngest child for the first time and commented on our growing family. My husband had told them about our growing horse herd as well, since his boss grew up with horses and used to show when he was a kid. So he called a few days later, and asked me if we could use some Saddles. I told him that I had been looking for some kid-sized saddles to buy, and he said, "That's what these are, and you can have them."
So we went to their house the following week, and they loaded up our car full of horse tack. In all, there were nine saddles, three saddle pads, four bridles, a breast collar, a halter, and an extra pair of stirrups. He said they had just been taking up space in their garage, and he didn't want paid for them unless we ended up selling them and in that case we could just split the proceeds. For me, it felt like an early Christmas, because several of the saddles were exactly what I had been looking for!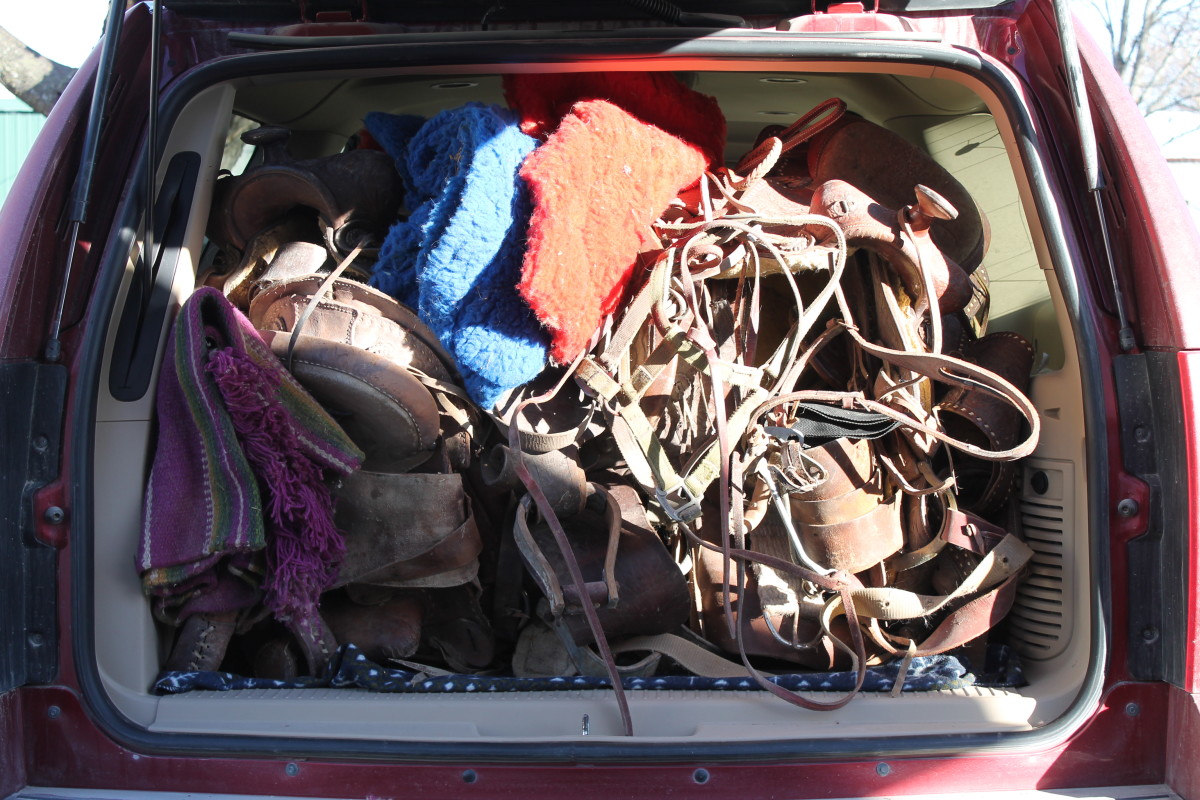 I got out my bottles of Leather Honey Cleaner and saddle conditioner and spent a couple afternoons cleaning them up and fixing broken straps. Several of the saddles were pretty worn out–one had such brittle leather that the d-ring came off in my hand when I lifted it. But as I looked through the pile of them in my garage, I could tell that a few of them were very nicely-made saddles and it was so rewarding to clean them up and see what was there underneath the dust and cobwebs!
As it turns out, there are two 12-inch saddles for my three- and seven-year-old boys and a really nice 13-inch saddle for my nine-year-old daughter. I had my eye on a beautifully tooled 14-inch saddle with old fashioned swells, and when I finally dusted it off and got it cleaned up, I told my husband, "There's my new saddle." I have a heavier, roping-style saddle that I've been using since I got it as a Christmas gift when I was sixteen years old. But I've always loved the old vintage saddles with swells and smaller seats, and when I saw this saddle I was pretty sure it was exactly what I wanted.
This shows the saddle before and after I cleaned it with Leather Honey cleaner: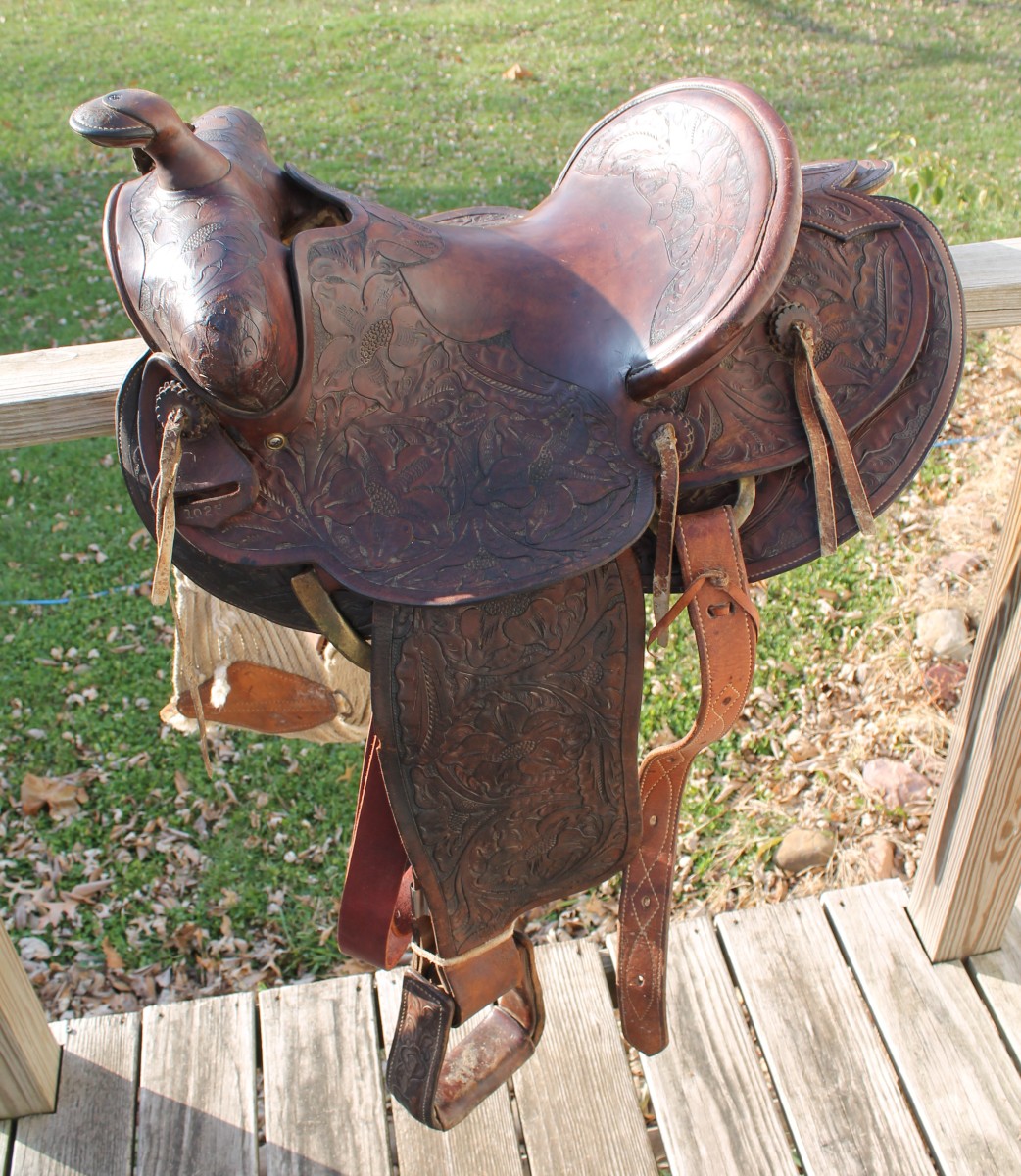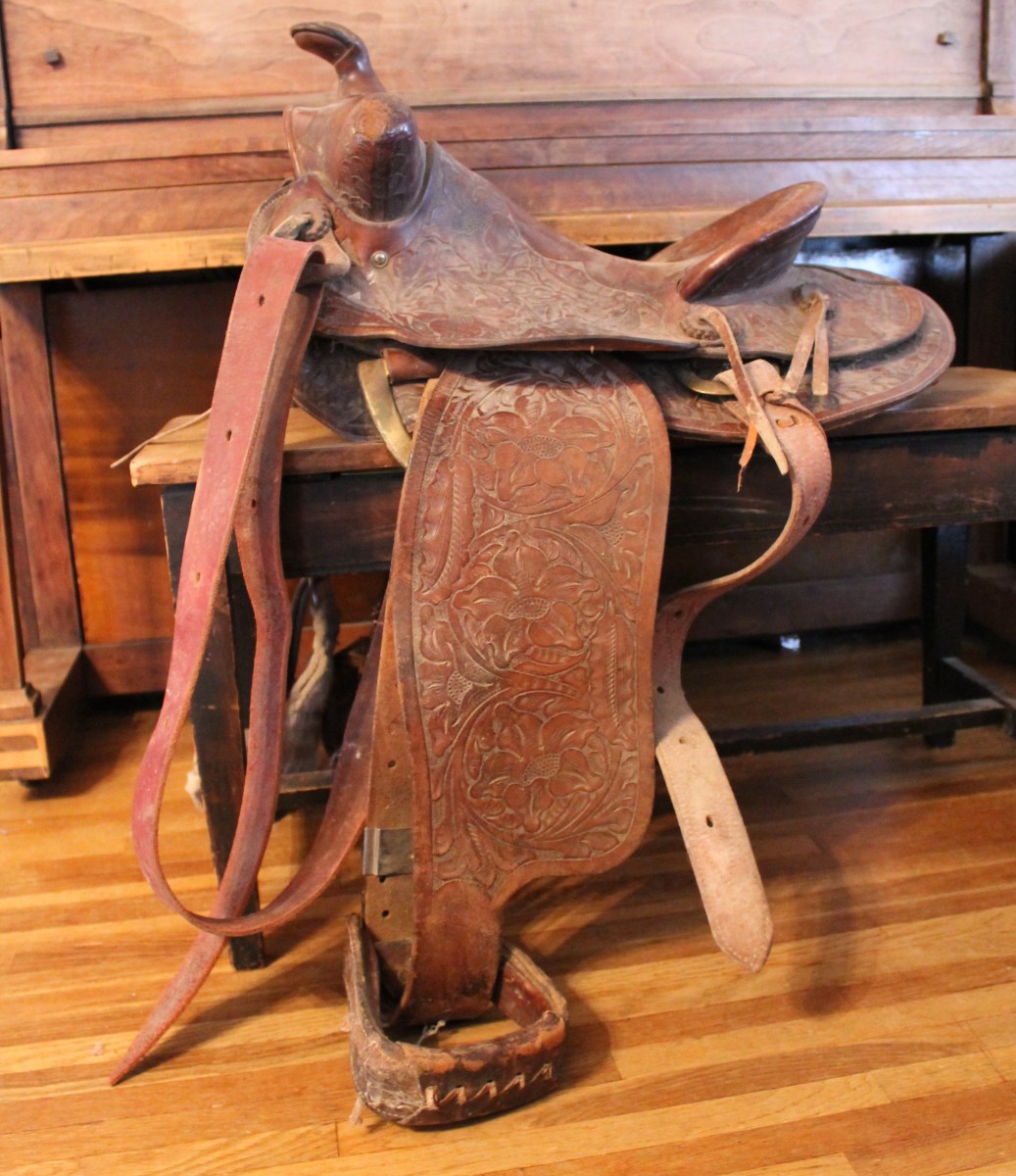 We have yet to try them out on the horses….it has been a wet, warm fall and our whole farmyard is a muddy mess. There were a few nice days that I wished I could go riding, but it is so much harder than it used to be, having four kids and so many things going on! My baby is almost eight months old, and while I don't want him to be growing up so fast, I'm also looking forward to the day when he can just play outside with his older siblings while I go riding.
The gift of these saddles was a real blessing to our family. And I found that along with this feeling of gratitude, I also received the urge to be more giving myself. I called my brother in Oklahoma, who has a five year old daughter, and asked if she needed a little saddle of her own. He said yes, as they have three nice horses that my folks had given them, and his daughter is currently having to ride on an adult-sized saddle. So we're going to see them at Christmas time and will take one of these little saddles to give to her.
I love this time of year, and I hope that the feelings of gratitude, joy, and the urge to be generous continue all year long. Doing something nice for someone else is so rewarding. I'm thankful for the blessings of this year, and look forward to more opportunities to give in the year ahead.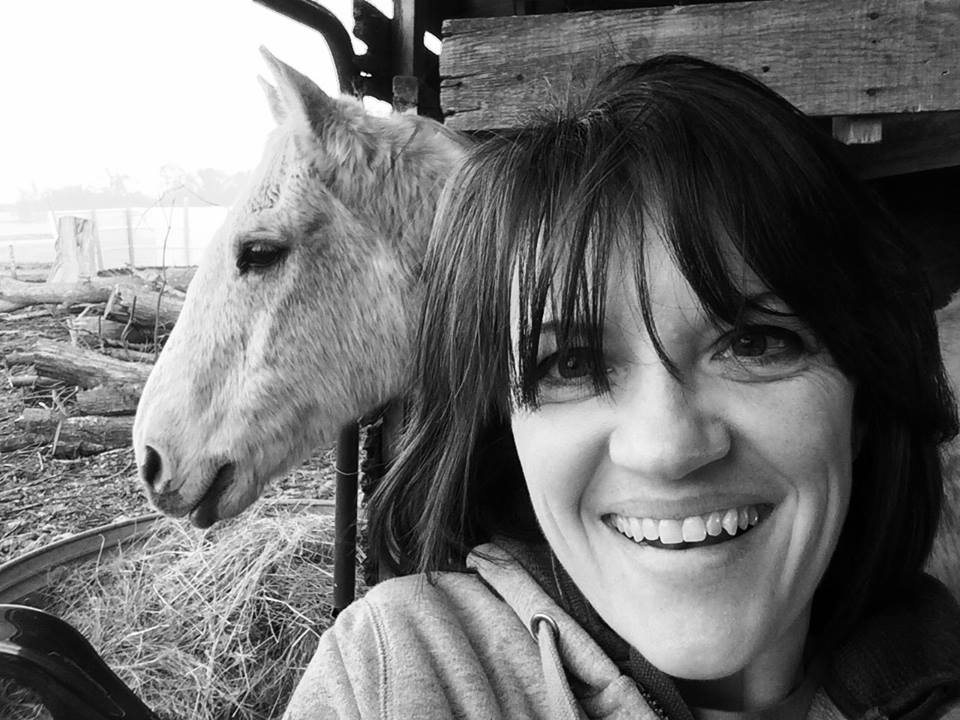 Merry Christmas from me and my old Rudy horse! Hope you have a good one.
What Giving Brings is an original post by CowgirlDiary.com , written on December 20, 2015. If you are reading this on any other website other than CowgirlDiary.com, please understand this is stolen material and the site owners should be ashamed of themselves. Thank you!