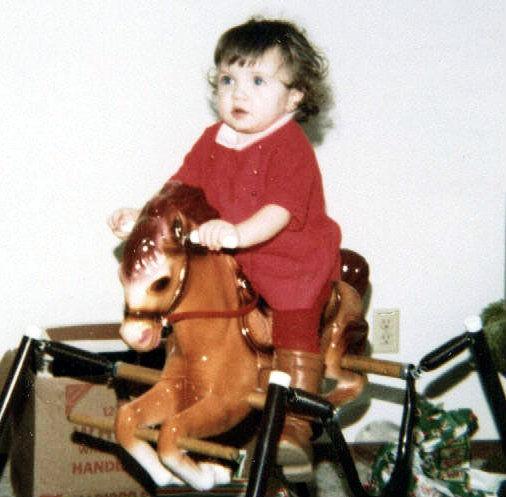 This is me, at age one, riding my trusty Horse. Wow…it's been a long time since I've written here at CowgirlDiary! I love blogging, but sometimes it's hard to keep with the theme here because I have not been doing much riding lately, and when there is little to no horse activity, it's hard to find the inspiration to write. I do have several updates though, so here goes:
We sent Cletus, our five year old buckskin gelding, out to South Dakota the first of May. He is being trained by Roger, the guy who keeps our cows for the summer, up on the Rosebud Indian Reservation. Roger started Cletus for us in the fall of his three year old year, and we rode him a few times, but he was still kind of unpredictable and we didn't ride him enough to keep a good handle on him. So Roger agreed to ride him for us this spring, and the plan was to pick him up in two weeks when we trailered our bulls out to put with the cows. Well, two weeks wasn't long enough for Roger. He said, "No way am I sending this colt back until your kids can ride him bareback." So the bull trailer came home empty, and since we weren't planning another trip out West for awhile (it's a six hour drive from here), Cletus has now been at the trainer's for two months! Roger said he was going to be using him to rope at some local brandings, and we imagine he will be quite a different horse when he comes home.
About the same time Cletus went to South Dakota, we trailered old Red out to meet my brother in Cheyenne, to send Red back to the drier climate of Idaho, where he would live on my parents' acreage and try to get healthy. Dad and Mom sold the ranch the first of the year, and transitioned to a house on the edge of town with about ten acres for them to keep a few butcher calves, two mules, and three horses. So Red went back because he had developed heaves here and was rapidly losing weight and not able to breathe in humid, muggy Iowa. He seemed to be doing better at my folks', and they said he was trotting around and acting frisky again, so we hoped all was well. But we just heard that he must have colicked and passed away, they found him lying in the Pasture with no obvious reason for his death. He was a great cowhorse, and in later years, kid horse, and was well loved by all. He will be missed.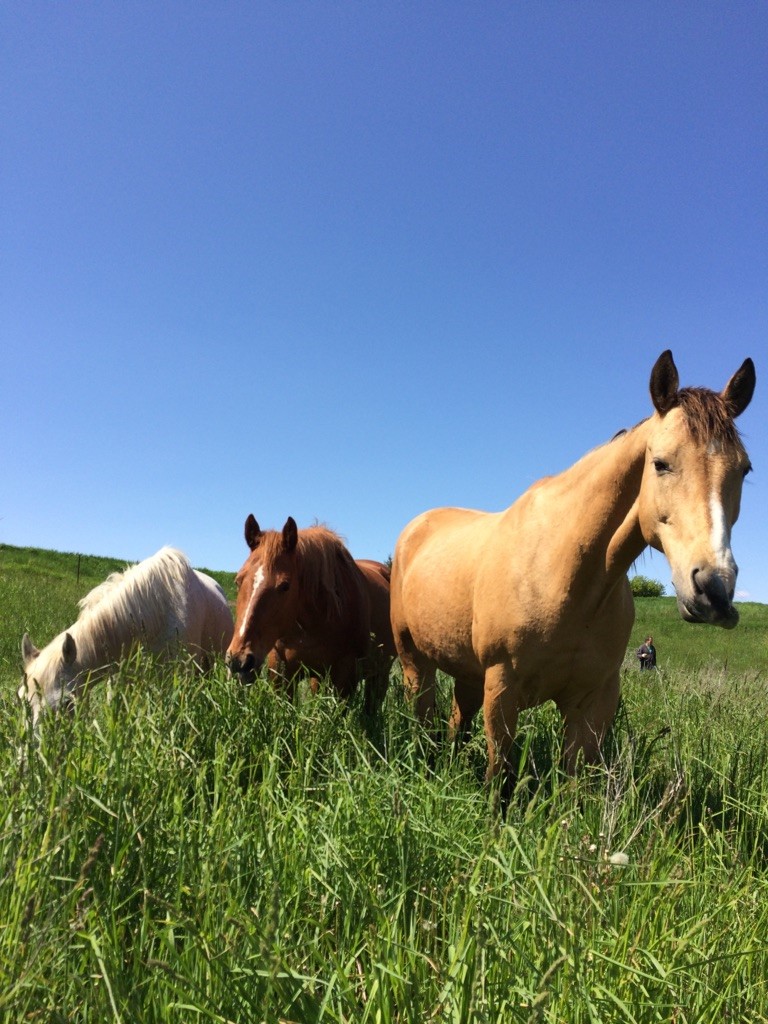 We turned our three remaining Mares, Daisy, Cricket, and Penny, out to pasture for a month. They were in heaven! We also pastured a few cow-calf pairs with them, and the pasture got really worn down after about a month, so we brought the mares home. The cows were taken to another pasture, and now we've had a few good summer rains and think we can put the mares back on pasture for another month or so. They are still slick fat and glossy and are getting along really well. Penny's cut healed beautifully, and though she will always wear a scar, there is no lasting damage and I'm wanting to ride her the first chance I get.
Our family stays very busy in the summer, with Cowboy Dad working two jobs, and me staying home with the kids. Our youngest is just a year old and seems like more trouble than all the other three were, put together! We have a huge garden, out at the farm, full of potatoes, cucumbers, green beans, squash, sweet corn, pumpkins, onions, radishes, tomatoes, peppers, cabbage, and zucchini! This consumes most of our time and energy, as we go out and pull weeds, put down mulch, pick produce, and till in between the plants to try to keep a handle on the constant uprising of unwanted forage. Most of the time while we are gardening, we open the corral gate for the mares, and they are allowed to graze freely in the yard while we are there. They are really good at not wandering (if they get too close to the gravel road that runs past the farm, I click to them loudly and even before I start walking over to move them back, they usually throw up their heads and trot back to the center of the yard) and won't even stray into the corn field. When we are done working, I get a bucket of corn and shake it, and they come running back into their pen. It works so easily, but it's also so sad to admit that this is the most interaction I've had with my horses all summer!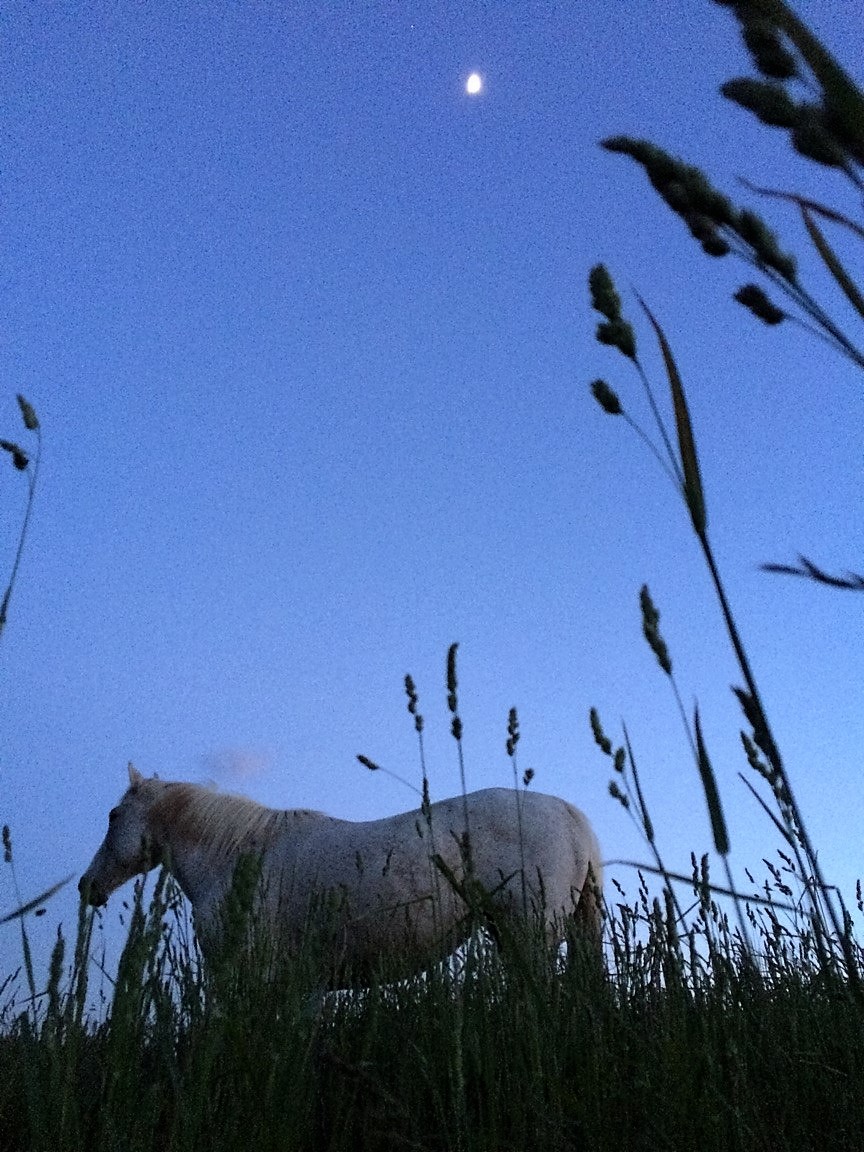 One great thing we noticed is that Penny is not spooky anymore. She went two years where she would not allow me to catch her–not with a bucket, not with trapping her in a small pen, not with taking all the other horses out one by one hoping she would come and be caught….nothing worked! This is another embarrassing admission for me (how can I call myself a cowgirl if I can't even catch my horse???), but with my pregnancy and new baby and everything, I just wasn't up to round penning her or chasing her for an hour, and so she didn't get ridden for the last two years. Then in February when I found her lying flat out in the snow with a hind foot cut half off, it seemed like the worst possible thing in the world. But it turned out to be just what Penny and I needed. I got her in a stall, babied her, fed her the best hay and grain, changed her wound dressing daily, hosed out the wound, made her let me halter her before every feeding and while she was being doctored and while I cleaned the stall around her. And just like magic, she got over being spooky, let me halter her without much fuss, and is calm and sweet to me now. Even when turned out in a big pasture, when we would come visit the mares she would stand still and let me pet and brush her all over, which she would NEVER do before. So sometimes the worst malady can be a blessing in disguise.
We are heading out to Nebraska and South Dakota this weekend, to attend a music festival at my uncle and aunt's ranch, check on the cow herd up on the Indian reservation, pick up Cletus to bring home, and–if I'm lucky–look at a pony we might be buying for the kids! I had been looking on the horse sale pages of Facebook recently, and seeing so many broke ponies, and when I mentioned it to my husband, he said, "No horses, but I would consider a pony." Well, that was totally a green light to me, so I went with it. We are looking at a black pony mare, 12 hands, 13 years old, been used in shows and play days and trails, and pretty close to the route we'll be taking with the pickup and trailer after picking up Cletus on our way home. So the kids and I are super excited about it!
And that's the scoop on what's happened since I posted last! I will try to be more attentive with this site, and hope to be doing a lot more riding this summer.
Catching Up is an original post by CowgirlDiary.com , written on June 30, 2016. If you are reading this on any other website other than CowgirlDiary.com, please understand this is stolen material and the site owners should be ashamed of themselves. Thank you!