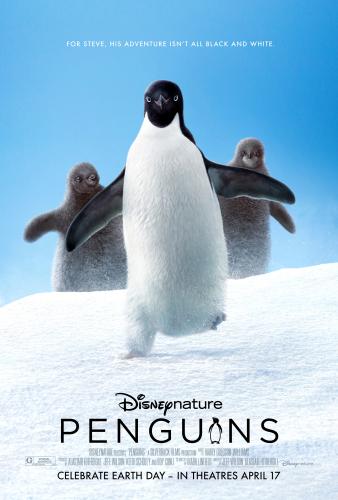 Every year, as Earth Day approaches, I always look forward to seeing a new Disneynature Film. This year, my family and I were invited to see Penguins at Disney Studios.
Some years ago, I received a DVD about penguins. Going in to see this film, I believed I had some knowledge of penguins. Although I had some familiarity, I knew it did not matter what DVD I had watched, Disneynature was going to make their film more engaging and entertaining, all the while offering cool facts about penguins.
Just as I anticipated Disneynature did not disappoint me. Dinsey animal films are always the best!
Penguins is an upcoming American nature documentary film directed by Alastair Fothergill and Jeff Wilson. The coming-of-age story follows an Adélie penguin named Steve who joins millions of fellow males in the icy Antarctic spring on a quest to build a suitable nest, find a life partner and start a family.
Narrated by Ed Helms ("The Office," "The Hangover" trilogy,"The Daily Show with John Stewart"), Disneynature's
all-new feature film "Penguins" is a coming-of-age story about an Adélie penguin named Steve who joins millions of
fellow males in the icy Antarctic spring on a quest to build a suitable nest, find a life partner and start a family. None
of it comes easily for him, especially considering he's targeted by everything from killer whales to leopard seals,
who unapologetically threaten his happily ever after. From the filmmaking team behind "Bears" and "Chimpanzee,"
Disneynature's "Penguins" opens in theaters and in IMAX® April 17, 2019.
Cool Facts About Penguins:
"Penguins" continues Disneynature's conservation tradition: for every ticket sold opening week (April 17-23,
2019), Disneynature will make a donation to the Wildlife Conservation Network (WCN) to help protect penguins across the southern hemisphere. Founded in 2002, WCN invests in a select network of on-the-ground
conservationists, including top experts in the field of penguins like the Global Penguin Society (GPS). The
worldwide leader in science-based penguin conservation, GPS champions specific programs that align with
Disneynature's conservation mission. Conservation is a key pillar of the label and the films empower the
audience to help make a difference, with each film supporting wildlife featured in the films.
"Penguins" is the first-ever Disneynature film to be released in IMAX®.
As an actor, writer and comedian, Helms established himself as one of Hollywood's most beloved performers
with scene-stealing roles on both film and television including NBC's award-winning comedy series, "The
Office," and the box office smash hit film trilogy "The Hangover.
Disneynature celebrates 10 years since its first feature film hit theaters. The first new Disney-branded film label
from The Walt Disney Studios in more than 60 years, Disneynature was launched to bring the world's
top nature filmmakers together to capture a variety of wildlife subjects and stories.
"Penguins" is the eighth theatrical release for Disneynature. The first seven theatrical releases, "Earth,"
"Oceans," "African Cats," "Chimpanzee," "Bears," "Monkey Kingdom" and "Born in China," are seven of the top
eight highest grossing feature-length nature films to date, with "Chimpanzee" garnering a record-breaking
opening weekend for the genre.
Walt Disney was a pioneer in wildlife documentary filmmaking, producing 13 True Life Adventure motion
pictures between 1948 and 1960, including "Seal Island" (1948), "Beaver Valley" (1950), "The Living Desert"
(1953) and "Jungle Cat" (1958). The films earned eight Academy Awards®.
Helms did such an amazing job as the narrator. My family, and I believe the rest of the audience instantly fell in love with Steve. As we laughed during different scenes, my six-year-old niece turned to me and asked, "Can the other penguins talk like Steve?" Aside from missing when my children where that age, I realized not only did she believe Steve was really talking, I think we all did. We were all drawn into Steve's life.
Steve is a 5-year-old Adélie penguin who's ready to tackle the next phase of life: building a family. "He's becoming a father for the first time me," says producer Roy Conli. "He returns to the place where he was a chick to build a home and find a mate."
Tackling this new phase of his life did not come easy for Steve. He seemed to have trouble doing everything. He struggled with keeping up with the penguins, finding a mate, finding food, gathering pebbles, feeding his chicks. Although these are areas Steve struggles in he conquers them. I believe things will getter from him as he matures. It would be interesting to see the progress he makes. My niece is convinced there is going to to be a Penguins 2.
As Steve tackled this new phase of his life, we learned so many fun facts about Adelie penguins.
What Are Interesting Facts About Penguins:
An adult Adélie is about 27 inches tall and weighs between 6 and 13 pounds.
They eat krill, fish and small squids.
They live in large groups called colonies.
Adélies mate with one partner for life, finding each other each year among hundreds of thousands of penguins via unique vocalizations and displays.
They can travel more than 3,000 miles during the winter migrate on before returning to their breeding colonies.
Breeding season begins in late September and runs through December.
Adélie penguins build nests out of rocks and pebbles to keep their eggs off of the icy ground of Antarctica.
Males spearhead the building of the nests, which help them attract a mate. It's a competitive process in which some penguins steal rocks from others' nests.
Females typically lay two eggs.
The male and female take turns protecting the eggs from chilly temps and feisty polar skuas, predatory birds who prey on Adélie eggs and chicks.
Adélie eggs hatch after about 30 days.
The male and female take turns foraging, feeding and protecting the chicks for four weeks after they
hatch.
When Adélie penguins are a month old, they team up with other young penguins in groups called creches for about 7-8 weeks, trading their down feather coats for waterproof feathers during this time.
When they get their waterproof feathers, they're ready to fledge and go in the water.
Leopard seals target fledging penguins, but once penguins reach the open sea, they can easily outswim the seals.
The only thing I questioned was, Where do the young penguins go until they become adults? Where was Steve for five years? I guess I will have to do my research. Did I miss something?
My family has seen most of the Disneynature theatrical releases and have loved them all. They open our eyes to how animals live and survive. They also leave you with some buring questions.
Going to see these movies are perfect Earth Day activities for kids and adults.
Like Disneynature on Facebook: Facebook.com/Disneynature
Follow Disneynature on Twitter: Twitter.com/Disneynature
Follow Disneynature on Instagram: http://instagram.com/disneynature
Visit the official website here: https://nature.disney.com/penguins
PENGUINS opens in theatres everywhere on April 17th!

"Want to showcase your product to my audience? Then check my advertising options." Click here.