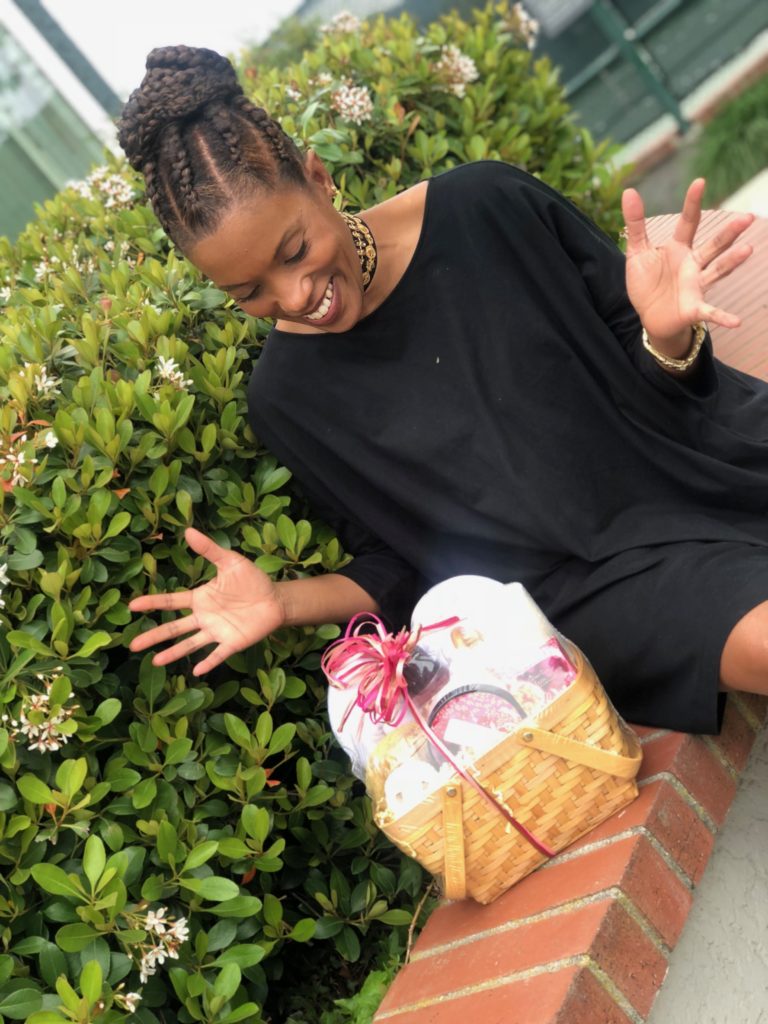 What are you getting your mother for Mother's Day?
Mother's Day is fast approaching and I have gotten my mother a Classic Spa Gift Basket from Gourmetgiftbaskets.com.
My mother is retired and her life is not as hectic as it used to be, but for some reason she seems to not have time for getting pampered. I have made it my job to make sure she does so. For those days she is unable to get to the spa, the items in her gift basket will come in handy.
GourmetGiftBaskets.com's
Classic Spa Gift
Basket brings the best of the spa to mom. The relaxing scent of pomegranate and passion fruit will fill Mom's shower when she uses the luxurious body wash and triple milled soap included in this basket. Then she can moisturize with lotion from San Francisco Soap Company, which is especially important given the dry, crisp weather of Spring 2018 so far. The Classic Spa Gift Basket is also stocked with several other lavish products, including a Bath Pouf, a Loofah Disc, a Wooden Foot Brush and more.
Classic Spa Gift Basket Includes:
Body Wash in Pomegranate & Passion Fruit by San Francisco Soap Company – 8.5 oz. – This body wash will fill the air with tropical scents, while purifying your body.
Terry Cloth Slippers – Like walking on a cloud, these slippers are incredibly soft.
Wooden Soap Dish – This Wooden Soap Dish is a nice little decorative addition to your bathroom.
Triple Milled Bath Soap in Pomegranate & Passion Fruit by San Francisco Soap Company – 3.5 oz. – Cleanse yourself with the wonderful scent of passion fruit and pomegranate.
Wooden Foot Brush – Scrub the hard-to-reach surface of your foot with this wooden brush.
Foam Sea Sponge – You won't waste a single drop of shower gel when you use this foam sponge.
Bath Pouf – After using this Bath Pouf, you'll wonder why you ever used anything else.
Loofah Disc – This Loofah Disc keeps your skin feeling clean and healthy.
Wooden Pumice Brush – Sturdy bristles on one side for scrubbing, and smooth on the other side for a soft finish.
My mother is going to love everything in this gourmet spa gift basket, especially the terry cloth slippers. She loves soft slippers.
I can already imagine her relaxing in her bathtub with all of spa essentials surrounding her. Every bath or shower will feel like a day at the spa. She deserves it.
This is a perfect Mother's Day gift that she can use for while.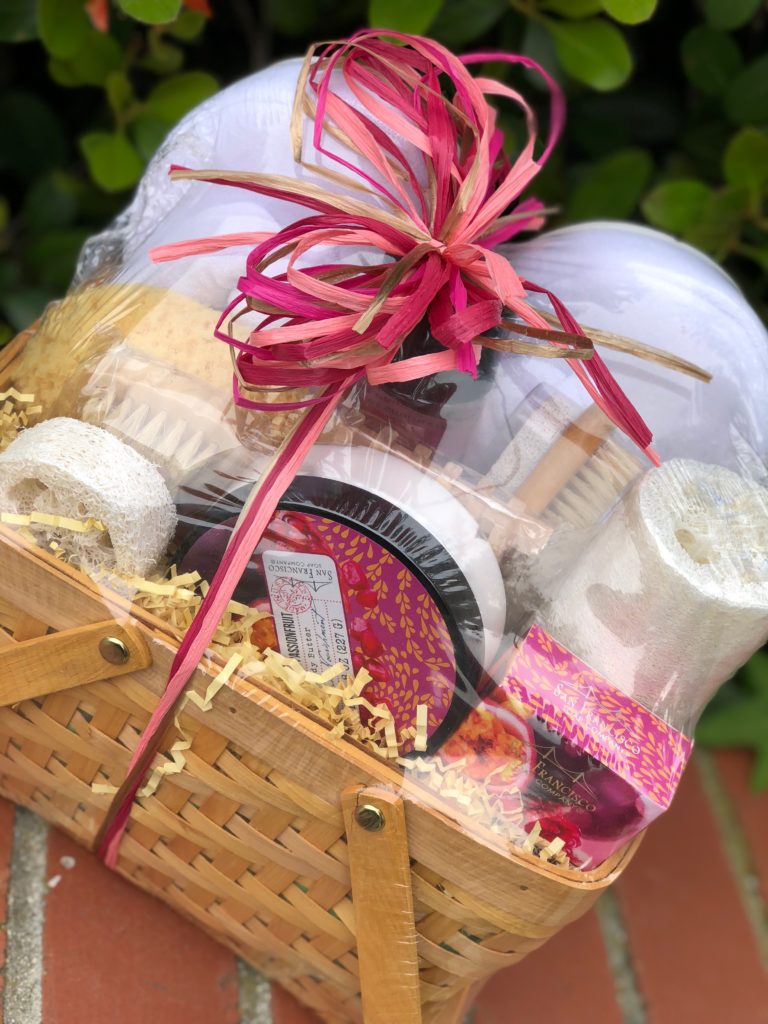 Gourmetgiftbaskets.com has a wide selection of Mother's Day gift baskets to choose from. Here a few:
Treats For Mom Gift Tower:
White Chocolate Cranberry Cookies by Kimball Lake Bakery – 4 oz.
Zesty Ranch Popcorn by KingOfPOP.com – 1.1 oz.
Sweet Onion Kettle Corn by KingOfPOP.com – 1.8 oz.
(15) Assorted Citrus Slices by Primrose Candy
Cherry Buds by Butterfields – 1.75 oz.
(2) Chocolate Wafer Petites by Dolcetto – .7 oz.
Almond Cashew Clusters with Pumpkin Seeds by 180 Snacks – 1 oz.
Blueberry Pomegranate Trail Mix Crunch by 180 Snacks – 1 oz.
Mother's Day Chocolate Gift:
Dark Chocolate & Caramel Smothered Grahams by Annalie's Chocolates – .65 oz.
Belgian Chocolates by Annalie's Chocolates – 1.76 oz.
Double Dipped Peanuts by Old Dominion – 3 oz.
White Chocolate Cranberry Cookies by Kimball Lake Bakery – 4 oz.
Chocolate Wafer Rolls by Fusion Gourmet – .9 oz.
Milk Chocolate Sea Salt Caramels by Sanders – 1 oz.
Dark Chocolate Caramel Bar by Ghirardelli – 3.5 oz.
Chocolate Chip Cookies by Kimball Lake Bakery – 4 oz.
French Chocolate Truffles by Truffle Basket – 3.5 oz.
S'mores Brittle Crisp by Hammond's Candies – 5 oz.
Mother's Day Gift Basket – Breakfast In Bed
Buttermilk Pancake & Waffle Mix by Colebrook Farms – 16 oz. – An excellent blend of ingredients, that yields fluffy waffles and deliciously light pancakes.
Pure New Hampshire Maple Syrup by Fuller Sugarhouse – 3.4 oz. – Award-winning Grade A Dark Amber maple syrup from the heart of New Hampshire.
(2) Perfect Potfuls Assorted Gourmet Coffees by Coffee Masters – 1.5 oz. – Packets of rich, gourmet coffee that are premeasured to create the perfect pot-full.
Country Ham Biscuit Slices by Broadbent's – 8 oz. – Slices of lean country ham that are cut to be just the right size to place on a biscuit.
Wild Maine Blueberries by Highland Sugarworks – 3.5 oz. – The freshest wild Maine blueberries that are packed in water so they're the freshest ever, making them perfect for pancakes.
Country Biscuit Mix by Colebrook Farms – 16 oz. – A gourmet mix that's crafted with only the most delectable of ingredients.
Blueberry Pomegranate Jam by Straight from the Jar – 10 oz. – A delicious sweet jam with the right amount of sugar and the defined taste of blueberries and pomegranates.
Not only does Gourmetgiftbaskets.com have a variety of Mother's Day gourmet gift baskets to choose from, they are currently offering free shipping or $10 off expedited shipping. Free and expedited shipping is great for those of you who are looking for last minute Mother's Day gifts.
Get a head start and order your unique gift baskets for mom from Gourmetgiftbaskets.com now!
"Want to showcase your product to my audience? Then check my advertising options." Click here.