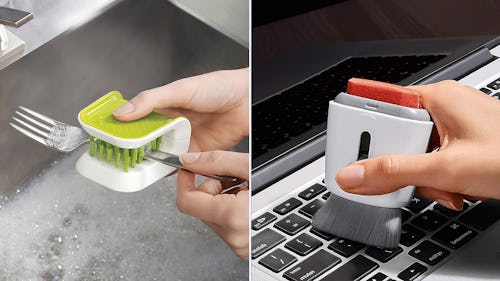 — Amazon
Picture your dream house: Maybe it's full of stunning new items and appliances that look beyond expensive. Surprisingly, Amazon has a bunch of hidden gems on Amazon that can make your dreams come true — and, many of them are easy on your wallet.
Keep scrolling through this list to find a number of great products that make your kitchen, living room, bedroom, and even your bathroom look amazing while on a budget.
This Bag-Cleaning Ball You Can Pop In Your Purse
Sauberkugel The Bag Cleaning Ball
Amazon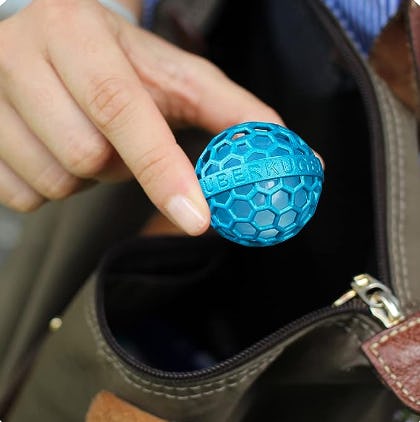 Keep the inside of your purse clean with this bag-cleaning ball. It picks up dust, dirt, and crumbs for a cleaner purse in no time flat, and it's completely free of potentially harmful ingredients like phthalates and PVC. Pro tip: buy more than one and stash them in all your favorite totes; they're an especially smart buy for your kids' backpacks.
This Stainless Steel Whisk Blender For Better Baking
Newness Stainless Steel Whisk Blender
Amazon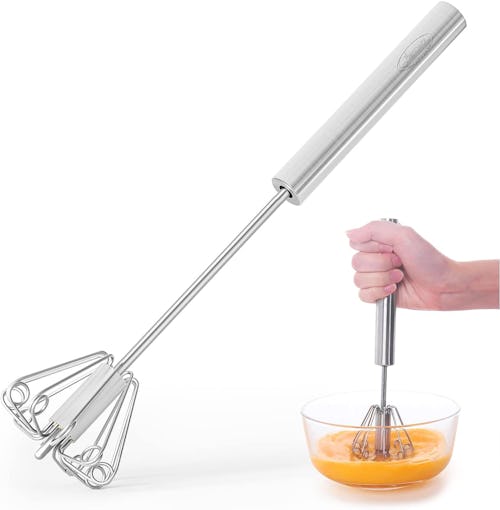 With this Stainless Steel whisk blender, you can beat eggs, froth milk, and whip cream in a matter of minutes. Its durable material means it holds up under pressure, and it couldn't be easier to use — all you have to do is push it down to get it started. When you're finished in the kitchen, just clean it off with soapy water, rinse it, and pat it dry, so you'll have it on hand for your next batch of chocolate cookies.
This Travel Cup Holder You Can Attach To Your Luggage
riemot Luggage Travel Cup Holder
Amazon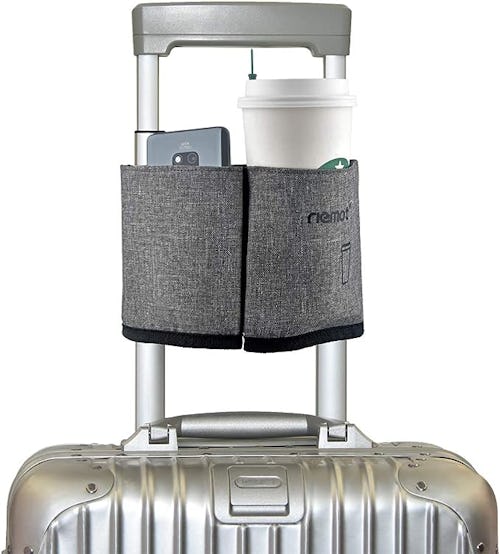 Use this travel cup holder to stash your coffee while you wait at your gate. Each cup holder can carry up to two coffee mugs, but you can also use its convenient pockets to store your devices. It'll accommodate most roll-on suitcase handles since you can adjust its powerful hook and loop closure for a custom fit. You can buy it in multiple colors and fun prints.
This Magnetic Phone Holder For Convenient Hands-Free Calling
CloudValley Magnetic Laptop Phone Holder
Amazon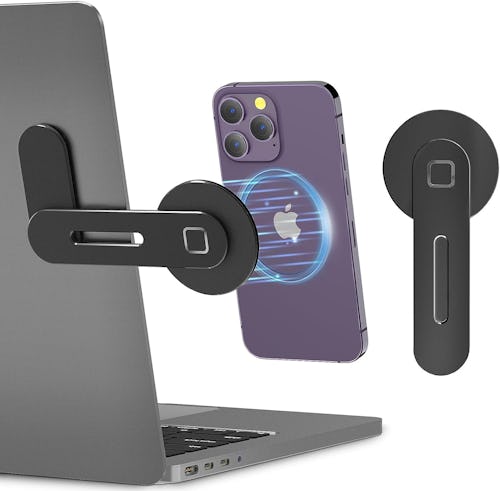 With this magnetic Phone holder, you can call loved ones, watch videos, and blast your favorite music completely hands-free. It'll fit phones of all shapes and sizes, and its lightweight design means you can toss it in your bag for long days at work. It's so easy to use: just tear off its protective adhesive tape, stick it to the back of your laptop monitor, and rotate its arm to your desired angle.
This Popular Sheet Set That Keeps You Cool While You Sleep
Mellanni Cooling Queen Sheet Set (4 Piece Set)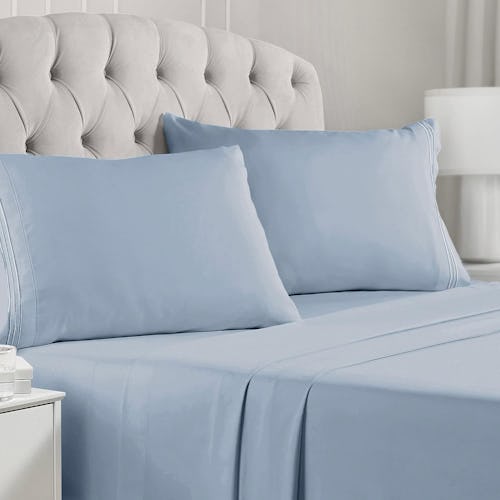 This sheet set is made of a cooling microfiber material that wicks away moisture for a more comfortable night's sleep. Its lightweight and breathable fabric ensures you'll want to use it all year long, and its deep pockets fit snugly onto mattresses of up to 16 inches in height. Plus, they're shrinking, fade, wrinkle, and pill-resistant, saving you some extra time on laundry day.
Available sizes: Twin — California King
Available colors: 40
This Ingenious Dolly You Can Take Up & Down The Stairs
dbest products Stair Climber Trolley Dolly
Amazon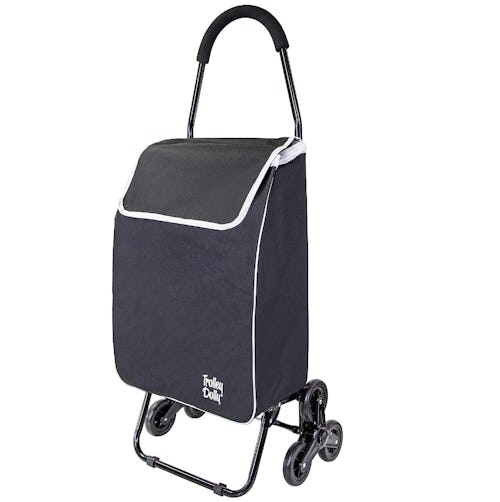 If you're an apartment dweller who lives in a walk-up, you may want to invest in this ingenious dolly. It's designed specifically to travel up and down stairs with you, so bringing home your groceries won't feel like lifting weights. On moving day, you can detach the bag and use it to transport furniture pieces that weigh up to 110 pounds.
This Desktop Water Dispenser To Keep You Hydrated At Work
Keweis Desktop Water Bottle Dispenser
Amazon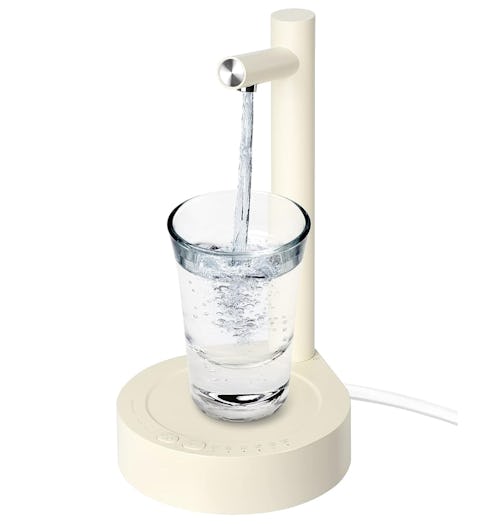 With this desktop water dispenser, you'll stay hydrated for the duration of your work day. Its single-button design makes it incredibly easy to use, and it's so compact that it won't take up much room on your desk. It even easily charges with a USB, and works with jugs up to six gallons, making it easier than ever to make sure you're drinking enough throughout the day.
An Electric Bug Zapper Racket For A Pest-Free Home
Anne Diary Electric Bug Zapper Racket
Amazon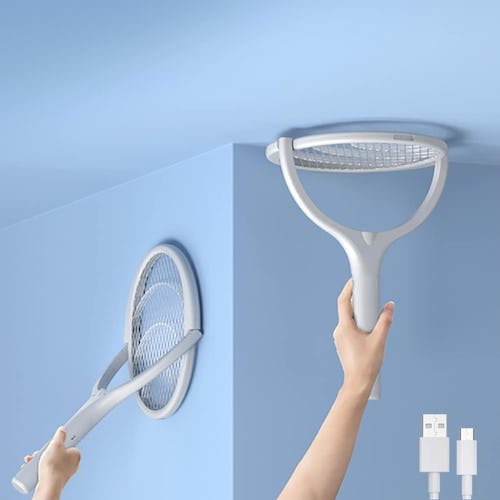 Keep your home free of unfriendly pests with this electric bug zapper racket. Its high-capacity rechargeable battery keeps it. charged for long periods of time, so you'll always be prepared to take down those pesky gnats, flies, and mosquitos. You'll also receive a wall mount and stand base with your purchase for easy storage in your bedroom, bathroom, or kitchen. You can also buy this zapper in a two-pack.
This Vent & Blind Duster To Reduce Allergens In Your Space
SetSail Vent and Blind Duster
Amazon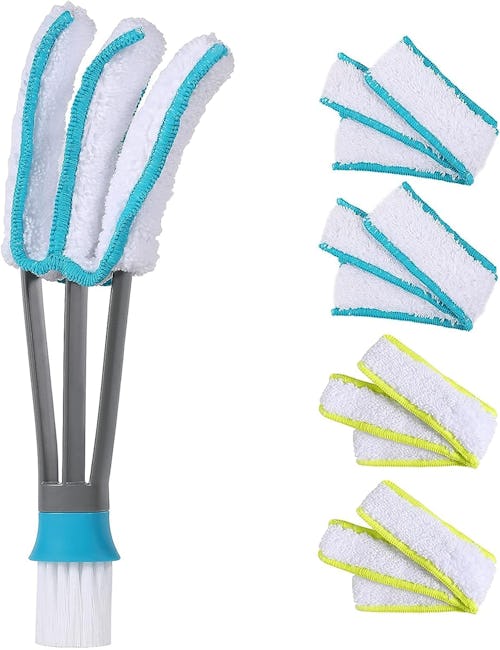 Remove dust, dander, and debris with this vent and blind duster, which helps you keep allergens at a minimum in your space. It comes with four microfiber sleeves to pick up particles from window blinds, car vents, air conditioners, and anything else that could use a good sweep. You'll also appreciate its lightweight design, which makes it easy to use during extensive cleaning missions and Sunday resets.
This Hot Iron Holster For Your Hairstyling Tools
Holster Brands Hot Iron Holster
Amazon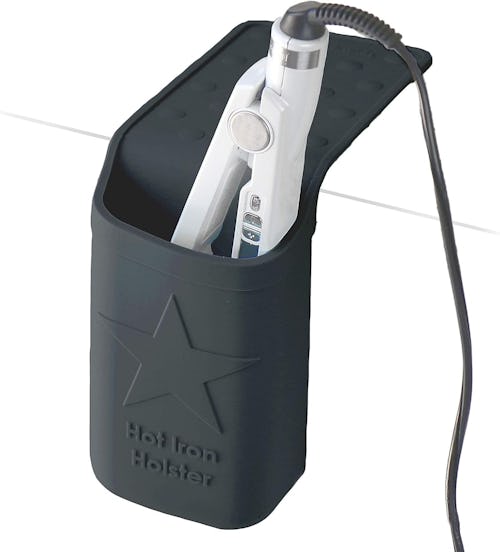 For maximum safety while styling, invest in this hot iron holster. It'll attach to smooth surfaces with the utmost ease, and its durable silicone material will withstand temperatures of up to 500 degrees. Use it to store straighteners, curling irons, blow dryers, and any other tools you might not want to touch with your hands or place directly on your countertops. You can buy it in one of four colors to best match your room.
A Foldable Sink Cover For More Bathroom Counter Space
Sink Topper Foldable Sink Cover
Amazon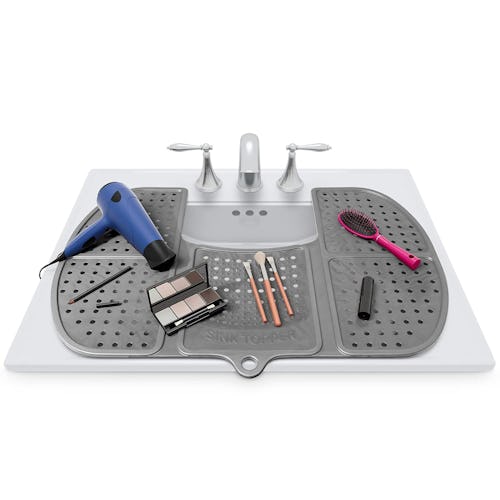 Beauty gurus will love this foldable sink cover for all the extra counter space it provides. Its textured surface holds your favorite tools and products securely in place while you prime, powder, and tweeze. Bonus: it'll withstand temperatures of up to 480 degrees Fahrenheit, so you can put your hot tools down without scorching your sink or countertop.
This Fabric Shaver & Lint Remover To Keep Your Knitwear In Good Condition
Bymore Fabric Shaver and Lint Remover
Amazon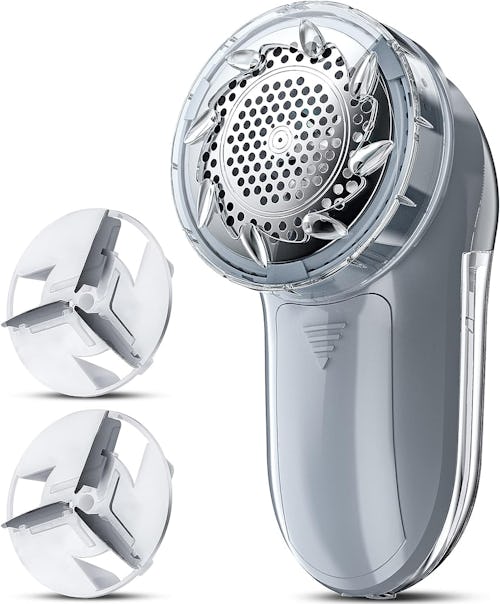 Keep that beautiful vintage sweater your mom gave you in excellent condition with this fabric shaver and lint remover. Its smooth surface and adjustable height remove pilling from all sorts of fabrics to preserve your favorite pieces. If it's assembled incorrectly, it'll stop shaving automatically, which protects your furniture, clothes, and (most importantly) hands from damage. With over 8,500 five-star reviews, you know you can trust it with your favorite pieces.
This Universal Phone Holder You Can Use While You Fly
Perilogics Universal in Flight Airplane Phone Holder Mount
Amazon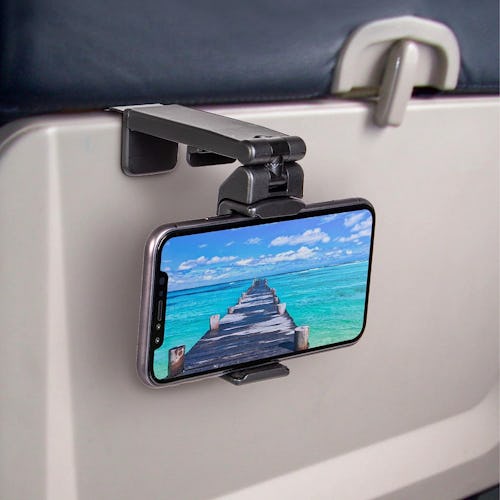 If your airline's selection of in-flight entertainment just isn't cutting it, use this universal phone holder to watch your favorite films and TV shows from 40,000 feet above. Its strong clamp extends up to 1.5 inches wide, and it'll attach to tray tables, luggage handles, gym equipment, and so much more. You'll also appreciate its dual joints, which enable it to rotate up to 360 degrees, so you can customize the way you watch.
These Magnetic Vent Covers That Help Cut Down Your Energy Bill
SEAL360 Magnetic Vent Covers (3-Pack)
Amazon
If you're looking to cut down on your energy bill, try these magnetic vent covers, which come in a pack of three. They'll block hot or cold air from entering unoccupied rooms, which boosts airflow to the rooms where you actually want it. Each cover conforms completely to your vent damper, which maximizes your heating or air conditioning, so you won't use as much energy on a regular basis.
These Car Coasters That Fit Snugly In Your Cupholders
SINGARO Car Cup Coaster (4-Pieces)
Amazon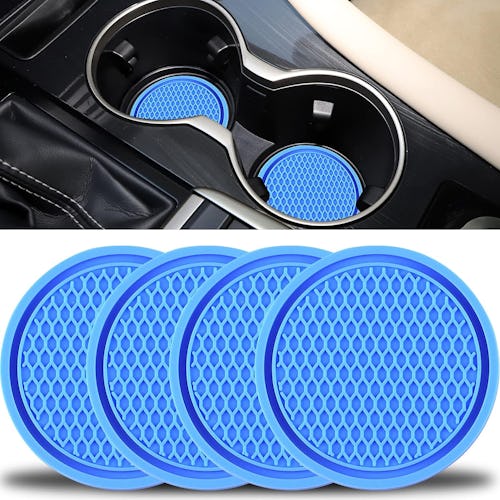 These car coasters fit snugly in your cupholders to keep your beverages from slipping and sliding. It's made of a soft and flexible PVC material that's waterproof and dustproof to withstand whatever you decide to drink. You'll also appreciate its groove pattern and stunning color options, which add a bright burst of cheer to your car.
This Sweep & Swipe Laptop Cleaner That Removes Dust, Dirt, & Smudges
OXO Good Grips Sweep & Swipe Laptop Cleaner
Amazon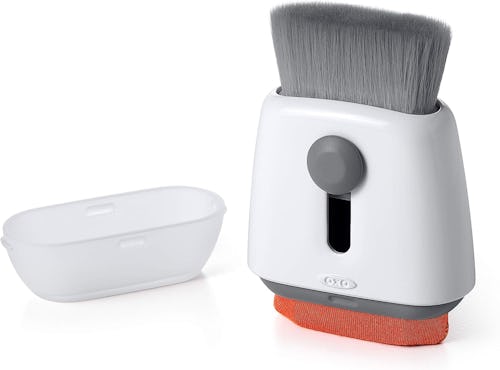 This sweep-and-swipe laptop cleaner eliminates dust, dirt, and smudges for a clearer screen while you scroll. It's equipped with a microfiber pad and a soft brush, and when it's not in use, you can cover it up with the included storage cover. Because it's lightweight and portable, you can toss it in your bag or briefcase to clean up on the job.
These Super Soft Pillow Cases For An Amazing Night Of Sleep
HC COLLECTION Pillow Cases (Set of 2)
Amazon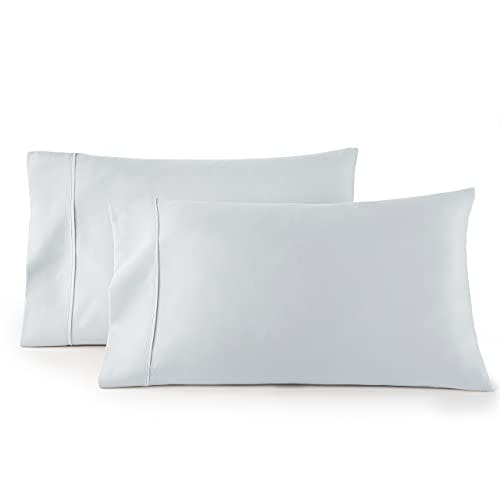 If you're looking to level up your beauty rest, invest in these super soft pillowcases for an amazing night of sleep. Each pillowcase is made of a soft microfiber material that's lightweight, breathable, and won't fade in the washing machine. Choose between 12 stunning hues for the color that best fits your bedroom decor; they're available in standard/queen and king sizes to accommodate your pillows.
This Hiding Spot For Your Spare Key That Looks Like A Rock
RamPro Hide-a-Spare-Key Fake Rock
Amazon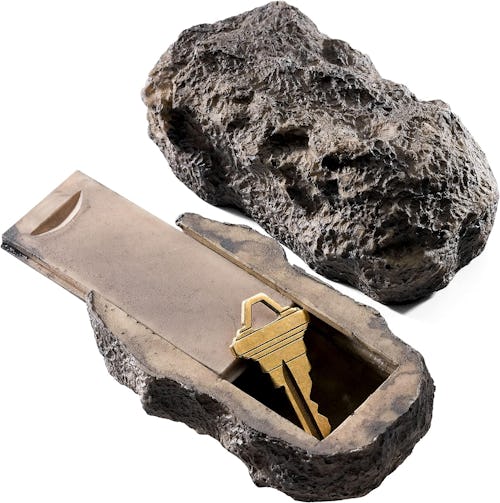 Invest in this hiding spot for your spare key, which looks and feels exactly like a rock at first glance — examine it closely, and you'll find a hidden storage compartment. It's made of a molded poly-resin material that's durable and sturdy enough to hold up against the elements, whatever the weather may be. You can also use it to hide money, jewelry, or any other valuables to keep them safe and secure.
These Refillable Perfume Atomizer Bottles To Spritz On The Go
Fivexing Refillable Perfume Atomizer Bottles (2-Pack)
Amazon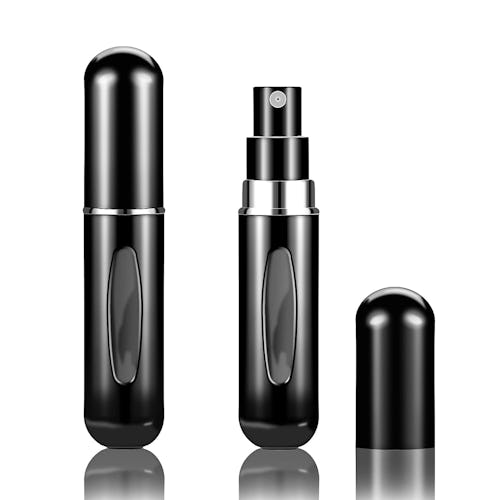 Use these refillable perfume atomizer bottles to take your favorite scents on the go with you. When you spritz, it creates a fine mist that evenly distributes your latest perfume obsession, so you'll smell amazing anytime, anywhere. To refill it, simply unscrew the perfume cap and insert the small opening at the bottom of the atomizer; it'll absorb just the right amount of perfume, making it a smart choice for backpackers or travelers who want to see the world with a smaller suitcase.
This Mulberry Silk Sleep Mask That's So Gentle On Skin
ALASKA BEAR Mulberry Silk Sleep Mask
Amazon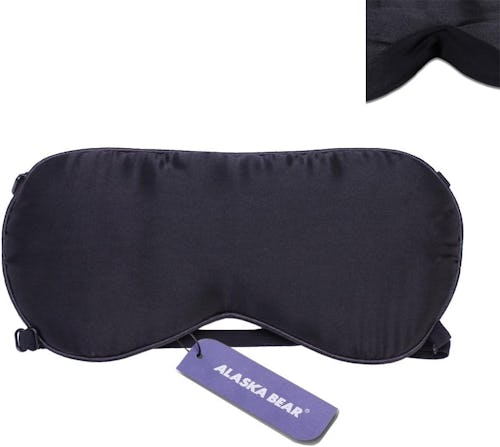 The undereye area can be especially sensitive; that's why this mulberry silk sleep mask is such a great buy since it's incredibly gentle on the skin. With two thin adjustable straps that go above and below your ears, it'll stay securely in place all night long, no matter how much you might toss and turn. It's also equipped with a soft nose flap, which completely blocks out light for sensitive sleepers who need it to be completely dark.
This Memory Foam Neck Pillow For Soft Support
Cushy Form Neck Roll Pillow
Amazon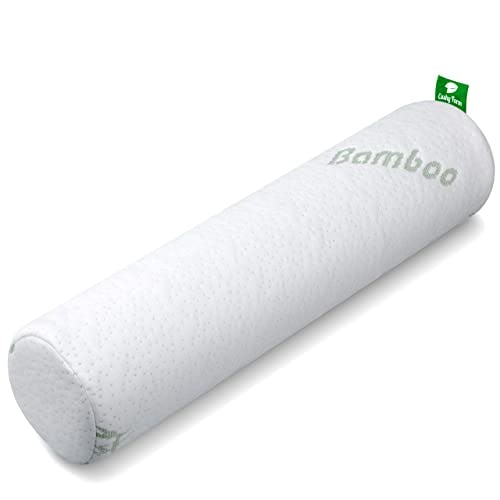 This memory foam neck pillow helps you align your spine while you're lying down, which can seriously reduce pain, strain, and discomfort. It's made of a supportive memory foam material and covered in an ultra-soft bamboo fabric that's fully machine washable. You can also use it to relieve discomfort in your knees, back, and spine, no matter how hard your workout regimen is or how exhausted your joints may be.
This Outlet Shelf To Hold Your Devices While They Charge
WALI Outlet Shelf Wall Holder
Amazon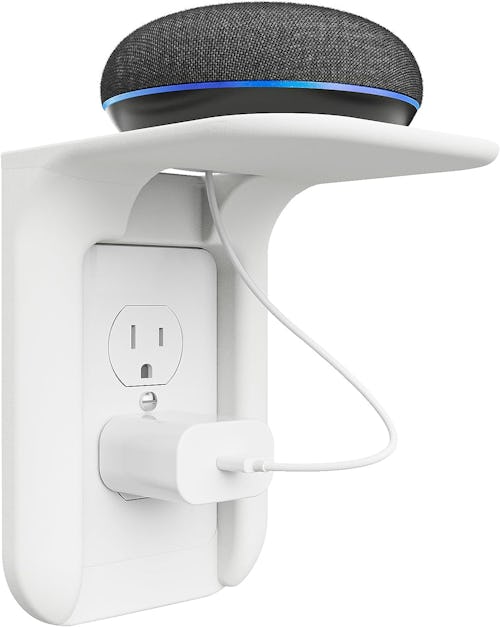 This outlet shelf holds your devices while they charge, which can be especially helpful if you're working with a shorter cord. It'll support up to 10 pounds at a time, so you can charge phones, tablets, and electric toothbrushes alike with the utmost confidence. Plus, it's super easy to install in a matter of minutes, so home improvement novices and experts alike will feel comfortable taking on the task.
These Mop Slippers For Clean Floors Without The Hassle
Tamicy Mop Slippers Shoes (5-Pairs)
Amazon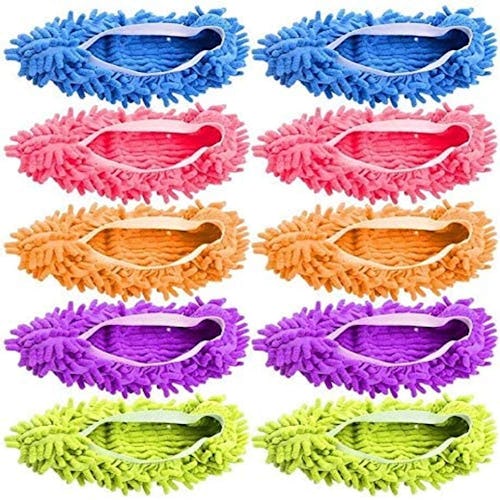 Turn your next deep clean into a dance party with these mop slippers, which come in a pack of five for maximum convenience. Each slipper features an adjustable elastic cord that allows you to customize its size for a better fit around your foot. Of course, you can also attach them to your mop head if you prefer a more traditional cleaning experience (it's still advisable to turn your favorite playlist up to full volume).
This Adorable Cherry Measuring Spoon Set With An Egg Separator
OTOTO Mon Cherry Measuring Spoons & Egg Separator
Amazon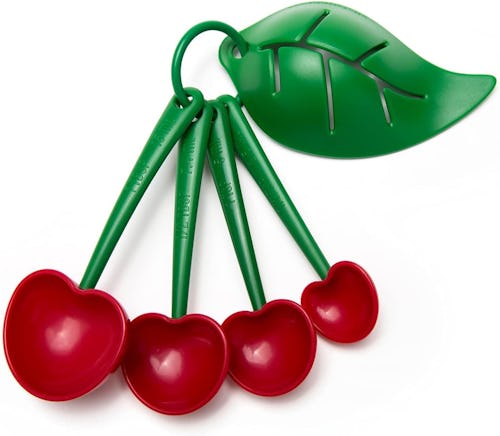 This adorable cherry measuring spoon set is sure to bring a smile to your face while you bake your favorite breakfasts and desserts. When you buy, you'll receive four spoons that range in size from half a teaspoon to a tablespoon, along with an egg separator that sets the yolk aside from the whites in no time flat. Use it with dry and liquid ingredients alike. When you're dutifully measuring out the perfect amount of seasoning, you'll be happy to have this set on hand.
This Phone Umbrella Stand For Screen Time On Rainy Days
VIVOUNITY Phone Umbrella Suction Cup Stand
Amazon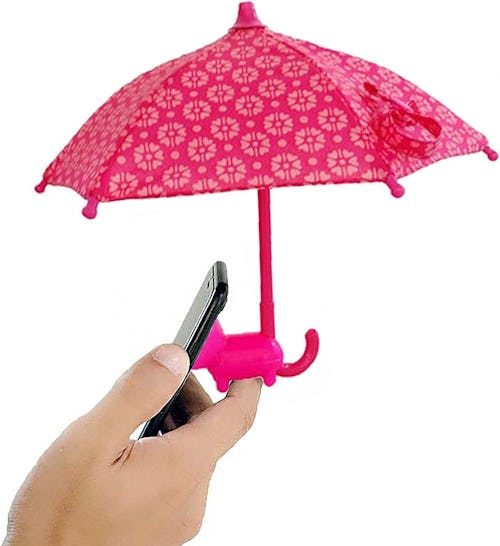 Using your devices in the rain can be perilous; invest in this phone umbrella stand for safer screen time when the weather is especially wet. It attaches to your phone with a powerful suction cup made of durable silicone, and it's equipped with a nonslip pad that keeps it stable while you talk, text, or video chat. You'll also be happy you have this on hand the next time you hit the beach since it'll block the sun's rays for better screen visibility.
These Silicone Trays For Ice Cubes That Fit In Your Water Bottles
Lily's Home Silicone Narrow Ice Stick Cube Tray (Set of 3)
Amazon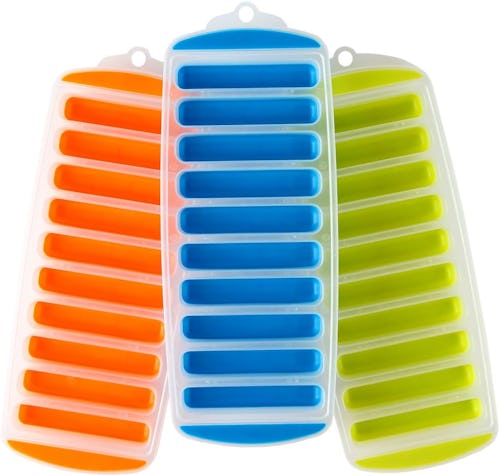 For ice cubes that actually fit in your water bottles, invest in these silicone trays. Simply fill them up with water and pop them in the freezer, and you can keep your favorite drinks colder for longer, even if they're in smaller containers. Each tray features a different hue, and they're all bright enough to add a pop of color to your freezer; use them to make flavored ice or even popsicles for a craft the whole family will love.
This Expandable Utensil Organizer Made Of Timeless Bamboo
Dynamic Gear Expandable Bamboo Utensil Organizer
Amazon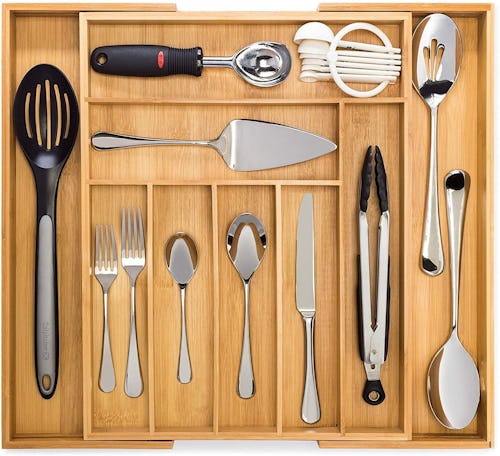 This expandable utensil organizer fits in your drawers with the utmost ease, since you can actually customize its size. It's equipped with multiple compartments, which you can use to store cutlery, flatware, and larger utensils in an organized manner. You'll also appreciate its classic bamboo material, which is fully water-resistant. If it's in need of a clean, you can simply wipe it down with a damp cloth.
These Stainless Steel Tumblers That Keep Cold Drinks Cold
FineDine Insulated Skinny Stainless Steel Tumbler Set ( 4-Pack)
Amazon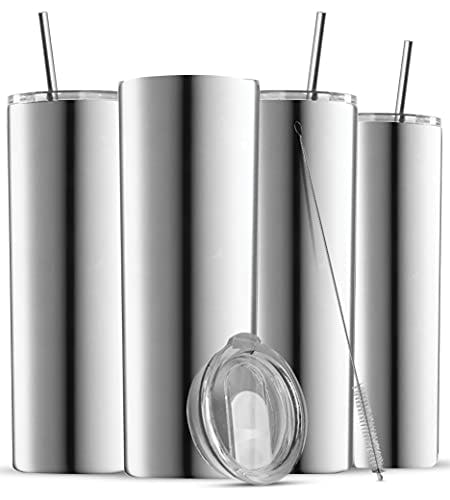 These stainless steel tumblers will keep your drinks at their ideal temperatures all day long. Because they're designed with double-walled insulation, your hot beverages will stay hot for up to six hours, and your cold beverages will stay cold for up to 12. Protective lids ensure your drinks stay in the tumblers and not on the coffee table or floor, and sliding seals close them completely when they aren't in use.
These Shelf Liners That Make Cleaning Your Refrigerator So Much Easier
AKINLY Washable Refrigerator Shelf Liners (9-Pack)
Amazon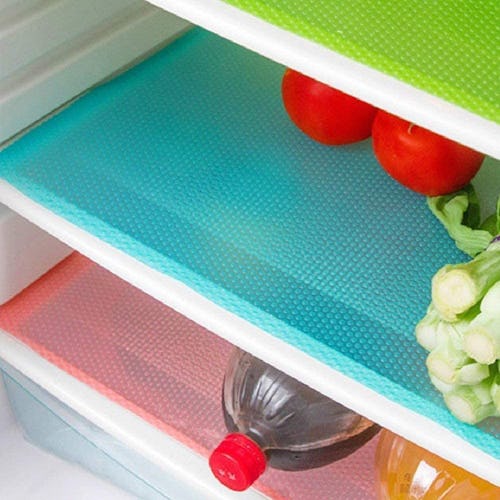 Available in a pack of nine, these colorful refrigerator shelf liners are a great way to protect your fridge from getting dirty or sticky. These mats are totally reusable and super easy to wash. Reviewers love that they have texture and are 100% anti-skid, so they'll stay in place as you rearrange and organize your fridge. The material is also lightweight so if you need to trim them down for size, you won't have a problem.
This Lazy Susan That Also Doubles As A Spice Rack
Greenco Bamboo Lazy Susan Turntable Spice Rack
Amazon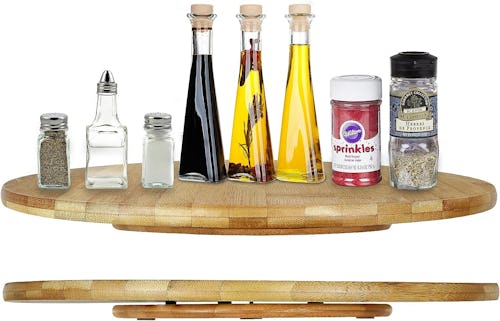 Whether you're hosting for the holidays or are looking for a neat way to organize your spices, this bamboo lazy Susan does it all. Crafted from natural bamboo, the wood can easily be washed by hand with warm soap and water. It features a 360-degree turntable, which makes it perfect for displaying fresh fruit on your counter or to easily access condiments in the pantry.
This Salt & Pepper Grinder That Has Over 7,500 5-Star Reviews
Modetro Salt and Pepper Grinder
Amazon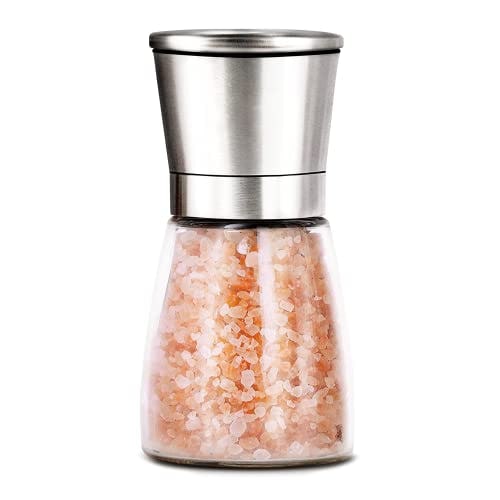 It's easy to see why this sleek salt and pepper grinder garnered a 4.5-star review and has nearly 8,000 five-star reviews. It's crafted from durable stainless steel that will look great in any kitchen. The grinder allows you to choose how fine or coarse you want your spices to be, while the glass container makes it easy to see when it's time for a refill. It's also designed to make refilling it less of a messy project.
This Handheld Milk Frother That Has So Many Uses
Zulay Original Milk Frother Handheld Foam Maker
Amazon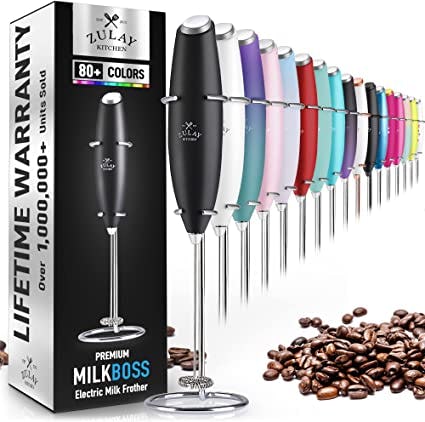 If you've yet to invest in a handheld milk frother, take this as your sign. This kitchen gadget is a game-changer for making foamy milk in seconds to create a delicious cappuccino. You can also use it for blending matcha, whisking eggs, or mixing homemade salad dressing. The portable and compact design takes up minimal counter space and has an ergonomic handle for a comfortable grip.
This Innovative Lighter That You Can Recharge With A USB
Power Practical USB Rechargeable Candle Lighter
Amazon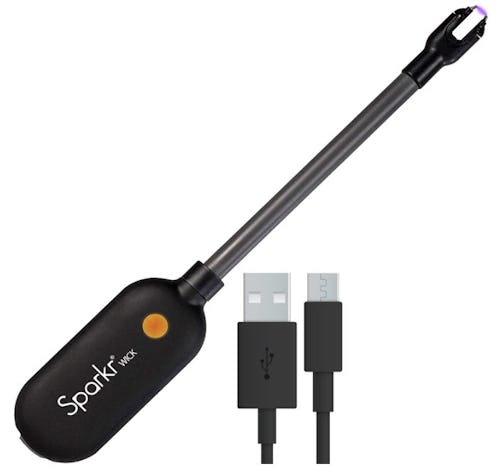 This flameless electric lighter is as sleek as it is functional. The eight-inch-long design will help you light candles without having to worry about burning your finger. It comes with a USB plug to easily recharge it whenever you need. You can use it outdoors for bonfires or on the grill, as the lithium power can withstand strong winds.
These Adhesive Rug Grippers That Keep Your Carpet Flat
iPrimio NeverCurl Rug Gripper
Amazon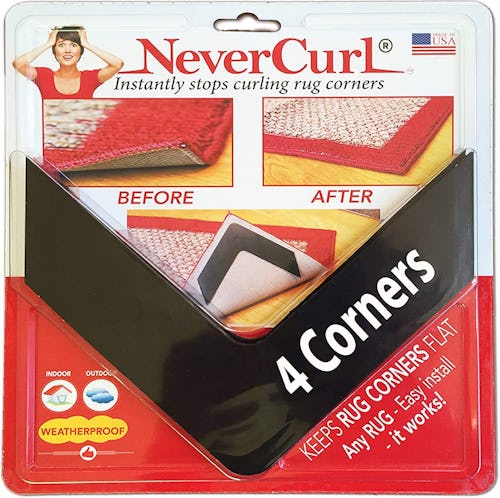 These rug grippers are a quick and easy solution to prevent your carpet from curling up. The pack comes with four corners and has an adhesive backing that works on all types of floor surfaces. They're also totally weatherproof, so it's a great option to help tame outdoor rugs as well.
This Grout Pen That Will Make Your Bathroom Tiles Look Brand New
Rainbow Chalk Markers Ltd Grout Pen
Amazon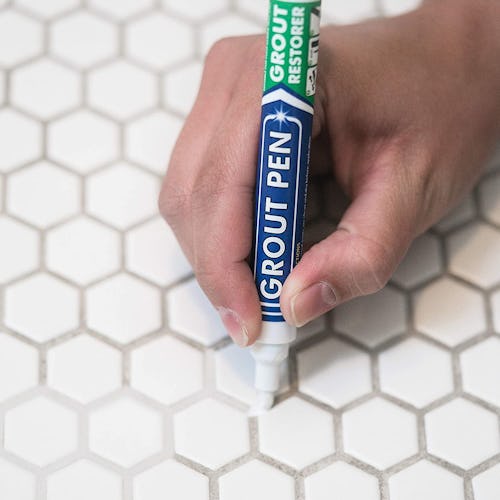 Bring your dull tiles back to life with this best-selling grout pen. The water-based formula is non-toxic and has minimal odor. The pen will cover up to 150 feet of grout with a two-millimeter width and will work on your kitchen or bathroom floor — you can even use it to freshen up shower tiles. Reviewers love how quick the drying time is.
These Lights That Will Brighten Up Dark Spaces
POWER PRACTICAL Luminoodle Under Cabinet Lighting
Amazon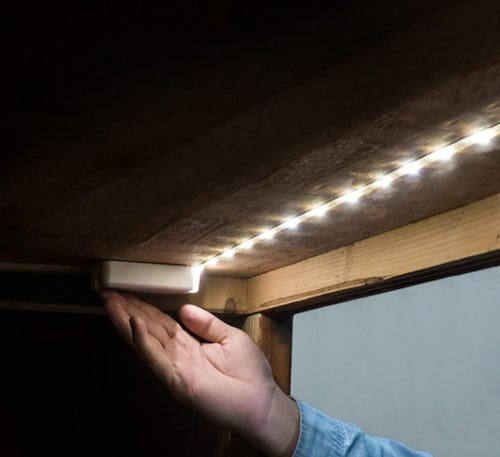 Whether you stick these LED lights underneath your cabinets, in your garage, or on your closet shelves, you can't go wrong. Each light strip, which comes in either warm or white, features an adhesive that works on any surface without leaving a sticky residue behind. They are powered by three AA batteries and come in either a pack of one or three.
This Dog Nail Grinder That Will Save You Trips To The Groomer
DEELOKI Dog Nail Grinder with LED Light
Amazon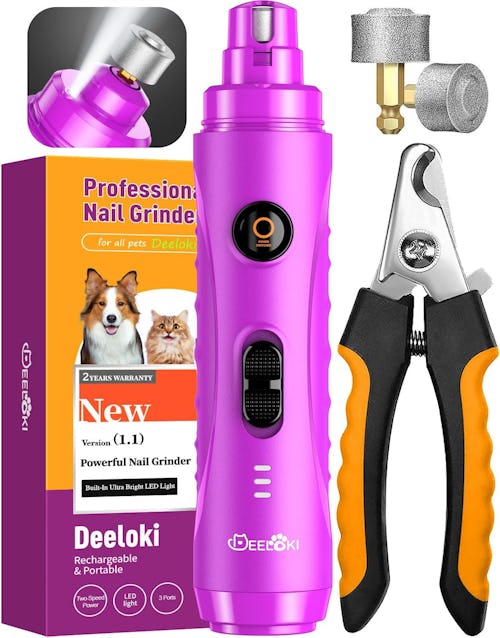 This dog nail grinder features an LED light so you can groom your pet's nails with precision and keep your dog safe. It features two adjustable speed settings to best accommodate your pup, and the kit also includes a pair of stainless steel nail clippers. The cordless device holds up to 11 hours of charge time and comes with its own USB, so you can easily recharge it even while traveling.
A Set Of Colorful Lights To Help Illuminate Your Television
Power Practical LED Colored Backlight
Amazon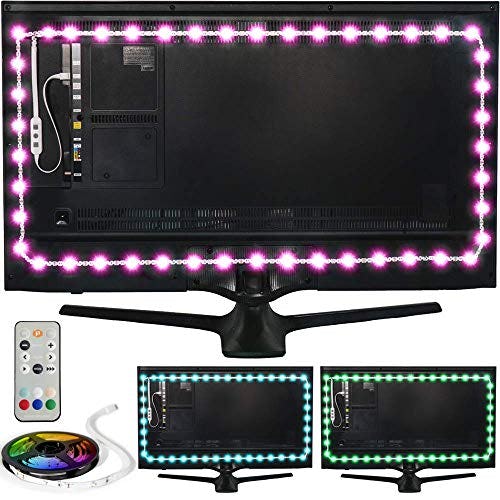 Add some funkiness to your home decor with these colorful LED lights that are designed to go behind your TV. These lights may look fun, but they are also functional as they work to reduce eye strain when watching television in the dark. Each set of lights comes with a remote control so you can adjust the brightness and choose any color of the rainbow to project.
This Coffee Maker That Is Actually Eco-Friendly
Coffee Gator Pour Over Coffee Maker
Amazon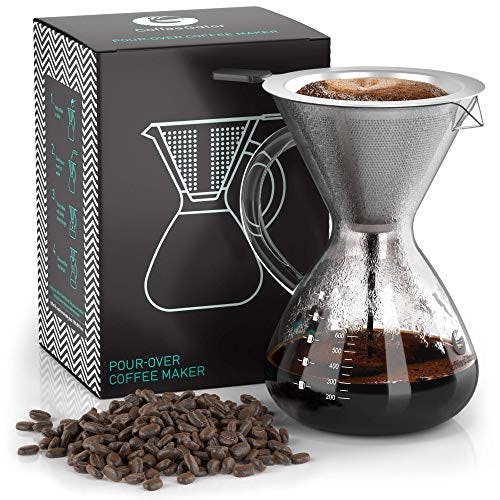 What makes this coffee maker so popular is the fact that it doesn't use single-use paper filters, which not only helps the environment but will save you major cash over time. Instead, it features a stainless steel mesh filter and has a glass carafe that can store up to three cups. The cool-touch handle will ensure that you won't burn your hand while filling your mug.
This Detangling Hair Brush With Over 53,000 5-Star Reviews
Crave Naturals Glide Thru Detangling Brush for Adults & Kids
Amazon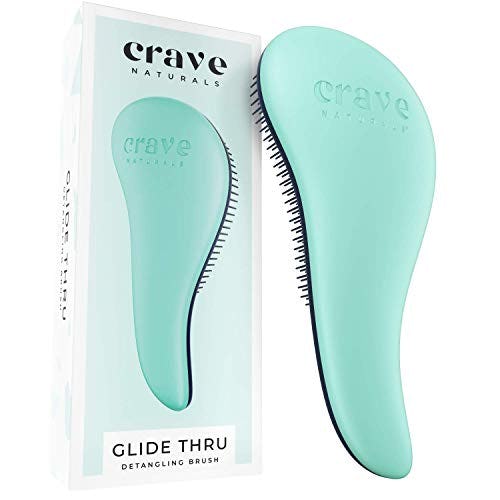 This popular detangling hair brush has over 53,000 five-star reviews and is of incredible quality — especially for the price. With soft yet firm bristles that won't cause damage, this brush works no matter the texture or length of your hair. It can also be used on either dry or wet hair, and its compact size makes it the perfect travel companion.
A 2-In-1 Vacuum Sealer That Prevents Food Waste
ROMSTO Handheld Heat Vacuum Sealer
Amazon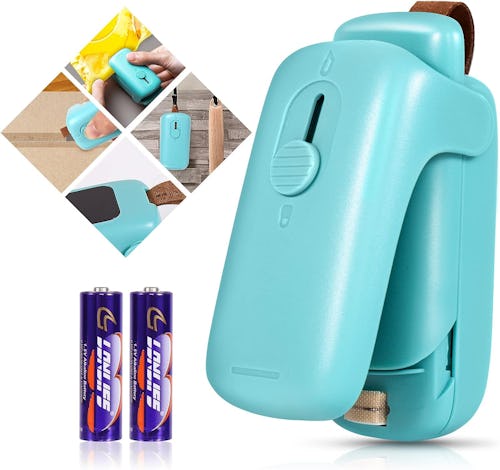 Prevent food waste and your snacks from getting stale with this handheld vacuum sealer. The multi-use device has two sides. The first has a small stainless steel blade for opening the bag, and the second one features a heating panel to seal it closed. It's powered by two AA batteries and has a portable design that makes it great to take with you while traveling or on a camping trip.
This Bamboo Mattress Topper That Keeps You Cool All Night Long
Zen Bamboo Rayon Derived from Bamboo Mattress Topper
Amazon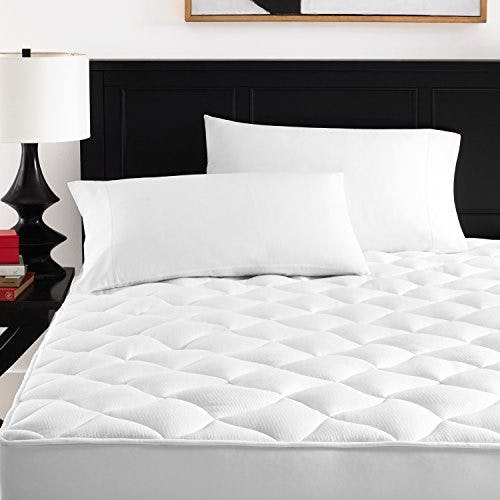 Get the best night's sleep with this comfy mattress topper that's crafted from incredibly soft micro-fibers and natural bamboo. The combination helps to regulate body temperature to keep you cool all night long. It's totally machine washable in cold water and has been designed to properly fit a size twin XL bed.
This Best-Selling Puppy Water Bottle For On The Go
MalsiPree Dog Water Bottle, Leak Proof Portable Puppy Water Dispenser with Drinking Feeder for Pets Outdoor Walking, Hiking, Travel, Food Grade Plastic (19oz, Blue)
Amazon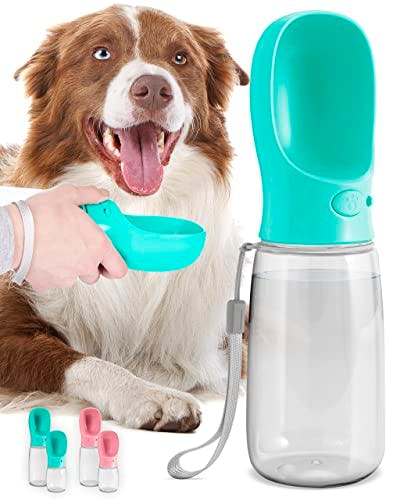 Keep your pup hydrated regardless of where you are with this portable puppy water dispenser. It features a leakproof lid that easily turns into a bowl. Simply press the button to release the water into the bottle so you can save it for later. It comes in a few different colors and is crafted from BPA-free plastic, making it safe for dogs (and humans).
A Pack Of Drawer Dividers Made From High-Quality Bamboo
Homemaid Bamboo Drawer Dividers (4-Pack)
Amazon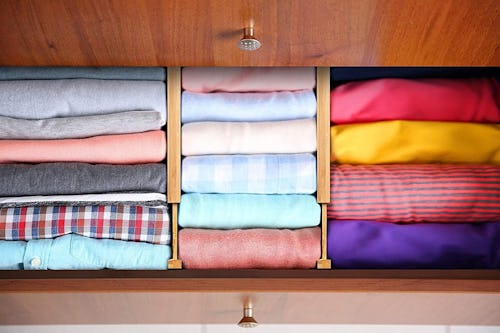 Keeping your drawers organized has never been easier thanks to these bamboo drawer dividers. They come in a pack of four and can easily be adjusted up to 22 inches long, making them super easy to install no matter which size dresser you have. Whether you use it to organize your socks, sweaters, or linens, your closet will never look better.
A Portable Dog Poop Scooper That Attaches To A Leash
DogBuddy Portable Dog Pooper Scooper
Amazon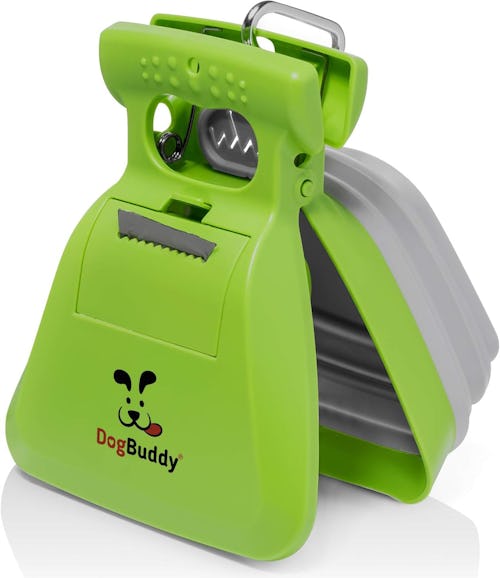 This portable dog pooper scooper has a keychain to easily attach your pet's leash so you'll never forget it. It comes in two sizes — medium and large — for a variety of different breeds. It has a built-in waste bag compartment for major convenience during walks. "This is the best invention I've bought in a long time," raved one of the many customers who gave it a five-star rating.
This Stain Remover That Reviewers Say Works Like "Magic"
Miss Mouth's Messy Eater Stain Treater
Amazon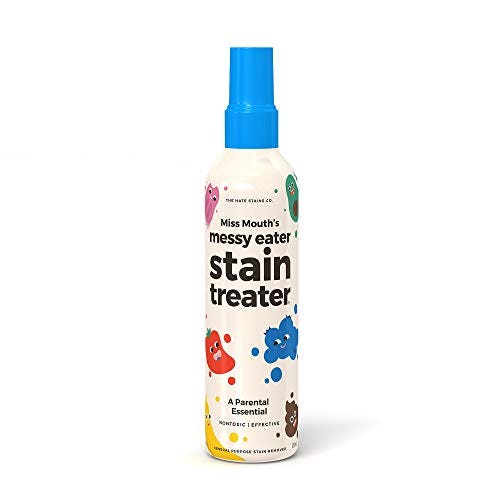 With over 32,000 five-star reviews, this stain treater comes highly recommended by thousands of impressed shoppers. Whether you have newborns or are known to be a bit messy, this spray is formulated with non-toxic chemicals that instantly remove fresh and old stains. From coffee to ketchup, ink, and baby food, Miss Mouth can help fix it. As one reviewer raved, "This stuff is magic! I kid you not! It's taken grass stains out of pants that were washed and dried and I thought were damaged forever."
This Brush That Makes Cleaning Your Cutlery So Easy
Joseph Joseph BladeBrush Knife and Cutlery Cleaner Brush
Amazon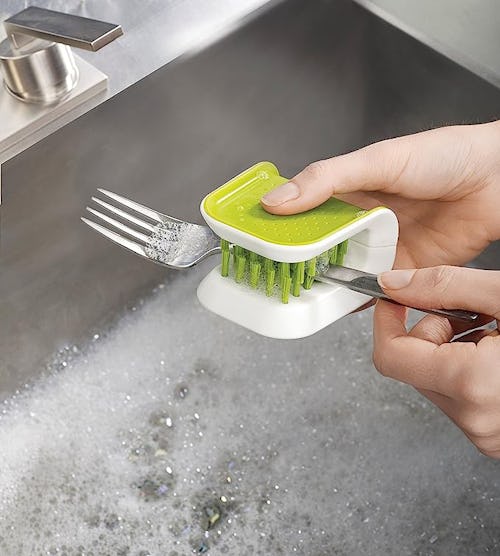 Cleaning your cutlery may be a tedious task, but this brush makes it so much easier. It has a built-in blade and durable bristles that make cleaning your utensils so easy and effective. Simply sandwich the fork in between the brush and slide it back and forth. It also features a textured grip to prevent your hands from slipping.
This Bluetooth Headband That's Ideal For The Gym Or Bedtime
MUSICOZY Sleep Headphones Bluetooth Headband, Sports Wireless Earphones - Sweat Resistant Earphones, Sleeping Headphones with Ultra-Thin HD Stereo Speakers Perfect for Side Sleepers Insomnia, Workout
Amazon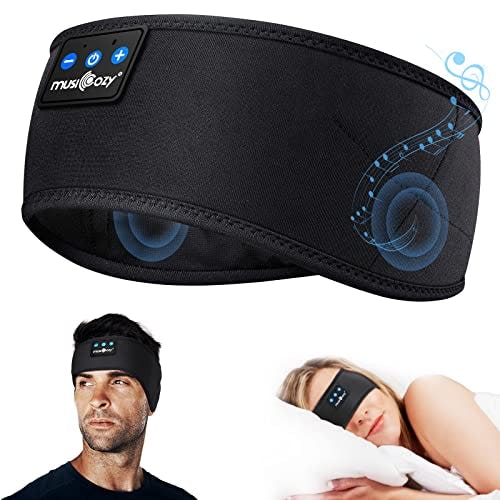 Whether you're trying to fall asleep or heading to the gym, this Bluetooth headband has built-in headphones so you can doze off to a sleep meditation or listen to music. It's crafted from stretchy, breathable cotton that has moisture-wicking properties. It also features buttons so you can control the volume, skip to the next song, and even answer calls. The rechargeable device stays fully charged for 10 hours.
This Cleaning Kit That Will Make Your Phone Screen Look Brand New
YTT Touchscreen Mist Cleaner
Amazon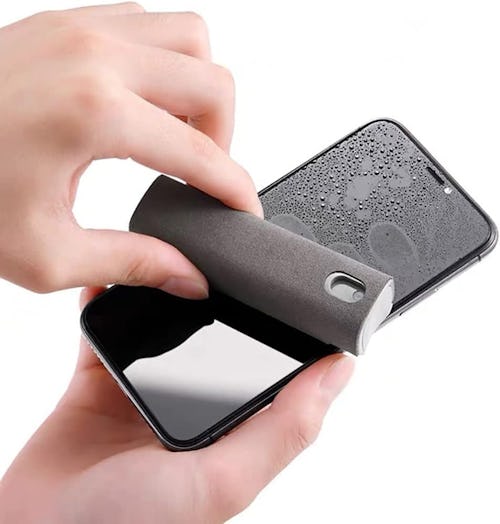 This mist cleaner comes with a microfiber cloth that cleans your smartphone and other devices efficiently. The compact size is as small as lipstick, making it easy to throw in your purse and have it on the go. Whether you're trying to get rid of fingerprints, dust, or dirt, this solution will leave all of your gadgets with a streak-free shine.
This Viral Gadget That Makes Carrying Your Grocery Bags So Much Easier
Click & Carry Grocery Bag Carrier
Amazon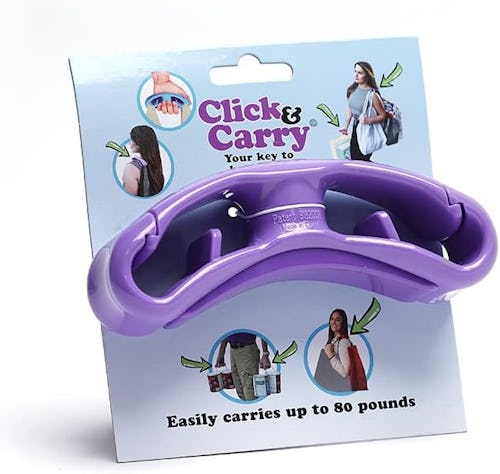 As seen on Shark Tank, this Click & Carry device makes holding heavy grocery bags so much easier. It can comfortably hold up to 80 pounds and has an ergonomically designed handle for a comfortable grip. You can also use it to hold your dry cleaning, ski boots, or multiple dog leashes at once. One five-star reviewer wrote, "I carried a month's worth of groceries up in one trip, barely even felt like I was carrying anything, was able to carry up a case of pop in my left hand and open my door in my right hand. I didn't struggle once making my trek upstairs."
This Blind Spot Mirror That Maximizes Your View While Driving
Ampper Blind Spot Mirror (Pack of 2)
Amazon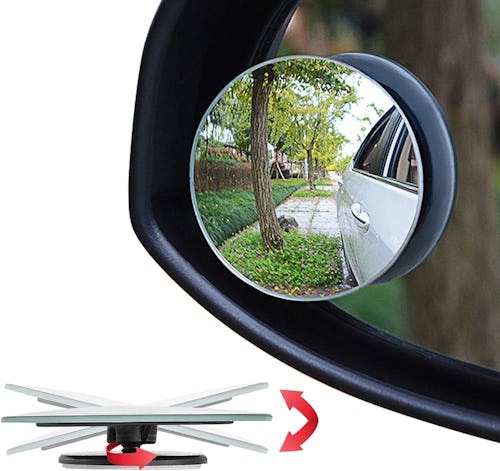 Available in a pack of two or four, this blind spot mirror easily sticks to your side mirrors to maximize your view while driving. The placement can easily be adjusted and it features a tiny swivel that can rotate 360 degrees to capture a wider angle. Installation couldn't be easier, and it makes a great safety upgrade for the price.
These Slim Hangers To Maximize Usable Space In Your Closet
ZOBER Slack/Trousers Pants Hangers (40-Pack)
Amazon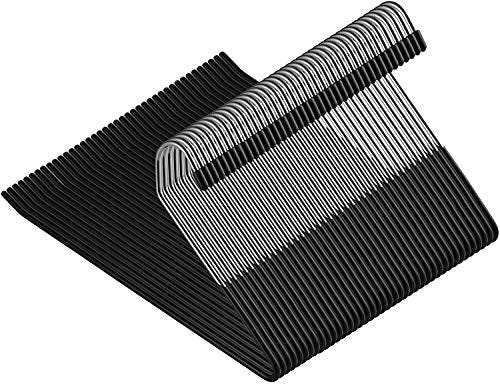 Make the most space in your closet with these pants hangers that have a slim design. They come in a pack of 40 and are made from durable chrome metal that is sturdy yet lightweight. The design features raised edges to prevent your clothes from slipping off and rubbered tips to avoid snagging the material. They come in pink, blue, and chrome.
This Extendable Duster That Helps Clean Hard To Reach Spaces
Estilo Ceiling Fan Duster - Long Fan Cleaner - Removable & Washable, Extendable up to 47" with Detachable Microfiber Head
Amazon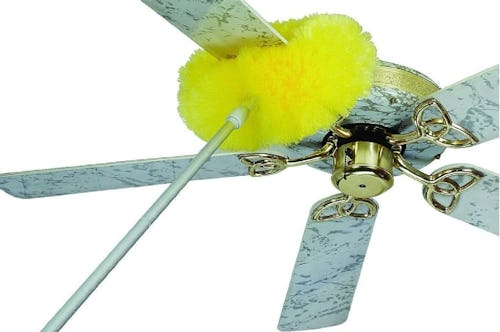 This ceiling and fan duster will easily clean hard-to-reach spaces with minimal effort. The handle extends from 27 to 47 inches while the microfiber brush, which works to trap dust, fits ceiling fan blades up to six inches. It has stellar reviews, with an overall score of 4.6 out of five stars. You can also buy them in a convenient two-pack, and keep one on each floor.
This Couch Cushion Support That Will Revive Your Old Sofa
LAVEVE Couch Cushion Support
Amazon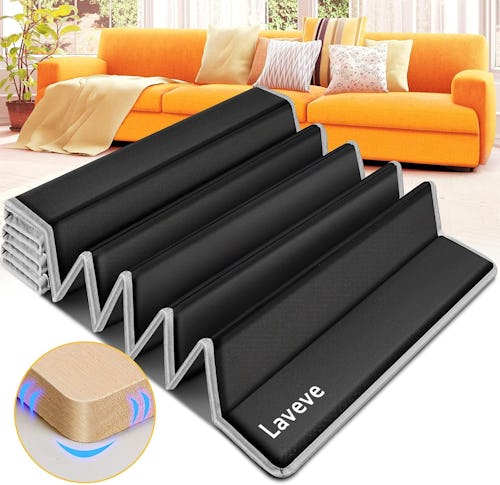 Whether your sofa is lived in or you're looking to add support to your couch, this heavy-duty couch cushion is a game-changer. It's designed with 15 high-hardness solid wood boards that prevent seats from sagging and take just seconds to install. It comes in four different sizes ranging from 23 to 81 inches long. Before shelling out for a new couch, try this gadget to give your old one a new life.
This Grill Cover To Protect Your Grill From Rain
Grillman Premium BBQ Grill Cover
Amazon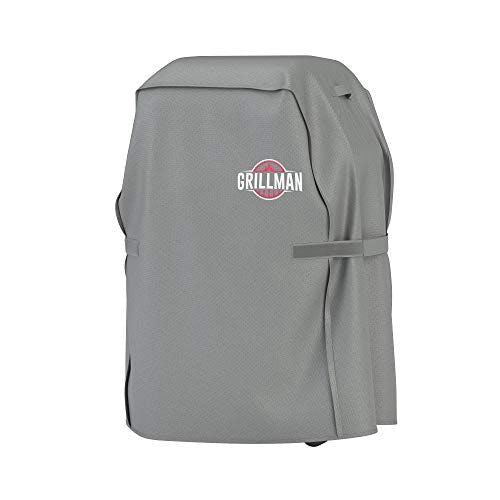 This premium grill cover is made from durable and heavy-duty material to protect your BBQ from rain, snow, insects, and so much more. It's designed with a hook and small loop straps so you can adjust the fit to make sure it'll stay in place and not blow away with the wind. Plus, the waterproof material makes it easy to clean.
A Magnetic Screen Door To Keep The Insects Out
AUGO Magnetic Screen Door
Amazon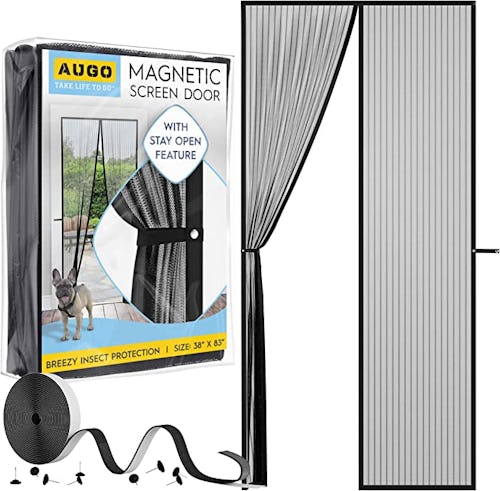 This magnetic screen door is a lifesaver for keeping insects out while letting fresh air in. Crafted from a fiberglass mesh material, this screen door is breathable and durable. It's available in three different sizes ranging from 81 to 97 inches wide and has magnets that are featured throughout the entire length of the screen for extra protection.
This Jewelry Cleaning Pen That'll Make Your Rings Sparkle & Shine
CONNOISSEURS Diamond Dazzle Stik
Amazon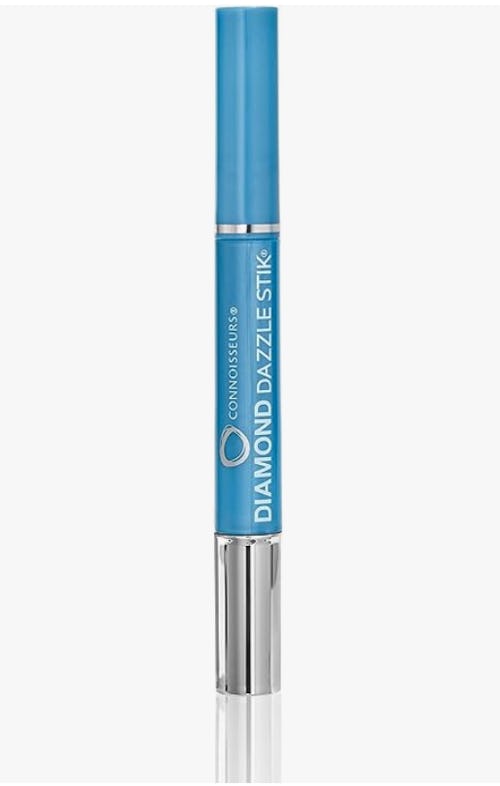 Over 39,000 Amazon customers rated this jewelry cleaning pen five stars. The gel is formulated with polish agents and micro-fine cleansers that help reduce the appearance of scratches. This pen is great at removing dirt to make your jewels look brand new. Perfect to keep in your tote or gift to your BFF who is newly engaged, you can't go wrong.
This Umbrella That You Can Easily Carry Hands-Free
EEZ-Y Reverse Umbrella
Amazon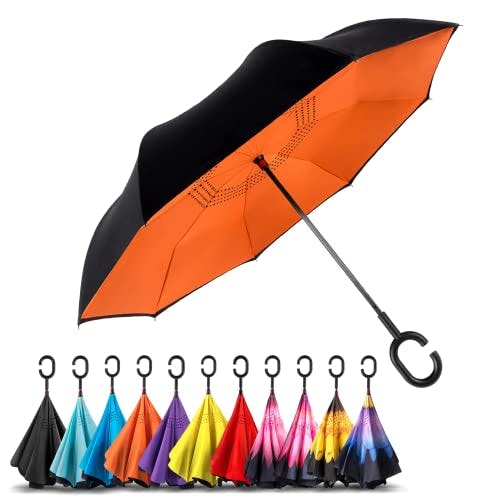 With a 47-inch canopy, this reverse umbrella has a unique design that prevents rain drips and drops when folded. It has a C-shaped handle for hands-free carrying that allows you to hold grocery bags or check your phone while walking. It's designed with windproof technology that is durable and built to last for years.
This Foot Spa That Can Save You Money On Pedicures
KNQZE Foot Spa with Heat
Amazon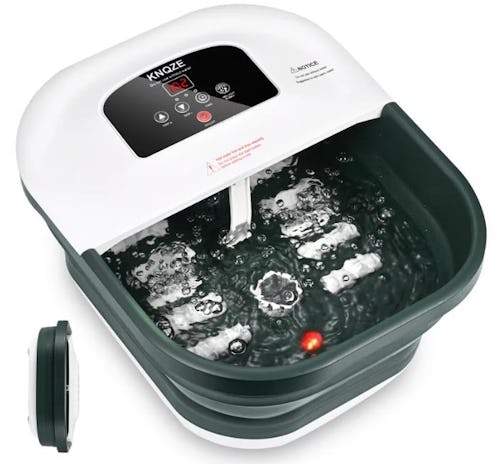 This post first appeared on Scary Mommy, please read the originial post: here