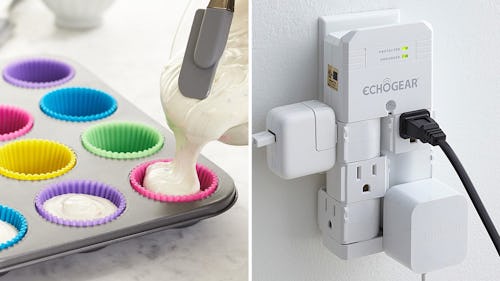 — Amazon
Amazon is a great place to go to find cool things and popular items that don't cost a small fortune. And, thanks to its reviews and informative star-rating system, you know you're probably in good shape when you hit "add to cart."
The items below have been rising in popularity, both due to the fact that they're highly rated, super cheap, and dare I say, life-changing. Keep scrolling to find a ton of inexpensive goods that are incredibly sought-after right now.
This Digital Kitchen Scale With A Bright LCD Display
Etekcity Food Kitchen Scale
Amazon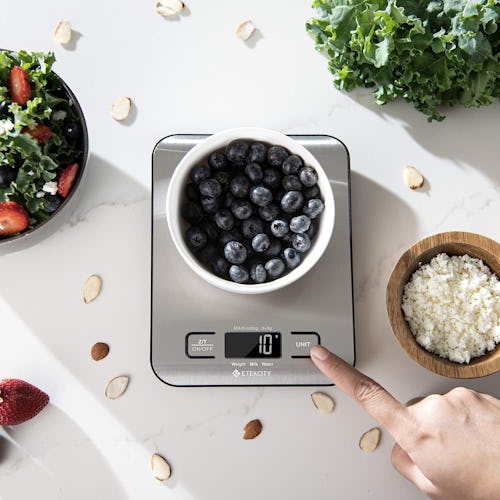 Get your baking down to a science with this digital kitchen scale, which weighs your ingredients with astonishing accuracy. It's made of a durable Stainless Steel material that you can wipe down to keep it clean between uses. Plus, its sleek design makes it super easy to store without taking up too much kitchen space.
This Universal Car Phone Mount That Works With A Variety Of Vehicles
VANMASS Universal Car Phone Mount,【Patent & Safety Certs】 Upgraded Handsfree Stand, Phone Holder for Car Dashboard Windshield Vent, Compatible with iPhone 14 13 12 Samsung Android & Pickup Truck
Amazon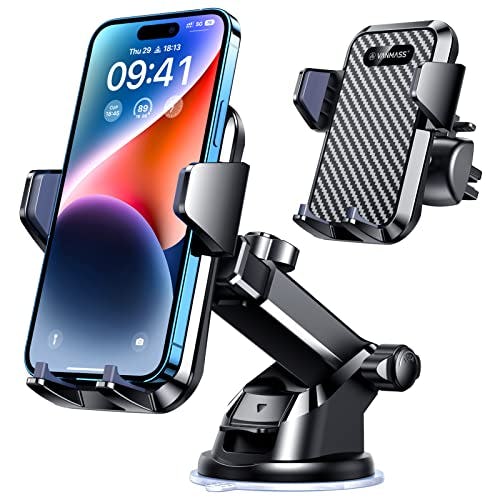 Use this universal car mount to navigate during road trips for maximum safety and convenience. Its stable and durable design ensures it'll stay securely in place on your dashboard while you drive. Its powerful suction cup and vent clip attach to a number of different vehicles, so you can buy with the knowledge that it's highly likely to fit your car.
This Revitalizing Cuticle Oil To Soothe & Repair Damaged Nails
Cuccio Cuticle Oil
Amazon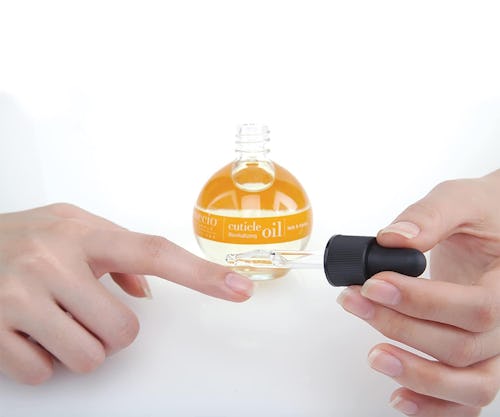 Soothe and repair damaged nails with this revitalizing cuticle oil, which provides some much-needed TLC. It's formulated with the ingredients you know and love, like sunflower oil and vitamin E, and without the ones you don't, like potentially irritating parabens. If your someone who frequently washes their hands throughout the day, this is an especially fantastic product to keep on hand for extra hydration.
This Portable Fan You Can Wear Around Your Neck To Stay Cool On The Go
JISULIFE Hands-Free Bladeless Portable Neck Fan
Amazon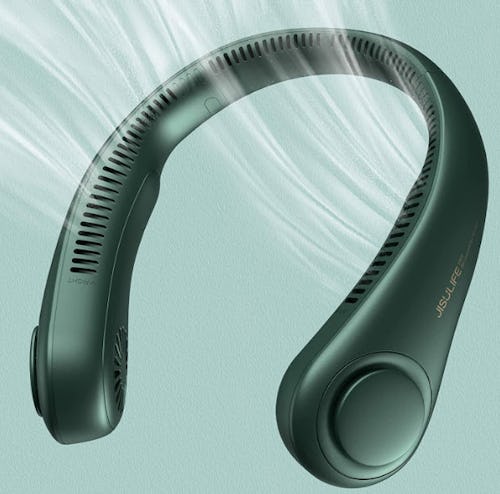 When the weather is warm, toss this portable fan in your purse to stay cool on the go. Its blade-free design makes it a safer choice, especially for children and the elderly. You'll also appreciate its quiet motor, which allows you to wear it at work, on public transportation, or even while taking a phone call. Over 28,000 shoppers have given it a five-star rating.
These Cut-Resistant Gloves To Keep Hands & Fingers Safe While You Cook
NOCRY Cut Resistant Gloves
Amazon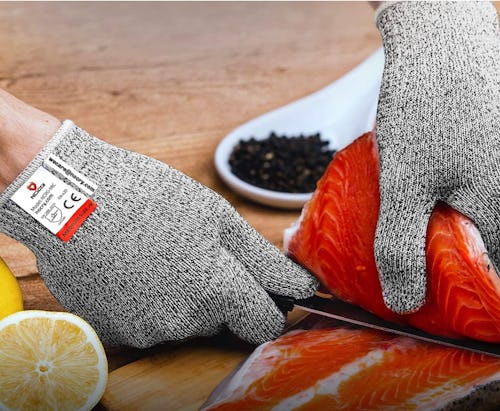 These cut-resistant gloves will help you avoid painful kitchen injuries (especially when you're already distracted by your kiddos asking when lunch is ready). Their durable material is four times stronger than leather and works to keep your extremities safe from blades while you slice, dice, and julienne. The ambidextrous design allows you to wear each glove on either hand, and they'll fit a wide variety of sizes.
These Reusable Silicone Baking Mats That Replace Disposable Parchment Paper
HOTPOP Set of 4 Reusable Silicone Macaron Baking Mats 0.75mm (2 Half Sheets and 2 Quarter Sheets), Non Stick Silicone Liner for Bake Pans and Rolling for Macaron, Pastry, Cookie, Bun, Brioche, Bread
Amazon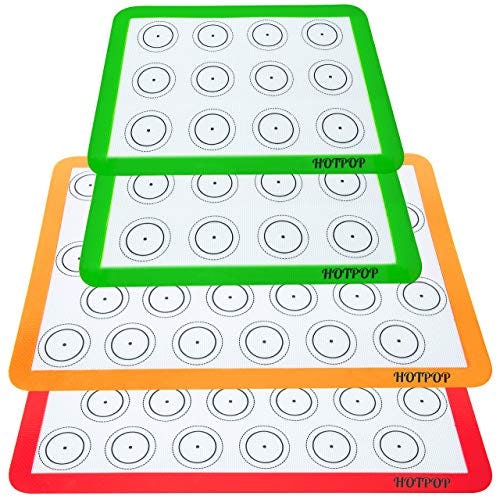 Ditch disposable parchment paper in favor of these reusable Silicone baking mats. When you use them to create an extra layer in between your baking sheet and your batch of chocolate chip cookies, you'll be able to remove your finished creations without any sticking. Because you can use these mats over and over, they make a sustainable alternative to products you only use once before you throw them away. Plus, they've scored a 4.7-star overall rating on Amazon.
A Silicone Drain Protector That Helps Prevent Showers & Tubs From Getting Clogged
OXO Good Grips Silicone Shower & Tub Drain Protector
Amazon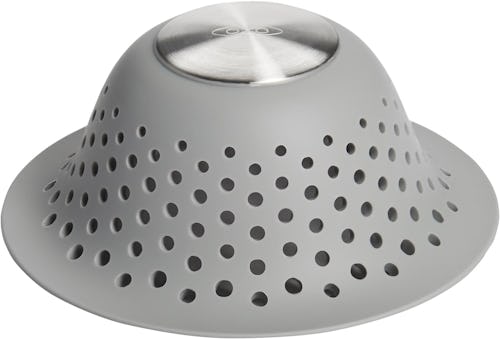 Cut down on the need for expensive visits from the plumber and noxious cleaning products with this silicone drain protector, which can prevent pipes from clogging at the source. Its tall design effectively fits flat and pop-up drains to work with a variety of tubs and showers. Plus, its weighted stainless steel accent holds it firmly in place while water drains through, so you can focus solely on enjoying your shower.
This Ingenious Pet Hair Remover You Can Use Over & Over
ChomChom Pet Hair Remover
Amazon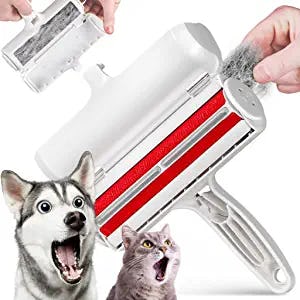 Unlike traditional lint rollers, this ingenious pet hair remover doesn't use adhesive paper, so you can use it repeatedly without the hassle of replacing a roll. Simply roll it back and forth over your clothes or furniture, and your fabrics will be free of hair and debris. Whether you're the proud parent of a dog, a cat, or another type of furry friend, you can clean up after them with the utmost ease.
This Car Seat Gap Organizer To Keep Your Accessories Handy
Lusso Gear Car Seat Gap Organizer 2 Pack, Vegan Leather Car Seat Gap Filler Organizer with Universal Fit, Adjustable Gap Filler for Car for iPhone, Android, Glasses, Keys, and More (Black)
Amazon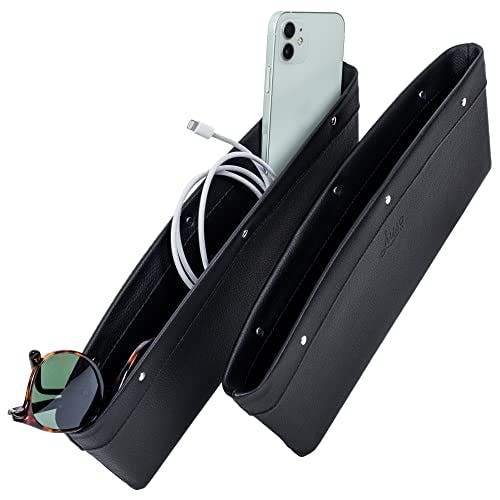 Keep your phone, wallet, and keys close at hand while you drive with this car seat gap organizer. It's made of a faux leather material that's entirely waterproof, so it'll resist any accidental spills and rainy conditions. With options available in black, tan, and gray, you can choose the earth tone that best matches your vehicle's interior.
A Gentle Detangling Brush That Glides Effortlessly Through Knots
Crave Naturals Glide Thru Detangling Brush for Adults
Amazon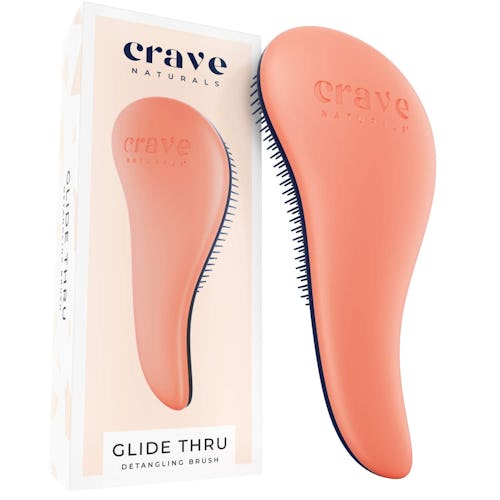 This gentle detangling brush tackles knots and mats with ease for a manageable mane. Its high-quality bristles work on wet and dry hair alike by separating hair from side to side instead of top to bottom. It's an especially smart buy for parents since it'll create a pain-free brushing process that's easy on their children's sensitive scalps. And for parents with little ones, it can provide you both with a pain-free brushing process that's easy on their scalps.
These Stove Gap Covers That Keep Food From Slipping Through The Cracks
Linda's Essentials Stove Gap Covers (2-Pack)
Amazon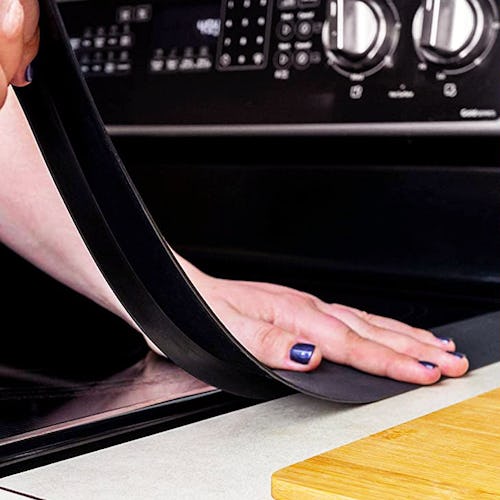 Prevent crumbs from falling between your countertops with these stove gap covers. They'll help you keep your kitchen clean and pest-free by sealing off crevices while you cook. Each cover is 21 inches long and can be trimmed to better fit the depth of your counter.
A 3-Pack Of Bright LED Lights To Illuminate Cabinets & Countertops
Brilliant Evolution LED Lights 3 Pack with Remote | Wireless LED Under Cabinet Lighting | Under Counter Lights for Kitchen | Under Cabinet Lights | Battery Powered Lights | Closet Lights
Amazon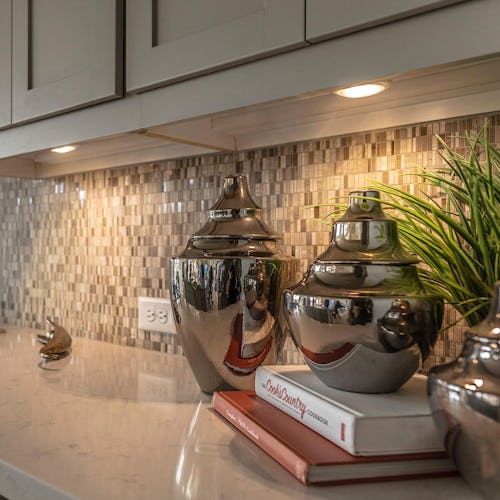 Illuminate your cabinets and countertops with this three-pack of bright LED lights. When you buy a set, you'll also receive mounting tape and screws, which make for a quick and easy installation process. Use the included wireless remote to turn them on and off, adjust their brightness, or set a timer with the touch of a button.
This Wireless Phone Charger For A Full Battery Without The Hassle
Yootech Wireless Phone Charger
Amazon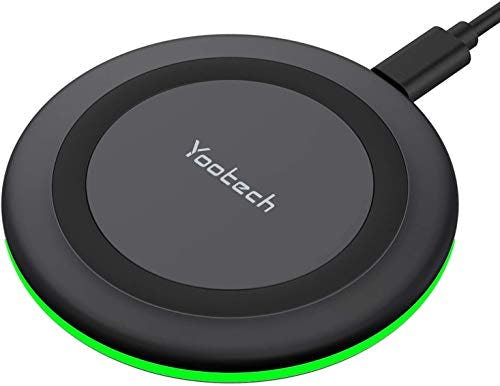 If your devices are always running on empty, invest in this wireless phone charger to make sure you're always at 100% when you head out the door. Its four charging modes make it compatible with cell phones, tablets, and Bluetooth earbuds alike. Plus, it's case-friendly, so you won't have to strip your phone before a charge unless your case is magnetic or made of metal.
This Durable Eyelash Curler To Boost Your Favorite Mascara
Brilliant Beauty Eyelash Curler with Satin Bag & Refill Pads - Award Winning Eye Lash Curlers for Dramatically Curled Eyelashes & Lash Lift in Seconds (Jet Black)
Amazon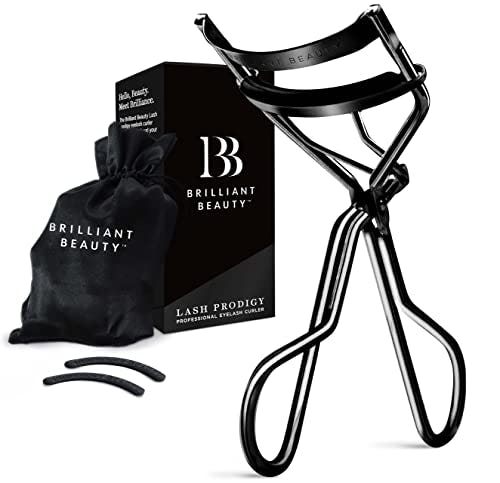 Boost the benefits of your favorite mascara with this durable eyelash curler. It's made of premium-grade stainless steel that's sure to last through years of makeup tutorials to come. Makeup enthusiasts can use it at home, and professional estheticians can toss it in their bags to create gorgeous glamour on the go. Over 25,000 Amazon shoppers rated it five stars.
These Swedish Dishcloths That Make A Sustainable Alternative To Paper Towels
Swedish Wholesale Swedish Dish Cloths - 10 Pack Reusable, Absorbent Hand Towels for Kitchen, Counters & Washing Dishes - Cellulose Sponge Cloth - Eco Friendly Gifts - Blue
Amazon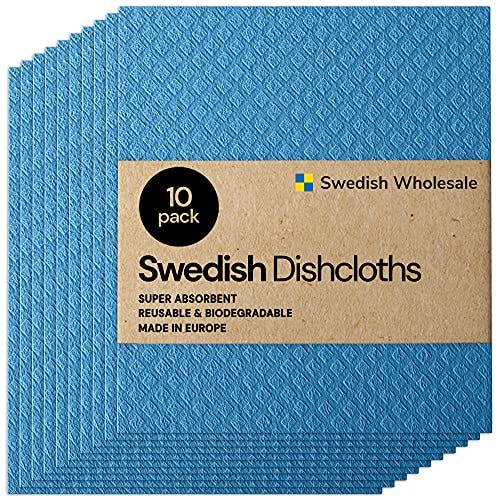 If you're looking for a simple way to reduce waste (and save money), swap out your disposable paper towels for these Swedish dishcloths. Crafted from cellulose and cotton, they're safe on surfaces from marble to tile to stainless steel, so no matter what your countertops are made of, you can wipe them down with ease. Each cloth absorbs the equivalent of 20 times its weight in liquid for maximum effectiveness and efficiency.
This Waterproof Bluetooth Speaker For Shower Singers
INSMY C12 IPX7 Waterproof Shower Bluetooth Speaker
Amazon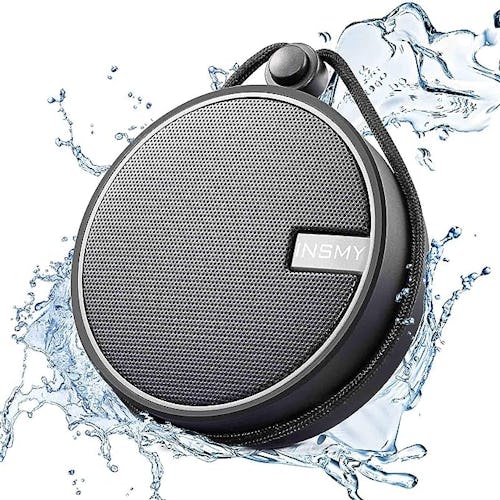 Take your shower karaoke to the next level with this water-resistant Bluetooth speaker. It's made of shock-absorbent materials that work beautifully in all sorts of weather conditions so you can take it outside of the shower too, whether you're hiking, kayaking, or running a half marathon. One full charge lasts up to 12 hours, so you can keep your favorite playlist on repeat all day long.
These Washable Refrigerator Liners To Keep Shelves Clean
AKINLY Washable Refrigerator Shelf Liners (9-Pack)
Amazon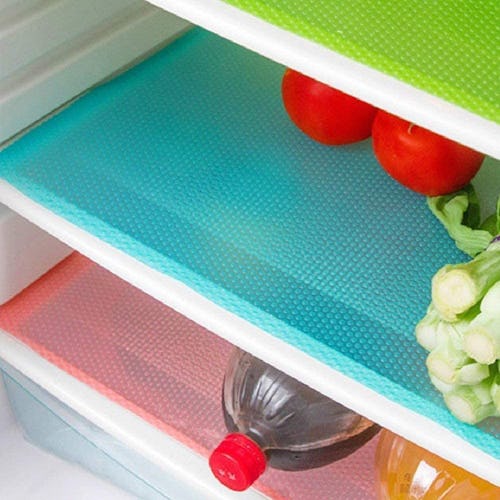 Use these washable refrigerator liners to protect shelves from food residue. You can cut them down for a custom fit that works with your fridge, and their nonslip material will hold them securely in place. They'll resist water, oil, and dust for maximum freshness, and when they're in need of a clean, simply wipe them down with a damp cloth.
These Silicone Oven Mitts For A Safer Baking Process
HOMWE Silicone Oven Mitt, Oven Mitts with Quilted Liner, Heat Resistant Pot Holders, Slip Resistant Flexible Oven Gloves, Gray, 1 Pair, 13.7 Inch
Amazon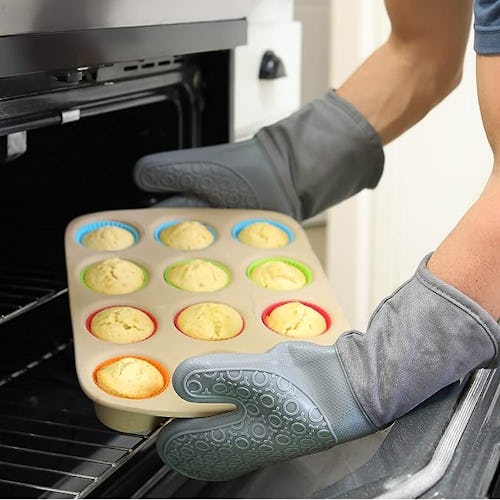 Keep your hands safe while you bake with these silicone oven mitts, which help protect you from temperatures of up to 450 degrees Fahrenheit. At 13.7 inches long, they'll guard your wrists and forearms while you reach into the oven for your latest batch of cupcakes. Plus, their textured palms create a nonskid surface that holds pots and pans securely in place.
This Car Trash Can For Maximum Tidiness While You Drive
Drive Auto Car Trash Can - Leakproof, Hanging Garbage Bin with 20 Trash Bags and Pink Adjustable Strap - Truck & Car Accessories for Men and Women - Grey with No Lid
Amazon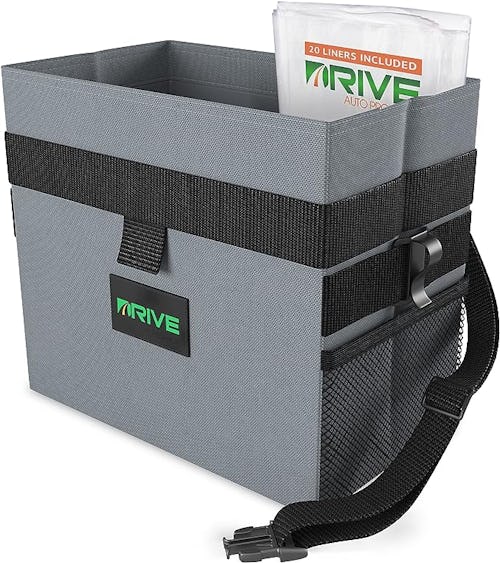 Keep your vehicle clean with this car trash can, which makes tidying up after a road trip (or just everyday travels) so much easier. When you attach it to your headrest, console, or side door, it'll stay securely in place for the duration of your drive. Plus, it comes with a 20-pack of waterproof liners, which stop food and beverage waste from spilling out.
This Moisturizing Snail Mucin Cream With Over 15,000 Fans
SeoulCeuticals Korean Skin Care Snail Mucin Repair Cream - Korean Moisturizer Night Cream 97.5% Snail Mucin Extract - All In One Recovery Power For The Most Effective Korean Beauty Routine - 2oz
Amazon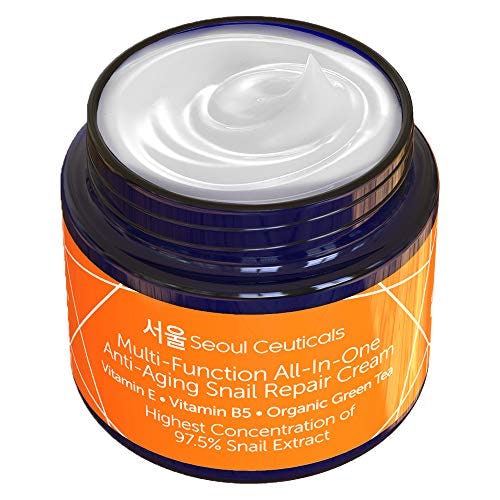 This moisturizing snail mucin cream packs a powerfully hydrating punch; no wonder it's garnered over 12,000 five-star reviews on Amazon. It's full of nourishing ingredients like vitamin E, vitamin B5, and ethically harvested snail mucin. It's also non-comedogenic, so it won't clog pores.
This Outlet Shelf To Hold Your Devices While They Charge
WALI Outlet Shelf Wall Holder
Amazon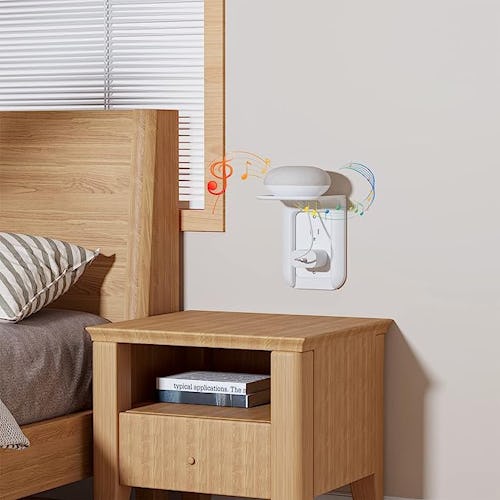 This outlet shelf holds your devices with a sturdy platform that supports up to 10 pounds at a time. Its sleek design fits in beautifully with the rest of your decor, so you can charge your phone, tablet, and even your electric toothbrush with ease. Plus, it can be installed in a matter of minutes.
This 2-Pack Of Basting Brushes Made Of Dishwasher-Safe Silicone
HOTEC Basting Brushes (2-Pack)
Amazon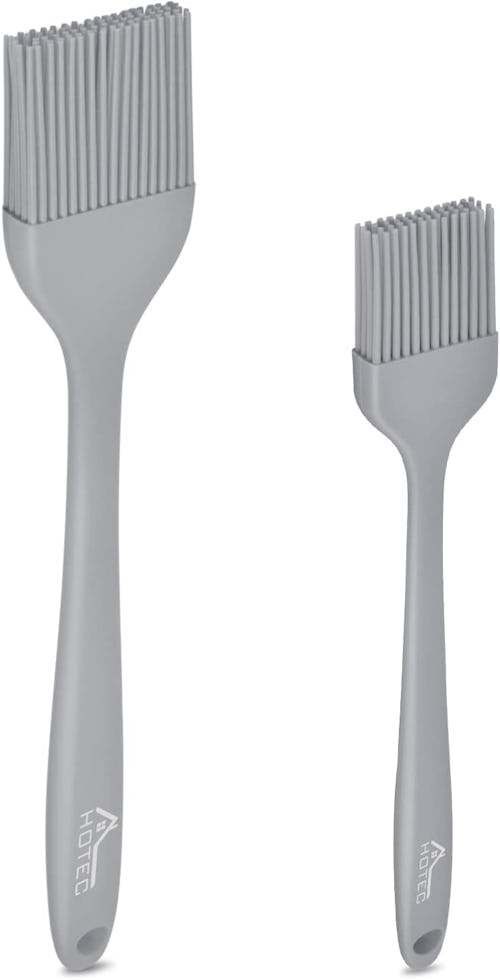 Keep this two-pack of basting brushes close at hand to streamline your kitchen prep. Each brush is made of dishwasher-safe silicone with a stainless steel core that adds durability and long-lasting strength. With four rows of 60 silicone-coated bristles each, these brushes hold more than enough sauce and liquid for all your basting needs. Judging by the 4.7-star overall rating, you can trust these brushes will be a ton of help in the kitchen.
A Mini Waffle Maker For A Delightful Breakfast You Can Customize
DASH DMW001AQ Mini Maker For Individual Waffles With Easy To Clean, Non-Stick Surfaces, 4 Inch, Aqua
Amazon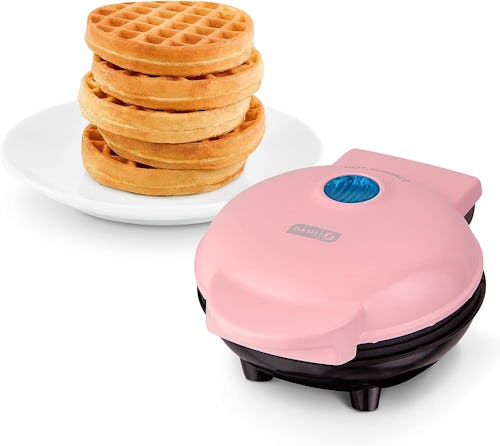 If your breakfast routine is lacking, this mini waffle maker is a clever way to turn things around. Its diameter spans just 4 inches, making it a must-have for small spaces. In addition to waffles, you can use it to make hash browns, cookies, and even pizzas in no time and with maximum convenience.
This Clip-On Pot Strainer Made Of Heat-Resistant Silicone
Kitchen Gizmo Snap N Strain Pot Strainer
Amazon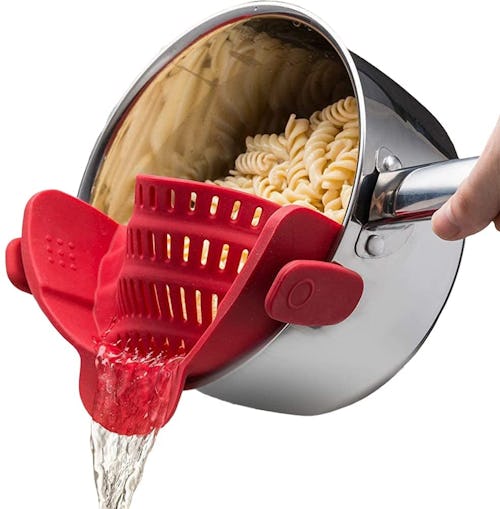 Swap your clunky metal colander for this clip-on pot strainer to save valuable space in your kitchen. It has special clips that seamlessly attach to pots, pans, and bowls of all shapes and sizes, so you can keep your food in one place while you strain. Because it's heat resistant up to 440 degrees Fahrenheit, you can use it with even the hottest dishes and trust it'll get the job done without melting.
These Reusable Baking Cups For Cupcake & Muffin Aficionados
Amazon Basics Reusable Silicone Round Baking Cups (12-Pack)
Amazon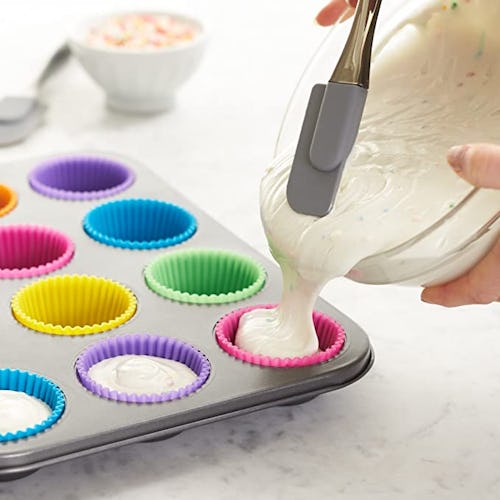 If you're a cupcake or muffin enthusiast, invest in these reusable baking cups. They'll release food with the utmost ease, so you won't need to load up on cooking spray, and they're oven-safe up to 428 degrees Fahrenheit. Plus, they're dishwasher safe for quick and easy cleanup when you're finished with your recipe.
This Electronic Milk Frother For A Delicious Latte At Home
Bean Envy Milk Frother for Coffee - Handheld, Mini Electric Drink Mixer, Foamer & Frother with Stand for Coffee, Lattes, Hot Chocolates and Shakes - Raspberry
Amazon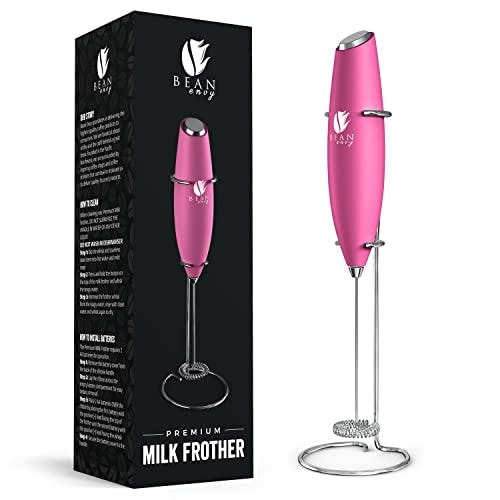 Save money on expensive coffee shop beverages with this electronic milk frother. You'll be able to whip up lattes, cappuccinos, and matcha drinks in just 15 seconds, thanks to its robust battery-operated motor. You'll also appreciate its ergonomic silicone handle, which goes easy on wrists and while you play barista.
This Professional-Grade Masher That Takes Your Meat & Potatoes To The Next Level
Farberware Professional Masher
Amazon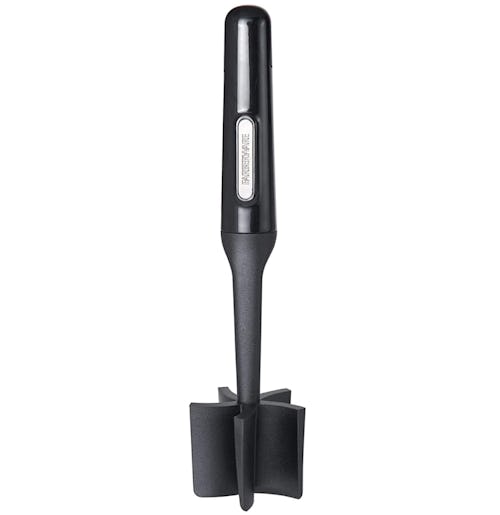 This professional-grade masher makes it easier than ever to cook the meat and potato dishes of your dreams. Its oversized nylon head is BPA-free and resists heat up to 450 degrees Fahrenheit. Simply press its blades into your dish until you've achieved your desired consistency, and when you're finished, you can scrape the sides of your bowl with its angular design.
This Soothing Scalp Massager That Helps You Get A Better Shampoo
Massager 2X Bundle
Amazon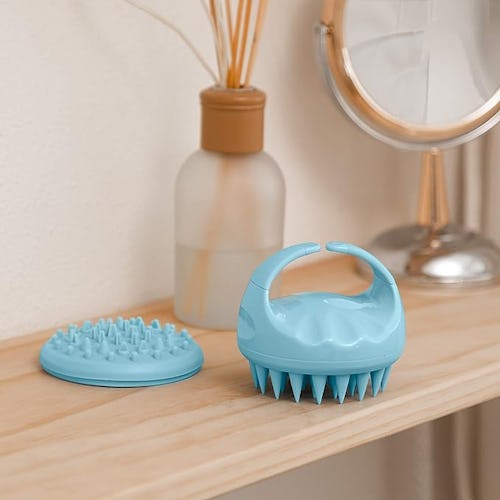 Give your shampoo a better lather with this soothing scalp massager; when you buy, you'll receive two, so it's an excellent deal. It's designed to promote circulation while supporting scalp and hair health. Not only does it help remove dirt and dandruff for a thorough scrub, but it'll give you a feeling of spa-level relaxation while you wash your cares away.
This Absorbent Bath Mat Made With Super Soft Memory Foam
MontVoo -Bath Mat Rug-Rubber Non Slip Quick Dry Super Absorbent Thin Bathroom Rugs Fit Under Door-Washable Bathroom Floor Mats-Shower Rug for in Front of Bathtub,Shower Room,Sink (17x27.5, Gray)
Amazon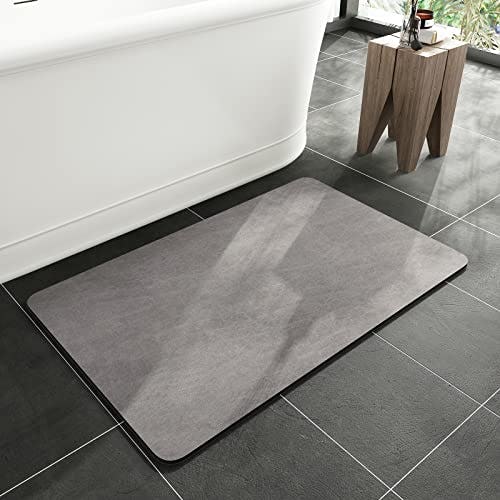 This absorbent bath mat keeps your bathroom floor dry after a shower by soaking up water in seconds. Its high-quality rubber backing holds it securely in place, no matter how steamy your bathroom may be. Plus, its ingenious design prevents dirt and hair from sticking to its surface, making it super easy to clean in between showers and baths.
This Himalayan Salt Scrub That's Infused With Collagen
M3 Naturals Himalayan Salt Foot and Body Scrub, 12 Oz.
Amazon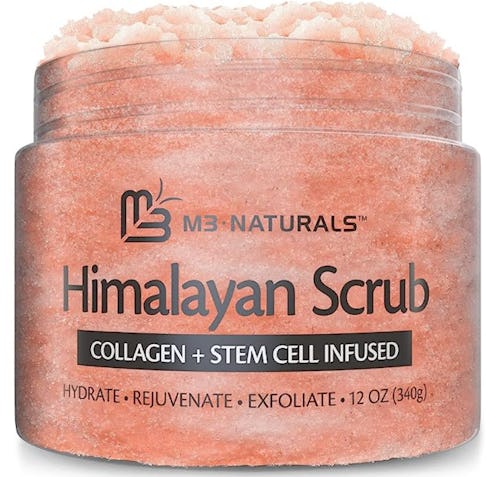 Use this Himalayan salt scrub on your hands, feet, lips, and body for maximum softness minus irritation. It'll boost your shower routine with nourishing ingredients like aloe vera, grapeseed oil, and collagen. It can help reduce a number of potentially irritating skin conditions, according to the brand, from painful acne to shaving bumps and everything in between.
This Stackable Water Bottle Shelf To Keep Your Collection Organized
mDesign Plastic Free-Standing Stackable 3 Bottle Storage Holder Rack 2-Pack
Amazon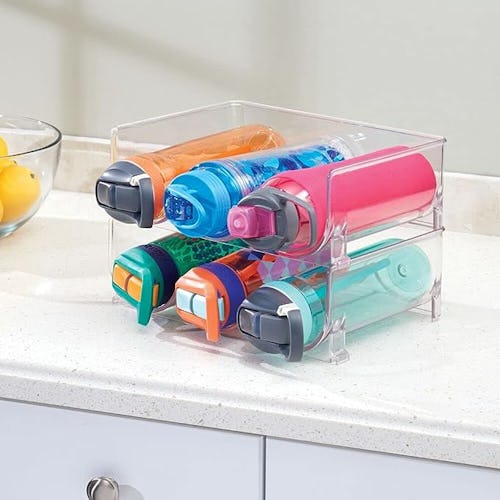 This stackable water bottle shelf helps keep your collection organized and on display. Each rack holds up to three bottles, so you can store six at a time on your countertop or in your cupboard. It's an extra smart buy for active families who need to stay hydrated without the hassle. And it's earned an impressive 4.8-star overall rating on Amazon after thousands of fans weighed in.
This Set Of Packing Cubes To Maximize Space In Your Suitcase
Shacke Pak - 5 Set Packing Cubes - Travel Organizers with Laundry Bag (Black/Blue)
Amazon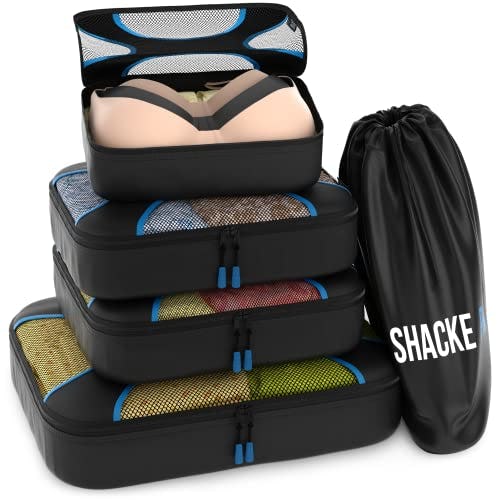 If you're about to set off on an adventure, reach for this set of packing cubes to get your suitcase in order. Each cube is made with a durable mesh material that allows your clothes to breathe, which helps prevent bad odors from forming. Plus, each cube is water resistant for even more durability.
This Durable Meat Tenderizer That's Dishwasher Safe
Checkered Chef Meat Tenderizer Hammer - Dishwasher Safe Metal Kitchen Mallet for Tenderizing Chicken, Beef, Pork & Nuts with Non-Slip Grip
Amazon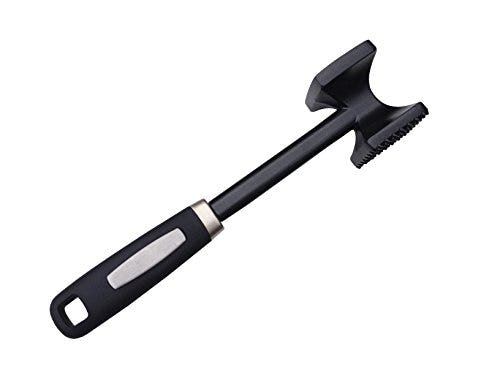 The top-heavy design of this durable meat tenderizer means you can exert less effort during meal prep. Its nonslip grip keeps it firmly in your hands while you work, and you can use its flat or spiked side, depending on your culinary needs. Plus, you can toss it in the dishwasher when you're finished, which makes it incredibly easy to clean.
These Glass Storage Containers That Are Perfect For Meal Prepping
Superior Glass Food Storage Containers - Set of 6-4 Oz Containers with Airtight BPA-Free Locking Lids - Food containers - Microwave & Dishwasher Safe - Small Containers for Snacks Dips etc
Amazon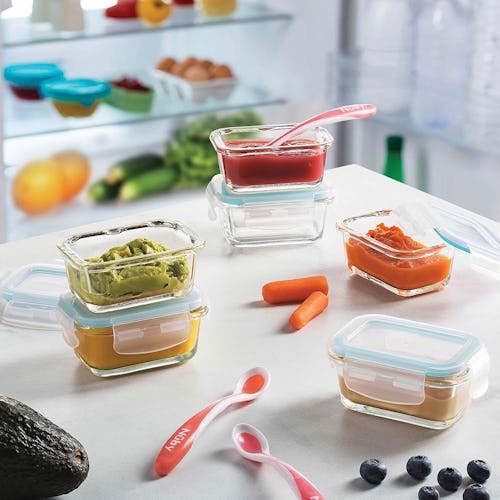 Meal prep enthusiasts will adore these glass storage containers, which can help keep ingredients fresher for longer. Their ergonomic design gives them a comfortable grip that makes them easy to handle and store for years to come. They're microwave, oven, and dishwasher safe, and you can stack them in your fridge or freezer to save space, so you'll have more room for your favorite snacks and dips.
This Exfoliating Foot Mask For Salon-Quality Pedicures At Home
DERMORA Foot Peel Mask - 4 Pack of Regular Size Skin Exfoliating Foot Masks for Dry, Cracked Feet, Callus, Dead Skin Remover - Feet Peeling Mask for baby soft feet, Original Scent
Amazon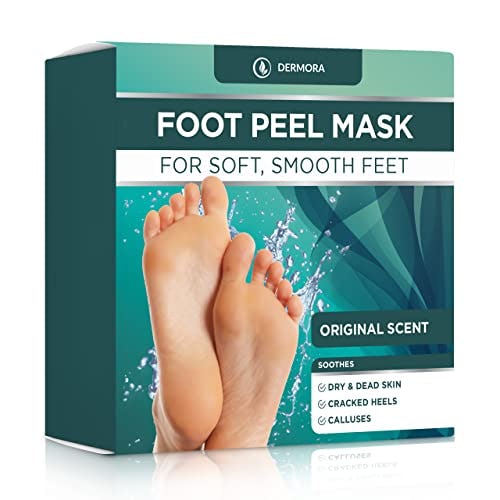 Skip the salon and reach for this exfoliating foot mask the next time you're in need of a pedicure. All you have to do is slide your feet into its mask socks, give it 60 minutes, and watch as your feet begin to peel. Each mask is made with a powerful blend of fruit acids and extracts that help get rid of dead skin cells on your soles and repair dry, cracked heels.
This Stainless Steel Splatter Screen To Keep You Safe From Hot Oil
BergKoch Grease Splatter Screen
Amazon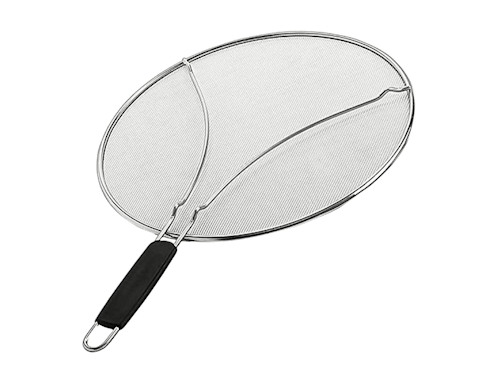 The next time you cook with hot oil, use this stainless steel splatter screen to keep yourself (and your kitchen cabinets) safer. It's available in three sizes, so you can pick the one that best fits your pot or pan while you whip up your favorite dish. Plus, this product has nearly 30,000 five-star ratings, so needless to say, Amazon shoppers are obsessed.
A Waterproof Food Thermometer That Detects Temperatures Instantly
Kizen Meat Instant Read Thermometer
Amazon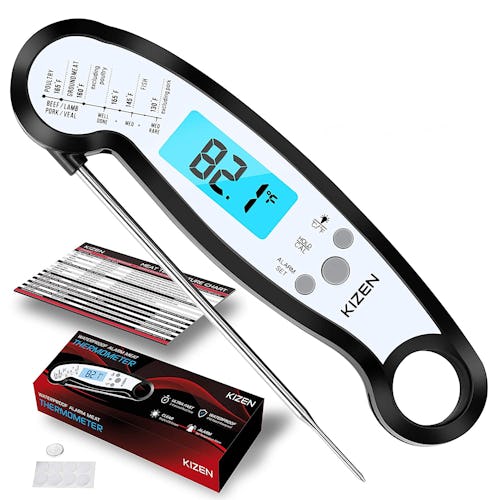 Use this waterproof food thermometer to gauge temperatures accurately in just two seconds. Its LCD screen is super easy to read, thanks in part to its bright blue backlight and large-print numbers. You'll also appreciate its 240-degree rotating probe, which you can use at awkward angles for an accurate read no matter what.
This Sharp Pizza Cutter With A Blade Cover For Protection
14" Pizza Cutter by KitchenStar | Sharp Stainless Steel Slicer Knife - Rocker Style w Blade Cover | Chop and Slices Perfect Portions + Dishwasher Safe – Premium Pizza Oven Accessories
Amazon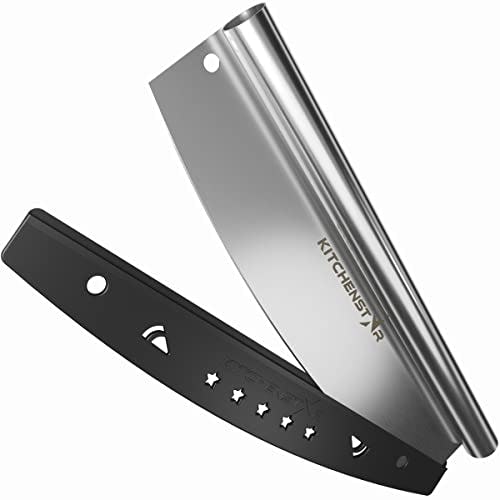 The next time you host a pizza party, use this sharp pizza cutter to divide up each pie into perfect proportions. Its ergonomic design makes for safer usage, and its protective cover prevents accidental cuts and nicks. You can also use it to slice cheesecakes, brownies, and fresh herbs since its sharp blade is effective with a number of foods and ingredients.
This Cuticle Conditioning Serum To Nourish Your Nails
Onsen Cuticle Cream, Cuticle Oil in Deep Action - Japanese Natural Healing Minerals Nail Care Serum and Butter, Sooth, Repair, and Strengthen Cuticles and Nails, Visible Results, (1 Count / 15 ml)
Amazon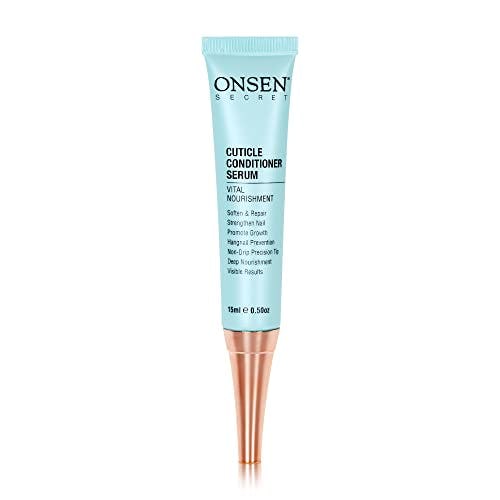 Nourish damaged nails with this cuticle conditioning serum, which you can toss in your bag to take on the go. It's made with moisturizing ingredients like aloe vera, shea butter, and vitamin E, which soothe without leaving behind an oily residue. Just apply two drops to each nail and massage them in until they dissolve, and results are likely to appear sooner rather than later.
These Plastic Cutting Boards With Built-In Grooves To Catch Liquid
HOMWE Plastic Cutting Boards for Kitchen - 3 Piece Chopping Board Set w/ Easy Grip Handles, Red
Amazon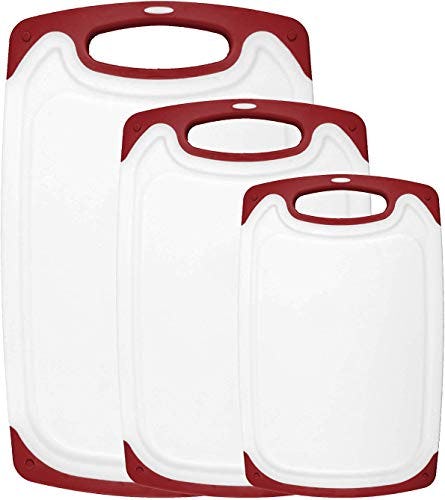 These plastic cutting boards come in three different sizes to accommodate all your cooking needs. Each one has a built-in groove that catches liquid while you chop, which helps keep countertops clean and free of sticky substances. Plus, they're safe to clean on the top shelf of the dishwasher, and they'll stack on your shelves to save space.
This Adjustable Shelf You Can Pop In Your Pantry For Easy Storage
YouCopia UpSpace Adjustable Box Organizer
Amazon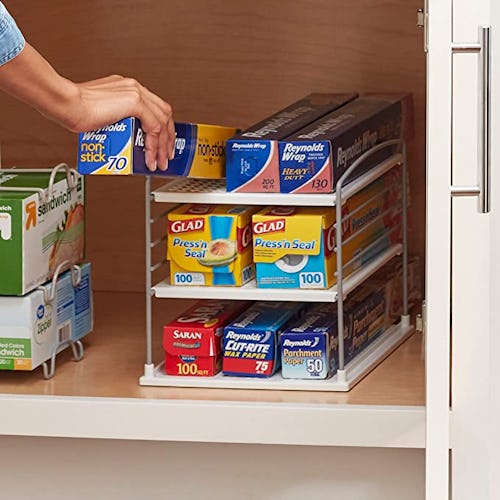 Add this adjustable shelf to your pantry to store and organize your cling wrap and aluminum foil with ease. Its steel wire supports help it hold up to 20 pounds at a time, and its nonslip feet keep it securely in place. It'll snap together in about a minute, without any need for tools.
These Stackable Makeup Organizers For All Your Holy Grail Products
Vtopmart Stackable Makeup Organizer Storage Drawers (2-Pack)
Amazon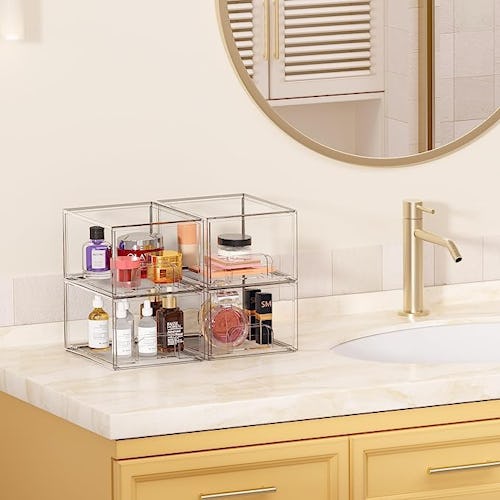 Beauty gurus will love these stackable makeup organizers, which keep your favorite beauty products close by during application. When you buy, you'll receive two storage containers, which save valuable space on your dresser with their vertical design. Plus, their pullout handles will help you take out and put away products in the blink of an eye without causing your organizers to budge.
This Microwave Steam Cleaner & Disinfectant With A Cheeky Design
TOPIST Angry Mama Microwave Cleaner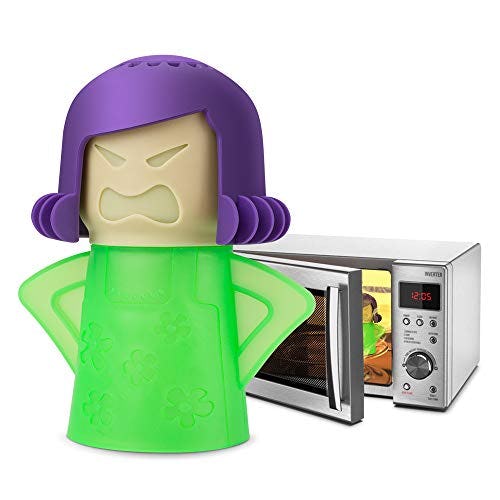 This microwave steam cleaner and disinfectant helps you keep things clean with a cheeky design that's sure to make you smile. Simply remove its head, fill its body with vinegar and water, and place it in the microwave for a cleaner interior in just five to eight minutes. This is an especially great gift for first-time renters, homeowners, and parents who could benefit from a bit of extra help around the home.
This Silicone Dish Mat That Keeps Countertops Dry While You Clean
HOTPOP Silicone Dish Drying Mat
Amazon
Use this silicone dish mat to keep your countertops dry after you clean up. Its unique design features raised line ridges that keep air flowing to your dishes for a quicker drying process than ever before. Plus, it's heat resistant up to 480 degrees Fahrenheit, so it'll securely hold hot pots and pans without melting.
A Fruit-Infuser Water Bottle For Delicious Flavors You Can Customize
Brimma Fruit Infuser Water Bottle
Amazon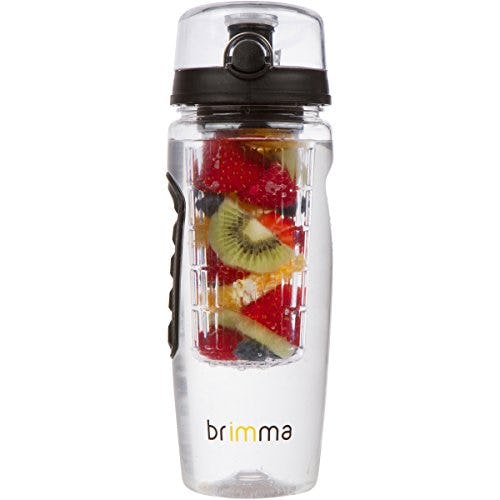 With this fruit-infuser water bottle, you can mix and match your favorite flavors to customize the way you hydrate. It's equipped with a flip-top lid that seals liquids inside and a nonslip grip that helps you maintain a firm hold while you go about your day. Whether you prefer the taste of zesty citrus or refreshing berries, you're sure to come up with lots of recipes you'll love.
This Toothbrush Holder & Makeup Organizer That Mounts On Your Wall
iHave Toothbrush Holder
Amazon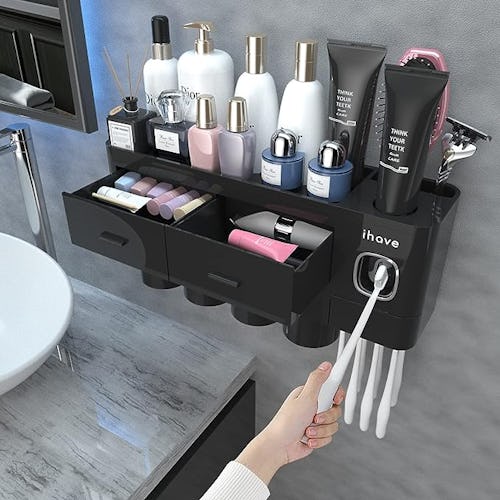 Declutter your bathroom with this toothbrush holder and makeup organizer that mounts securely on your wall. With its large capacity and multiple compartments, it'll hold all the cosmetics and personal care products you need to go about your routine. The best part? Its built-in toothpaste dispenser squeezes out just the right amount every time, so you won't waste a drop.
This Surge Protector With Pivoting Heads To Charge All Your Devices
ECHOGEAR Surge Protector with Pivoting Outlets
Amazon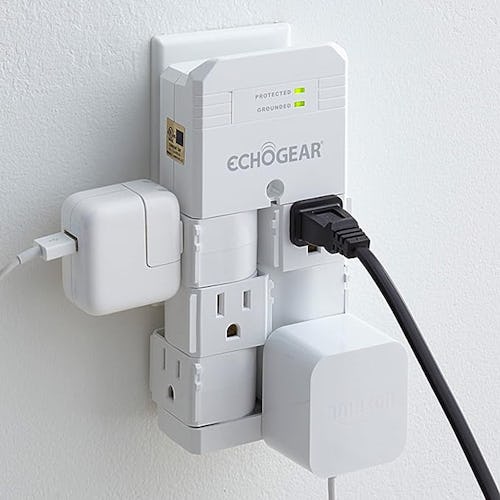 This surge protector features six pivoting heads, which you can use to charge all your devices at the same time with just one outlet. You can install it in a matter of seconds, and its sleek design will take up a minimal amount of space in your bedroom, bathroom, or wherever else you may need it. That way, you can fit it behind furniture and TVs, and its fireproof protection capabilities will do the rest.
This 7-Piece Cocktail Shaker Set That's Perfect For Creating Your Own Home Bar
7-Piece Cocktail Shaker Set - Bar Tools - Stainless Steel Cocktail Shaker Set Bartender Kit, with All Bar Accessories, Cocktail Strainer, Double Jigger, Bar Spoon, Bottle Opener, Pour Spouts
Amazon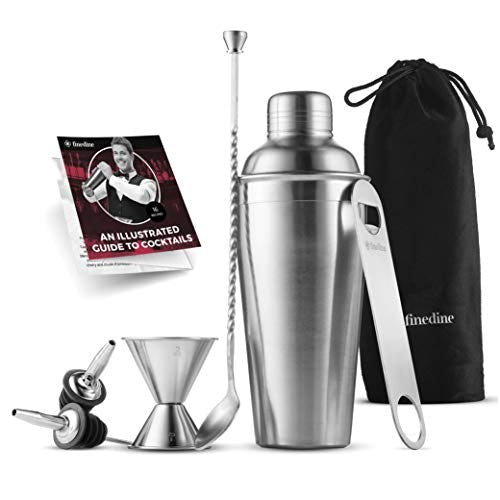 With this seven-piece Cocktail Shaker Set, you can skip the pricey drinks at the bar and opt for a DIY night at home. When you buy, you'll receive a shaker, a strainer, and a cocktail recipe book to help you pull off your favorite cocktails. This set also makes an amazing gift for wine enthusiasts and bartenders-in-training who love developing fun new drinks.
This Avocado Smasher For The Best Guacamole Ever
OXO Scoop and Smash Good Grips Avocado Tool
Amazon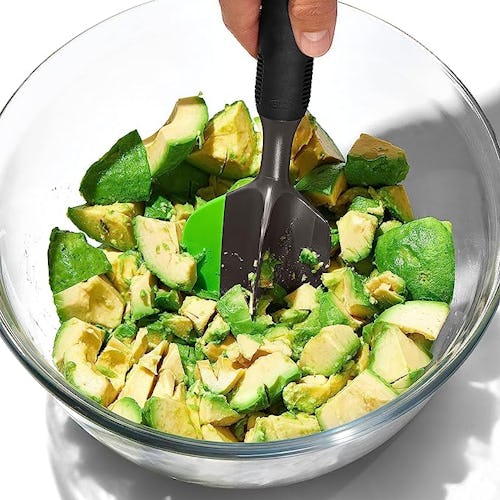 [this looks super similar to the previous product - wonder if we could space them out in the list? (not sure if it must stick to this order!)]
Take your guacamole game to the next level with this avocado smasher. It's equipped with four sharp blades that minimize mess while you mash, and its silicone squeegee attachment helps you scrape down the sides of your bowl while you work. You can also use it to make egg salad, ground beef, and mashed potatoes; your imagination is the limit.
A Large Salad Spinner To Make Dinner Party Prep That Much Easier
Cuisinart Large Salad Spinner
Amazon
Make your dinner party prep more seamless with this large salad spinner. You can wash and dry greens, fruits, and vegetables with its user-friendly spin knob, and its nonskid base will keep it securely in place. As a bonus, its clear base doubles as a serving bowl, so you can bring it out to your guests as soon as it's finished. You can also buy it in white or gray.
This 4-Pack Of Cord Organizers To Keep Your Appliances In Order
DZDOV Cord Organizer (4-Pack)
Amazon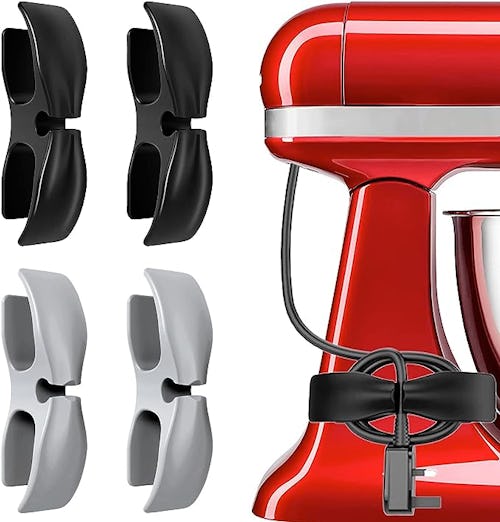 Kitchen appliances and their cords tend to get tangled up; invest in this four-pack of cord organizers to keep them in order. They're made of a durable silicone material and a strong adhesive glue, which ensures they'll stay securely in place. Use them with glass, ceramics, metal, and wood; they'll stick to surfaces of all kinds and accommodate even the longest of cords.
This Collapsible Popcorn Bowl Made Of Heat Resistant Silicone
The Original Popco Silicone Microwave Popcorn Popper with Handles | Popcorn Maker | Collapsible Popcorn Bowl | BPA Free and Dishwasher Safe | 15 Colors Available (Red)…
Amazon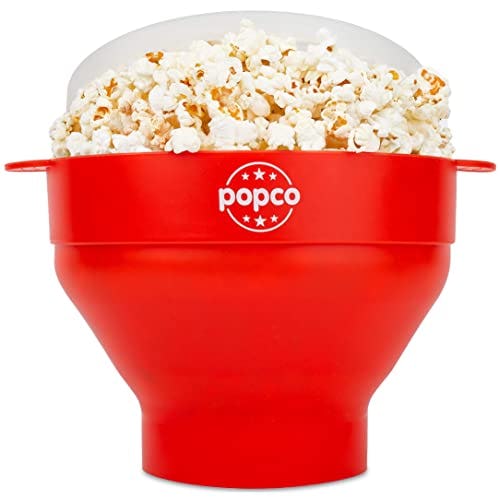 Pop this collapsible popcorn bowl in the microwave (pun intended) with oil and salt, and your favorite movie snack will be ready to go in a matter of minutes. Each bowl holds up to 15 cups at a time. When it's not in use, you can collapse it from its full height to save space in your kitchen cupboard. It's made of food-grade silicone that resists heat and breakage to maintain its construction for years to come.
These Durable LED Flashlights Made With Military-Grade Material
GearLight LED Flashlight Pack -2 Bright, Zoomable Tactical Flashlights with High Lumens and 5 Modes for Emergency and Outdoor Use -Camping Accessories -S1000
Amazon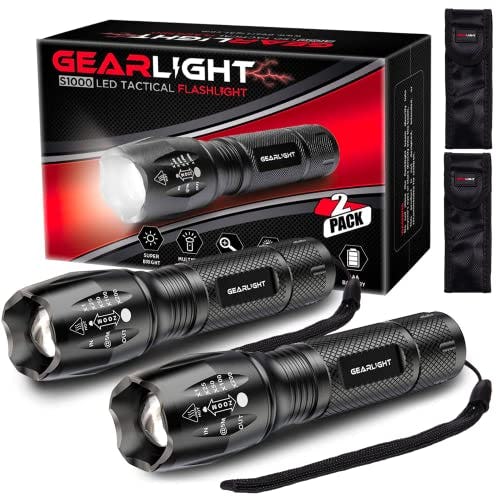 Bring these bright LED flashlights on camping trips and outdoor adventures to light your path every step of the way. They're made of a military-grade aluminum material that's water-resistant and strong enough to withstand drops of up to 10 feet. Toss it in your backpack or purse to keep it on hand while you're out and about, or store it in your closet in case of emergencies.
This Grill Brush & Scraper For Use In Between Backyard Barbecues
Weetiee Grill Brush and Scraper
Amazon
This post first appeared on Scary Mommy, please read the originial post: here