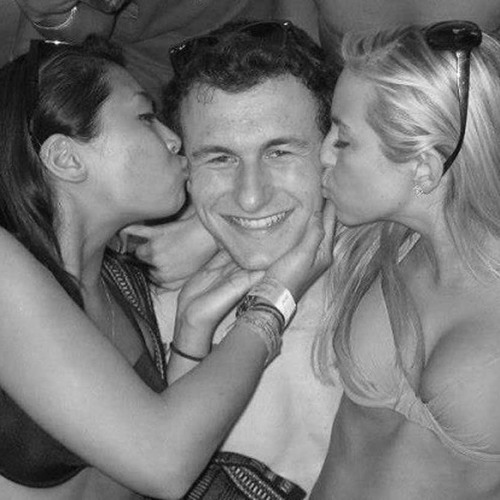 Daaayyyyummmmmmmm! As I sit here and bask in Drake career, listening to Draft Day, I realise something. Drake is one dope ass rapper. Stop fucking hating on Drake. Just because he makes millions off melodic songs don't get upset when he drops a freestyle hotter than anything your favourite rapper has released in the past year. This song is mean.
There ain't one line in 2 minutes 53 seconds that wasn't entertaining. This guy pops off on everyone here. Now we all know that Drake ain't calling out any names or being totally direct with these little shots, but that's what makes Drake's music so good to listen to. 10 years from now we'll still be listening to this on the low because it will always be relevant. It won't be some song that everyone gets rid of from their libraries because it was a onetime thing that no one cares about. Drake is a very current rapper and he uses that to his advantage but he still keeps it real to his art. But anyway let's get into it
"If I left this shit to chance, I would have picked a name like Chance the Rapper"
Oh Drake, you really gonna call out Chance? For what? He loves you! Just kidding, don't go tweeting about this calling me a fucking idiot because I said that. Everyone knows its all love. It was just a clever line that kept your motherfucking attention to the lyrics. As soon as there's some name dropping on a song, you instantly pay more attention.
"Just hits, no misses, that's for them married folks"
When you heard this line you were like "Shit! Did he just call out Jay Z?" As you guys probably know Drake called out Jay on his art lyrics and Jay shot back saying "Sorry Mrs. Drizzy for so much art talk, silly me rapping 'bout shit I really bought" and then Draft Day released. So obviously this is a little jab at Hov. But you listened to the track a second or third time and when that line hit again, this time you were like "OHHHHHHHHHHH SHITTTTTTTTTTTT!" Yeah, don't lie. That wordplay was clever as fuck from Mr. Graham. If you still ain't got the line, you should just go ahead and stop reading this blog.
"Too worried about bitches and fashion, they go missing in action"
Woah Woah Woah Drake. Woah. Who are you calling out now? Because you obviously are. Please tell me it's not Kanye. Okay It might have been A$AP Rocky, but let's just say it's Kanye for now. I swear you two are like best friends or brothers or lovers or something? I'm just so confused, why would you call out Kanye, that man has nothing but love for you. Now that I think about it, it was probably just some generic diss that he knew will have everyone talking. And calling out arguably the two biggest rappers of the decade in the same song! And Chance the Rapper! Someone's confident.
The track is way deeper than those three lines. But I know they are what gets all the hype. I know this song is old now, but I thought it would be a good way to restart this blog. I'm really looking forward to the next leg of this bitch.
You know I had to do it for you.