Updated in December for 2018
With the recent rise in popularity of retro blues music and a look back to vintage styling, musicians are flocking to old Guitar stores and spending thousands on very old, very expensive guitars in an attempt to imitate their idols. And who can blame them? Well, there's no reason to spend this much. We've found the 5 best parlour guitars for blues music and acoustic blues that won't break the bank. You can still play the blues music you want to, and you will definitely still look the part, but most importantly, you'll have enough money for a fly suit and a double JD and coke for when you get to that jazz club with your retro-looking (but secretly brand new) vintage parlour acoustic guitars.
1. Tanglewood Sundance Delta TW40 PD – Acoustic Parlour Guitar – Natural Finish
The first guitar in our list is also one of our favourites. Tanglewood are primarily known for making classic dreadnought acoustic guitars, with a brand that is proven to produce classic stell string acoustics, time and time again.
Despite its classic parlour shape and size, the Tanglewood TW40 PD is a surprisingly loud and warm guitar, with a tone that resonates along the solid mahogany body. Other features of the Takamine Sundance parlour include a mahogany neck and rosewood fingerboard, with a natural glossy finish. Priced at £399 now with a £100 discount, if you're looking for a premium parlour guitar at a mid-range cheap price, then the Delta TW40 PD might just be the one for you.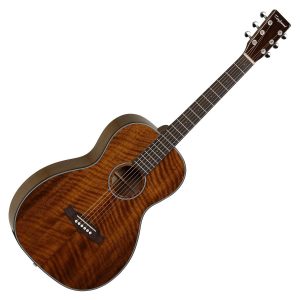 TANGLEWOOD TW40 PD ACOUSTIC PARLOUR GUITAR
2. Nineboys Tonk Bros Acoustic Parlour Guitar – Vintage Trashed Black Finish
Get a load of this guitar! As mentioned in the intro, the rise in parlour acoustics has also seen a rise in pre aged and road worn guitars. Many modern players are taking a step back to revisit the blues styles and guitar runs of classic icons such as Robert Johnson and Blind Willie Johnson. And what better way to do it than one a pre-worn, aged parlour acoustic that looks like it's fresh from the early 20th century? With a unique birchwood body and rosewood bridge, the Nineboys parlour acoustic really delivers the classic, slightly muted and oddly resonant vintage blues guitar tone. 17 frets and an open pore finish really tie the guitar together, an cement it as a classic folk and blues guitar that will deliver the classic acoustic tone you've been seeking. If you're looking for pre-worn acoustic at a very fair price (£399), then don't miss out on the Nineboys Parlour guitar (the rest of their range of acoustics are definitely worth checking out too).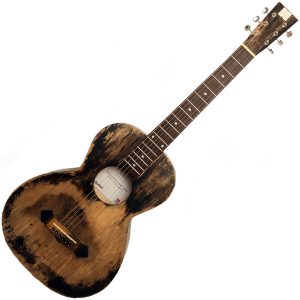 NINEBOYS TONK BROS ACOUSTIC PARLOUR GUITAR
3. Washburn R314K Vintage Series Parlour Acoustic Guitar – Natural Red Finish
A defining staple in the vintage series from Washburn guitars, the R314K Vintage Parlour Acoustic is as classic and vintage as these kinds of guitars get. Modelled after the very first parlour guitars that emerged at the start of the 20th century, the Washburn Parlour is a testament to the craft of the long-standing guitar brand, and shows that they don't only focus on electric guitars and axes built for shredding (contrary to popular opinion). With features including a spruce top and mahogany neck combination, the Washburn R3 parlour has both the authentic look and genuine tone of a vintage Parlour acoustic. Priced at £479, this is an authentic mid-range parlour guitar for players looking to get serious with their blues music and retro acoustic guitar collection.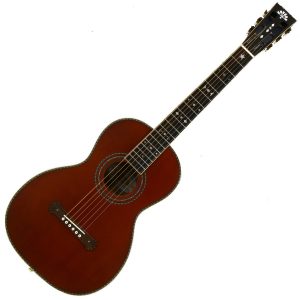 WASHBURN R314K VINTAGE ACOUSTIC PARLOUR GUITAR
4. Gretsch G9500 Jim Dandy Flat Top Acoustic Guitar – 2-Color Sunburst Finish
The true gem in the crown of authentic vintage guitars, and the brand that every retro guitar fanatic thinks of when anyone mentions the defining vintage guitar brand, Gretsch have extended their line of legendary electrics to include a look into beautiful Parlour guitars. The G9500 Jim Dandy is a look back at the original Rex line of guitars from Gretsch. Rising to prominence in the 30's, these parlour guitars introduced a whole generation to blues music, and brought acoustic blues and guitar music into the mainstream. The Jim Dandy Flat Top had features which include an agathis body, a rosewood fingerboard and classic nickel-plated vintage guitar hardware. Get it at an amazingly low £187 at the link below!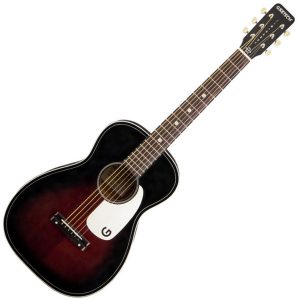 GRETSCH G9500 JIM DANDY ACOUSTIC PARLOUR GUITAR
5. Eko Mia Parlour Acoustic Guitar – Natural Finish
The last guitar in our list is almost a hybrid between a classical guitar and the vintage, natural finish of the very first parlour acoustic guitars. With a small body shape that is an iconic feature of the late 19th century parkour guitars, this truly is as vintage and original as a retro parlour acoustic guitar can get. Features of the Eko Mia include a solid cedar top, laminated mahogany body, and a rosewood fingerboard. You can get it with £30 off right now, at an incredibly reasonable £269. If you need an authentic, vintage acoustic guitar, then click the link below!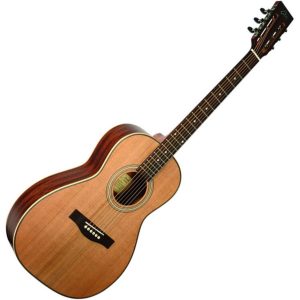 EKO MIA PARLOR ACOUSTIC GUITAR
Not found what you're looking for? Check out the best acoustic guitars for blues players guide for more options!
The post 5 best acoustic parlour guitars under £500 in 2018 appeared first on Guitaarr.