By Martine Ehrenclou
European Blues Award winner for "Best Guitarist," Erja Lyytinen released her new studio album, Another World via Tuohi Records. The Finnish slide guitar queen is known for her blues-rock, firmly rooted in traditional and modern blues with blends of rock, jazz and soul. Unlike her past albums, Lyytinen breaks through genre boundaries with Another World and invites stellar guests Sonny Landreth and Jennifer Batten to join her.
On Another World, Erja's stunning guitar chops are ever present, including her skill with sustain and tone. There's experimentation with guitar and vocal sounds, forays into rock, prog rock, and jazz. The album, according to Erja, is "Walking towards a new land of musical ideas, not being afraid to express myself." What is most present is Erja's journey into a new musical dimension.
"Snake In The Grass" kicks off the record with plenty of rock groove and biting guitar riffs courtesy of Erja. Right away you'll grasp the caliber of guitar player Erja really is. A chorus of guitar riffs with distortion, mixed with sections of shredding, the track then glides into a rocking tune with an R&B/jazz groove. Vocal harmonies are soon replaced with guitar duet harmonies, courtesy of Erja and standout guitarist, Jennifer Batten.
There are a few groove based rock tunes on the record, interrupted by prog rock tracks such as the title track, "Another World." Erja's vocals soar on this one. Her voice, lilting in places, gives this tune an other-worldly vibe. The jazz-ish chord progressions and dizzying guitar solos reflect prog rock but with a modern twist. I have to wonder if Erja's goal, in part, was to use genre bends, effects, and unique chord progressions to emphasize the impact of sound.
There are several tunes, including "Hard As Stone" that make use of dissonant vocal melodies to create mood. With syncopated beats, this track was inspired by Lyytinen's recent on-stage performance with Carlos Santana, "The song itself," she explains, "tells about an oversensitive person having a hard time living in an otherwise loud society." Her gritty rock guitar solo is stunning, a master class in melodic playing.
Digging into her roots with blues-rock "Wedding Day," this track includes some tasty licks by Sonny Landreth. He serves up some slide guitar magic as you'd expect from this celebrated guitar master.
Erja Lyytinen's style is definitely unique on this album, and on tracks like "Miracle, about the birth of her twins, she waxes experimental. Her guitar sounds very much like a voice or series of voices with hints of Jeff Beck. Her guitar solo is haunting with the emphasis on a variety of effects. It's hard not to be moved by a song written for her children.
On a few tracks, Erja engages sonic effects via her voice, guitar and synth. And on tracks like "Torn" and "Break My Heart Gently," it brings me back to what seems like a deep dive into expansive musical sounds to impact the listener.
The closing tune and bonus track, "Without You" mixes great groove with more jazz influenced rock and features Erja vocally at her best. Her guitar solo on this one, as on many other tunes on this record, is beautiful and moving. On much of her guitar work, Erja plays with some kind of wizardry.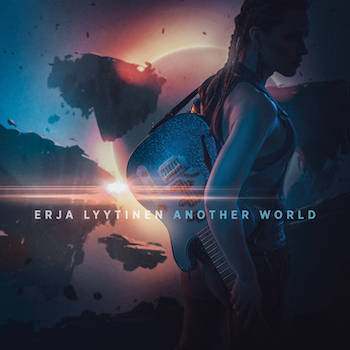 For more information on Erja Lyytinen:
Website
The post Review: Another World by Erja Lyytinen appeared first on Rock and Blues Muse.