By Martine Ehrenclou
Acclaimed rocking blues-driven guitarist, singer-songwriter, JD Simo is a gifted artist and former member of the rock Band, SIMO, releasing five albums with his band and touring with Blackberry Smoke, Warren Haynes, The Gregg Allman Band, and more.
JD Simo just released his first solo album, Off At 11, and toured the US and Europe with his new band. This Chicago-born, Nashville-based musician channels sounds from traditional blues, acid rock, folk, soul and more. JD Simo's brand of blues and rock is like the rumble of a classic car with a V-8 engine. He is known as a guitar maestro and an outstanding soulful singer. JD Simo and his new band will soon be opening for the Allman Betts Band on their inaugural tour. A multi-faceted musician who enjoys a variety of musical adventures, he is also a newly cultivated member of Phil Lesh and Friends and is currently on a European tour opening for guitar master, Tommy Emmanuel. JD also appeared as a guest on Tommy's album of duets, Accomplice One.
JD was kind enough to talk to us by phone from Scotland.
Martine Ehrenclou: Our followers Love your music as I do and you're getting rave reviews for your new album Off At 11.
JD Simo: Well, thank you. I'm very proud of it.
ME: It's a great album. Can you tell me a little bit about Off At 11 and what your vision was for it?
JD: Sure. Oddly enough, it goes back to January of last year where I went off to do a solo tour with Tommy Emmanuel. Which oddly enough I am on one right now.
ME: You are? I actually saw you and Tommy a year ago on that tour.
JD: Oh, did you?
ME: I did, in Malibu, Los Angeles. It was at the Smothers Theater. You opened for Tommy Emmanuel and it was you solo, singing and playing your Gibson ES-335. It was incredible.
JD: Thank you so much.
ME: I didn't know much about you at the time and I was blown away as was everybody else in the audience. It was one of the best concerts I've seen.
JD: Oh, thank you. It was a nerve-wracking thing for me because I'd never done anything in a solo capacity and to get out and have to do it for the first time in front of the best in the world—but Tommy and I are very dear friends.
ME: I would never have guessed you were nervous that night. Your voice was stunning as was your guitar playing. You must have felt the audience's response.
JD: Doing that tour gave me a lot of confidence that I didn't necessarily have before because there is a certain thing about being able to stand alone and get a great response from an audience like that.
ME: Absolutely.
JD: I'm grateful that Tommy kind of twisted my arm to do that. I did not want to do it. He sort of made it into a situation where I could not say no because he just stacked the decks so high that it was just like, alright. A couple of weeks before the tour started, I had to figure out what the hell I was going to do.
ME: How did you decide to do that show just you and your electric guitar?
JD: That's something that I found in trying to figure out how I was going to do my best with that sort of a platform. Because in certain ways I think it's one of the worst things an opening act can ever do is to be too much like the headliner, first and foremost because it's a bunch of people who are paying to see a specific act. They're going to see that act in a minute. If you're just going to do just another version of what they do, you kind of cancelled yourself out.
ME: That makes sense.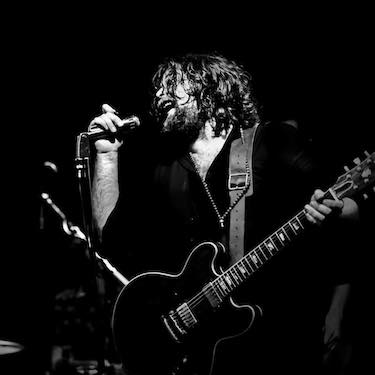 JD: So, you're better off trying to find a way to curtail what you do to try and maximize being in front of somebody else's audience. You're better off to try and find something that is going to complement it and be different enough that it's going to make for a really good even show. Keeping those things in mind as I was experimenting, trying to figure out what I was going to do, I just kept finding that I was much more comfortable playing electric guitar than I was playing acoustic guitar. Even though I can do it, but you're about to have Tommy Emmanuel just blow your head off for 90 minutes and you're about to see the best, so, it's like, okay, here's something that he's not going to do. Obviously, I'm a singer as well as a guitarist, so it's like, let me try and have some moments that are very vocal-related because that's not something that's a big part of Tommy's show.
ME: Great choice.
JD: Also, the blues side is me, the love of people like Lightnin' Hopkins and several others like Mississippi McDowell who all played electric guitar solo in somewhat of a free fashion. I kind of used that as my template. There were those guys like Lonnie Johnson who would play solo electric as if they were playing in a band, like if you put a rhythm section behind them, it would be, okay, that's a band. I just used what I already really like and just tried to do it.
ME: It came off like you'd done it your whole life.
JD: Thank you. I'm about to have to do it again for three weeks (with Tommy Emmanuel) so it's kind of the same thing for me right now where I haven't done it in a year.
ME: So, tell me about Off At 11 and how it came about.
JD: I finished that tour (with Tommy Emmanuel) and it was very liberating for me. Because even though the band that I formed several years ago that bore my name (SIMO) and was very much my band, there were things that I was not necessarily always in charge of—it was very much a democratic situation. There were things that I wanted to do that the others didn't and so on and so forth.
Coming back from that tour with Tommy, I'd just built a studio, a very retro type of studio at my house, and I started selfishly cutting stuff for my own pleasure. There's a lot of old school blues. Basically by the summertime, I had recorded an album that I thought was finished that was going to be the next record and it was very much an old school blues record. There was a lot of Lightnin' Hopkins and Magic Sam and a lot of stuff from the '60s and upright bass and all that kind of stuff. And I was pretty keen on it.
Then I went off to play with Phil Lesh from the Grateful Dead for the first time last June. I did those gigs with Phil and I was getting ready to play with Phil again—we were going to do a string of shows in Las Vegas. We were sitting together after the show and I was talking to him about finishing my new record and how it was just old school blues things. He had actually heard it and said, "You see, that's great." And I said, "But I love what we just did," meaning jamming and getting crazy and weird and all that with him. And he very sweetly said, "Well, you could do both, JD." And he was right. About a month after that when I finally got home, I basically cut the other half of the record except the track that closes Off at 11.
And I ended up signing a new deal with Sony and everything's been really great.
ME: So, what happened with the band SIMO? Did you just decide to go solo or are you still with them?
JD: Well, it was basically the bass player who has been with the band for the majority of the hardest work, Elad Shapiro. He had other things that he wanted to do and he certainly didn't agree with some of my directions of what I wanted to do. It was clear that we weren't going to work together.
ME: Okay.
JD: And Adam (Abrashoff), he and I had just been through so much together, and he is like a brother to me, most of the sessions that I'm talking about where I would record subjects for the fun it, involved Adam because he and I were still tied. And he was cool with it, we saw eye-to-eye and he stuck around. I've used a lot different bass players over the last year. I kind of settled on this girl from New York that I really like, Andraleia Bush is her name. She's from Brooklyn and she's awesome. The thing is – at this point I'm kind of free to do whatever I want.
ME: That's a nice place to be.
JD: Yeah, I don't really feel a lot of pressure. I just want it to be fun and I kind of take it in chunks. We just finished a five-week US tour. And now I'm on tour over here to do three weeks or so with Tommy, solo. And then, we start another band tour in the United States in mid-April which goes into the summer. I just kind of take it in chunks and trying to keep it fun.
ME: Well, it sounds like you have a lot of varied things that you get to do, which sounds interesting and exciting.
JD: Yeah. There's a lot more, too. I mean, Luther Dickinson and I are trying to finish a side project record. We've got half a record done and we just need to find time to finish that.
ME: Well, that's cool. You have a song on Off At 11 by Slim Harpo called "Got Love if You Want It." It's one of my favorites on your album. It has great rhythm too. Tell me about how you chose that song. The guitar solo is exquisite.
JD: Thank you so much. I love Slim Harpo and it's fun for me. In a lot of the sessions, I would cut a lot of old blues songs and in some cases, play them very traditionally and in some cases not so much, and some are kind of in the middle. I'm just a real big fan of a lot of stuff as you can probably tell, but I'm a fan of all the stuff from Louisiana, from the 60s--Lazy Lester, Lightnin' Slim, and obviously Slim Harpo. I cut a ton of songs from that catalogue. And that is just one that I really was pleased with the way it came out.
ME: You blend classic blues, rock, and some psychedelic influences. Can you tell me some of your musical influences?
JD: Oh, sure. I could go on and on. At the core of me, it's a love and a respect for Black American music, R&B and Blues. I'm just a fanatic about it. I love Earl Hooker a lot, I love Lightnin' Hopkins. I love Freddie King, I love Magic Sam. I love all that, and then, I love soul music Sam Cooke, Sam & Dave and Otis Redding and The Bar-Kays and The Meters and Booker T & the MG's.
And I love when psychedelic music mixed with black music and you had Isaac Hayes and Funkadelic and all that stuff in the early 70s, Curtis Mayfield where he had fuzz tones and funky pedals and all the funky grooves. I love all of that. Then there's the other side of me that loves very out jazz. I love Miles Davis and Yusef Lateef and Ornette Coleman and Wayne Shorter– I love Captain Beefheart and His Magic Band. I love to a certain extent, sort of the pre-fusion era--Bitches Brew when Miles was sort of introducing psychedelic tendencies to jazz in a way that was real intense.
I'm not really a fusion fan because it's a little too refined for me. I like things when they're kind of guttural and primal. I think that as long as something is expressive, I dig it. But at the core of me though, if you just play some blues from the 50s, you pretty much got me.
ME: Speaking of blues, you were quoted as saying that the blues is a true art form and it's for grown up folks. I hope I quoted you correctly. Could you elaborate on that a little bit?
JD: That sounds about it. I think that in the last 30 years and so in my lifetime – I'm a millennial technically – there's a certain roughness, there's a certain primalness, that to me defines the magic of what draws me to love blues. There's a street element. You have to have lived some life to fully latch onto it. There's an uneasiness to it. It is the opposite of refined. It's supposed to be naughty. It's supposed to be dangerous. What blues once was is what rap is currently. It's not meant to be perfect and pretty and packaged and produced and so on.
When I say grown up music, I mean that it's just it's not for kids. It's rated R and most of the time rated X. And I think that a lot of that danger has been stripped away. I'm not speaking in absolutes here because there's certainly people that I love, most notably Jimmie Vaughan and my good friend, Anson Funderburgh, and Kid Ramos and Nick Moss--there's a whole host of dudes-- Dylan Bishop is this young kid from Austin, Texas that I just think is way out of sight. There's dudes out there that are doing it right. But I just think there needs to be more of it.
ME: Agreed.
JD: And the more we complicate it, the more we kind of strip it of its specialness.
ME: You have a song on your album "Sweet Little Angel" and I was wondering if it's a tribute to BB King.
JD: Sure. It's him, Michael Bloomfield, who's a big hero of mine, and to a certain extent, Freddie King. I'd never committed to doing a slow blues on a record because nobody else wanted to do it. And to me, I can listen to that kind of stuff for days. It's very simple and it's expressive. I love doing it. It's the hardest thing for me to do at the shows though. It's funny because if I'm not completely in it, it's not as good. I have to really be in it. So, I don't do it every night.
ME: Does that depend on the audience or does that just depend on you and where you're at?
JD: Yeah, it depends on me. If I'm not going to be fully present in it then I might as well not do it because– yes, I could just play the notes but that's part of what I'm saying is wrong. That's like my way of not being a hypocrite. (Laughter)
ME: (Laughter) Got it. Are you writing for another album?
JD: Yeah. There's a lot of stuff that didn't make it on this record that I really like, that I really want to use. So, I don't think it's out of the question for there to be another record fairly quickly, I mean, a year from now.
ME: Is there anything else you'd like to include in the interview?
JD: Just thank you for the support and all the kindness. I really appreciate the great review and I appreciate you taking the time to do this and I mean, I humbly am just doing what I dig to do and it just means a lot when people dig it. So, thank you.
ME: Well, thank you for making the time to talk with me today, especially when you'd just gotten off the plane.
JD: It's all good. It's my pleasure.
For more information about JD Simo and Off At 11:
Website
Facebook
The post Interview with JD Simo appeared first on Rock and Blues Muse.