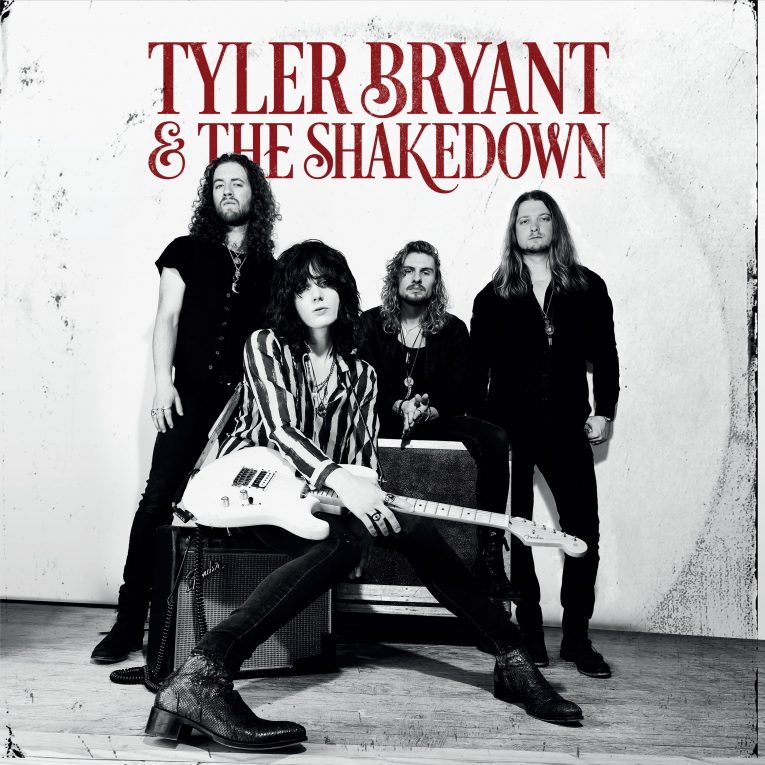 By Dave Resto
Tyler Bryant & The Shakedown (Snakefarm/Spinefarm Records) on November 3, 2017. Featuring eleven new songs, written by the band and produced by John Fields (Soul Asylum, Paul Westerberg), this is another significant step forward in the evolution of this notable roots-rock band.
Steeped in the blues and tempered in rock, guitarist and vocalist Tyler Bryant is an impressive and formidable talent, as both musician and wordsmith. In fact, he's absolutely brimming with catchy riffs and engaging, poetic lyrics. His bandmates: guitarist Graham Whitford; bassist and backing vocalist Noah Denney; and drummer Caleb Crosby collaborate to artfully interpret every nuance of Bryant's song writing on Tyler Bryant & The Shakedown.
"Heartland" is both the opening track and the first single. An over-driven guitar lick invites the drums to mimic the rhythm in heavy fashion as Bryant sings, "All hail to the rich man; leaving bread crumbs to cold hands; going down in the quicksand. Stack 'em up and watch the cards fall; if it happens to one, then it happens to all." Conversely, Bryant croons, "When will we turn around? And step off this shaky ground?" on the choruses, as the music gently washes away the grit of the harder verse sections. It's a lead-off home run in the first inning.
"Don't Mind the Blood" doubles down on the momentum of the previous song. The twin guitar attack of Bryant and Whitford is lush and lethal, as are the doubled-up chorus vocals by Bryant and Denney, as Denney's bass line rumbles along, unceasing, to Crosby's crashy, rebounding back-beat.
Much of this album aggressively churns and grinds, however, Tyler Bryant & The Shakedown have also written some beautifully exploratory music here as well. "Jealous Me" and "Magnetic Field" each possess spacious, haunting qualities but that's where the similarities end. "Jealous Me" is almost a Nine Inch Nails/Creedence Clearwater Revival hybrid, given its techno/swampy sound. "Magnetic Field" owes a nod to Pearl Jam in one of their more pensive moments. Bryant sings ever so softly, as gentle rhythmic guitars layer over each other while bass and drums are at a minimum. The impetus gains, slowly but inexorably until it reaches its climax. It's brilliantly performed and produced.
Tyler Bryant & The Shakedown are a roots-rock band and "Ramblin' Bones" shows us how deeply their roots go. Bryant opens with some respectable, intricate finger-picking slide guitar, performed on a resonator. As the chorus comes along, Bryant is joined by the rest of the Shakedown – some guitar here, some percussion there. They recreate the back porch, country blues to full effect.
"Ramblin' Bones" MP3 listen below:
http://www.rockandbluesmuse.com/wp-content/uploads/2017/11/05-Ramblin-Bones.mp3
In The Shakedown, Tyler Bryant has found his perfect counterpoint in every regard. Graham Whitford, son of Aerosmith's Brad Whitford, is every bit as good a rhythm/second lead guitarist as is his father, which is to say that he knows exactly where to place his chords, riffs and follow up leads. It's an art and he's got it down. Listen to "Weak and Weepin'" and you'll see what I mean.
Likewise, Noah Denney has the perfect sense of what it means to play with two guitarists who are weaving around each other, while concurrently singing complimentary backing vocals for a dynamic lead vocalist. It can be an overlooked and thankless task, but he does it well, lending much to the success of this album on tracks like "Manipulate Me" and "Easy Target."
Drummer Caleb Crosby has been playing with Tyler Bryant since 2008, when Bryant moved to Nashville from Texas. The chemistry and the trust between these two is undeniable, as evidenced on every track. But listen to "Aftershock," which works well at a slow, sloggy 8th note tempo. Then Bryant speeds it up and Crosby hammers the new tempo, until they bring it back to slow and sloggy.
Ending this solidly written, performed and produced album, is the dreamy "Into the Black." It's as if the band recorded themselves exhaling after this exhilarating and exhausting endeavor.
For more information on the self-titled album, Tyler Bryant & The Shakedown:
Website: http://www.tylerbryantandtheshakedown.com
Facebook: https://www.facebook.com/TylerBryantAndTheShakedown/
Spotify: https://open.spotify.com/artist/3Ig1cmnFAUxpTEYVjTRkLo?autoplay=true
Apple/iTunes: https://itunes.apple.com/cl/album/tyler-bryant-the-shakedown/id1280702325
The post Album Review: Tyler Bryant & The Shakedown appeared first on Rock and Blues Muse.