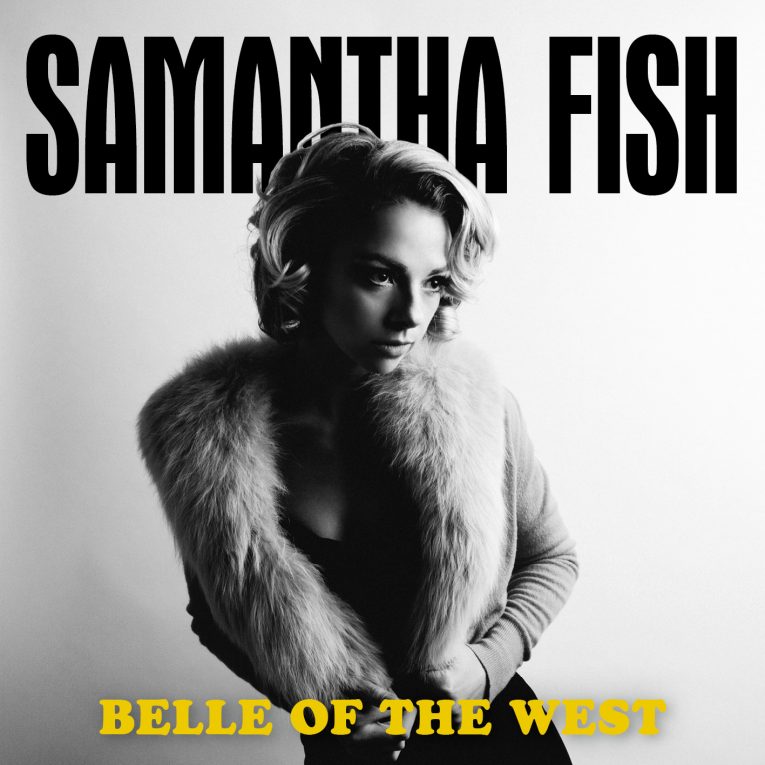 By Scott Bampton
Released on Ruf Records on November 3rd, Belle of the West is Samantha Fish's second full-length release within eight months, and her sixth since debuting in 2009.
That impressive output is testament to Fish's tenacity and bafflingly robust work ethic. As Fish herself puts it: "Music is my life, so what other choice do I have but to go out and make music? We do tour quite a bit and I do make a lot of albums, and maybe it's kind of crazy to put out two dramatically different albums in one year. But I like to work hard. This is who I am and this is what I do..."
Ironically, that frantic schedule is totally inaudible on Belle of the West - as laid back a record as you're likely to hear this year. And Fish is certainly right about the album sounding markedly different to previous release Chills & Fever. While that record encompassed rock 'n' roll, jazz, soul, pop, and even doo-wop, her new album is a total sonic departure; Belle of the West is a more focused, straightforward effort, meshing two primary genres - namely southern blues and western country. If you had to point to the album's gravitational center on a map, it would be somewhere between Mississippi and Arkansas. In fact, on "Daughters", the lyrics even reference the latter state by name. It's a beautifully mournful ditty, with a booming drum line playing off forlorn instrumental melodies, courtesy of moaning violins and a dampened stage piano.
But the real star of the song - and the album in general - is Fish's stunning and versatile vocals. With a range as epic as a deep south mountain trail, her husky tone and lyrical frankness combine for something quite special. While her gravelly snarl created an Amy Winehouse-like sound on the jazz-influenced Chills and Fever, Fish adds a level of restraint and a country-blues twang to her vocals on this record. The only reason the result stops short of the "once-in-a-generation" tag is the fact that Samantha Fish remains surprisingly underrated--despite critical and commercial acclaim within blues spheres. Fish deserves more. If her performance on Belle of the West is any benchmark, greater recognition from mainstream tastemakers may not be far away.
Listen to the title track, "Belle of the West" here:
http://www.rockandbluesmuse.com/wp-content/uploads/2017/10/07-Belle-of-the-West.mp3
Producer, Luther Dickinson (of North Mississippi Allstars fame) has done an outstanding job of making Belle of the West sound - and feel - organic and honest. Stripped back instrumentation, minimal use of reverb, and leaving in moments of between-track banter from Fish's band mates all enhance the album's intimacy; it's not hard to imagine the band recording each song around a campfire before saddling up and moving on.
For example, the driving acoustic rhythms of "Need You More" give the melancholy ballad a "wagons rolling" ambience - as if the lyrics' protagonist has been forced regretfully onto the trail for new pastures.
In fact, Fish seems to brush all the points of the Americana compass at multiple points on the album. On the Jimbo Mathus-penned title track "Belle of the West", you're taking a journey with Fish on a packet steamer down the Vermillion River. Then, you're camping out with her in the Appalachians on original track, "Blood in the Water." Complete with percussive acoustic guitars, fiddle and tin whistle, it's easy to imagine the simultaneously bone-chilling and heartwarming chorus echoing around the Coosa Valley during the civil war.
Put simply, Belle of the West is more than an album. It's a journey. Its lyrics all speak of moving on and reaching somewhere new, perfectly symbolizing Fish's own growth and ambition as an artist. So, if you've not yet hitched a ride on the Samantha Fish bandwagon, get on board - because it's going places.
To pre-order Belle of the West, see here https://www.barnesandnoble.com/w/belle-of-the-west-samantha-fish/31539301?ean=0710347124825
Website: http://www.samanthafish.com
Facebook: https://www.facebook.com/samanthafishmusic/
Spotify: https://open.spotify.com/artist/5HsS48kuvghKcNpwOaAvB5
The post Album Review: "Belle of the West" by Samantha Fish appeared first on Rock and Blues Muse.