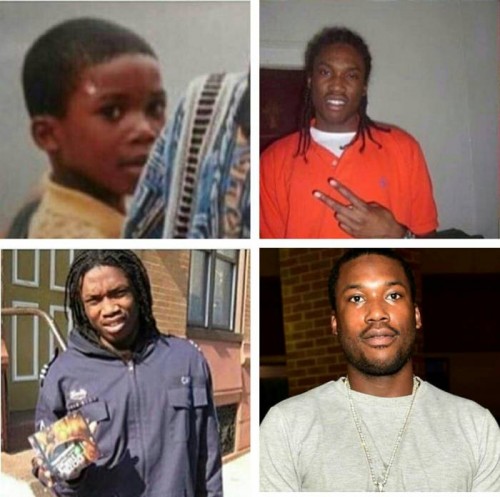 Undergraduate and activist Shahmar Beasley is creating a buzz in support of Philadelphia rapper Meek Mill and his legal troubles. The student penned an open letter to the state of Pennsylvania's Supreme Court Justices to gain some empathy for the rapper's plight during his time in the court system.
Read the full article below:
Dear Pennsylvania Supreme Court Justices,
On November 19th, 2012 rapper Meek Mill's career was placed in severe jeopardy. For it is on this day that his prosecutor, Former Assistant District Attorney Desantis, and his Judge, Judge Brinkley, made a court arrangement to harass him. Upon reading the notes of testimony from the aforementioned date I found myself deeply disturbed and eventually even outraged by the treatment of Philadelphia's beloved Meek Mill in the Criminal Justice Courts in Philadelphia.
The cause of my outrage was this very statement made by ADA Desantis while on the record,
"I want the case reassigned to Ms. Underwood (Mill's current probation officer) because Your Honor (Judge Brinkley) asked for Ms. O'Loughlin and she couldn't do it because she's in House Arrest. So I checked around, and Ms. Underwood can do it, and I think it's only fair, because she's in the domestic violence unit, and she said she'll do it and she writes three-page summaries"(pg. 59 Robert Williams Notes of Testimony 11/19/2012). This small, unassuming quote shows that the judge and prosecutor in the case completely went against their own Code of Conduct to set Meek Mill up! Something that is equally eye opening is that this indicates that there has been some ex-parte communication in the case (communication between the ADA, Probation Officer, and Judge without defendant or his/her attorney present). If there was in fact ex-parte communication, as former ADA Desantis's statement suggests, then that unequivocally gives the appearance of impropriety. This makes one believe that this was a calculated, premeditated plot to prolong Mill's probation unnecessarily and possibly put him back into prison.
According to several renowned legal experts I contacted, whom have a combined 70+ years of experience practicing law, all stated this was one of the worst cases of misconduct they have heard about in their careers! According to them, the first reason that this is disgraceful is because the Court of Common Pleas, The District Attorney's Office, and the Probation Office all function as separate entities for it allows individuals that are accused and or convicted to have their 5th amendment right of due process upheld. When there is a failure of these entities to function as such it robs the accused or convicted of their opportunity to receive fair treatment under the law such as in Mill's case. The second reason is that according to the Pennsylvania Constitution Article V, Section 17, Subsections (b) and (d) this type of activity is absolutely forbidden. For only the Pennsylvania Supreme Court Justices have the power of appointment and Judge Brinkley's use of this power that the Common Pleas Court simply does not have causes there to be a violation of the Code of Judicial Ethics which also goes against this constitutional law. Lastly, just the very appearance of impropriety alone means that the court is in direct violation of Code 3 of the Code of Judicial Conduct. If anyone on the bench is to violate any of these codes in place they are acting outside of the law and thus permanently scar the legitimacy of the case in question.
One thing that completely disgusts me about these two individuals is that they are using their legal positions and people's blind trust in them to uphold justice to make his life beyond difficult.
For since his neck has been under the boot of this unethical court arranged probation Mill has found himself in violation of his probation twice and was even sentenced to serve time in prison in 2014. Mill as a direct result of this probation from hell has lost out on multiple endorsements, show performances, various other opportunities to further his career, and was even forced to work for free as ordered by Judge Brinkley.
We must now consider why this all happened in the first place. The judge and prosecutor most likely formed this probation pact in an effort to be "tough" on Mill. If so then we must consider their meaning of the word. For if their definition of "tough" means disobeying the law, disobeying their ethical obligation, and disregarding every law they know they're supposed to follow to very badly damage the life of a defendant in the courts then yes they would be correct their wrongful activity would be very "tough" on anyone. Mill under this probation arrangement has somehow continued to be an absolutely upstanding gentleman. In his private life he has donated a large amount of his money to various charities, has given a significant amount of his time to non-court mandated community service events, won multiple awards including the ultra-prestigious Billboard Rap Album of the Year in 2016, and managed to maintain his humble spirit making his rap nickname truly indicative of his character.
That is why I believe he should have his probation terminated immediately because quite frankly enough is enough. This probation team has bullied him for 4 straight years now and that is far too long for this type of activity to persist in the courts. Mill even had his probation period extended by 6 more years while under this unethically formed probation arrangement. The last straw of this treatment of Mill came when Judge Brinkley recently sealed off all of the notes of testimony in his last hearing from the public. According to his court docket Mill and his legal team have been fighting vehemently ever since to get these notes of testimony unsealed and released to the public to read. It makes it appear as if she is trying to hide her misdeeds and cover her steps but it is far too late for that now.
Given the now nationwide news coverage of Judge Brinkley and ADA Desantis's vile actions in the court it will be interesting to know what comes of it. One would hope that the fair justices of the Pennsylvania Supreme Court will act very swiftly to show everyone that Pennsylvania's Courts do not tolerate this type of egregious activity. One would hope that the justices will maintain the support of the people of Pennsylvania by showing Pennsylvanians that their courts are truly legitimate even after taking such a damaging blow from Judge Brinkley and ADA Desantis's actions. One would hope that the justices will show that all defendants are treated with fairness in Pennsylvania despite any differences in fame, fortune, or anything else than others.
Pennsylvania Supreme Court Justices, have an obligation to uphold justice impartially. This obligation can be easily fulfilled by simply delivering a decision to terminate the remainder of Meek Mill (Robert Williams) probation immediately. For if any other decision is made it will give a message to all of Pennsylvania and the now national audience that the courts tolerate this type of activity.
The millions of people now following this case as well as myself trust that the fair Pennsylvania Supreme Court Justices will make the right decision and make it promptly.
Thank you for your time
Shahmar Beasley
Undergraduate Black Activist
Contact: [email protected]