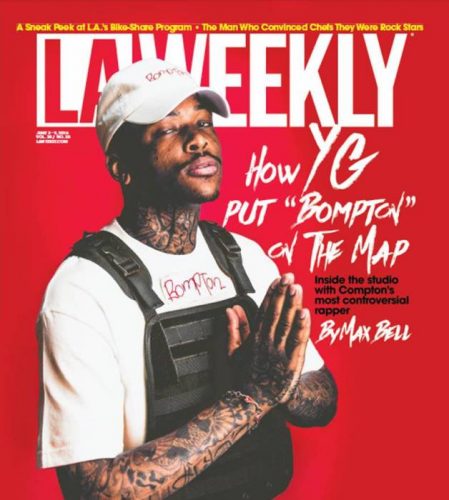 Many Rappers who have hailed from Los Angeles – and have become successful – have something in common: Dr. Dre. The OG producer-rapper, who now dominates the tech world with his headphones, has served his city's rappers since 1987. He's worked with artists such as Easy-Z, Ice Cube, Snoop Dogg, Warren G, Nate Dogg, 2Pac, Kurupt, Xzibit and Kendrick Lamar. And we have all seen what they've contributed to Hip Hop.
But one Compton rapper has flourished without a beat or co-sign from Dre. And that's YG. His upcoming sophomore album, "Still Brazy," is already being hyped up; and expectations are high. After signing with Def Jam – once he was out of jail – YG has been consistently flooding the streets with Music. Having accomplished so much, in a short period of time, without Dre's assistance deserves a round of applause.
Or, at least, a Cover on LA Weekly.