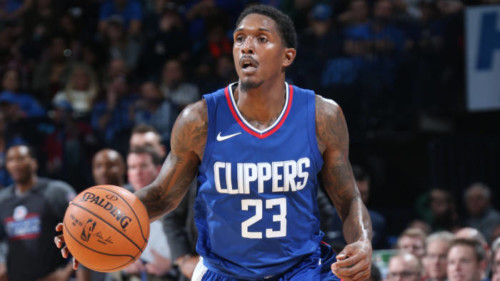 The 2017-18 NBA regular season is coming to an end this week and although the Los Angeles Clippers will miss the 2018 NBA playoffs, they can certainly be proud of the year star Lou Williams has been off the bench.
Lou Williams recently signed a three year extension with the Clippers and he has been putting up big numbers in this season. Like fine wine, Lou has been getting better when time and this has been his best season to date.
Currently averaging a career high 22.6 points and 5.3 assists per game, I spoke with Lou Williams on if he should be named the 2017-18 Nba Sixth man of the year following the Clippers loss to the Denver Nuggets Saturday afternoon.
Checkout the interview below and let Me know, should Lou Williams take home the 2017-18 NBA Sixth Man of the year award this season? Stay tuned to HHS1987 for more NBA news. Follow @eldorado2452 on Twitter and Instagram for all your NBA and sports news.
"Yes" Leading his team in scoring 22ppg & assist 5apg off the bench, on Saturday afternoon I asked one of the most humble players in the league if he deserves the 6th man of the year award! @laclippers star @louwillville speaking on why he should be named the 2018 NBA Sixth Man of the Year (My Full Recap Is Coming Postgame) #staytuned!!! #reportinglive from #losangeles #nba #23 #laclippers #losangelesclippers #clippersnation #espn #nbatv #sunday #ballislife #losangeles #makingmoves #ittakeseverything #easylikesundaymorning #freemeek #dreamchasers #trophies #louwilliams #basketball #staplescenter #socialmediamarketing #blackexcellence #sports #socialmedia #news #videooftheday #pressplay #southerncalifornia #godsplan