Here we are going to take a look at the best shaving brushes so that you can wet shave like a pro and get the look you desire.
Traditional Shaving is not as hard as you think when you have the right tools. Besides, you can do it from your home! Far from being a hassle, it's more convenient than going to the barber all the time. It just takes a small investment to get started.
5 Best Badger Shaving Brushes to Buy in 2019
1. Perfecto Pure Badger Brush – Affordable and Authentic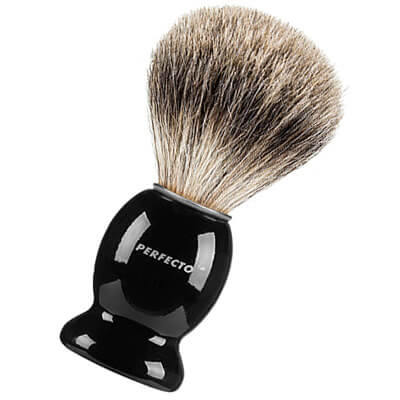 Perfecto takes pride in producing authentic brushes, and this is why their pure badger brush uses real badger hair bristles and a handle made from real wood. The price point is rather low, but the quality is assured.
Key Features
It has a smooth carved wood body that comes in different colors. The curves are soft and it provides a strong grip. "Perfecto" is written in the front.
The bristles are stiff and hold sufficient water, so you can use it to exfoliate your skin.
Value
For its low price and authentic materials, Perfecto's brush is fantastic. Sure, it has its own caveats (and all "pure" brushes have them) but the feel of the brush is unbeatable.
PROS:
Perfect stiffness
Holds adequate water
CONS:
Shedding may occur as it is usual with genuine hair brushes
The hairs might smell like a badger the first time you use it
Summary
If you want to save money and get a decent brush, Perfecto's brush is a nice option. It has nothing to brag about, but the materials and build are reliable. The simplicity and feel of this brush are its key points.
---
2. Vikings Blade Luxury Badger Brush – High-end and Traditional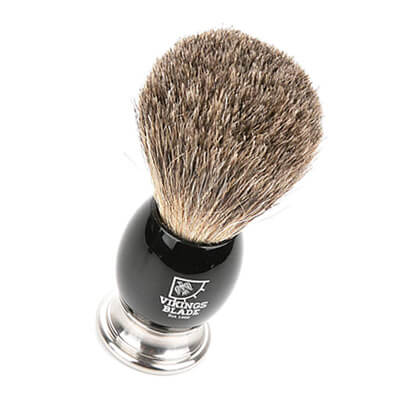 Vikings Blade is committed to making luxury shaving products at reasonable prices. Their newest release is a high-end traditional badger shaving brush. It quickly became one of their most popular products, and for a good reason.
Key Features
It has a heavy-weight black acrylic handle capped at the bottom with a Swedish alloy base. It gives it a distinctive look to it and even the company's imprint looks fashionable.
Sturdy bristles with high water retention for a better experience.
Designed to last even when using it for wet shaving only.
Comes with an attractive-looking cylindric case for storing.
Value
It's more expensive than Perfecto's pure badger brush. However, this product has a sturdier built and the materials are every bit as authentic. Vikings Blade didn't reinvent the wheel with this, but it sports the same genuine barber-like experience.
PROS:
Premium build
Stylish top-end bristles
CONS:
A bit expensive for what it offers
Prone to shedding
Summary
If you want to improve your facial grooming kit, Vikings Blade brush is an excellent option to consider, more so if you want that extra bit of flair to make everything look more proper.

---
3. Shaveway Pure Badger Brush – Affordable and Stylish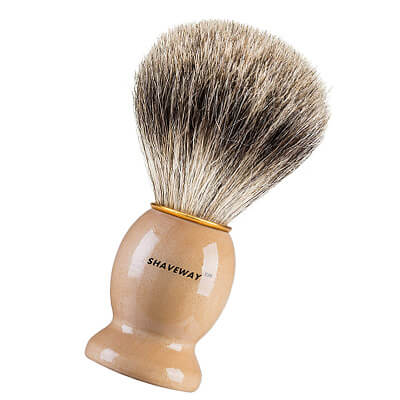 Shaveway's pure badger brush is simple and affordable. It might come down to preference, but the product is also gentler than most pure badger brushes, and it also has a more "homely" look.
Key Features
The bristles are not as stiff as others. They are gentle with the skin but hold sufficient water for better wet shaving.
The handle is made of wood and it is very smooth. It has a good grip and it feels nice. It has the "classic" look of traditional brushes.
Makes a rich lather and does wonders to the skin through exfoliation.
Value
Low price, simplistic, and authentic. There isn't much we can ask from a mere shaving brush save these traits, and we believe Shaveway brush delivers it all. Shedding is the only concern we have, but with proper care, it shouldn't be an issue.
PROS:
Gentle bristles that are still stiff enough to stimulate the skin
Natural wood color and feel
CONS:
Prone to shedding in the first uses needs special care
Hairs might smell like a badger the first time
Summary
If you are looking for a simple shaving brush made from real badger hairs, you found it. It is also affordable and has a nice traditional look, so you aren't losing anything with this product.

---
4. Parker Silvertip Badger Brush – Luxurious and Gentle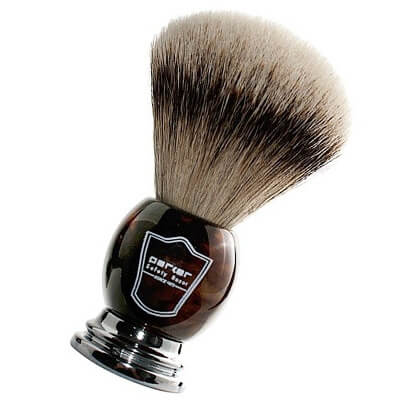 The price point might make some eyes roll but the truth is Parker outdid themselves with this Silvertip badger brush. The build is 100% handmade and the materials are fabulous. It comes shipped with its own stand for drying and storage.
Key Features
It has a premium faux horn handle that feels as good as it looks, and it is capped at the bottom with a durable alloy.
Silvertip badger bristles for ultimate softness and density. These bristles can hold much more water and provide rich lather. They might not be the best for everyone, but for anything other than exfoliation, they work wonders.
Packaged with an acrylic brush stand in an attractive-looking gift box.
Value
Most of the value of this product stems from the materials, design, and build. It certainly looks expensive for what it is, but considering the premium quality and added brush stand, we believe it's a good deal, though admittedly not for everyone.
PROS:
Fantastic design and high-end materials
Includes brush stand for storage and drying.
CONS:
Costly
Bristles might be too soft for some
Summary
For those who just want a serviceable authentic brush, this is not it. That being said, we totally recommend this brush for the enthusiasts who are either looking to get started in the shaving department or those who want to replace their brush and stand for something more attractive. The quality of the Parker shaving products is undeniable but the budget comes first.

---
5. Edwin Jagger Badger Brush – High-end and Stiff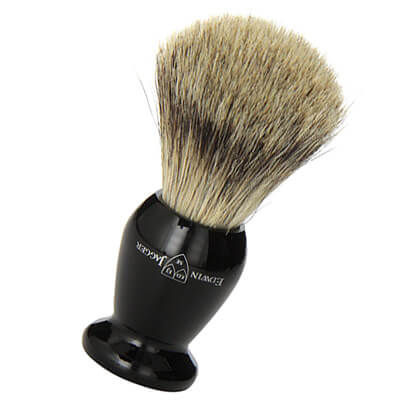 Edwin Jagger brand has been manufacturing high-end shaving products for years and this badger brush is no exception. Just like Parker's premium brush, it comes shipped with a matching stand for storing and drying your brush.
Key Features
Molded acrylic handle with smooth curves and decent weight. The bottom is flat and the edges allow a precise grip.
The bristles are high-quality and stiff, perfect to exfoliate your skin. They hold a lot of water so they can make good lather as well.
The matching acrylic stand looks sleek and modern, which makes it a great fit for modern decór. It also makes drying faster which is important for the brush's health.
Value
Edwin Jagger is a tad cheaper than Parker's luxury brush, but it doesn't look anywhere near as fashionable. That being said, it's the same package: a premium pure badger brush with a matching stand. It might come down to what you prefer in terms of looks.
PROS:
High-quality materials and sleek design
Shipped with a drying stand
CONS:
Somewhat expensive and not as grand looking as other luxury products
Daily after-care might be needed to prolong the life of the brush
Summary
There's no sugarcoating it, Edwin Jagger brushes are for shaving enthusiasts. Someone looking for a quick brush after a shave might make better use of cheaper models, but for the discerning shaver, this is an excellent package.

---
5 Best Synthetic Shaving Brushes to Buy in 2019
1. QSH Synthetic Hair Brush – Affordable and Reliable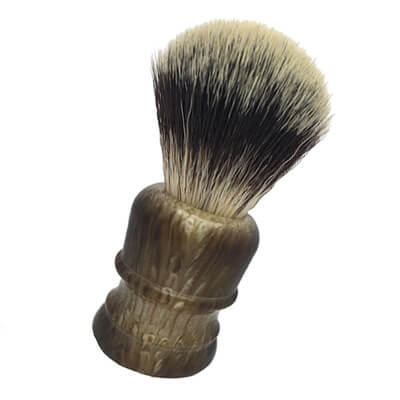 While authentic badger hairs have their benefits, QSH is aware of the advantages of synthetic brushes. It isn't very remarkable, but their synthetic brush is affordable, simple, and won't smell.
Key Features
It has an authentic wooden handle. The surface is bright and polished and it is perfect for hot temperatures.
Synthetic bristles are excellent options for those who would rather avoid animal fur or may suffer from allergies.
Softer than badger hair but with adequate water retention. You can make a good lather with this brush just as well.
Value
The brush isn't entirely out of the ordinary in terms of design and usage, but it is synthetic. As such, we believe it is a great product for those in the market for synthetic bristles. It is affordable and provides the same experience.
PROS:
Suitable for dry and hot climates
Shedding and smell won't be a big concern
CONS:
Might not be stiff enough for some
The handle could use more weight
Summary
If you want a decent synthetic brush that won't break the bank, QSH's brush might do the trick. It doesn't have bells or whistles but it gets the job done reliably.

---
2. Satin Tip Pure Synthetic Brush – Affordable and Luxurious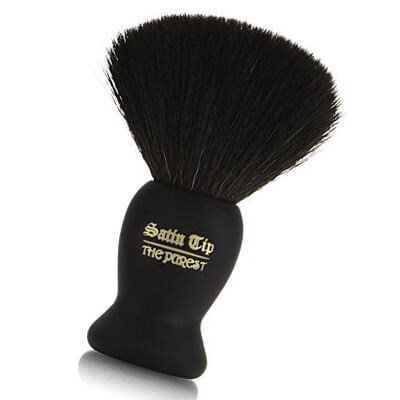 You might think "affordable" and "luxurious" don't make sense together, but just take a look at Satin Tip's shaving brush and tell me that it doesn't look fancy. Sure, a brush's worth might be more than just looks, but there is hardly any innovation to go around in this department.
Key Features
It has a low-slip rubberized handle. The coating makes it durable and gives it a nice feeling.
Soft synthetic bristles with excellent water retention. They can hold soap well enough and feel very gentle.
Packaged with an attractive paper slipcase that eases storage and travel.
Value
It is a tad more expensive than QSH's brush but with premium looks, and it also comes with a paper slipcase. The brush doesn't do anything stellar or special, but these little details add value to the product. If you don't care about the looks, it might not be as valuable.
PROS:
Premium look for a good price
Super soft and excellent for making lather
CONS:
The build is not as durable as others
Can't exfoliate properly with this brush
Summary
Satin Tip made an excellent compromise between luxury and price, and those that appreciate it will definitely consider this brush. It looks way more expensive than what it is, that's for certain.

---
3. Parker Synthetic Bristle Brush – Affordable Package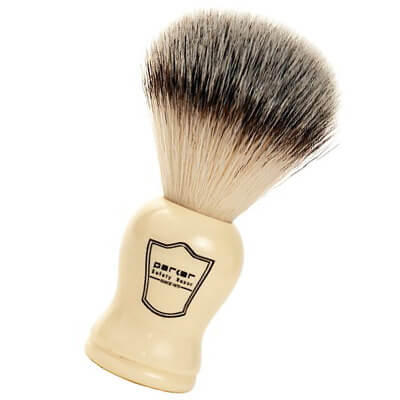 Parker doesn't stay behind when it comes to brushes, which is why they have their own synthetic brushes. It doesn't look as luxurious as their Silvertip brush, but it comes with the expected Parker quality, plus it comes shipped with a brush stand.
Key Features
It features high-quality synthetic bristles as we would expect from Parker. They have a great feel to them.
The handle is very sturdy and durable. We don't really like its looks, but the quality of the build is undeniable.
Includes an acrylic brush stand for easy storing and drying.
Value
As with any product that ships something additional, Parker synthetic brush is valuable. The materials and quality of the brush are great, so adding a brush stand to the package is the cherry on top.
PROS:
Super soft bristles and great water retention
Sturdy faux ivory handle
CONS:
Not very good to exfoliate
Not very impressive in terms of looks
Summary
There is no way you can go wrong with a Parker brush. We're unimpressed by the looks of this product, but it might be the fancy of some, and most importantly, the materials are high-end. Considering it's still fairly cheap, we like it.

---
4. Fendrihan B&W Synthetic Brush – Sleek and Super Soft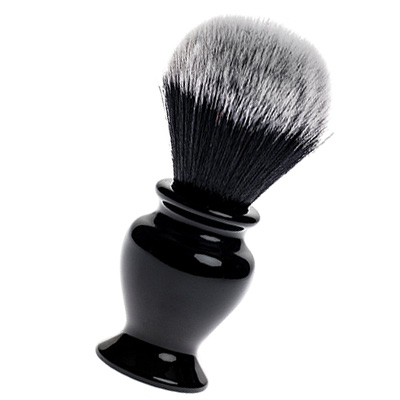 Fendrihan's B&W synthetic brush performs just as good as it looks, and it is quite affordable as well. Fairly unimpressive and low-profile as far as design or function goes, but the actual look of the brush is refreshing because it's sleek and more modern-looking.
Key Features
It has black silvertip bristles that look stylish and feel soft to the touch. They have excellent water retention and can make a great lather.
The handle is made from black resin which is both durable and attractive. The shape is sleek and looks different than most brushes.
Value
It's affordable and has one of the softest synthetic bristles we have covered so far. The design is sleek, durable, and looks attractive. It's a fairly good product and won't cut into your funds.
PROS:
Sleek black resin handle and silvertip bristles
Affordable
CONS:
Very soft, might have problems with tougher beards
Very long, might have problems storing
Summary
It follows the trend of simple and affordable products, this time with a different look. We like that there are aesthetic options for everyone that maintain the same degree of quality. If you're in the market for a brush that will get the job done that also fits with your modern decór, this might be it!

---
5. RazoRock Bruce Synthetic Brush – Sleek and Compact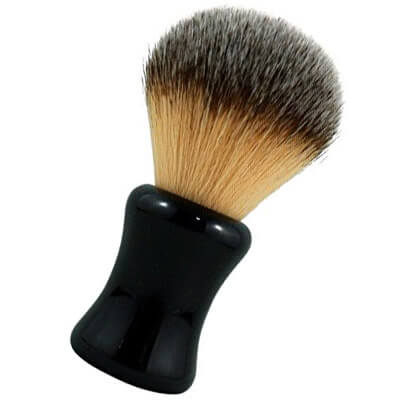 Tiny, sleek, and lightweight. RazoRock's shaving brush is the ultimate traveling brush and it looks pretty. We love the contrast between the bristles and the handle, and the quality of the lather you can prepare with the brush is outstanding.
Key Features
An acrylic black handle with a simple shape without rough edges. The design is contoured for a simple gripping style.
Soft bristles with excellent water retention. You can prepare rich lather in no time, and it dries quickly.
Value
Considering the price and the quality, we believe it might have the best cost-to-value ratio of all the brushes we have reviewed. It doesn't bring anything else to the table but it does its job right.
PROS:
Tiniest and lightest brush we have reviewed so far
Cheap and reliable
CONS:
Finding an appropriate brush stand might be difficult
Bristles lack stiffness
Summary
Cheap, sleek, and with a great build. It is an excellent choice and leaves little to be desired. We'd have appreciated especially-built stand because finding an appropriate one for its size might be a chore, but other than that, we love this brush.

---
Frequently Asked Questions
Pure, silvertip, synthetic? What is the difference
Pure badger brushes are 100% made from animal hairs, badgers in our pick. These are great because they are stiff and serve well if you want to exfoliate your skin.
Silvertip badger brushes are much softer, thus making better lather. They're also less irritating to the skin.
Synthetic brushes aren't made with animal hairs, so they won't have any funny smell and they won't produce allergies. They are often softer than silvertip, and thus gentle on the skin.
How do I care for my brush?
If you have pure brushes, you should avoid hot water when cleaning your brush. Warm water is fine but nothing too hot, as it will lead to further shedding.
Synthetic brushes are not as particular when it comes to caring, but they should be cleaned regularly.
In any case, make sure you hang your brushes so that they dry, else they might catch some smell or start shedding.
Can they be used on other parts or by a woman?
Yes, but with a few caveats. Stiff pure badger brushes can irritate the skin, as such, they shouldn't be used in delicate parts. Synthetic or silvertip brushes are more appropriate for handling delicate skin parts.
A note of hygiene: it would be better if you had dedicated brushes for certain parts of your body. Sure, you can rinse and clean thoroughly, but not many are comfortable with the idea of using the brush they use in their pubes in their face. Additionally, we advise against borrowing your brush to others for the same reason.
How to Choose the Best Shaving Brush?
If you are an adherent of traditional shaving, you won't manage without a shaving brush. There is no other as a sure and easy way to create a thick and foamy layer of lather as using a shaving brush.
Besides lubricating your skin for more smooth razor's gliding over it, a thick coat of foam softens your bristle and lift it a little. This facilitates more close shaving. And, for sure, whipping up foam on your face is so pleasant and joyous process!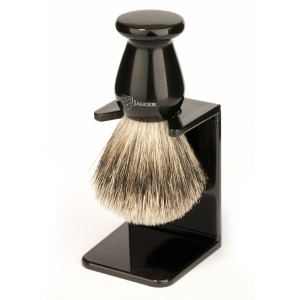 A shaving brush can be made of synthetic fiber or of natural material such as hair or boar, badger, or, actually, any furry animal.
The handles of brushes also present a variety of form and material. So it won't be a problem for you to find a brush well suitable for your tastes and wallet.
We just list some most notorious and respected manufacturers. They are Omega, Rooney, Proraso, Simpsons, Taylor of Old Bond Street, Parker, Edwin Jagger, and many others.
How to Use Shaving Brush?
Before every shave dips your brush into hot water for a minute. It will make the fiber more soft and pliable. The water, though, must not be too hot, as that can damage the fiber and cause it's falling out. The more water the shaving brush can retain the higher quality the brush is.
Some people soak their shaving brushes under the tap and then just squeeze some shaving cream on the brush and make the foam with it right on their faces. Well, that's a choice. But we recommend you to use another mug for both preliminary soaking the brush and then for making foam in it. You can buy it with the brush or additionally, or just use some crock for that purpose.
Practice says the best option would be a hemispheric not very big bowl made of thick porcelain or suchlike material, not of metal. It is handy to make foam in, easy to wash and doesn't cool too fast.
If you have a gift problem that concerns a wet-shaving man, then a best quality shaving brush, alone or with such an appliance as foam bowl, straight razor or safety razor would be highly appreciated.
---
Criteria For Review
A good brush should have reliable bristles, a durable handle, and preferably, it should dry fast to avoid degrading the quality. Some brushes are prone to shedding and that is undesirable, although rather common in pure badger bristles.
Additionally, some brushes include brush stands or cases in their package. While that isn't directly related to the quality of the brush itself, it adds value to the product as a whole.
These are the traits that we appraised when reviewing our brushes:
Expand
Features
Two parts in a brush are important to us, the handle and the bristles.
There are different kinds of handles and materials. From faux ivory, acrylics, resins, and wood. Some choices are a matter of preference but each material has their characteristics.
Acrylic and resins are usually praised for having the best durability out of the bunch, but a wooden handle will outlive each and every material when it comes to durability in hotter climates, not to mention they usually have the best weight.
As for the bristles, it is a matter of preference. If you want to exfoliate your skin you will need stiff bristles, but if you want to make a rich lather for superior wet shaving, softer bristles will hold more water and soap.
Altogether, both elements make up for the look of the brush, and while that is subjective, there are several choices to get the brush you want.
Value
Value is not the cost you pay for the product, but what it brings to the table.
An expensive brush is not necessarily a good product. This is why we only look for brushes that are affordable and reliable, or that include more on the package, such as a brush stand or a travel case.
In some cases, the main appeal of the product is the look. While that is not wrong, it doesn't add as much value as a tangible benefit.
We have plenty of choice in our list to pick a product that suits your expectations.
---
What Makes One Brush Better Than Another?
The history of the well-familiar to us shaving brush has about 250 years. It appeared in France in 1750th years. The first brushes, just like now, were made of badger or boar hair. But the handles of the brushes were much more fanciful. They were being made of ivory, gold, silver, tortoiseshell, porcelain, and even rhinestones. In the 19th century, when the handy straight razor entered the scene, the shaving brush became a certain symbol of wealth and status of its master. Connoisseurs were ordering and buying expensive, exclusive items.
Expand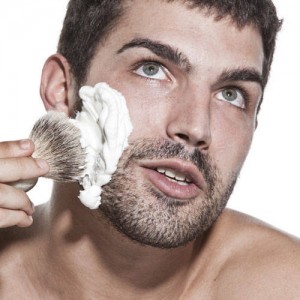 By their appearance, material and quality modern shaving brushes don't differ very much form their predecessors of the former centuries. Although the handles of them are still made of quite various material including the most exotic, the nowadays handles are usually plastic.
The manufacturers of shaving accessories widely use plastic even for most expensive items. Plastic handles are not damaged by water and don't break. Some men prefer other materials such as wood or tortoiseshell, but it is needless to say that the handle, whatever it's made of, can't be of great matter for the shaving process.
The price of the shaving brush
The price of the shaving brush depends mostly not on the handle material, but on the hair, it is made of. There is a wide range of prices for shaving brushed, starting from $5 to, say, $1200 for an exclusive model with badger hair from a prestigious manufacturer. The good brush anyway won't cost you less than $20.
The brushes made of synthetic fiber are the cheapest. They are prickly and poor at retaining water. It is difficult to whip a good foam with such brushes. The combination alternative, such as synthetic plus boar hair, isn't the best thing too. The boar hair retains water somewhat better, but is still as prickly as synthetic, and brittle, to boot. Undoubtedly, the real connoisseurs of wet shaving give their preferences to badger hair. Its softness and never causing any irritation, ability to absorb and retain water – all that far surpass any synthetic or boar hair.
As a rule, three kinds of badger shaving brushes are distinguished, namely: the common quality (pure badger), the high quality (best badger), and the highest one – super badger or Silvertip. Some manufacturers, such as Vulfix, make difference between a super badger and Silvertip, but at the Muhle-Pinsel factory, for example, there is not such a division. They merge super badger and silvertip into the category named Fine badger hair with silver tip (Silberspitzen).
Pure Badger Shaving Brushes
Pure Badger denotes the hair taken from the bottom side of a badger fur. It's about 60% of the whole badger's coat. This hair can be different in softness, elasticity, and color. Usually, it is dark and has tinges from beige to black and silver. Pure badger is cruder than best badger and, the more so, Silvertip. The reason is the hairs themselves are thicker.
Best Badger Shaving Brushes
Best Badger. This fur is more thin and flexible. It comes from not more than 25% of the animal's pelt, from places with longer and softer hair. Shaving brushes made of it are denser and consequently able to make thicker foam. But many men say there is no difference really between the best badger and pure badger.
Super Badger Shaving Brushes
Shaving brushes made of super badger are more expensive than pure badger and best badger. It is a common opinion that super badger is the same as silvertip, but it isn't so. Usually, the super badger is ordinary badger hair bleached at the tip so it would look like silvertip. Super, in this case, means that the hair for this brush was picked up very carefully.
To distinguish super badger from silvertip it would be enough to look at the endings of the hairs. In real silvertip, they have a light gray hue, but in no case they are white. In contrast to this, bleached super badger hair has a, so to say, sterility-white tint. And as a rule, it doesn't spread for the whole length of hairs.
Silvertip Shaving Brushes
Some manufacturers of shaving accessories, such as Plisson, Simpsons and Rooney, make brushes of even higher price category. They call them variously – for example, extra silvertip. The quality of such brushes is similar to that of usual silvertip, but they have a slightly different appearance.
The hue can be more light and expand for all the length of fur. Allegedly, such brushes are still better for keeping the foam and gentler on the face. The price for such items can reach $500, partly because of the handles which are made of costly materials.
Silvertip. Undoubtedly, that's the king of the shaving brushes. It is the most expensive and rare thing. The hair of naturally light shade without any vestiges of bleaching comes to the badger's neck. Such brushes have always a rich head of fur. They wonderfully keep water, and it is fast and easy to whip up a thick foam with them.
The badgers of North America and most countries of Europe are protected by law. That's why the commercial supply of badger fur comes from China. No surprise that the manufacturers praise the quality of Asian badger. There are plenty of badgers in the northern provinces of China where they are considered a threat to agriculture crops. Local village cooperatives get licenses from the authorities for badger hunting and then sell badger fur to manufacturers of shaving brushes both abroad and in China.
The matter is much simpler with boar hair. It is cheaper and available in many countries. The wholesale price of such brushes made in China or India is only a dollar apiece. At the same time, the wholesale price for a badger brush can't be lower than $10 apiece. So, except for handles of exotic materials, it is the badger hair that makes the brushes so expensive. To reduce this factor, Chinese companies recently came into the market with thin horsehair brushes resembling those of badger hair. As for synthetic fiber brushes, they are mostly produced in India.
The Good, the Bad and the Ugly Shaving Brushes
A good shaving brush with an opulent bunch of hair retains a great amount of water that combines with the soap in a special bowl. The more water is kept in the brush the thicker can be made the foam. And that means the easier will be your shave: the hair will be neatly cut and not pulled out.
Besides this, using a good quality shaving brush facilitate skin peeling before the shave. The soap for shaving contents glycerin, so shaving procedure makes unnecessary morning face wash with a special peeling gel. There is no difference between making a foam of soap or shaving cream – the same brush will be good for both. After the shave rinses it the hot and then cold water. A highly calcinated water can reduce the absorbing ability of badger hair, but as the latter is a natural product, to restore its qualities you will only need to wash it with some shampoo and conditioner.
The main function of a good shaving brush is softening your bristle before shaving. You can't achieve that simply applying cream or gel to your face with your hand. To have a really thick foam put the brush into the bowl with soapy stuff and make circulate movements. With good foam, you needn't press the razor against your skin. That's why the combination of a straight razor and a fine quality shaving brush results in a good shave, not to mention you will be free of the necessity to endlessly buy disposal blades for safety razors.
---
Conclusion
If you want to go through the traditional barber-like experience from your home, you need to gather a few tools. A shaving brush is an important part here, and there are a few concepts you need to grasp such as bristle stiffness or material, however, it is fairly straightforward once you get down the basics.
Many are afraid of shaving themselves the traditional way because of the possibility of cutting your face, but most barbers can rough your face as well, and the good ones charge a lot. Learning how to shave properly will make your face look much better and you will end up saving money you'd otherwise spend on a barber.
We hope our list helped you get a new brush for your facial beauty kit, but if not, at least we gave you some pointers!
The post Best Shaving Brush Review appeared first on Mister Shaver.