We think the versatility of our picture Rail systems speaks for itself, even when "just" using them for the intended use – to give you a sleek, attractive, wall-saving way to display a variety of artwork, while offering you the flexibility to change the look whenever you like. But that's not the only thing you can do with your rails. Our rails are so affordable read on to find out even more ultra-creative ways to transform your Hanging System into a multi-functional piece of home décor.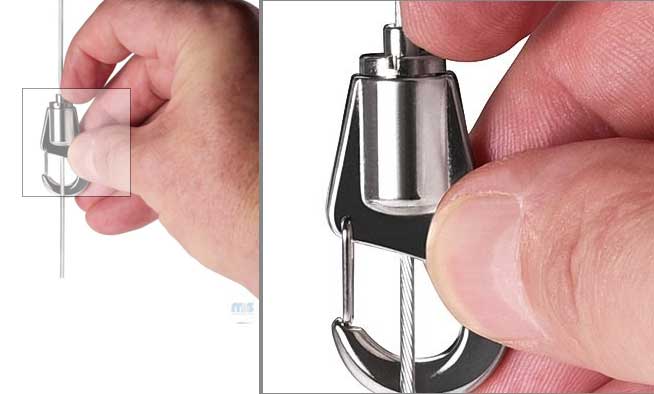 In the kitchen: the possibilities truly are limitless in this high-traffic area. Consider the following creative uses for your click, ceiling, or classic rails:
Hang a bulletin board, or two. Every family needs a place to put those coupons, recipes, and frequently needed documents, and bulletin boards can be unwieldy and difficult to hang. A picture rail makes Hanging your bulletin board simple and fast.

Hang calendars – using a hook on your rail makes turning the pages simple, and with the generous horizontal space your Art Hanging System provides you can hang the one you got for Christmas, the one the city sent you, the one from church, and…well, you get the picture.

Hang utensils, towels, and pot holders – you could even cut a section of ceiling rail and mount it underneath the cabinets for convenient access to all the things you use on a daily basis. Anything that can hang on a hook can hang on your picture rail.
In the bedroom:
Use it as a tie, belt, or scarf rack – you know, all of those things that usually get shoved to the back of the closet, leaving you frantically searching when that wedding you really should show your face at comes up.

Use your picture rail to organize and hang your jewelry – with everything hanging neatly against the wall from hooks, tangles will be outdated and you'll be able to quickly assess exactly what you have.

Hang your purses on it – while you may not want your purses decorating your bedroom wall, you could certainly mount a rail in your closet, which will still keep the collection under control and offer the floor of the back corner.
You may not need a complex and comprehensive museum hanging system, but who couldn't use a little more creative storage that takes advantage of empty wall space? With Mbs, you're getting superior quality and service, plus the most affordable prices in the industry.