Beauty is the harmony of function and form.

Alvar Aalto
When brands participate in trade shows and exhibitions, they strive to present their products/ services in the most engaging and compelling manner. After all, it's the beauty of presentation that captures the vision of hundreds of people hopping from one stand to another. 
Now, the question is whether to opt for custom or Modular exhibit booths. Each one of them has its share of pros and cons. So before you invest your time, money, and efforts in choosing the right solution, it's advisable to evaluate the two options. Choose the one which best fits your needs and also reigns the market. 
In this read, you will be furnished with all the reasons which will compel you to take your stand on the platform of modular displays. The global modular display market, recorded at USD 5.49 billion in 2019, is expected to show a CAGR of 13.2% from 2020 to 2027. Its widespread reach across retail outlets, advertising, media, sports, transports, and more contributes to its high numbers. Innovative brands supplement their modular displays with technological advancements like augmented reality, machine learning, artificial intelligence, and big data for better customer engagement. With so much hype around, modular trade show displays are sure to possess a sizeable chunk of benefits. So, let's unwind these perks for a deep-down understanding.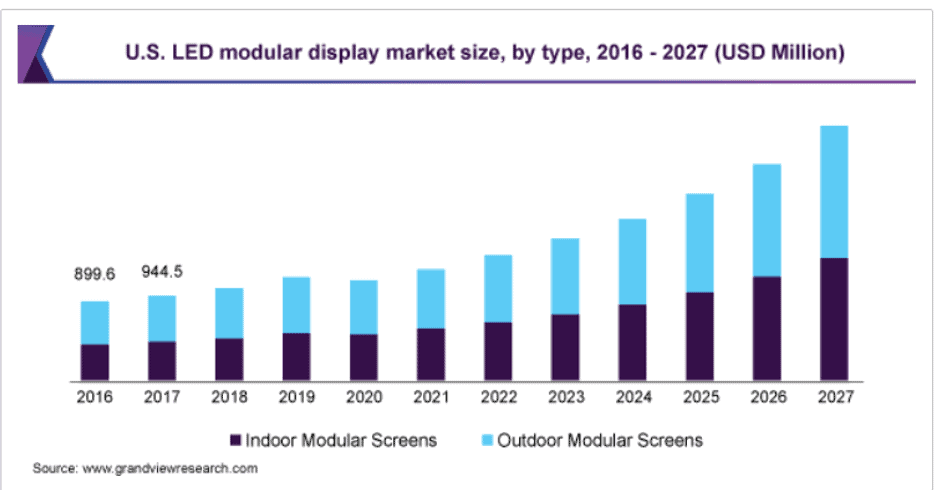 Advantages of modular trade show displays
Easy to modify
When exhibiting in a trade show, it is necessary to ensure that your message is communicated in the proper manner to the right audience. If your brand offers various products and services, the Modular Exhibit booth will help you display your entire range with their features. With modular trade displays, the exhibitor is at the ease of refreshing the content of the display at regular intervals to keep the audience updated with a plethora of information. All this modification is successful because of the components of Modular Exhibit Booths, including light setup, fancy shelves, displays, tabletops, etc. The skin of the display can display the brand logo, tagline, images, and graphics. As a result, high-quality leads are generated for the brand.
Cost-effective
Modular display trade booths are highly efficient for brands that are cost-conscious regarding their sales and promotion. These displays allow the exhibitor to present a performance-oriented look without spending much. The modular exhibit booths are scalable too. With the expansion of business, when new products and attributes are showcased, the exhibitor can expand the modular framework while retaining the core structure. All this can be done with different shapes and sizes. As a result, modular trade displays are cost-effective yet highly impactful presentations in any trade or exhibition.  
Highly portable
Modular exhibit booths are made of lightweight material because of which they are easy to carry from one place to another. Unlike the traditional display booths that were heavy and required extra money and effort for movement, modular displays can easily be transported by individuals. It comprises many stand-alone units that can either be installed solely or in addition to few more units. As a result, exhibitors can easily travel and install the booth in the assigned space with little or no hassle.
Durability
Modular trade show displays comprise lightweight material. But this does not all mean that they are not durable stuff. Instead, the display units are highly durable and are break-free when transported with care or even after multiple installations and dismantling. The material used for making these units are fiberglass, aluminum, or even fabric material like nylon and polyester. So overall spend on modular display exhibits is a long-term investment. 
Versatility
If you are in a business that demands frequent traveling to various trade shows, you don't have any option but to go for a modular trade show display. The versatility of modular displays is unparalleled. They are easy to customize into any size and shape, with minimal changes. As a result, it saves a lot of time, money, and effort.
Universality
The universality attribute of modular displays has been one of the primary reasons behind the growing popularity of modular trade show displays. Irrespective of the type of product or service your business deals in, you can leverage modular displays to exhibit your product or service and communicate the message. The best part is that even a small-scale startup firm can afford it. With the minimum setup cost and time needed, the modular display allows the exhibitor to talk about the brand through its walls. 
Efficient space utilization
The size of the display at trade shows is one of the prime factors in designing the exhibition. Modular displays, therefore, are beneficial as they take less space than traditional displays to exhibit the same level of information. They don't clutter the setup and keep the ambiance welcoming for the visitors. The modern and sleek walls of the modular exhibit booths also widen the floor area. When strategically placed, the visitors find it comfortable to visit their destination with no confusion. 
Eye-catchy
With modular trade show displays, you can provide a stylish edge to your booth. One can make use of brand colors and graphics to further add a personalized touch to the display. With these portable displays, the exhibitor can add a 'wow' factor to their stand. Using technological advancements like artificial intelligence, machine learning, LED display, and more further elevates portable kiosks' visual appeal and aesthetics.
Reusable
The modular exhibit booths are reusable and portable systems that can reconfigure many times. The same panels can be assembled in the form of a small size workstation or a large size display zone. These display units work for both small and large exhibition stands. They are a set of portable counters, workstations, and showcases. Expand them or compress them as per the audience size, space available, and need.
Good return on investment
Considering the top 9 benefits of modular display trade shows, we can firmly conclude that these displays provide a good return on investment. They can be reused, require fewer transportation efforts, can be effective even in small spaces. All this ensures that the money spent on this modular exhibit booth is a healthy one-time investment.
Final thought
Modular trade show displays are gaining much popularity within the event exhibit world. These lightweight, versatile, and economical displays have so much to benefit exhibitors. Therefore, if you're all ready for your upcoming big trade show, a modular exhibit booth can prove to be a priceless asset to your business. This attention-grabbing trade show display can easily be configured in multiple ways, thus making it the number one choice for any business to create an unforgettable experience. 
The post Top 10 Benefits Of Modular Trade Show Displays appeared first on The Trade Group.