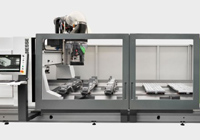 One thing that makes international trade fairs fascinating is the enormous range of exhibitors they often attract. This was best demonstrated at Ligna 2017 in Hannover, where everyone finds their niche and the attention they desire – from the upcoming three-person startup to the large global corporation. Once again this year, the big players include the Biesse Group from Pesaro in Italy, which exhibited with the slogan "Think Forward".
"Think Forward describes Biesse's ability to innovate using integrated, complex but also user-friendly solutions to ensure production is better, higher and cheaper. Looking forward in order to better understand how you need to act today is motivational," says Raphaël Prati, Corporate Marketing & Communications Director at the Biesse Group. "Think Forward is also the concept of our stand at LIGNA, a 5,000-square meter showcase of technological innovation for discovering how the digital factory can change our development and production processes." Raphaël added further.
With over forty solutions that were seen in action – some completely new – it's difficult to pick out one single innovation. This was the main highlight for almost every visitor to LIGNA 2017 from the manufacturing sector. The vast range of exhibits was aimed at production companies of all sizes, ranging from global players with high production volumes and companies that had to produce thousands of individually different products to meet specific customer needs, to small businesses that often demonstrate features typical of skilled trades and can harness Biesse's Industry 4.0-ready solutions to transform themselves into genuine smart factories.
The post "Think Forward" – the slogan of Biesse at LIGNA 2017 appeared first on WoodAndPanel.com.