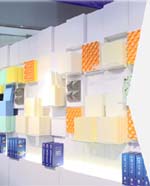 The rapidly growing Indonesian economy has significantly paved greater progress for the Furniture and woodworking industries, making the event an excellent opportunity to secure stronger market share in the country.
Boosted by high export demands, industrial production in Indonesia's furniture industries recorded high increase and profit gains over the past few years and is expected to grow further in 2017 and beyond.
Indonesia furniture industry strengths:
• Unique craftsmanship, high design innovation & creativity value
• Wide raw material segments and expandable labour resources
• Profitable collaborations between upstream & downstream business
• Large end consumer base with high quality demands
• Vital government support to push industry readiness to compete at international markets
IFMAC & WOODMAC is the perfect platform for these businesses:
• Ready to support the development of national furniture and craft industry
• Provide end-to-end sales, services, trainings and logistics support
• Have the right products for different business types and production need
• Provide customization priorities for premium and high-volume orders
• Optimize market-trends and untapped opportunities
• Seek local distributors and sales agents
The post IFMAC & WOODMAC – the Indonesian platform to invest and explore appeared first on WoodAndPanel.com.