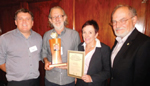 The devotion of Mark Leech, a guardian of Tasmania's scarce but value-rich specialty timbers industry, was rewarded last year with the 2016 Richard Stanton Memorial Award for Excellence in Forest Management.

Alongside his award and trophy, Mark also received an AU$2000 bursary to assist him in future work in sustainable forest management.
A driving force
Mark is the driving force behind Fine Timber Tasmania, a sustainability-focused, non-profit association which represents the state's specialty timber supply chain – growers, processors, design makers and retailers – and promotes Australian Forestry Standard certified products.
For more than a decade, Mark has played a pivotal role in the development, and now strong uptake, of AFS chain of custody certification in Tasmania. AFS, the Australian Forestry Standard, is the PEFC endorsed national forest certification system in Australia.
"Increasingly, consumers are demanding that the wood products they buy are made from timber that can be traced back to a sustainable and legal source," Mark said. The Fine Timber Tasmania chain of custody system provides that assurance. "It's a simple, yet rigorous system that covers all steps in the supply chain." Mark added further.
The Fine Timber scheme now covers more than 40 sites, ranging from the smallest user of high-end specialty timbers to build custom guitars, to the largest sawmilling enterprises and wood fiber exporters.
The Richard Stanton Memorial Award
The award recognizes the life of a man who was devoted to the forest industry in Australia and internationally. Richard was the CEO of AFS Ltd., their national member in Australia. He was killed in a tragic bicycle accident in Canberra in 2015.
Richard had previously held key roles in the Australian Plantation Products and Paper Industry Council (A3P); Australian Paper Industry Council; Plantation Timber Association of Australia; National Association of Forest Industries; and State Forests NSW.
The inaugural award was presented in 2015 to Dr. Marie Yee, senior conservation planner with Forestry Tasmania.
The post The devotion of Mark Leech wins 2016 Richard Stanton Memorial Award appeared first on WoodAndPanel.com.