If you were a fan of alternative rock or pop in the late 90s or early 2000s, you likely already know that Chester Bennington was an American singer and songwriter. He was the lead vocalist and front-man for Linkin Park and several other bands like Dead by Sunrise and Stone Temple Pilots. It's not shocking that the most powerful Chester Bennington quotes come from song lyrics, including songs like "One More Light," "Shadow of the Day," and "Waiting for the End."
He expressed an interest in music from a young age, saying his inspirations started with Depeche Mode and STP.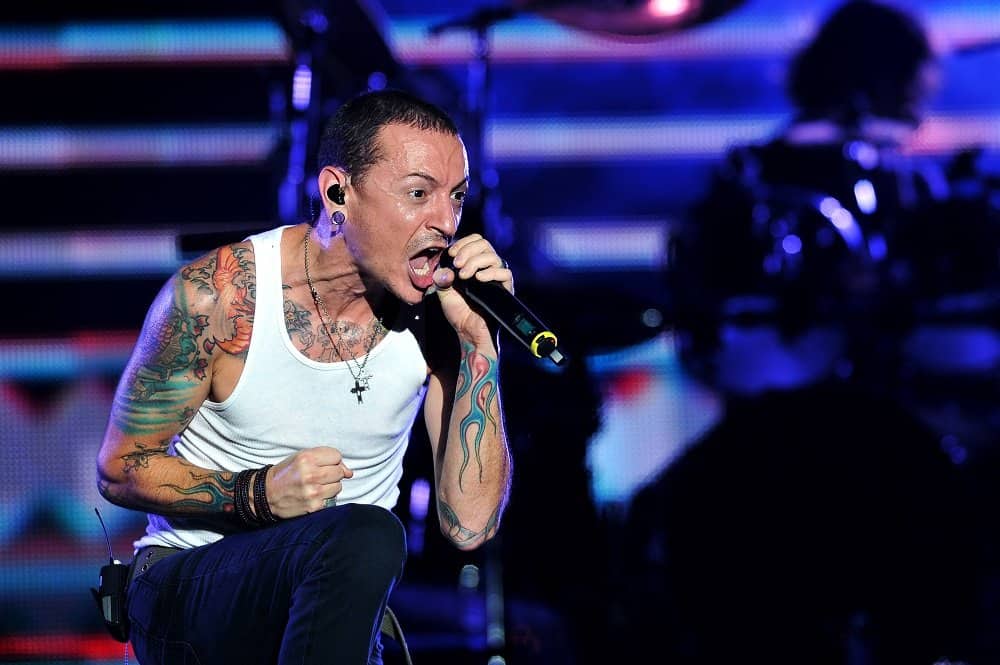 Who was Chester Bennington as an artist, a man, and a person, though?
Chester's early life was filled with sadness and challenges that no child should have to live through, but sadly far too many kids experience.
Chester was born in Phoenix. His mother was a nurse and his father was a police detective, and they divorced when he was 11. An older male friend sexually abused him when he was seven years old, with the abuse continuing until he was 13.
Initially, he was afraid to say something because he thought people would think he was "gay or lying." He later told his father about it, but after finding out that his abuser had also been a victim, he decided not to pursue the matter legally. He was also bullied in high school.
The divorce, abuse, and bullying had a profound impact on him, which he channeled into writing songs and poetry. He also began abusing substances like alcohol, marijuana, opium, cocaine, meth, and LSD.
Keep reading these Chester Bennington quotes to learn more about his life and how he got into the music industry.
Don't forget to also check out these music quotes on how it heals our soul.
Chester Bennington quotes from 'One More Light' and other songs
1. "In a sky of a million stars. It flickers, flickers. Who cares when someone's time runs out? If a moment is all we are. We're quicker, quicker. Who cares if one more light goes out? Well, I do."― Chester Bennington
2. "It's true, the way I feel was promised by your face, the sound of your voice painted on my memories, even if you're not with me, I'm with you." ― Chester Bennington
3. "Something has been taken from deep inside of me, a secret I've kept locked away, no one can ever see. Wounds so deep they never show, they never go away, like moving pictures in my head, for years and years they've played." ― Chester Bennington
4. "And the sun will set for you." ― Chester Bennington
5. "I will never know myself until I do this on my own, and I will never feel anything else until my wounds are healed. I will never be anything 'til I break away from me, and I will break away and find myself today." ― Chester Bennington
6. "I don't know what's worth fighting for or why I have to scream; I don't know why I instigate and say what I don't mean. I don't know how I got this way, I'll never be all right. So I'm breaking the habit, I'm breaking the habit tonight." ― Chester Bennington
7. "I hear my battle symphony, all the world in front of me. If my armor breaks, I'll fuse it back together." ― Chester Bennington
8. "Making my way back from the madness, shifting my thoughts from the blackness and the sadness, but the fact is I'm swinging through life like a clenched fist." ― Chester Bennington
9. "I'm holding up a light, chasing up the darkness inside, and I don't wanna let you down, but only I can save me." ― Chester Bennington
10. "So, picking up the pieces, now where to begin? The hardest part of ending is starting again." ― Chester Bennington
11. "Alone in a world, with millions of souls walking in circles trapped in their dreams unhealthy, unclean walking in circles, now do not disturb scream in silence everyone's sleeping." ― Chester Bennington
Chester Bennington quotes about what it's like to be in a famous band
12. "We like playing smaller venues, but we know how many people want to come and see us, so we don't ever want to stop anyone who wants to come to a show from coming." ― Chester Bennington
13. "We're not a political band, we're a socially minded band." ― Chester Bennington
14. "We're shooting for the title of hardest-working band in America." ― Chester Bennington
15. "We don't sit down and go, 'People are uneasy about the economy. Let's write about that.'" ― Chester Bennington
16. "We'd like to think that our music will always be bigger than any one of our individual personalities." ― Chester Bennington
17. "Once we start hitting lyrical themes that can whack you from all these different perspectives, we know we're onto something special." ― Chester Bennington
18. "We'd like to think that our music will always be bigger than any one of our individual personalities." ― Chester Bennington
19. "All of our songs take these really big creative turns and twists throughout the process, so sometimes songs will start out as a melody or some musical chord progressions." ― Chester Bennington
20. "Our fans are the best fans in the world, don't mess with them." ― Chester Bennington
21. "If fans come up to me, I talk to them." ― Chester Bennington
22. "There are always going to be encounters that you kind of wish went differently. But the average fan really isn't fanatical." ― Chester Bennington
23. "The fans are the biggest reason we do what we do." ― Chester Bennington
24. "Well, we promised our fans that we'd put out records faster, and that's what we're doing. We figured out a way to condense our cycle, so to speak, by… continuing to write, trying to keep the creative ball rolling as often as possible." ― Chester Bennington
25. "When I'm writing, I'm constantly thinking about myself, because it's the only experience I have to draw on. And I don't see an exact reflection of myself in every face in the audience, but I know that my songs have validity to them, and that's why the fans are there." ― Chester Bennington
Chester Bennington quotes about himself and his struggles
26. "I don't go out and pick fights." ― Chester Bennington
27. "For me, you say the words 'concept record,' and the first thing I think of is theater or the opera or something." ― Chester Bennington
28. "I always wanted to be a rock star. That was my childhood dream. That's what I told everybody I was going to be when I grew up." ― Chester Bennington
29. "My favorite jellybean is the pink one with the flavor inside." ― Chester Bennington
30. "I have been able to tap into all the negative things that can happen to me throughout my life by numbing myself to the pain, so to speak, and kind of being able to vent it through my music." ― Chester Bennington
31. "What's the worst thing I've stolen? Probably little pieces of other people's lives. Where I've either wasted their time or hurt them in some way. That's the worst thing you can steal, the time of other people. You just can't get that back." ― Chester Bennington
32. "I was a geek who thought I was cool. I didn't hang out with a particular clique, but with different people from different cliques. I was a total nerd, trying to fit in. Luckily, I found music, and that was my niche. That sorta took me out of my geekdom. I was never invited to parties as a teenager – I turned up with the popular people. That's where the lyrics to 'Guilty By Association' came from." ― Chester Bennington
33. "It's not cool to be an alcoholic." ― Chester Bennington
34. "I don't drink. I choose to be sober now. I have drunk over the last six years, but I just don't want to be that person anymore." ― Chester Bennington
35. "It's cool to be a part of recovery. This is just who I am, this is what I write about, what I do, and most of my work has been a reflection of what I've been going through in one way or another." ― Chester Bennington
Insightful Chester Bennington quotes about music and being an artist
36. "As an artist, I want a reaction." ― Chester Bennington
37. "Success is nice, but it shouldn't be the only reason why you're a musician." ― Chester Bennington
38. "Touring for two years is excruciating." ― Chester Bennington
39. "This is a business of love and labor." ― Chester Bennington
40. "The rule in music land is never doody in the bus and never doody in the RV." ― Chester Bennington
41. "To pigeonhole a genre as being successful or unsuccessful is weird." ― Chester Bennington
42. "You're constantly trying to prove yourself, even after you've made it." ― Chester Bennington
43. "When you're a young artist, it's really important to like pay attention to what you're doing and be honest with yourself and in the creative process." ― Chester Bennington
Poignant Chester Bennington quotes about life and love
44. "When life leaves us blind, love keeps us kind." ― Chester Bennington
45. "You can't be afraid of people willing to hurt you, cause if you fear life, then you will never live." ― Chester Bennington
46. "I don't like to hold back, because that's how you hurt yourself." ― Chester Bennington
47. "Tattoos are permanent and a lifelong commitment, the same as marriage." ― Chester Bennington
48. "I'm strong on the outside, not all the way through. I've never been perfect, but neither have you." ― Chester Bennington
49. "Asking someone to describe what something sounds like is like telling a blind person to guess what I look like." ― Chester Bennington
50. "One thing can't be defeated is love. You can conquer hate by ignoring it. You can destroy it by loving the person next to you." ― Chester Bennington
What did you learn from these Chester Bennington quotes?
Chester moved in with his mom when he was 17. She forbade him from leaving the house for a while, because of his drug problem. He eventually got a job at Burger King before starting his music career.
Chester got his start with a band called Sean Dowdell and His Friends? releasing a three-track cassette in 1993. The pair would move on to start a new band, Grey Daze. Grey Daze recorded a demo in 1993 and two albums: Wake Me and …No Sun Today, before Chester left the band in 1998. He was at a point where he almost quit music altogether, but then Jeff Blue (the VP of artists and repertoire at Zomba Music) offered him the chance to audition with a band called Xero.
Mike Shinoda, Xero's other vocalist, and Chester hit it off, but Zomba didn't offer them a record deal. However, shortly after this, Jeff Blue moved to Warner Bros. Records, and he helped the band get signed. They changed their name from Xero to Linkin Park and launched their first record in 2000. Chester was married twice and had 7 children. Sadly, the singer and rock icon lost his battle with depression in 2017.
You can share your favorite Chester Bennington quotes or lyrics in the comment section below.
The post 50 Chester Bennington Quotes From The Alternative Rock Icon appeared first on Everyday Power.