Brazil is the only Portuguese speaking country in South America, but with over 200 million people, it comprises almost 50% of the continent's population. In other words, it is a really big country.
Brazil is the fifth largest country in the world by land and sixth largest by population. With a massive coast line, deserts, mountains, and 60% of the Amazon rainforest, Brazil is also the most biodiverse country in the world. With five World Cup titles, it is also the most successful soccer country in the world. :) Pretty incredible facts!
There are so many amazing things to do in Brazil, but one of the main reasons why we decided to travel to Brazil this February was to attend the world's largest Carnival Festival in Rio de Janeiro.
With more than 2 million people a day celebrating in the city's streets, we really had no idea what to expect, but were excited to find out. We aren't partiers, but Em really loves beaches and events. I really love warm weather and great steakhouses. Throw in a wonder of the world, and we were really looking forward to visiting the largest country in South America!
Here were some of our favorite things to do in Brazil from our time there!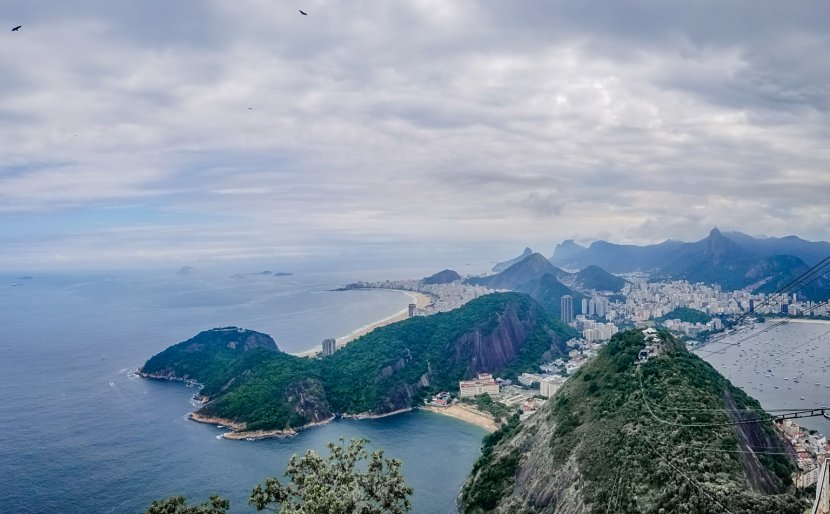 Best Things to do in Rio de Janeiro
Nearly half of Brazil's foreign tourists go to visit Rio de Janeiro. However, it actually isn't the biggest city in Brazil or the country's capital. It is best known for its incredible mountainous coastline and seemingly endless amount of beaches. The best way that I can describe it to someone who hasn't seen Rio is that its the Miami of Brazil. (Just if Miami had rolling green mountains, a wonder of the world, and was about 13x bigger! Miami Population = 463 thousand. Rio Population = 6.32 million)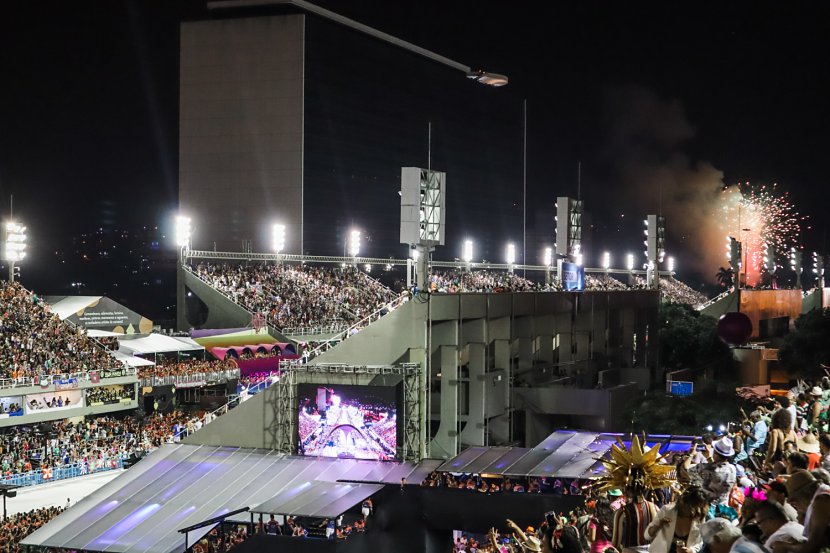 Celebrating Carnival in Rio de Janeiro
The main reason why we visited Rio in late February was to experience Carnival. Em loves events and we couldn't pass up on one of the biggest events in the world! Carnival is always held 40 days before Easter as the start of Lent, and is celebrated all over the world (it is the same idea as Mardi Gras in New Orleans or Carnival in Venice =). But Rio's Carnival set a Guinness Book of World Records for being the largest Carnival celebration in the world with an average of 2 million people per day celebrating in the streets!



The most iconic scene of Rio's Carnival is the Sambadrome Parades! Rio constructed a 90,000 person stadium with the main purpose to hold elaborate parades filled with enormous floats and extravagant dancers from Rio's top Samba schools. It is an incredible spectacle!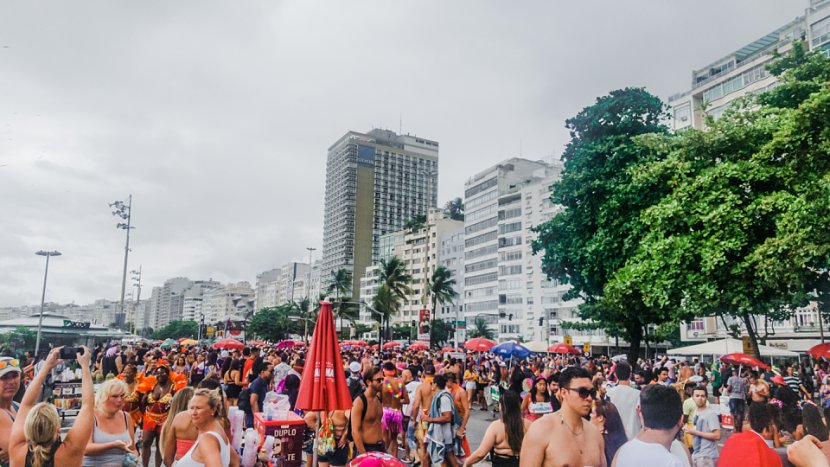 But perhaps the heart of Rio's carnival is their countless Blocos (kind of like local block parties)! The city is filled with blocos ranging from hundreds of people to hundreds of thousands! We aren't exactly the biggest partiers, but still had a lot of fun wandering around to the city's different celebrations!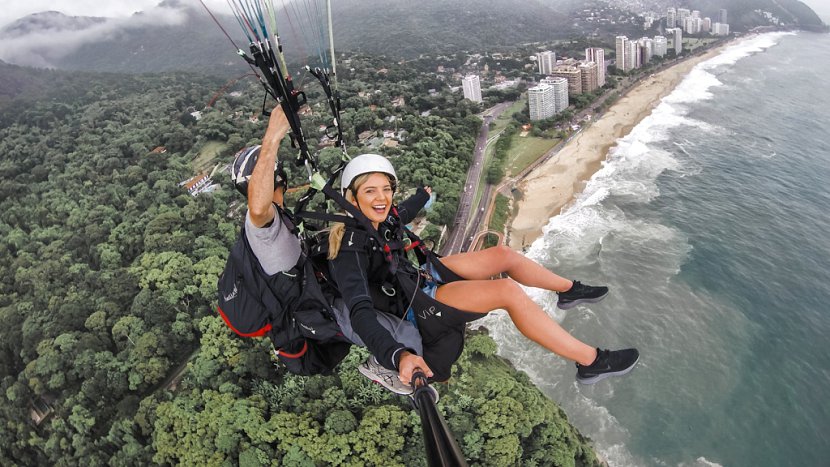 Paragliding in Rio de Janeiro
Rio is an incredibly beautiful city that is home to one of the 7 wonders of the world and the world's largest carnival. But even with all of it's beauty and wonder, our favorite experience there was paragliding!
We've experienced some extreme activities before, but never had a view this incredible! From the edge of the 1000 foot cliff, we were able to see mountains, beaches, highrise condos, and even the jungle.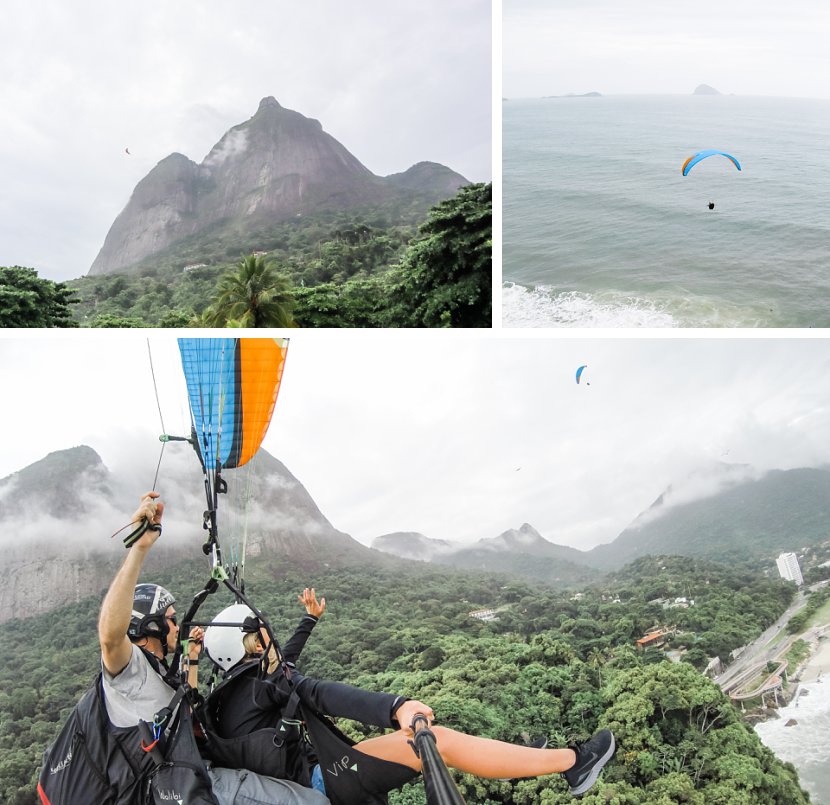 Even if you aren't the extreme sports type, I would highly recommend paragliding in Rio. It is so smooth and almost peaceful gliding down toward the beach! (Haha okay it can be a little daunting running off the edge of a 1000 foot cliff, but paragliding is one of the safest extreme sports in the world and the actual flight is so smooth and fun!)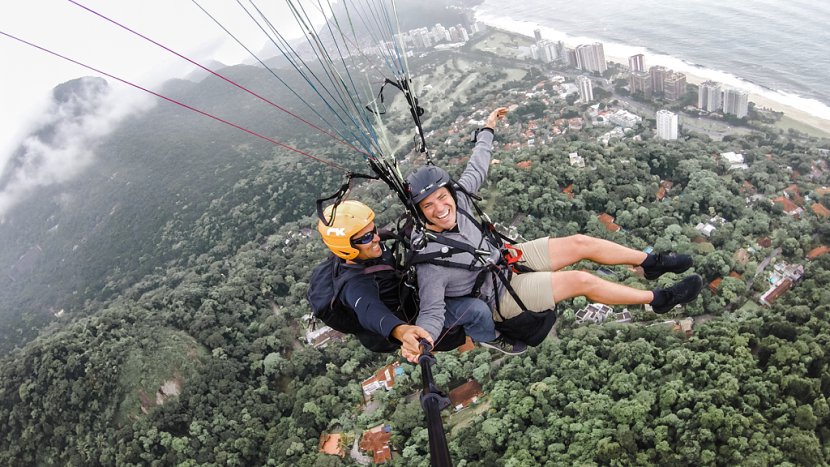 We partnered with Rio Tandem and I would highly recommend booking with them. The owner Daniel is an amazing guy who speaks perfect English. Their paragliding instructors are extremely experienced and make the entire process really enjoyable. A big bonus is they provide all of the pictures and videos for free, immediately after landing on solid ground! In my opinion, there is no better way to experience the city than paragliding with them!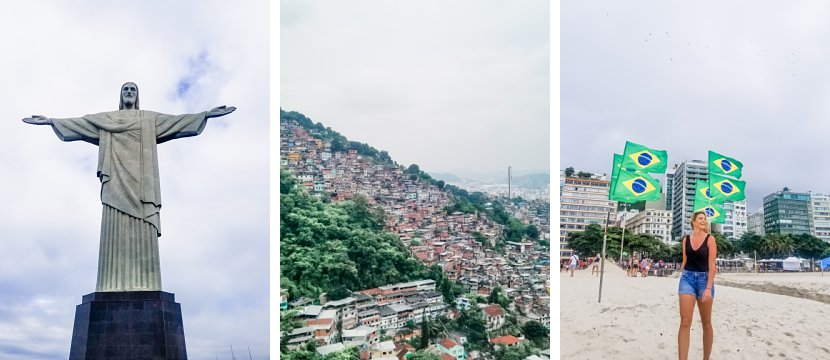 Rio Day Tour
Rio de Janeiro is a massive city with so many different things to see and experience. In order to maximize our time and see as much of the city as we could, we partnered with Green Toad Bus, a company that provides bus and tour packages all over South America. The best part about their Rio day tour is that it includes the tickets to Christ the Redeemer and Sugarloaf Mountain (see below for more info on these). They picked us up from our AirBnb and drove us around to the city's highlights, so it was nice to not have to worry about transportation from one place to another. It is a great way to get a grasp of the city when you first arrive!
Christ the Redeemer
Our first stop in the city was to one of the 7 wonders of the world, Christ the Redeemer. To be honest, this is one of the wonders that I often forget. Completed in 1931, it isn't a particularly old statue, and is actually only the 3rd or 4th tallest statue of Jesus in the world. But it is definitely a magnificent sight how it's perched on top of the 2,329 foot Corcovado peak, overlooking the beautiful city of Rio. At 98 feet tall and a 92 foot wingspan, on a clear day, Christ the Redeemer can be seen from all around the city.
The easiest way to visit the statue is by bus or train from the visitors center. We took the bus and that ticket was included as part of our Rio day tour (see above). You can also hike to the top of the mountain, but there are a lot of reports of robberies along the trail.
You really only get 7 chances to view a wonder of the world and the view from Christ the Redeemer is an amazing way to see the city!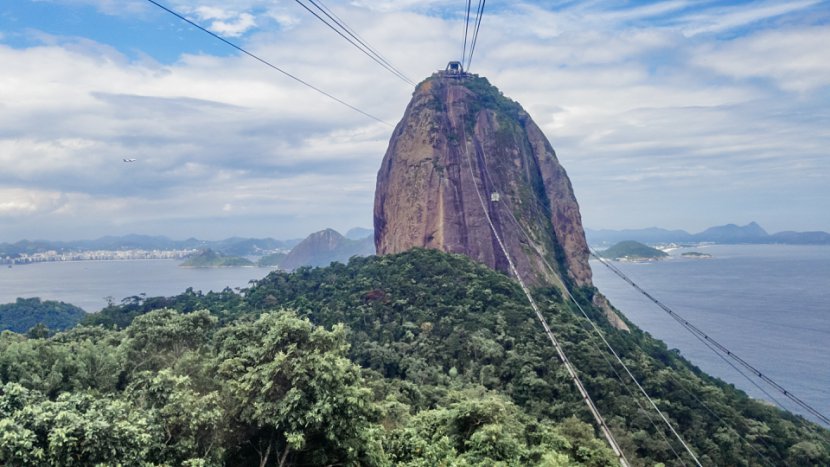 Sugarloaf Mountain
Another iconic view in Rio is Sugarloaf mountain. At almost 1,300 feet, this giant rock stands alone on the end of a peninsula. The coolest thing about the rock is that you can take a cable car (well actually it takes 2 cable cars) to the top. There are actually a few places to eat at the top! It received its name from it's resemblance to an old style sugarloaf. (It looked a lot like El Peñol rock in Colombia to me!) It's not as tall as the Christ the Redeemer peak, but still makes for a great view of Rio's coast.
Beaches
There are an endless amount of beaches in Rio. There are so many different inlets and harbors that there seemed to literally be a beach around every corner. There are world famous beaches like Copacabana and Ipanema Beach (yes, that is the same beach that the famous Frank Sinatra song is about =). Then there are more secluded beaches like Praia do Secreto, Prainha, and several others that are better for surfing or escaping the crowds. Unfortunately when we were there, it was mostly overcast and rainy, so we didn't get to spend much time at the beach. However, it is pretty much impossible to visit Rio without going to the beach and eating an acai bowl (haha such a tourist thing to say, but since they were made popular in Brazil first, it is kind of a tourist must-do)!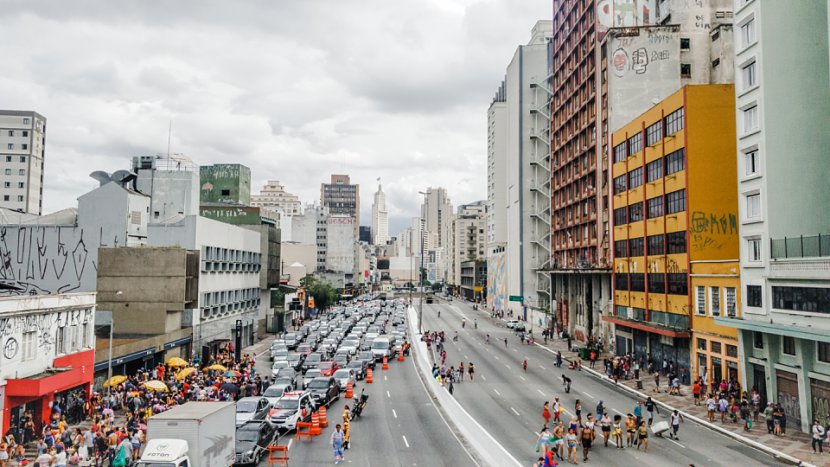 São Paulo
Depending on what you read or who you talk to, São Paulo is not only the biggest city in Brazil, but is also the biggest city in the southern and western hemispheres! (I always laugh at how varying city populations can be). No matter the exact number, one thing is for certain, São Paulo is one big city! It is also an incredibly diverse city, being the home to the largest population of Italians and Japanese outside of their home countries!

Rio is more of a tourist draw, but there are several great museums, parks, and tourist spots around São Paulo. We only had one full day there, so we pretty much spent the day walking and metroing around the main downtown, eating pizza and acai (hey I had an excuse about the pizza! It's a popular São Paulo dish because of the Italian connection.) Some of the city's most popular tourist attractions include Paulista Avenue, the Museum of Art, Pinacoteca do Estado de São Paulo, and Vila Madalena.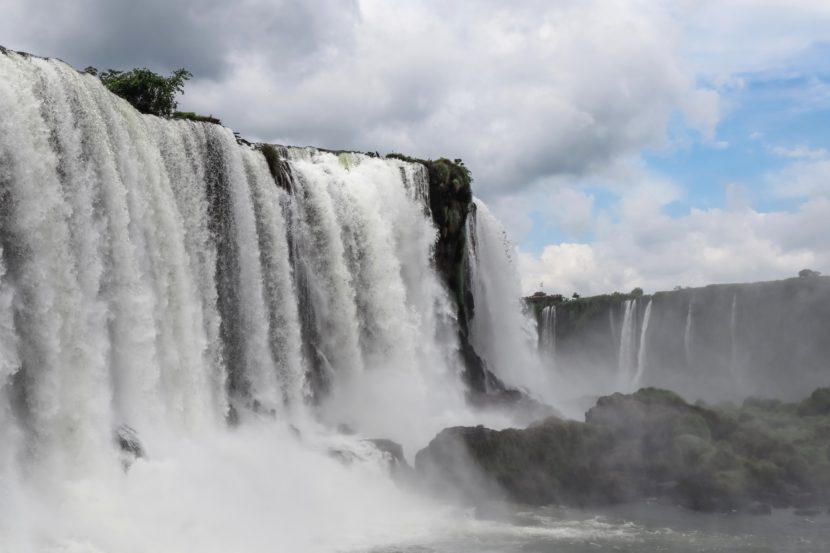 Iguazu Falls
Iguazu Falls is one of the biggest, most beautiful waterfalls in the world! At 269 feet, it is more than 1.5x taller than Niagara Falls. Iguazu Falls is located inside a national park, so it's the perfect balance of a beautiful, seemingly remote location, while still being able to be bussed directly to a paved trail! (Just make sure you get there early so you don't have to fight the crowds. The overlooks are narrow, so even on a less crowded day it can feel congested in the main areas.)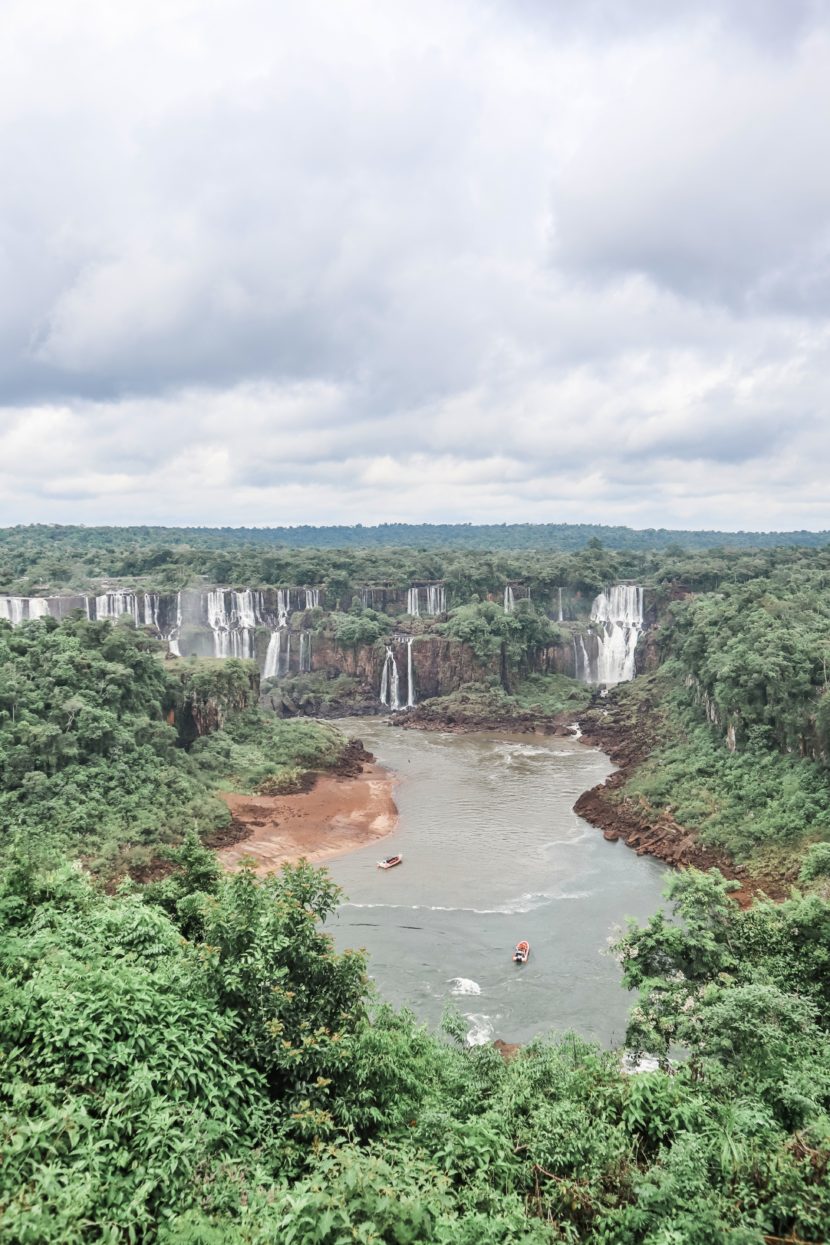 The falls straddle the border of Brazil and Argentina. The Brazil side has the best panoramic view; however, Argentina has a better trail system, including an 1100 meter catwalk to the top of the falls.
We decided to compare both sides of Iguazú Falls for ourselves. It is a short drive to the other side, but you have to cross an international border. We read that it can be a big hassle to cross the border in a public bus, and ride sharing apps like Uber aren't able to cross countries. So we partnered with Green Toad Bus, the same company that guided us around Rio, and the international border crossing was super easy and fast! Our driver picked us up from the airport, took us to the Brazil side of the falls, and then personally guided us through each step of the immigration process on the way to the Argentina side. It saved us a lot of time and headache getting from one side of the falls to the other.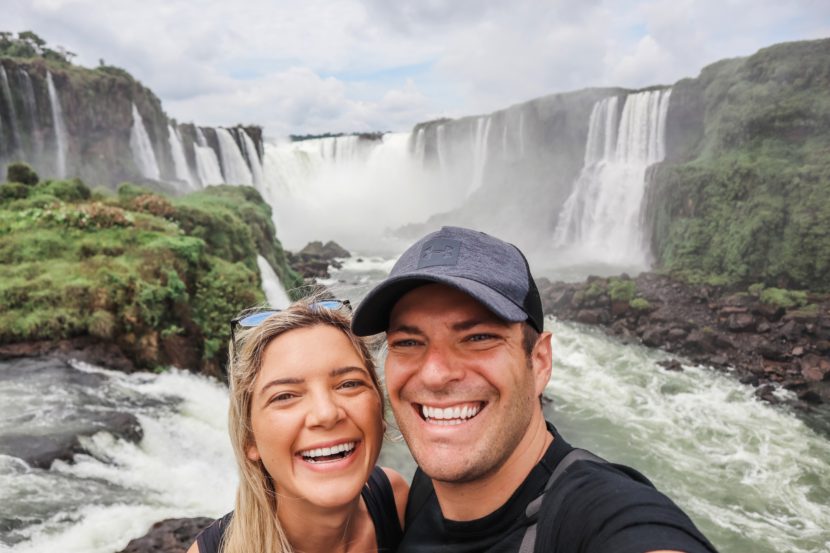 For more about our experience at the Argentina side of Iguazu Falls, check out our Argentina travel guide.
There are so many amazing things to do in Brazil beyond just the cities, and we hope we can visit again someday soon to experience more in this incredibly beautiful and biodiverse country. But we're grateful we got to visit some of the top things to do in Brazil and we had a lot of fun experiencing Carnival!

The post Our Favorite Things to Do in Brazil appeared first on Hudson and Emily.