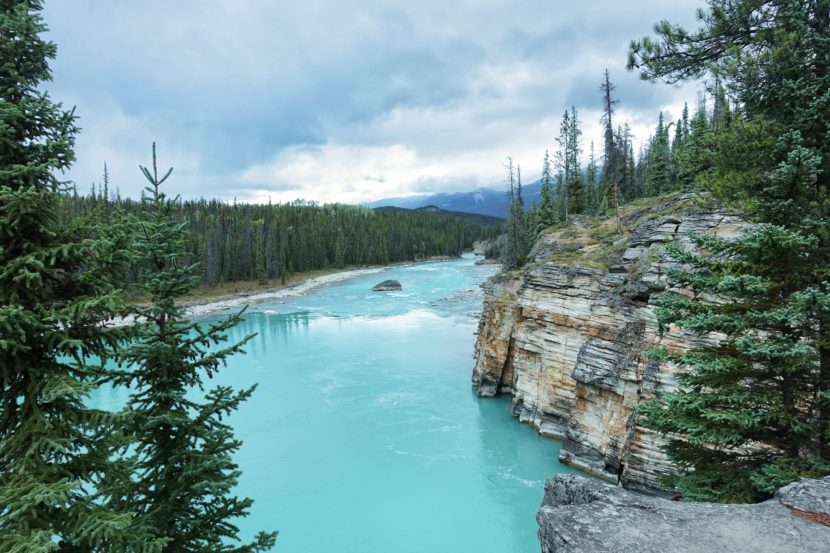 Our main goal when we first started our journey was to visit all 50 states of America. However, after doing more research, we couldn't pass up on the opportunity to explore some of the beautiful country of Canada as well. Alberta was our first Canadian Province that we visited on our RV roadtrip, and it was definitely a great place to begin our time in Canada! Calgary and Edmonton are two of the top 10 biggest cities in Canada, as well as two of the fastest growing cities in the country. The province is also home to Banff and Jasper National Parks, which are two of the most beautiful places we have visited on our trip!
Calgary
From Glacier National Park in Montana, we drove north about three hours to Calgary, Alberta. For many people planning a trip to Banff and Jasper National Parks, I would definitely recommend first visiting Calgary. We didn't know much about the city before our visit and were surprised by how big it is! Calgary is currently the 4th largest city in Canada and is the fastest growing city in the country, as well as one of the fastest growing cities in all of North America!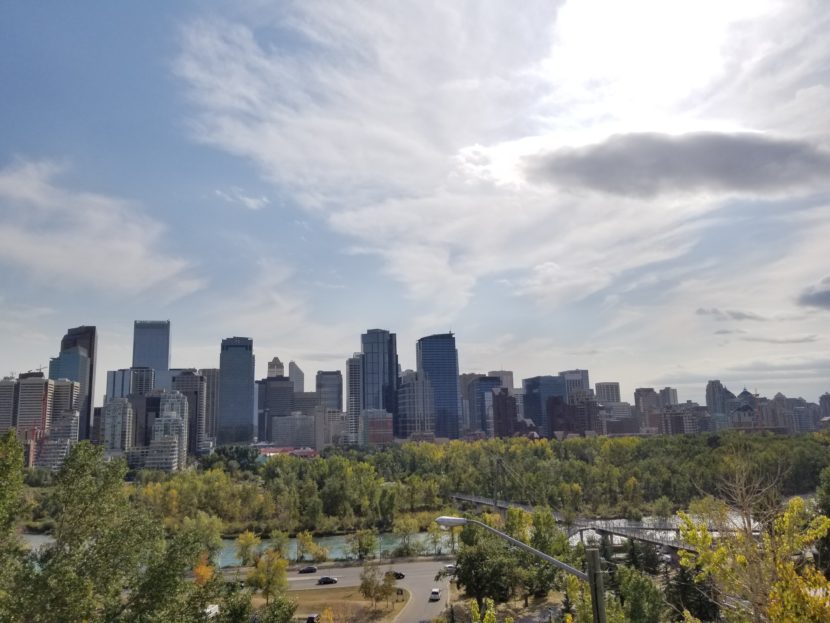 As we usually do in most major cities, Em and I parked our RV and hopped on our bikes to check out the downtown. We parked at Stephen Avenue Walk, the main shopping area of downtown. It was a really cool area, with the main street being closed to cars and only allowing foot traffic. There are several cool restaurants with outdoor seating, but we decided instead to hop on an elevator and eat at the top of the Calgary Tower. The tower is needle shaped like the Seattle Space Needle and has a revolving restaurant at the top, offering great views of the city. A section of the floor was made out of glass so we could step out and have an awesome view of the ground 500 feet below us! Next, we rode over to Prince's Island park for an amazing view of the city's skyline. Someday we will have to come back to Calgary during the Calgary Stampede, "The Greatest Outdoor Show on Earth."
Our favorite part of the day was at WinSport (the Canadian Olympic Park), where the 1988 Winter Olympics were held. (This was the Olympics that the movie "Cool Runnings" features. And yes, they did have the original Jamaican bobsled from the movie on display and of course we had to sit in it!) Not only is it cool to see where actual Olympians competed, but also there a lot of fun rides at the Canada Olympic Park.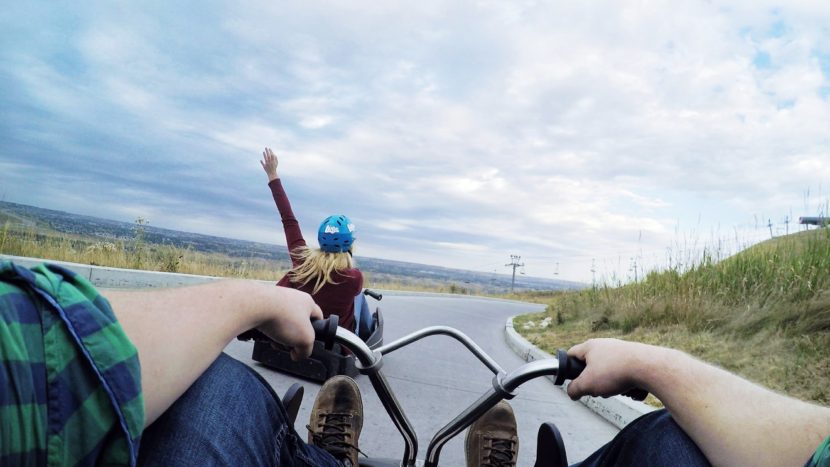 Our favorite ride was the Skyline Luge. The best way that I can describe this experience is real-life Mario Kart! We rode a ski lift up to the top of the Olympic hill, sat in engineless carts, and took off down the windy path! Em and I rode the carts down the track three times and it was some of the most fun 15 minutes of our entire trip! Just because the carts lack an engine doesn't mean that they lack in speed. Each turn was a thrill and we had a blast soaring down the hill and trying to beat each other to the finish line. (I'm pretty sure Em let me win 2 of our 3 rides. ;)
After riding the Skyline Luge, we headed over to ride North America's fastest zipline! Em and I have done a lot of ziplining rides, but this one had a parachute to slow you down and everything so we were extra excited. We signed the waivers and were all set to go when all of a sudden the wind picked up and it started to rain. So unfortunately we weren't able to go ziplining. It would have been pretty awesome getting to go more than 60 MPH over an actual Olympic park, but I guess it is just one more excuse for us to come back and visit Calgary!
Edmonton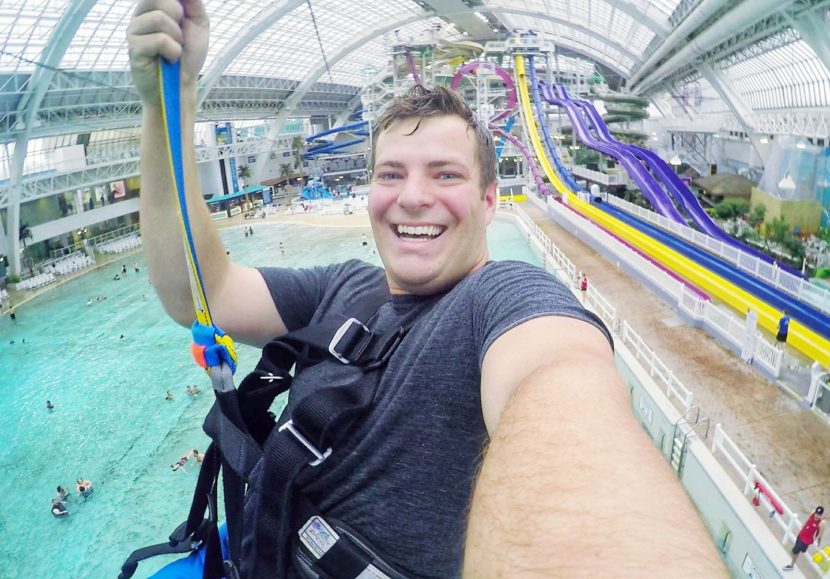 Edmonton is another city in Alberta, and is home to the largest mall in North America! We had heard incredible things about the West Edmonton Mall (and its indoor waterpark and amusement park!), so we decided to visit. We wrote an separate post about our favorite things to do in Edmonton!
Banff National Park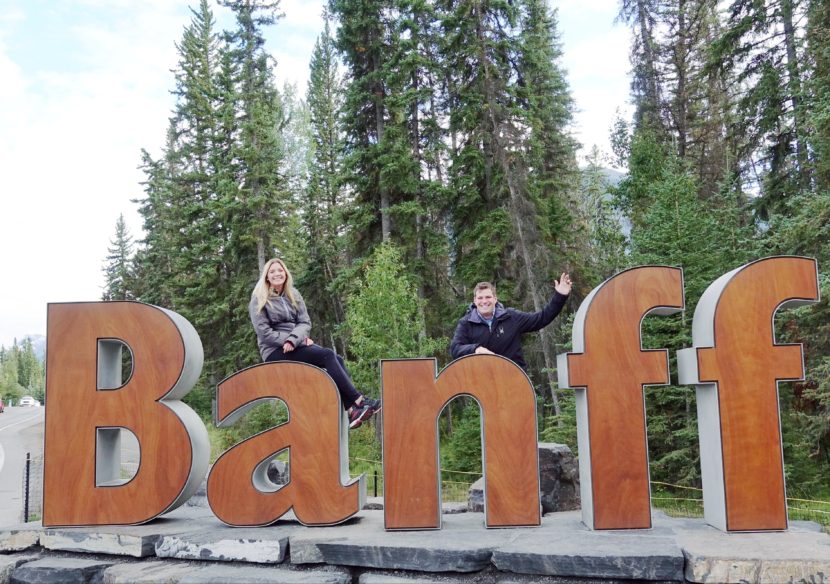 Next, we visited Banff National Park. Em and I try not to say that a place is our favorite because each place is unique and special in its own way… but, Banff and Jasper were probably the prettiest areas that we have ever seen! Around each turn was another light blue glacier-fed Lake, snow capped mountain, or a different type of wildlife.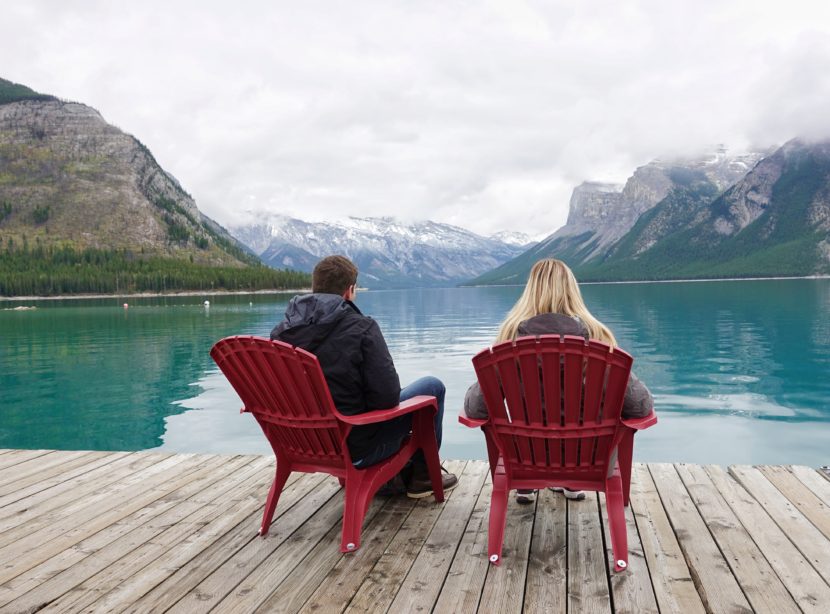 We started out in the charming town of Banff. The town kind of reminded me of Jackson, Wyoming, an inviting little town surrounded by snow capped mountains. Just a short distance from downtown is Bow Falls and the famous Banff Springs Hotel.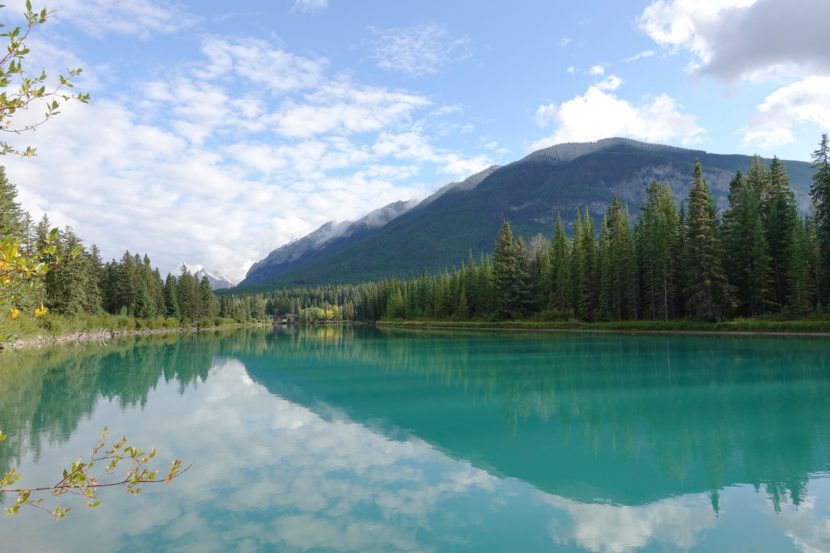 The whole area really seemed like something from a postcard (but little did I know that this was only the beginning of hundreds of other postcard worthy views!) A short drive from the town of Banff was Lake Minnewanka and Cave & Basin National Historic Site (a hot spring and the location of the first national park in Canada).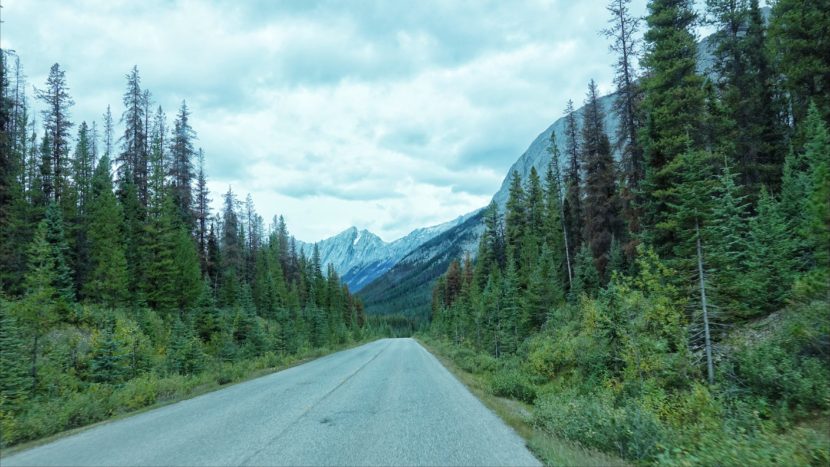 The next day, we headed north on the Bow Valley Parkway. This highway runs parallel with the main freeway but is more secluded, offering amazing views and a better chance of seeing wildlife. We drove up the Bow Valley Parkway to the Lake Louise Gondola.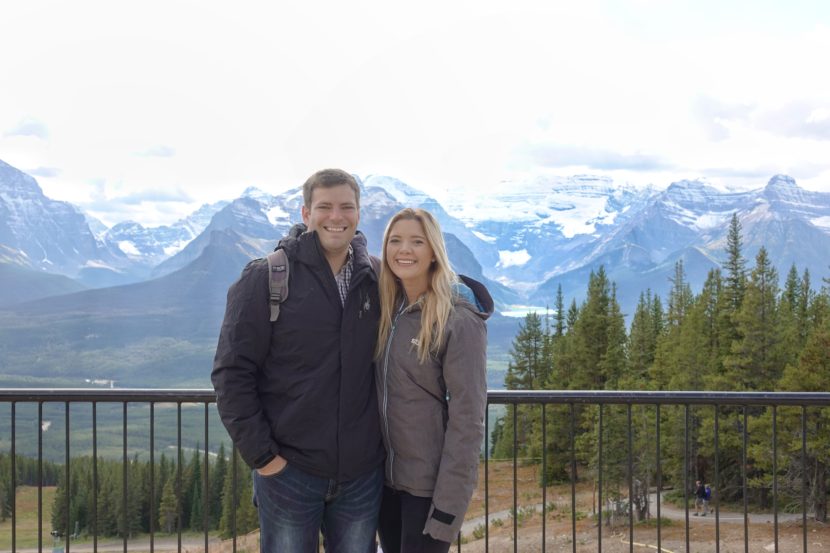 In the winter this area functions as a ski resort, but in the summer the gondola offers spectacular views overlooking snow capped mountains and Lake Louise in the distance. One of the coolest things about the gondolas is that you can pick between an open or closed gondola. Em and I chose to ride in an open lift on the way up, but just as we were heading back down it started to snow so it was really nice to have the closed gondola on the way back down. :) There are frequent bear and other wildlife sightings from the gondolas.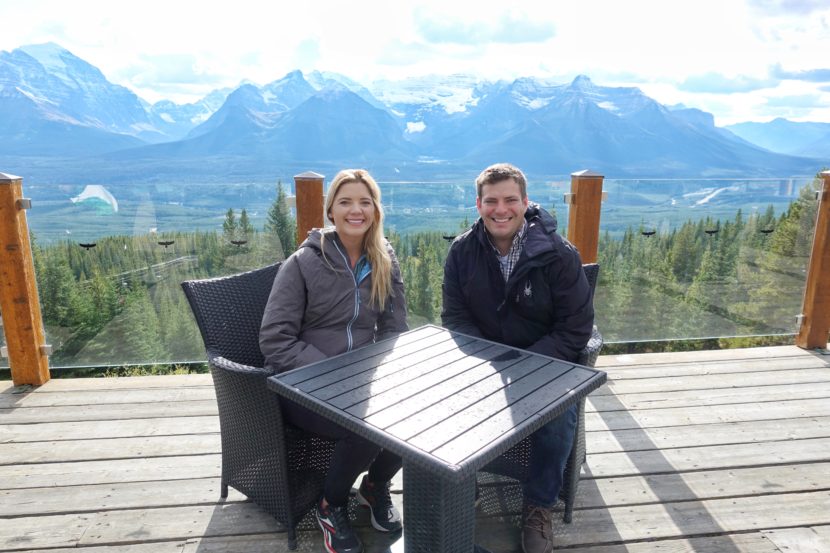 We did the Gondola & Gourmet package, which included the Gondola ticket and $25 food & beverage gift card. The resort has several different dining options, but we decided to eat at the Whitehorn Bistro at the top of the mountain. We had amazing food with an incredible view of the the mountains and Lake Louise. Sitting at the top of the mountain, eating an amazing meal, made us especially realize how truly incredible and beautiful the Canadian Rockies are.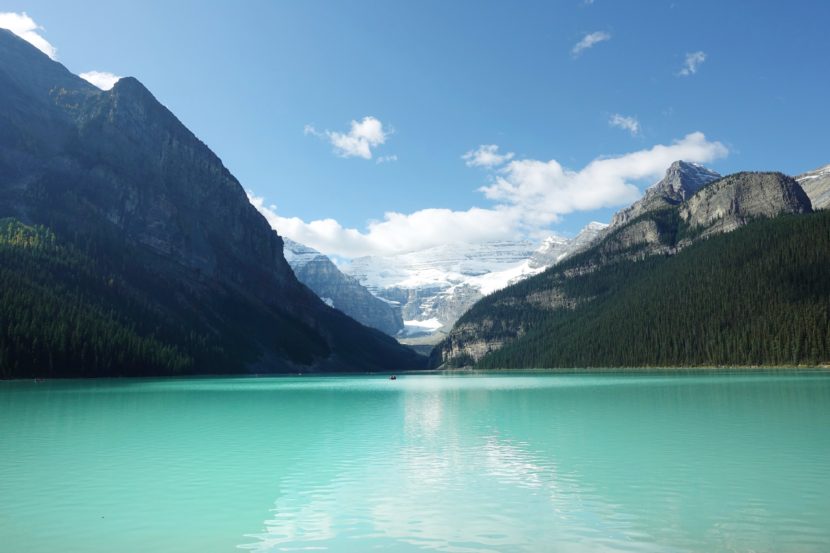 The next two nights, we slept in the RV section of the Lake Louise overflow parking lot. One thing to note about Banff and Jasper is that hotels and food can be a little pricey, so it is definitely helpful to plan and budget ahead of time – and visiting by RV is a great way to do that! We stayed in a flat gravel parking lot with no hookups, but Em and I sleep in a parking lot pretty much every night anyways. For C$10.80 a night and to save ourselves from an hour drive out of the park (especially with the price of gas in this area), we were very thankful!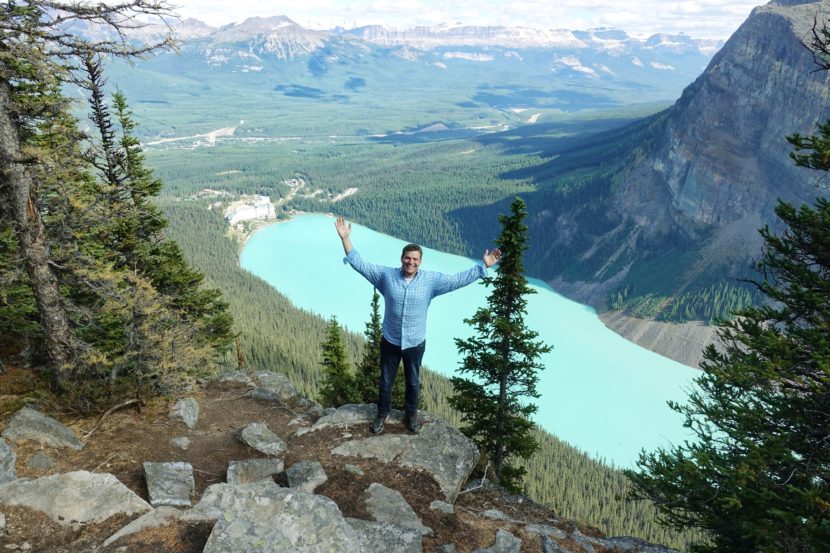 We woke up the next morning and jumped on a bus to the famous Lake Louise. (Just a heads up if you decide to visit Lake Louise or Moraine Lake – there is very limited parking at either spot and once that parking fills up, you have to park in the overflow parking lot and be bussed in.) Busses left every 15 minutes, but the lines got long pretty fast. We waited about 20 minutes for a bus to lake Louise and about 1.5 hours for a bus to Moraine Lake. It was the 150 anniversary year for Canada and all the national parks were free for the year, so maybe that contributed to the long lines as well, but it is always a good idea to be early ;)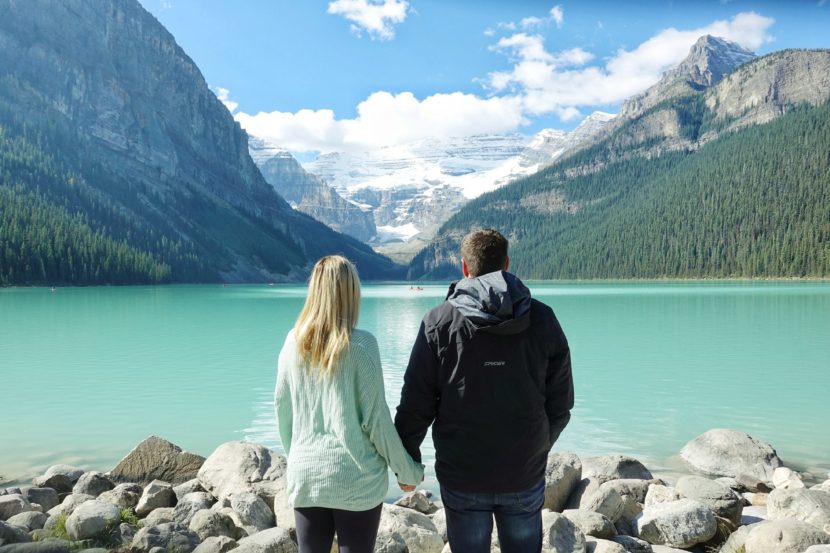 Lake Louise was beautiful! There is always that fear when you see a picture online that the actual thing won't live up to the photos, but in the case of Lake Louise, the photos don't even do it justice! The main area of the lake in front of the iconic Fairmont Lake Louise Chateau was super crowded, but the crowd quickly thinned out with a quick walk around the lake.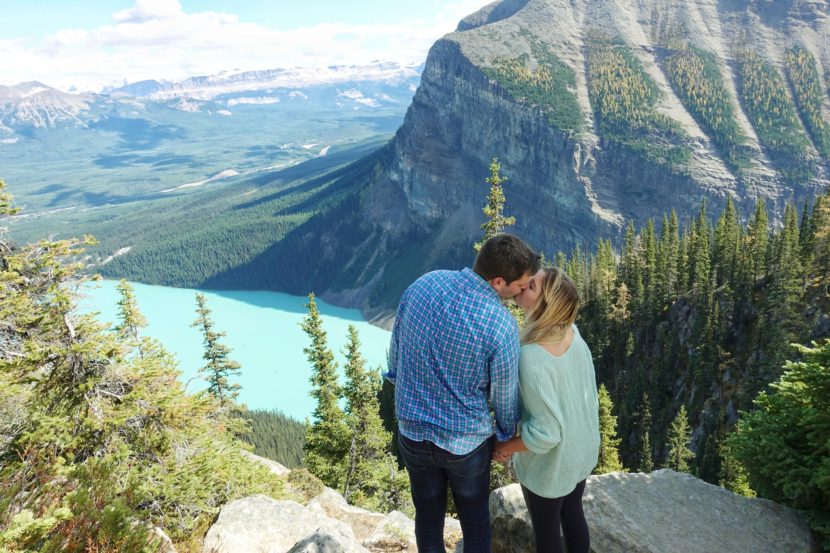 We hiked up to Big Beehive Overlook to get a birdseye view of the lake. The 6.5 mile trail was pretty much all uphill, but the trail was really well kept and the scenery kept changing, which made every mile a new experience.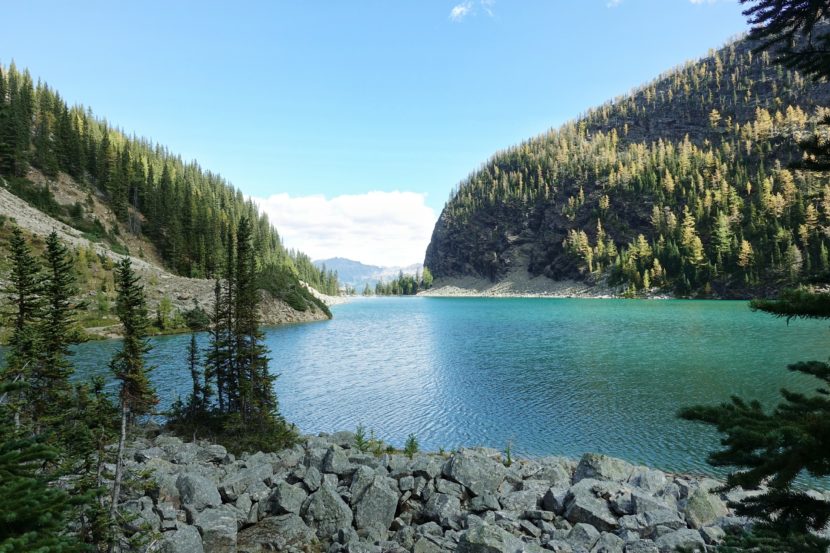 Part of the way through the trail was Lake Agnes and the Lake Agnes Teahouse, which looks like something out of a storybook. We pressed on to the top of Big Beehive and were rewarded with incredible views of Lake Louise and the Lake Louise Chateau.
Moraine Lake is another light blue, glacier-fed lake just north of Lake Louise. Here we rented a canoe from Moraine Lake Lodge and paddled out into the water.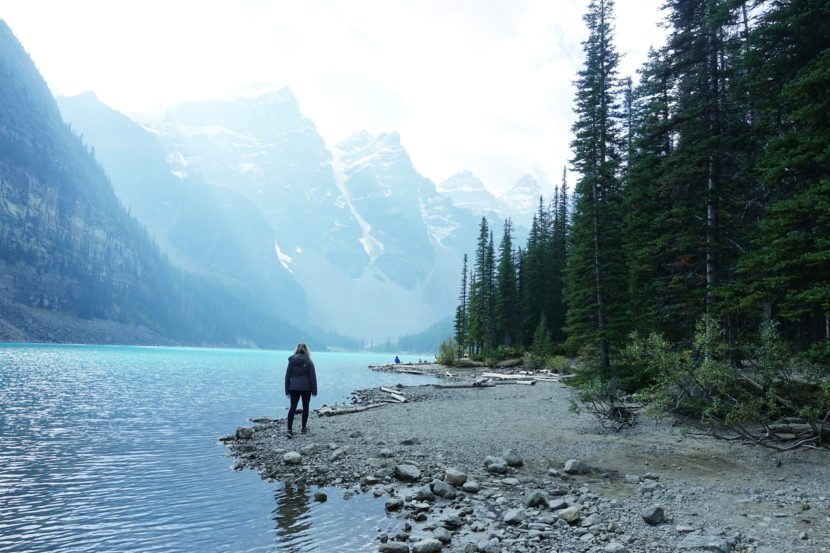 The canoe rental is expensive, but the price is definitely worth the experience and pictures! How often do you get to say that you were canoeing on a glacier-fed, picture-perfect lake in the Canadian Rockies?!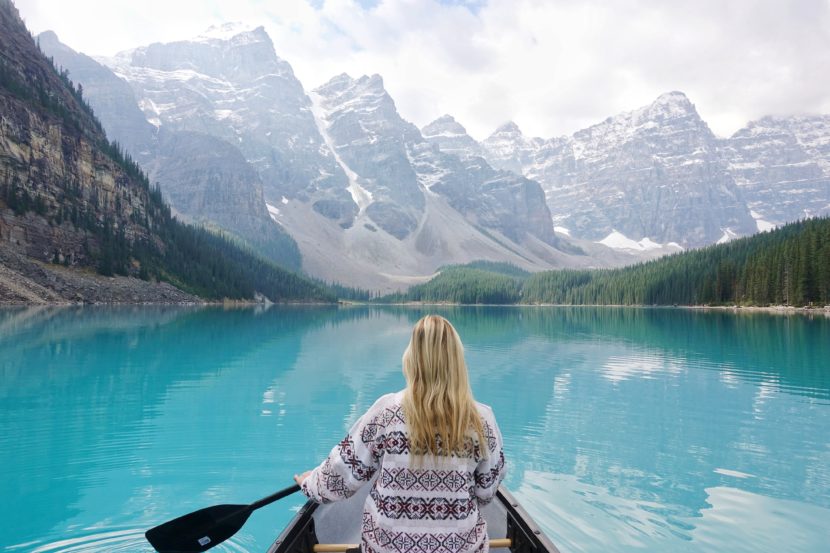 The staff was awesome and made sure that we safely loaded and unloaded from the canoe, which was a good thing too because the water was just above freezing! I think that Em and I spent as much time taking pictures as we did paddling. :)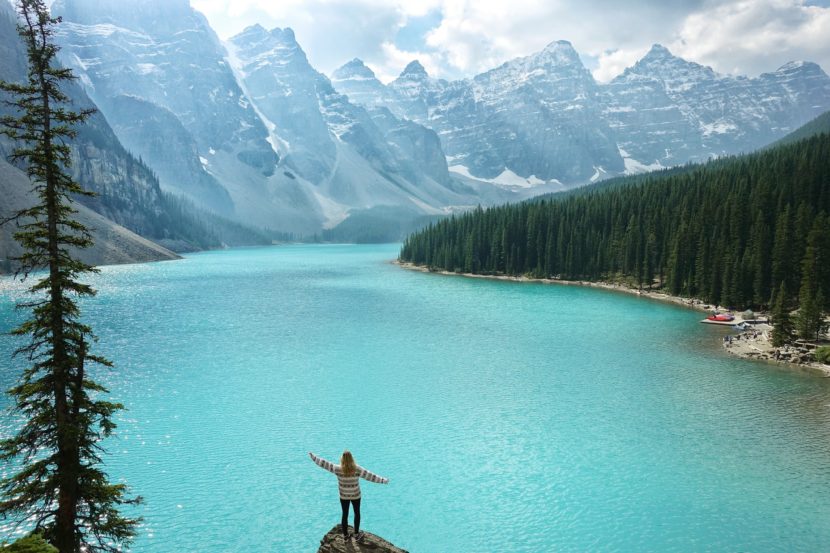 It just seemed that anywhere we looked, there was another unbelievable photo opportunity. On the close side of the lake is a really cool logjam and cliff of rocks that are really fun to climb around on and make for some other incredible photo opportunities.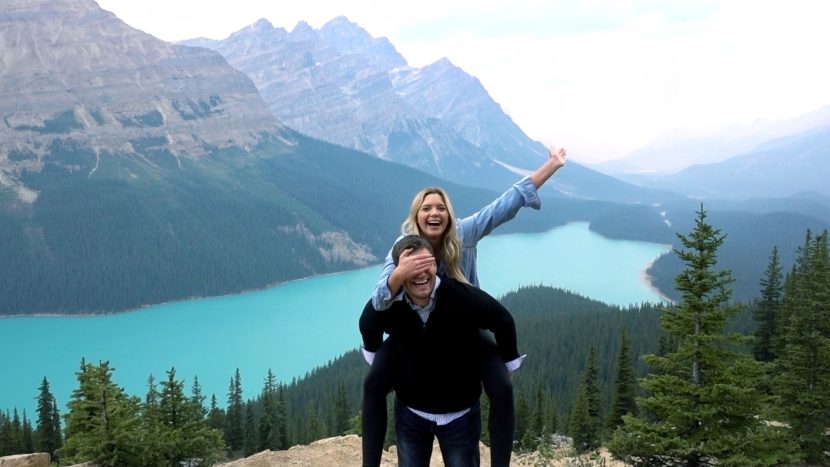 Sticking with the glacier-fed lake theme, our next spot was Peyto Lake. Each lake had its own unique beauty, but Peyto Lake was my favorite. The main area of this lake actually starts up high overlooking the lake – and there aren't any hotels or other buildings close to the lake – which makes for some incredible, unobstructed views!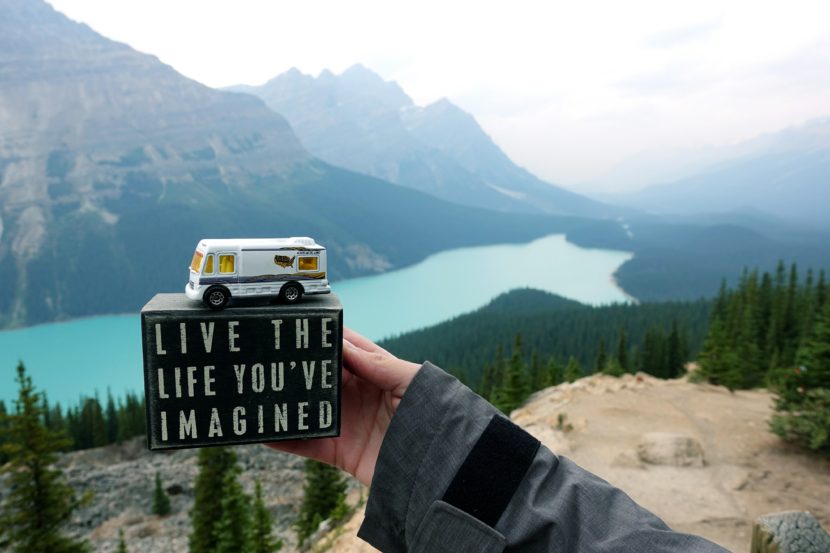 We arrived a little before sunset, so there were only a handful of people at the overlook (although we talked with some other people who said that it can be extremely crowded at the wrong time of day). Because it was so peaceful here, Em and I just sat down and took some time to overlook the lake and the mountains and thank God for His beautiful creation.
Jasper National Park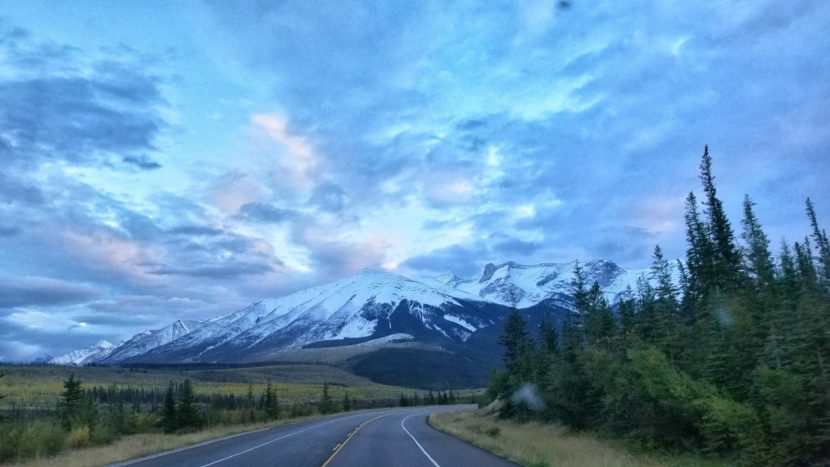 From Banff, we continued north into Jasper National Park. Jasper may not have had as many baby blue lakes as Banff, but the mountain views definitely made up for it! We also saw a lot more wildlife here as well. There were far fewer crowds and the Icefield Parkway was probably the prettiest drive we have had on our trip so far.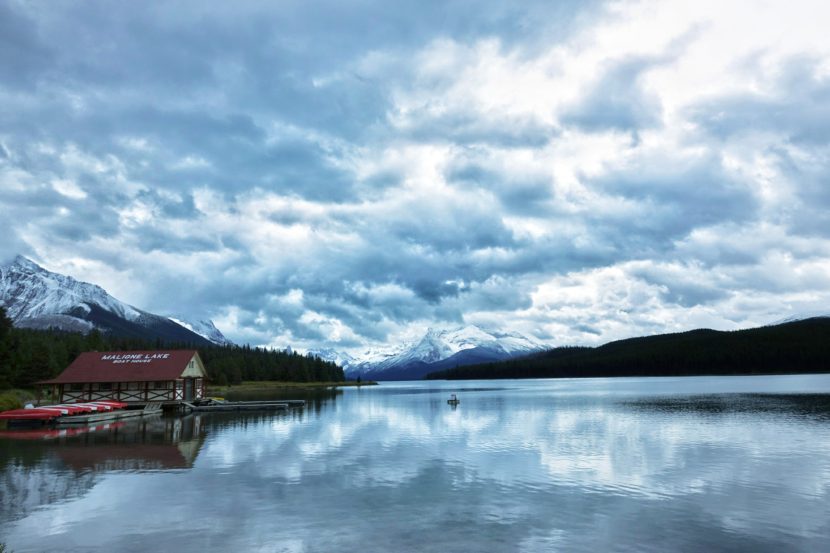 Along the roads in Jasper we spotted three moose, a coyote, a mountain goat, a bunch of big horn sheep, several deer, and elk! We weren't even going out of our way to look for wildlife, all of that was just while driving down the road! (No bear or caribou this time, but that just gives us another excuse visit again!) Every bend in the road seemed to offer a new lake, river, wildlife, or snow capped mountain. While in Jasper, we visited Sunwapta Falls, Atabasca Falls, Medicine Lake, Maligne Lake, Maligne Canyon, Pyramid Lake, and Patricia Lake.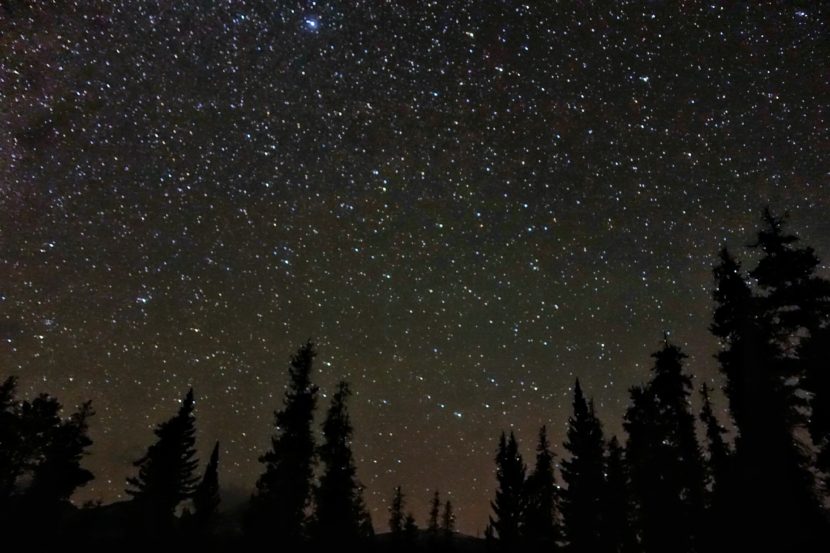 One of the coolest things about Jasper is that it is the second largest dark sky preserve in the world, so the stars are out of this world (but then again I guess every star is! ;) One night we took our tripod and camera and headed out into the total darkness to do some stargazing! It was a little scary at times being the only ones for miles and hearing so many warnings about bears and other wildlife, but we were armed with our bear spray and flashlights just in case. :)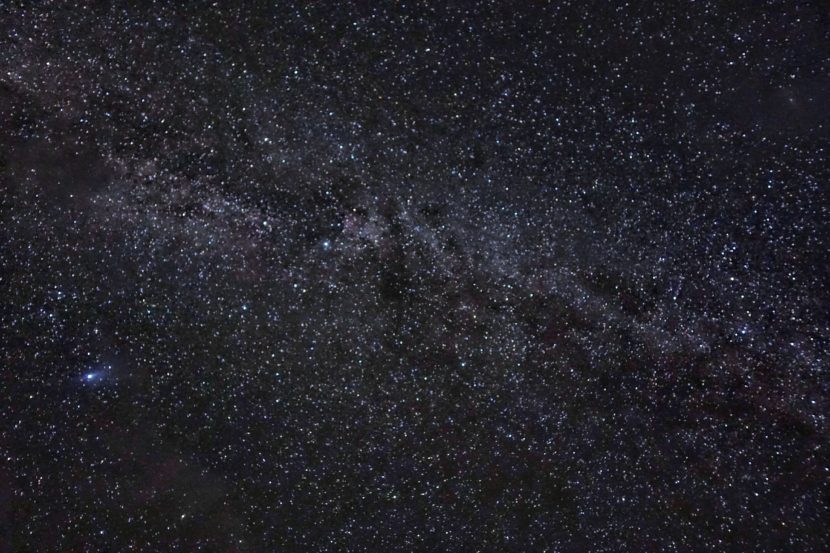 I have never seen the Milky Way so clearly displayed. There were actually so many stars visible that it made it harder to pick out common constellations like the Little Dipper and Orion's Belt. It was so much fun and definitely gave me a new appreciation of just how tiny our earth is!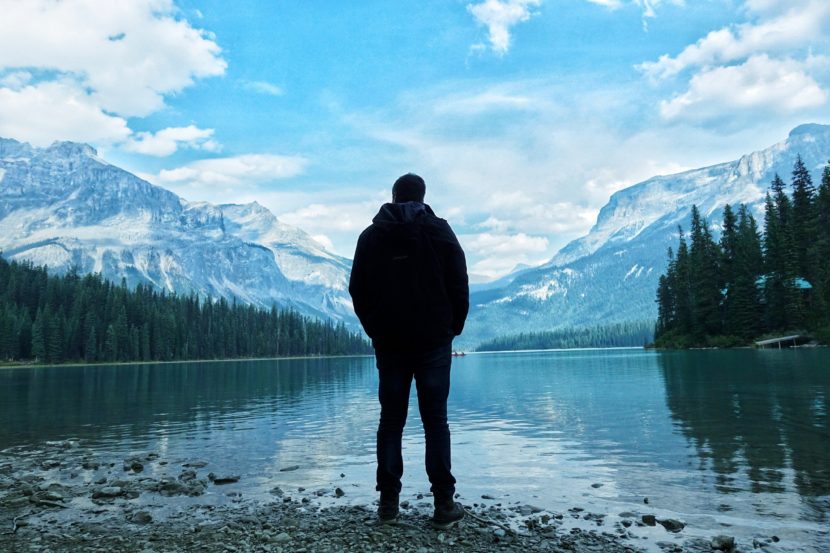 Every stop in Jasper was amazing, but one of the most unique stops was definitely the Athabasca Glacier and the Glacier Skywalk. The Athabasca Glacier is one of six glaciers in the Columbia Icefields and is one of the most accessible glaciers in the world. You can walk close to the foot of the glacier for free, but if you want to actually walk on the glacier you either have to book a guided walking tour or buy tickets for a special glacier snow bus.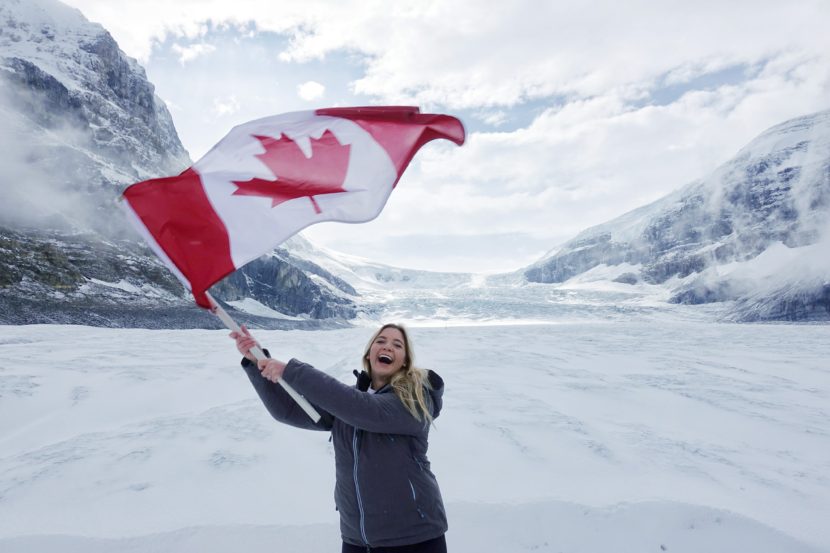 Being from Pennsylvania, we don't exactly have that many glaciers around, so Em and I saw it as a once in a lifetime opportunity and decided to pay the steep C$85 to take the bus out onto the glacier. The ride out to the glacier was an experience in itself. The bus driver told us that there are only 21 of these type of vehicles in the world and the Columbia Icefield Discovery owns 20 of them (the other one is in Antarctica). The US$1 million bus easily handled the 33% grade hills that led out onto the glacier.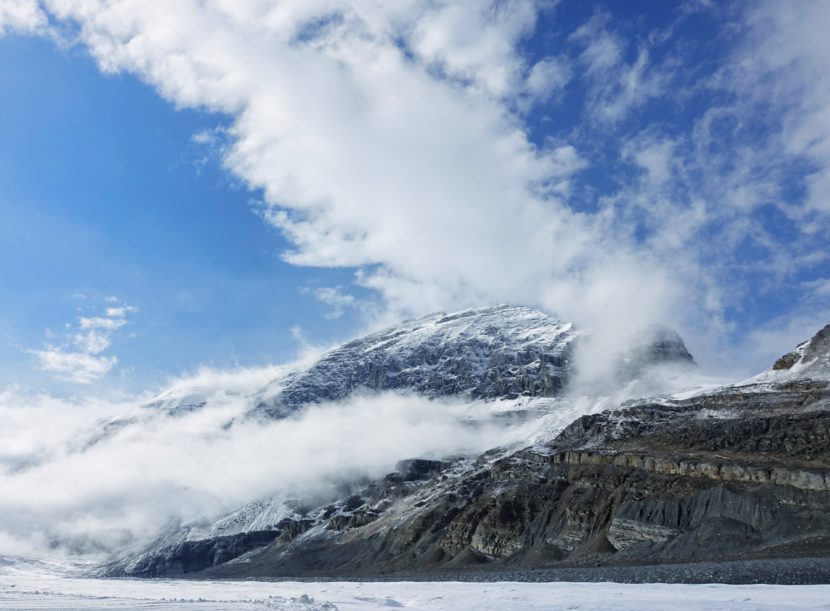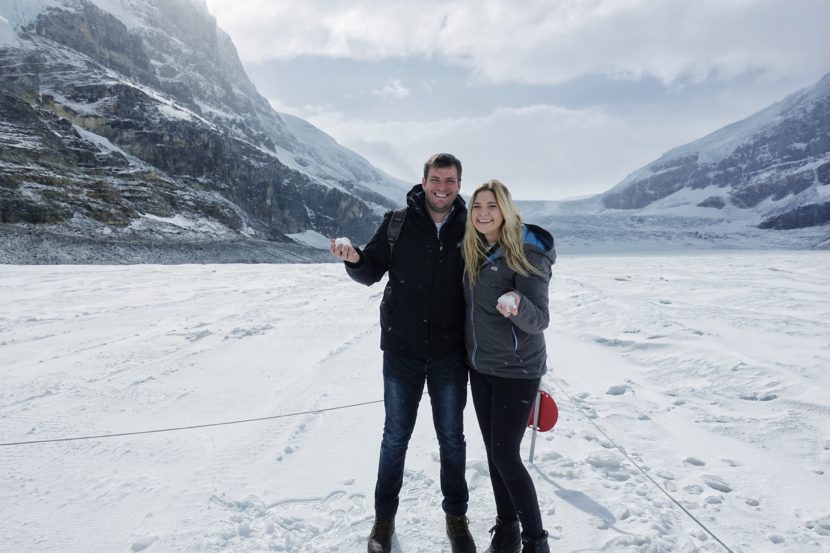 It was an amazing feeling to know that, when we were out on the glacier, we were actually standing on 800-950 feet thick of ice! (That is about as tall as the Eiffel Tower!) We filled one of our water bottles with some fresh, glacier-filter water. :)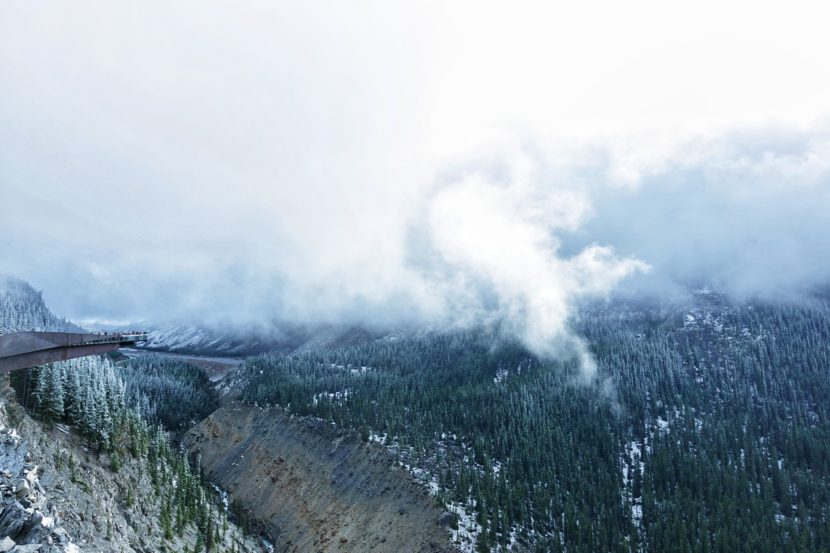 After the glacier tour, we ended our experience with a walk out onto the Glacier Skywalk, a U-shaped glass bridge that hung 800 feet above the ground below. Everywhere we looked, including down through the glass that our feet were standing on, was an amazing view. We also spotted a mountain goat on the ground below.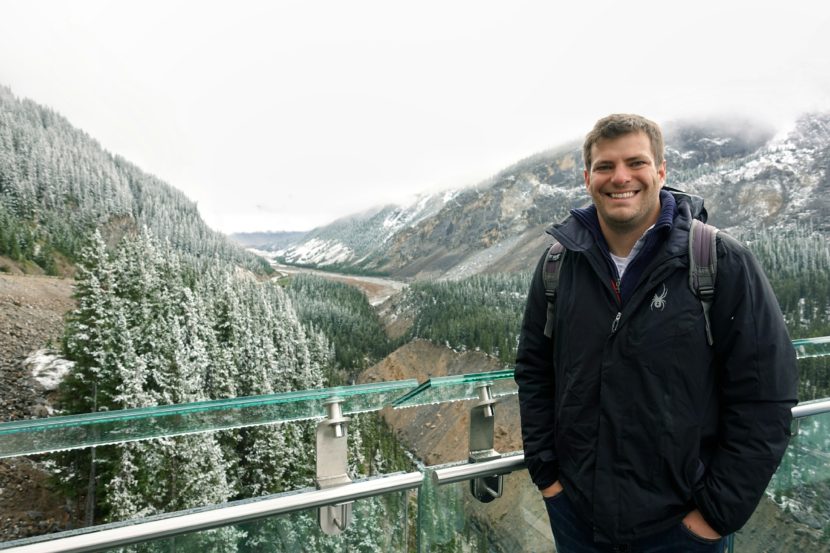 We purchased the Glacier Skywalk as a bundle deal with the glacier bus experience, but to be honest we probably could have done without this experience. It was definitely beautiful and quite a thrill getting to walk out onto a glass bridge, but we have experienced other glass floors and the park of Jasper is filled with so many other beautiful views that you don't really have to pay the extra $ (but that is just our opinion :)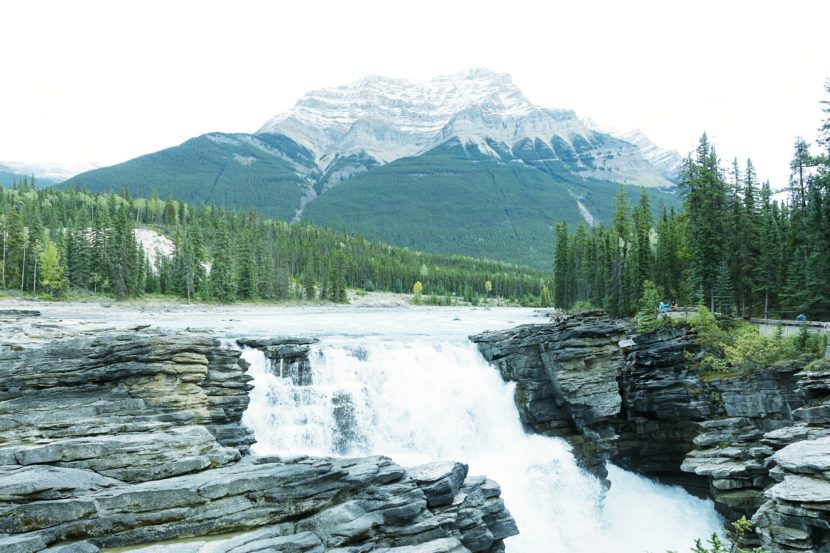 Our time in Alberta was truly amazing. Em and I laugh that we set out to do a trip around the USA, and one of our favorite areas ended up being in a different country! There were endless beautiful spots and so many different things to experience that we will definitely have to come back for a second trip!
The post Alberta, Canada: Calgary, Banff & Jasper National Parks appeared first on Hudson and Emily.