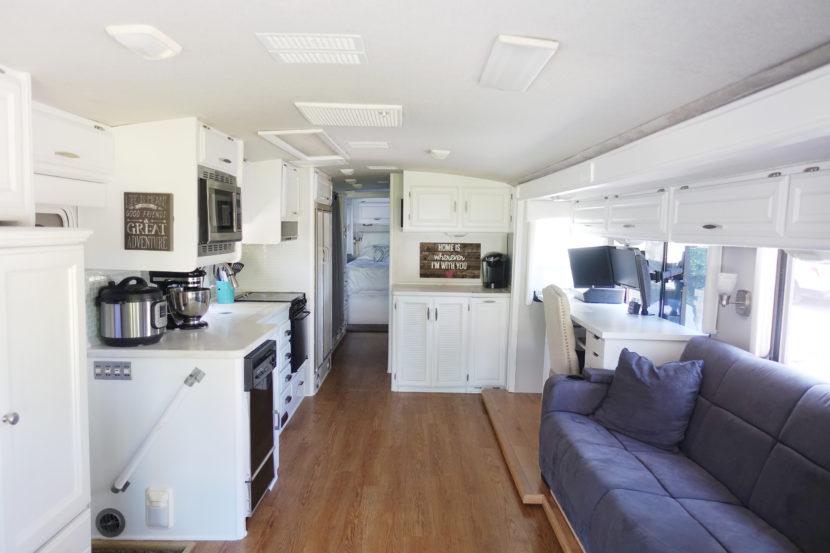 Wow, as I sit here in our 2000 Fleetwood Bounder Motorhome, I can't believe this thing is 17 years old – or that I am so blessed to be living in what has truly become my dream home on wheels. Take a look at this "before" picture!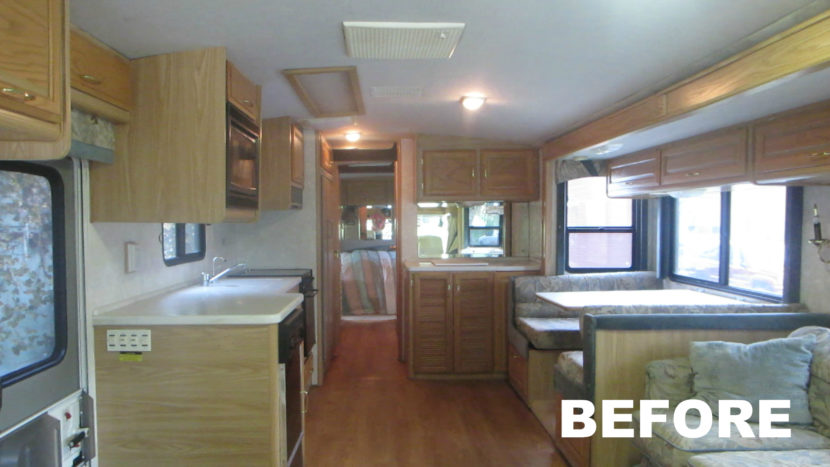 We bought our motorhome in excellent condition, and definitely would have been fine without renovating it. It actually was never our plan to do so – I remember our first conversation about possibly just painting the interior, and carefully considering the cost of doing that, and here we are having done *just* a little more than paint the interior. But since the interior looked a little dated and the RV is going to be our home for the next year, we decided to do some RV renovations to make it feel more like our own. Although the renovation was a lot of work, there was something about seeing everything come to life – and noticing how even small changes can really transform a space – that motivated us to revolutionize this 17-year-old camping feel motorhome into a 312 square foot luxury home that also has a motor. :)
Here is a video tour of our new home, and for all the details, read on!
There is so much to share, so we decided to create a renovation series. In addition to this main post, we've also created separate posts (linked within this one) that delve deeper into certain aspects of the renovation. Much of what we did to transform our dated living space can apply to not just an RV but to really any house, apartment, or "tiny home." And while I'll never consider myself to be an interior designer of any sort, it really has been fun to create a modern, personalized look with the help of two amazing hard workers (aka Hudson and my dad) and quality products from outstanding companies – which we'll share about in this post.
Before I go any further, I want to say a HUGE thank you to my dad for all of his help in making our RV what it is today! What started out as us asking for just a small favor ended in many 3AM nights of RV work, followed by him waking up at 5AM for his real work the next day. Thank you, Daddy – we are SO grateful for all of your selflessness in helping make this dream a reality! Dedicating this post to you (a great payment for all of your hard work, I know ;).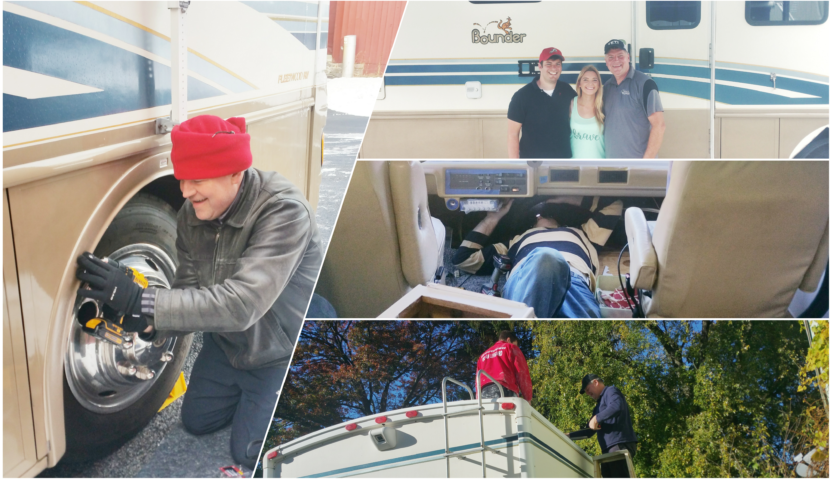 So where did it all begin? The paint. Our cabinets were a light oak wood, and the walls a – not sure how to describe it, speckled tan? – so I was really hoping that by painting the cabinetry white and the walls a grayge (gray/beige), it would bring more light into the RV and make it feel more spacious and homey. So while Hudson removed the 57 different doors and drawers (seriously, there are that many), I set out to pick the paint colors. After looking through hundreds of swatches (who knew there were so many shades of white?!), I decided on Sherwin Williams satin On the Rocks for the walls and semi-gloss Extra White for the cabinetry (both Sherwin Williams ProClassic® Interior Waterbased Acrylic-Alkyd Enamel). More on painting RV cabinets here!
The next step was to select new cabinet hardware. I had read a lot of DIY blogs talk about painting their old hardware, but read a blog post about why that's not a good idea and quickly changed my mind (more on RV cabinet hardware here). I really Love satin nickel, so that was an obvious choice, but again I had no clue how many options of handles and drawer pulls there were! We went with Cliffside Industries – an awesome hardware provider headquartered near Lancaster (love supporting local companies!) – and chose their Carena Contemporary Curved Cabinet Handles for most of the doors and drawers, and their Carena Transitional Curved Bin Pull for the kitchen and bathroom drawers. I love how the bin pulls accent the cabinet handles and make for a very contemporary look.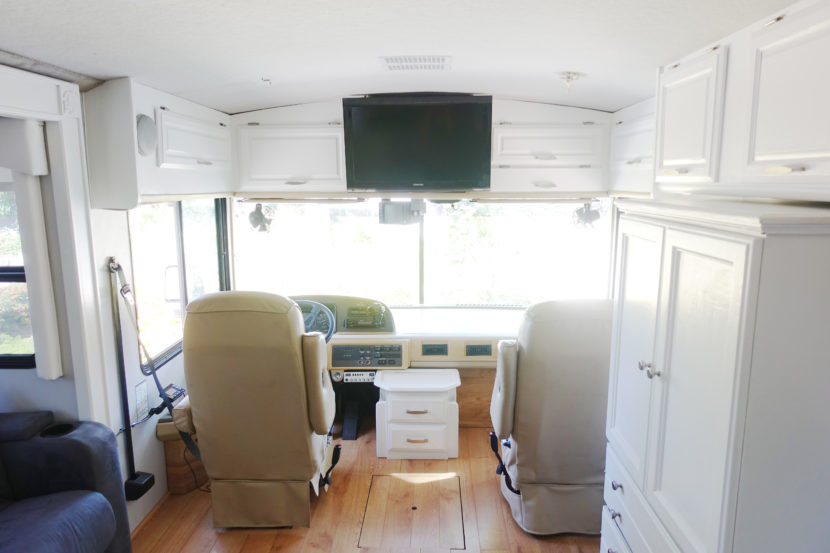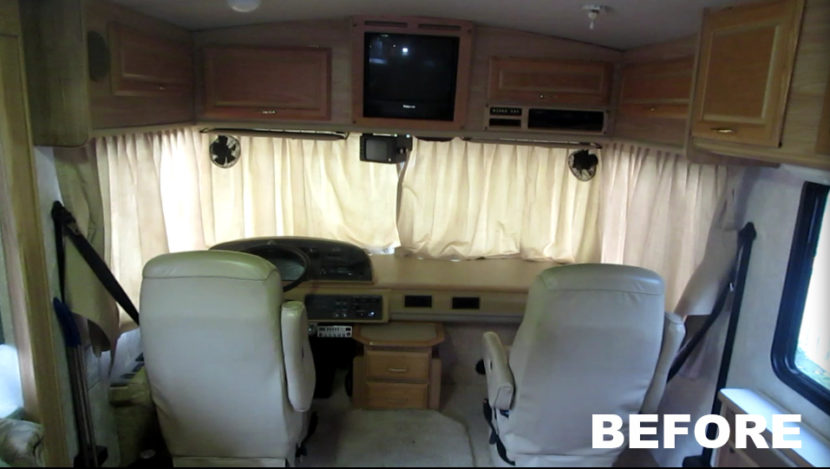 Near the door entrance was a rocking chair, which we replaced with an entertainment center turned dresser that we found for $10 on Craigslist! Hud painted it and replaced the hardware, and my dad created the perfect way to secure it so that it stays still on the road and seamlessly looks like it is part of the RV.
The previous RV owner had thankfully installed wood laminate flooring in the center of the RV, but the bedroom, area under the dinette and couch, and driver/passenger seat section was carpeted. It was in decent condition, but what carpet doesn't need to be replaced after 17 years?! So we replaced the bedroom carpet with a multi-tone dark gray, and planned to re-carpet the other areas as well until we came up with a better option.
My dad found this awesome laminate plank flooring at Home Depot that was similar to the main floor, and he installed it to perfection. Installing it around the pedals and over our "trap storage door" in between the front seats was not easy, but he made it look so professional. He even built matching wooden blocks for us to set under our "dinette drawer" table so we have more space for our chairs when we eat! I love how having a wood laminate floor throughout opens up the space and makes the room flow better.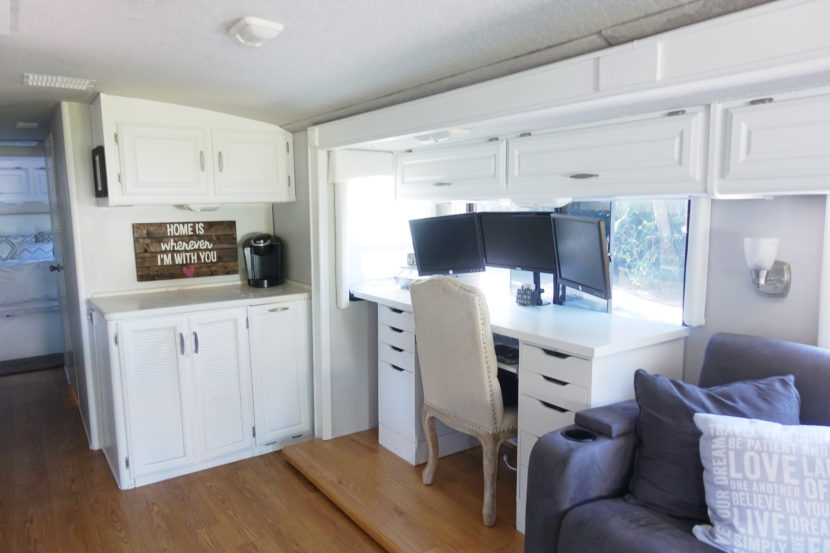 We also bought a gray microfiber couch from Walmart to replace the old one, and ripped out the old dinette. While the dinette looked fine, we knew a desk would be more functional for us. We bought these Ikea desk drawers and Hud built a keyboard / "dining table" under the table top to serve multiple purposes.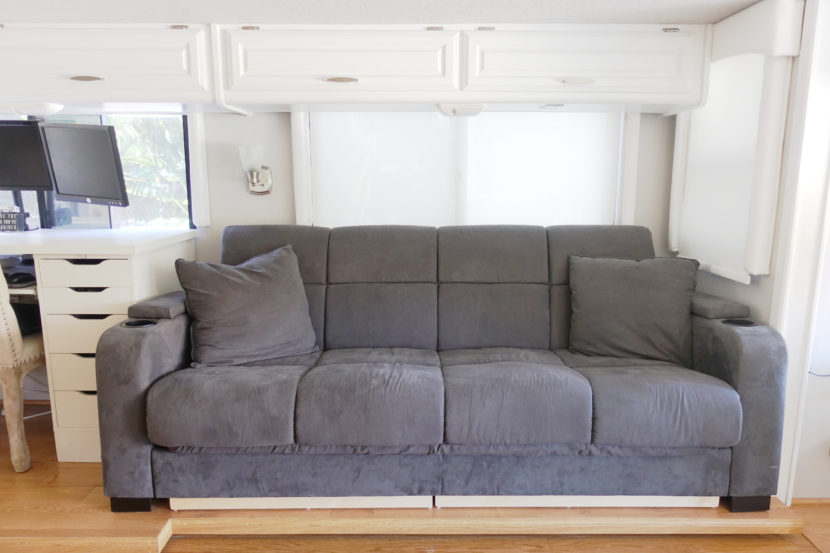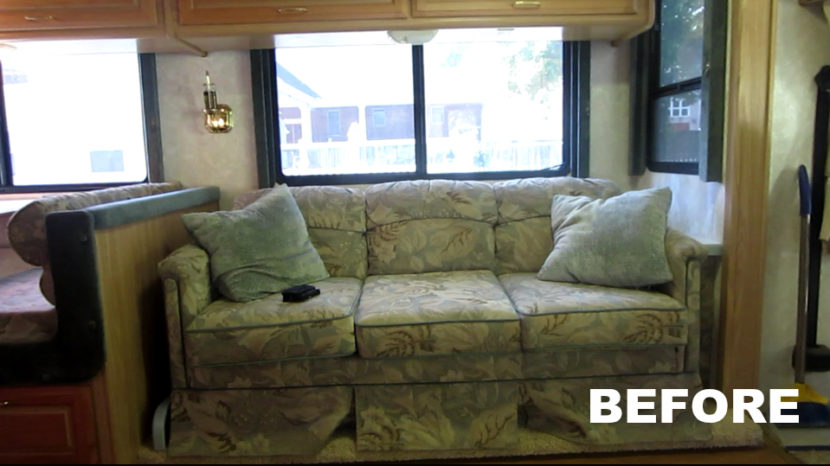 Since taking this picture, Hud actually built a custom trash can to the left of the desk so that we can utilize the old trash can for a laundry basket instead. My sister – the amazing Caroline Logan Photography who actually took all the "after" photos in this post – thought of this idea and it's a wonderful way to maximize the space!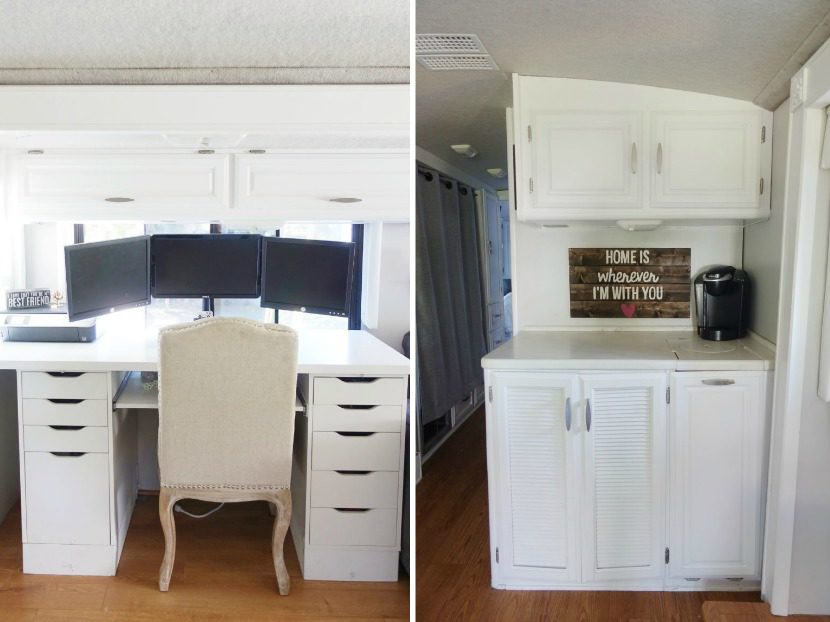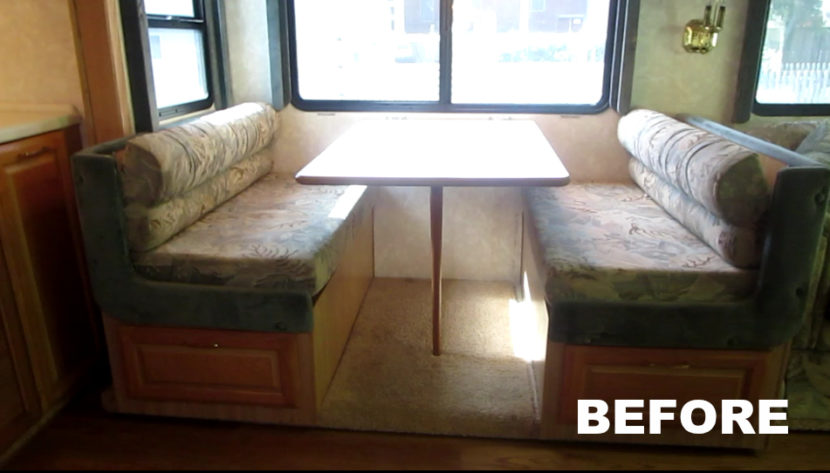 A big thing Hud and I love is tech – and you don't exactly get that in a 17 year old RV. :) There were two box TVs that we swapped out for ones we previously had in our home, and Hud found a bluetooth radio that fit perfectly into the old radio spot, so now we can connect our phones through bluetooth and blast music through the motorhome. When we're at a campground, we use a Kicker Bullfrog JUMP outdoor speaker – it's super durable and can even get wet!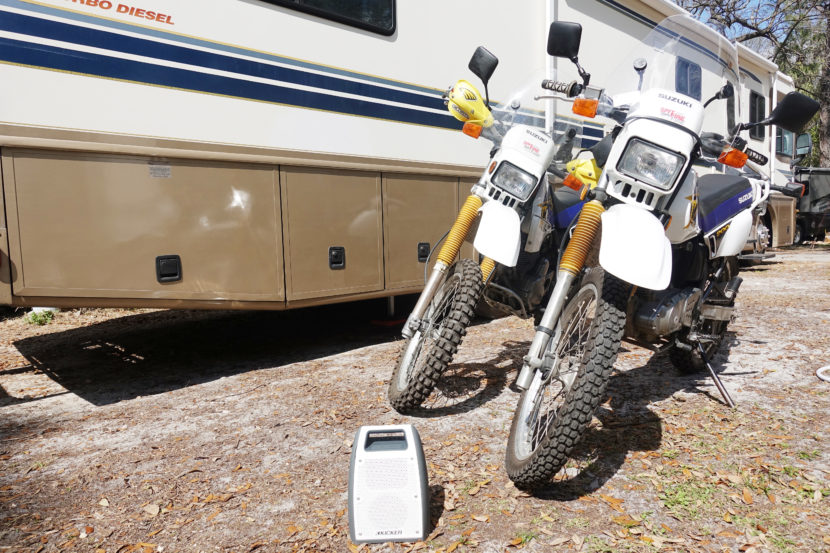 Truly one of our favorite products, as well as Kicker's Tabor bluetooth headphones that are super helpful for working at our desk without cords getting in the way.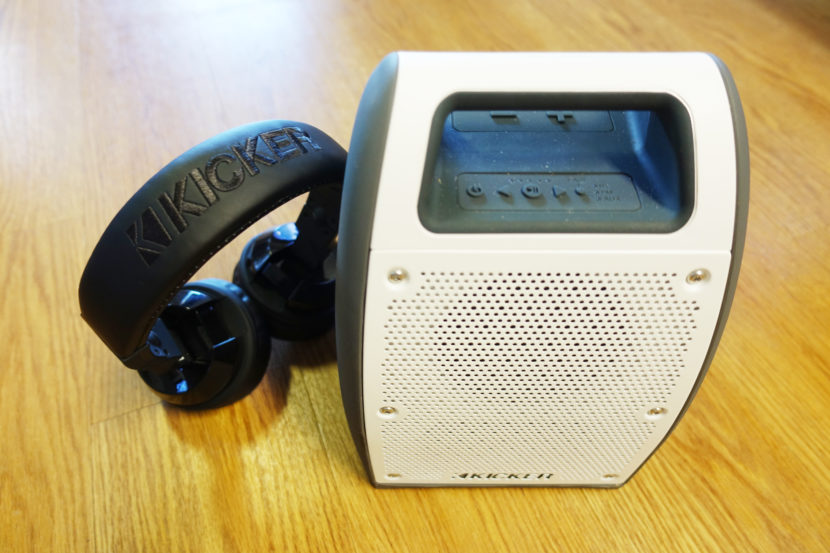 We also installed a PressurePro system, which shows us the pressure of each of our individual tires. This is so helpful because we don't have to walk outside and manually measure each tire before we hit the road (to be honest, we probably wouldn't take the time to do that). Instead, we just glance down at the monitor and can make sure we're ready to roll. Not only is this convenient, but it keeps us safe on the road. It also will help prevent us from having to spend money on new tires – not the cheapest, that's for sure! And thankfully the previous owner installed new tires right before selling the RV to us.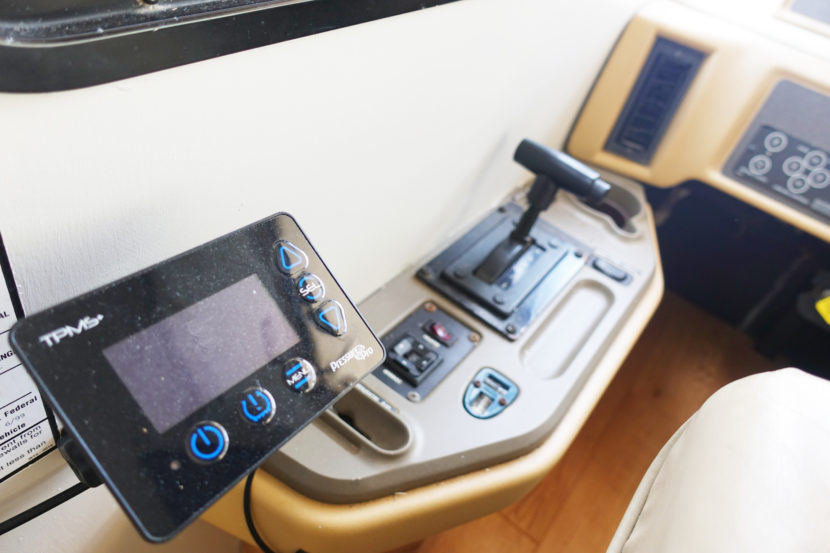 The kitchen is a great example of something that was in good condition, but looked outdated. In addition to the speckled tan walls, there was a strip of wallpaper that was really not our style. I love the look of backsplash and had heard of peel and stick backsplash options for RVs, but the ones I saw were made of a thin plastic that looked fake. One of our goals for the renovation was to think of items that we would want in our home anyway, and bring them to our RV. In doing some research about high quality backsplash, I came across Mineral Tiles. I loveee their DIY peel and stick backsplash because it works exactly like the other types, but looks so much more real – because it is! The subway glass mosaic tiles we ordered are made of real glass, and it so beautiful. You can get the same look while saving so much time not having to lay down cement – Hud and my dad just stuck on the tile sheets and then put Mineral Tiles' grout over them to give the backsplash a finished look.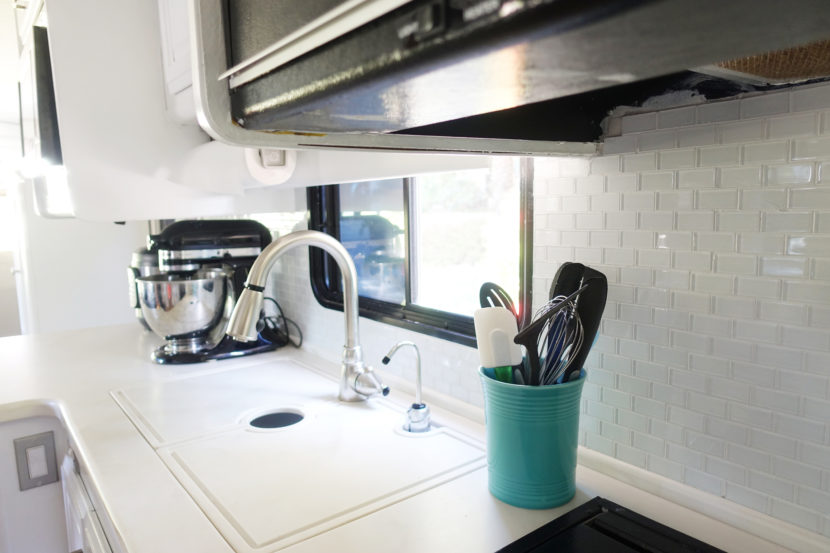 I love how the grout puts an additional accent element in the motorhome, and complements our stainless steel appliances well. We replaced the old microwave with an RVupgrades Contoure convection microwave, which I am so thankful for. Having a more modern version is much better – plus, the fact that it also serves as a convection oven has helped us save money in propane costs (what the main oven runs off of). I am grateful to have an oven in our RV, but it cooks only from the bottom, so food tends to get a little burnt – but not when it's in our convection microwave! So that's been one of those products that I didn't know would be so wonderful to have until we had it. We also replaced the faucet with a new satin nickel faucet and it was one of those small changes that made a really big difference.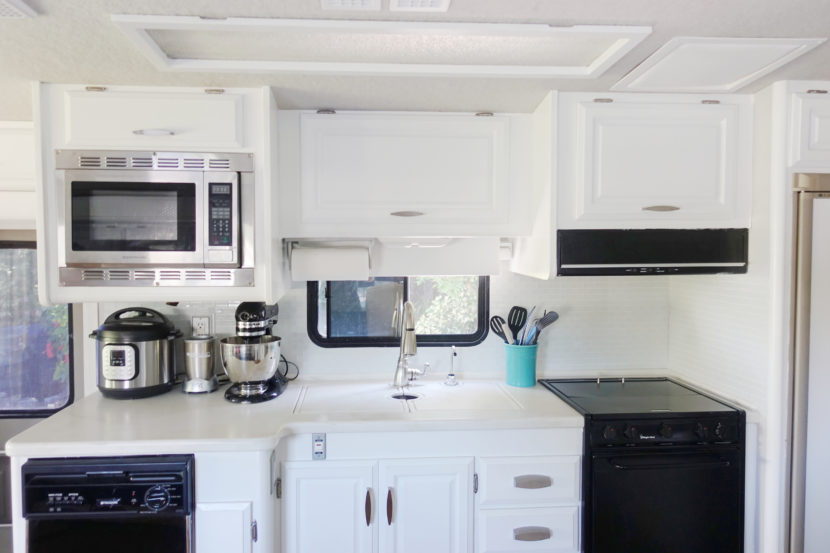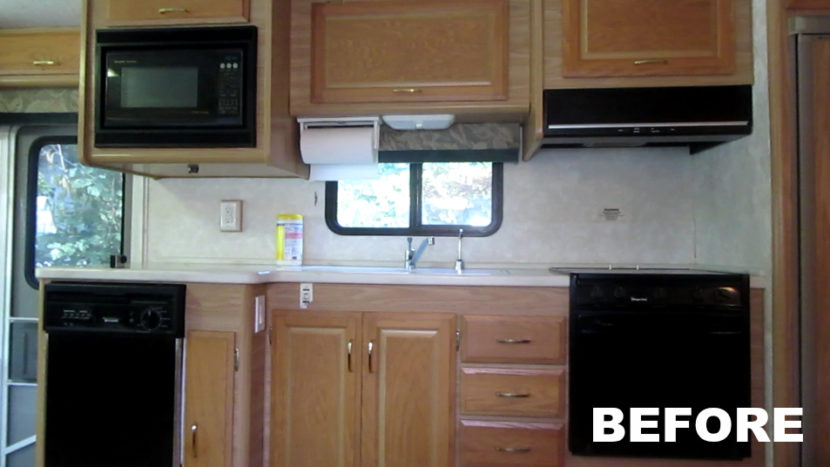 Our motorhome actually has a dishwasher in it, which is rare for an RV and is something I'm so grateful for! It has really helped us stay organized instead of piling dishes in the sink. But what has helped us stay the most organized is OrganizeMyDrawer.com, where you can create custom drawer organizers based on the exact dimensions of your own drawers. For example, our silverware drawer is super long and there would have been no standard drawer organizer that would have fit into this space, but with OrganizeMyDrawer.com we created a drawer that not only fits perfectly, but also maximizes the space and allows for everything to have a place. This organizer makes it super easy to access the silverware, and keeps it from all ending up in a pile when we drive.
We were so excited about using these for our drawers that we tried one for our dishes cabinet, and it works great. RVers typically recommend using plastic dishes and glasses so that they don't break as you drive. But to me, there's just something about using "real" dishes – and my glass mason jars – that feels like home. :) So we created a custom organizer that is about 4 inches high, added some cabinet liner, and it holds everything safely and securely without breaking as we drive! Here's more info on how we organized our motorhome.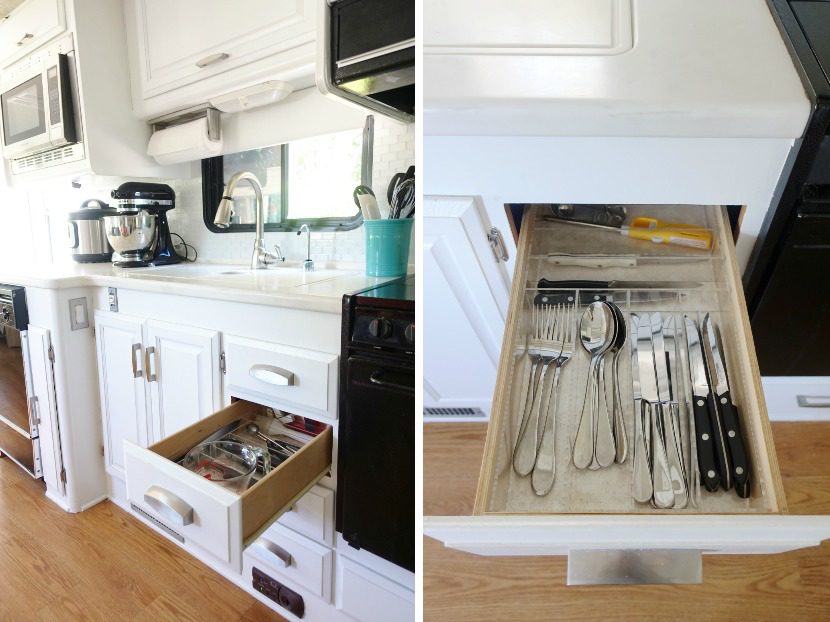 Another example of us using in our renovation items that we would want in our home anyway is spotlights. They bring an element of safety to a home, and create such peace of mind. We love using Mr. Beams Wireless Motion Sensor LED Spotlights at campgrounds. They are motion detected so we can see when someone is walking near our motorhome, and it also comes with a remote control so that we can turn them on and off as needed. We also use their mini lights for lighting up darker areas inside our RV, such as in the closet and in understorage compartments. Mr. Beams designs their lights to run off their own batteries (and they last a while), which has been helpful in us conserving our RV batteries. More info about our RV lighting in this blog post!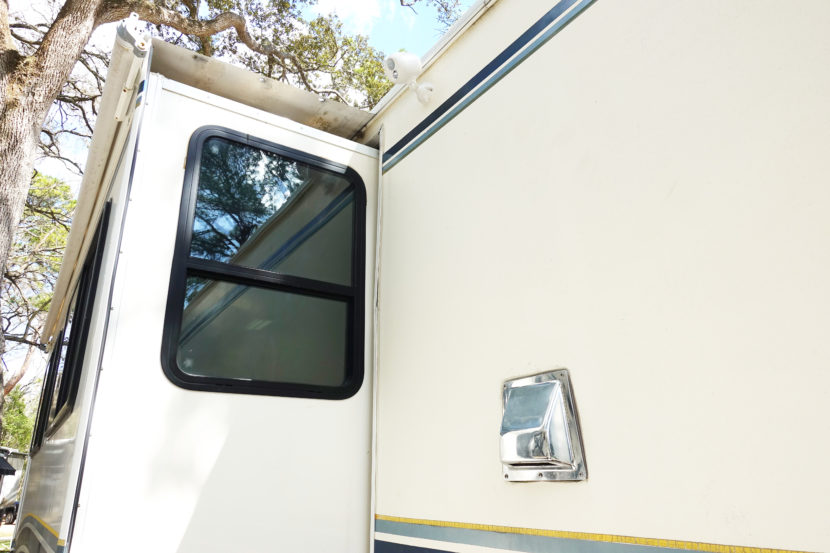 Something else that is essential to a home, that we decided we did not want to go without for a year, is a washing machine! There was an old one that came with the RV, but we figured the technology has improved just a little over the last 17 years. ;) So we installed a Dometic combo washer/dryer, and we love it! The most amazing part is that it can both wash and dry our clothes all in one machine. It takes about 3 hours per load, which is perfect for us to put in a load and go about our day. Thankful for companies like Dometic who create great products for mobile people like us, because even though our lifestyle is now "outdoorsy" I definitely appreciate having as many comforts of home as possible (like being able to do my laundry when I want)!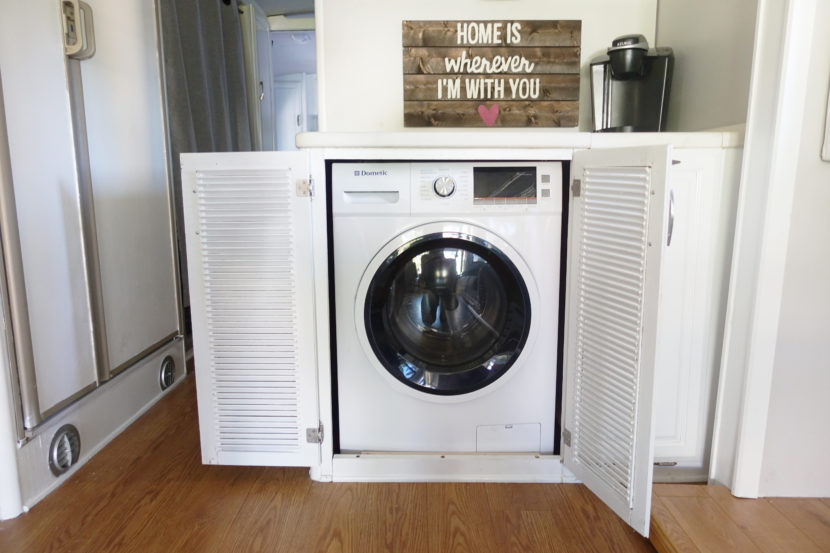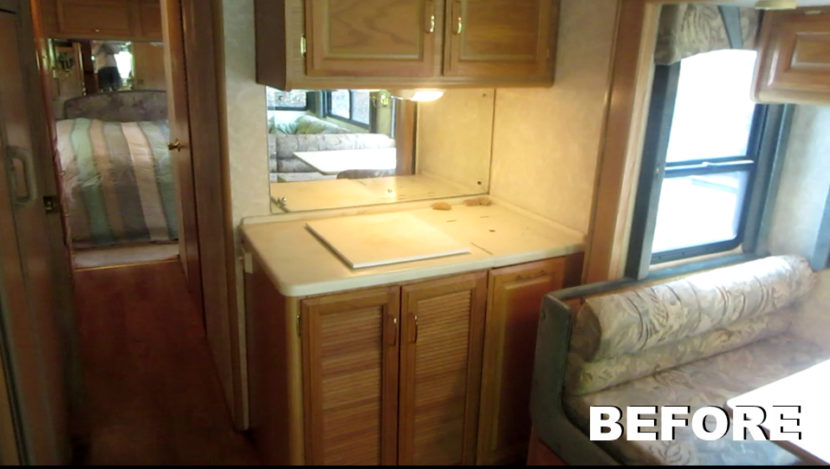 One thing I was a bit concerned about before buying our RV is how I would be able to narrow down which clothes to bring in a small closet space. Thankfully, it was not nearly as difficult because we were really able to maximize the space well. We noticed that we could install two closet bars if we only had hangers that were a bit higher. We researched online and found that there is a perfect solution for this: Higher Hangers! We especially love their felt hangers (the plastic are great too) and, because they are a couple inches shorter than regular hangers, we've been able to double our hanging space. This was one of those times where we were like "if only if…" and then we realized there actually was a product for it and were so grateful, so yay for Higher Hangers! We also removed the old glass closet doors and replaced them with a curtain, which makes the closet much more accessible and helps it look more modern too.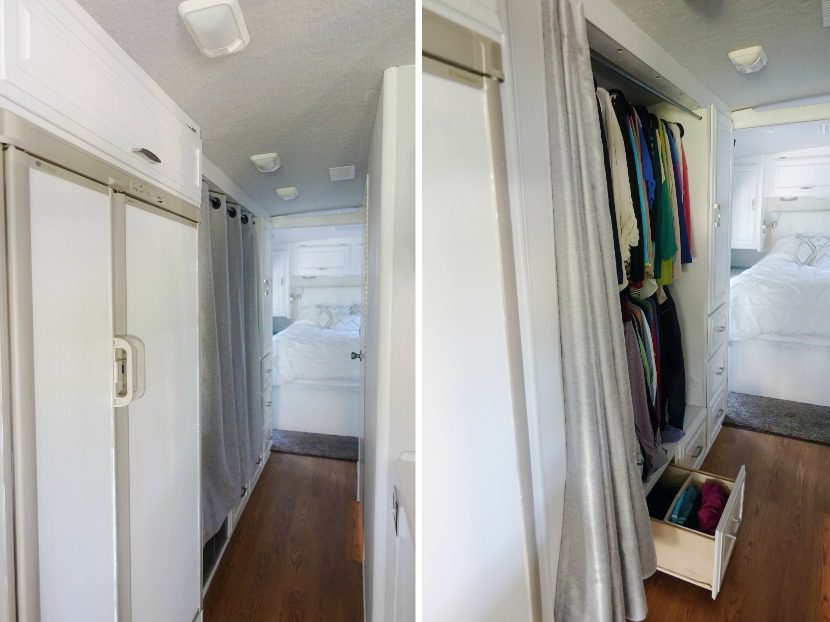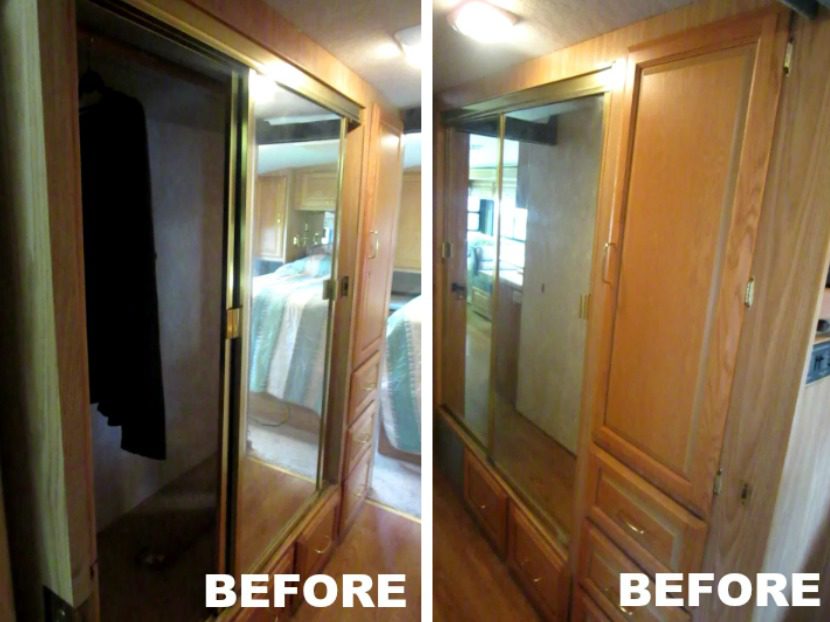 Beside our beds there are two smaller hanging closets; my dad actually installed shelves in there for us so that I can easily display my pants, etc. I also use canvas bins from Ballard Designs to separate my clothing in drawers, which helps me stay organized and maximize the space. We also use their storage baskets to organize our desk area, and other home living and decor products throughout various areas of our RV – more info in this post!
The old RV mattress was 17 years old, so we decided that had to go. We bought a memory foam mattress at Costco – because thankfully our bed is an actual queen size (most RV mattresses say queen but are not) – and got a beautiful Designer Living duvet cover set. I can't believe how much of a difference the new duvet cover set and headboard make!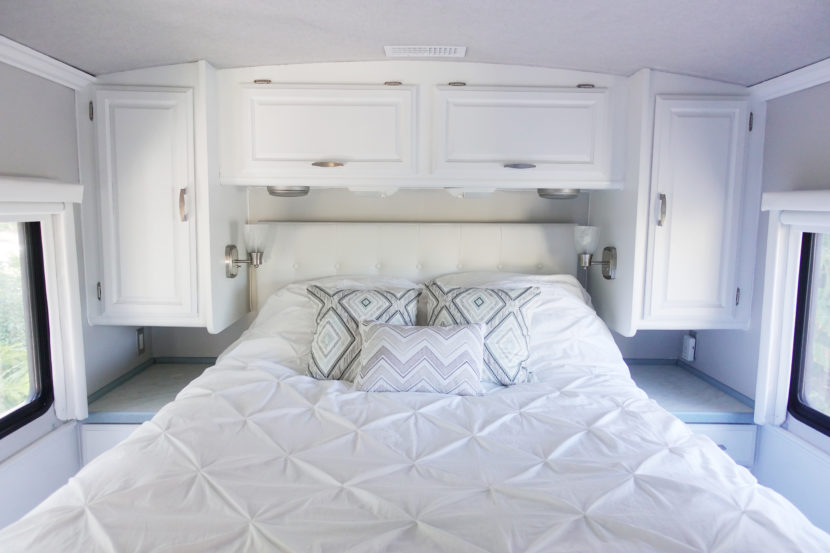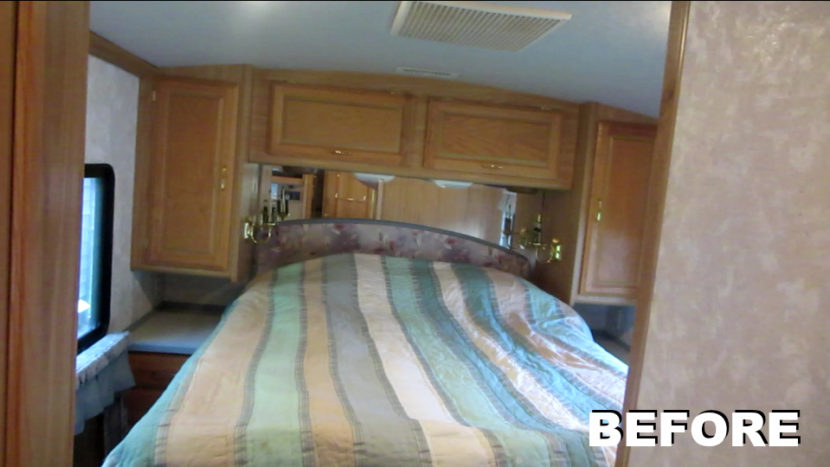 Our headboard is a Cymax white tufted headboard (they have the coolest inspiration boards to get ideas from at their site HomeSquare, by the way!) and I love how that has become the focal point to tie everything into the room.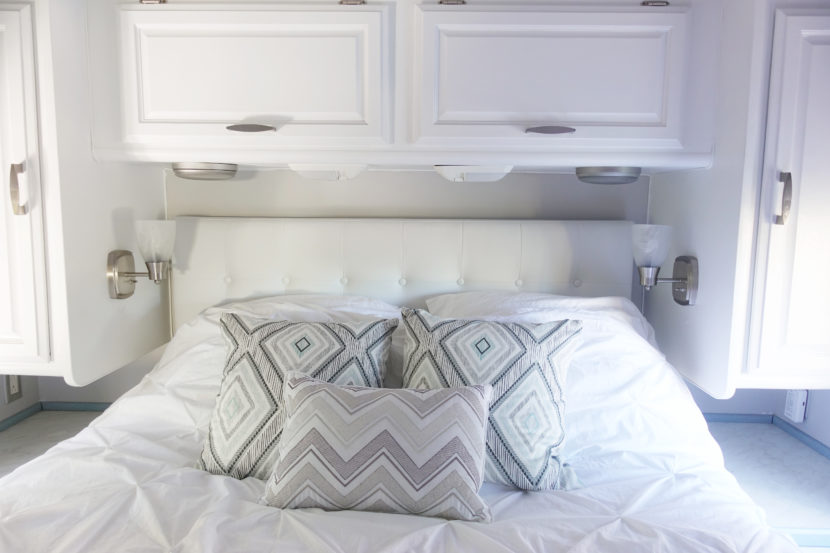 We also swapped the old light fixtures to new RVupgrades reading lights. And these pillows from Ballard Designs are the most comfy ones we've ever slept on, making us feel like we are sleeping in a luxurious bedroom rather than a 17-year-old RV. I am so grateful that it feels like an oasis to us rather than an old camper!
One of the most frustrating but rewarding projects we tackled were the cornice boxes. I actually liked the old ones when we first bought the RV – they were a similar blue/green floral style as the couch – but now looking back, it's amazing how much of a difference the new ones make! Here I have to give a huge shoutout to Hud's mom for her kindness – we originally chose a white canvas fabric, and she stayed up all night cutting all of the pieces for us! But then, I decided that the fabric would be a fingerprint magnet, so purchased white vinyl at Joann Fabrics instead – and Hud's mom so kindly helped us re-cut everything. So grateful for that! And glad that we decided to go with the vinyl, because it wipes down so easily even with it being white.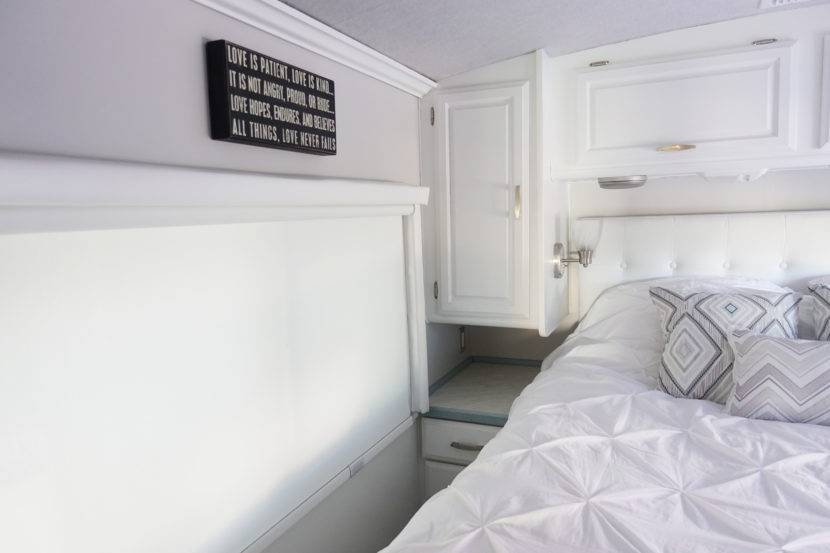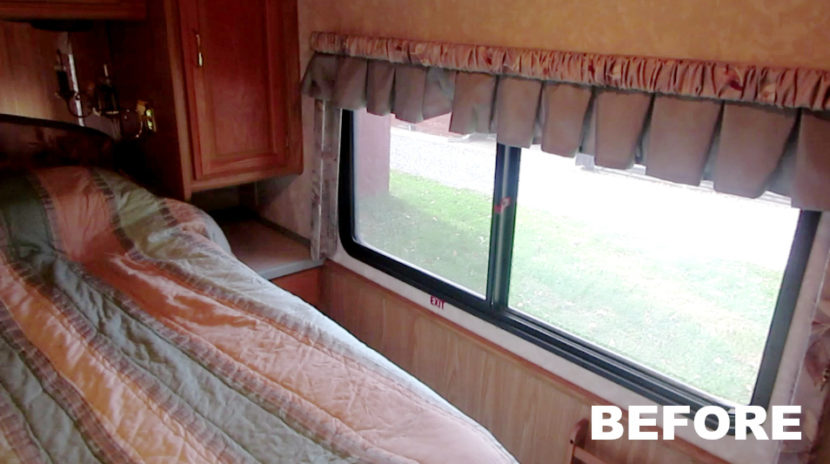 Even though the RV was in great condition when we bought it, but there were just some elements that looked like they hadn't been cleaned for a few years. One of those things was the blinds. And really, who would clean blinds if you were just talking week-long trips here and there? But since it was our home, we decided they had to go. We contacted 3 Day Blinds, and wow are we ever glad we did! We chose solar shades for most of the windows to let light in during the day, and room darkening roller shades for the bedroom and main front panel for a little extra privacy. They are so easy to roll up and down and make a world of difference compared to the old ones! 3 Day Blinds literally does all the work for you (in 3 days!) so that you can just relax and enjoy the finished work, so this was a project we were very thankful was super simple for us! Here's more info about our custom RV blinds.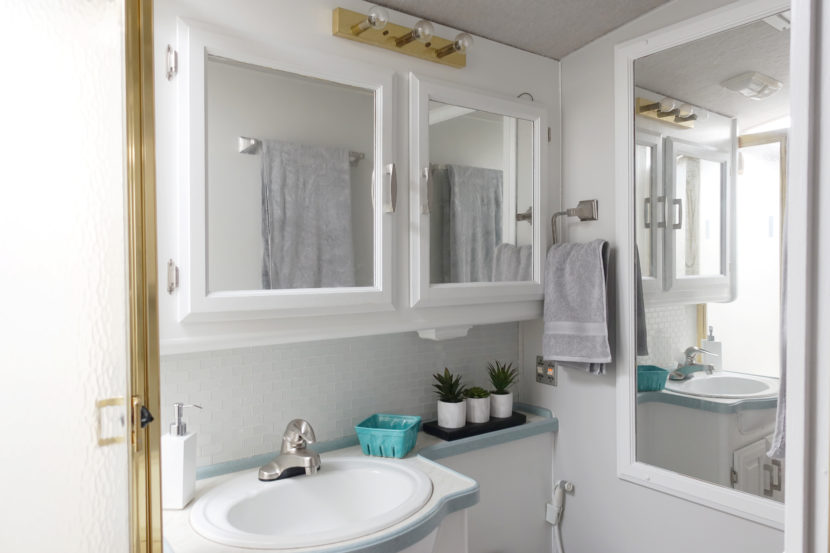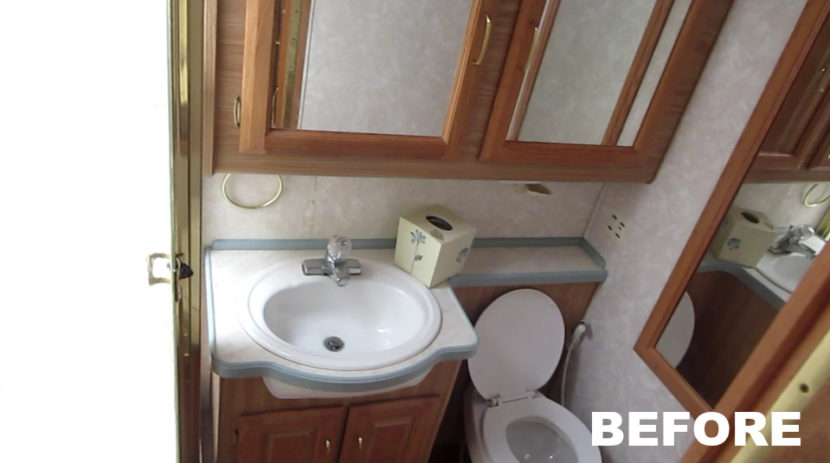 Of all the "rooms" in our motorhome, our bathroom is my favorite. I think it's because I was able to bring in touches of my actual home decor to accent the beautiful backsplash. We also swapped the sink and shower faucets with new ones from RVupgrades (more on those here), and installed satin nickel bathroom hardware to coordinate with the cabinetry hardware. The Ballard Designs bath rug, Mineral Tiles backplash, and Designer Living towels are the perfect finishing touches to transforming an RV bathroom into one that feels like home!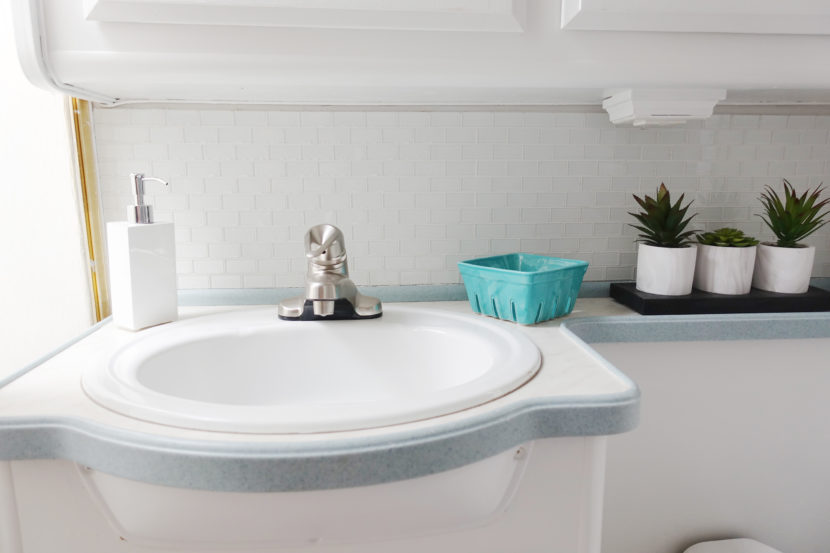 We are so grateful for how much we love our RV. Looking back, sometimes we can't even believe the transformation that these changes made! It goes to show that you can really turn anything into something beautiful with even small changes.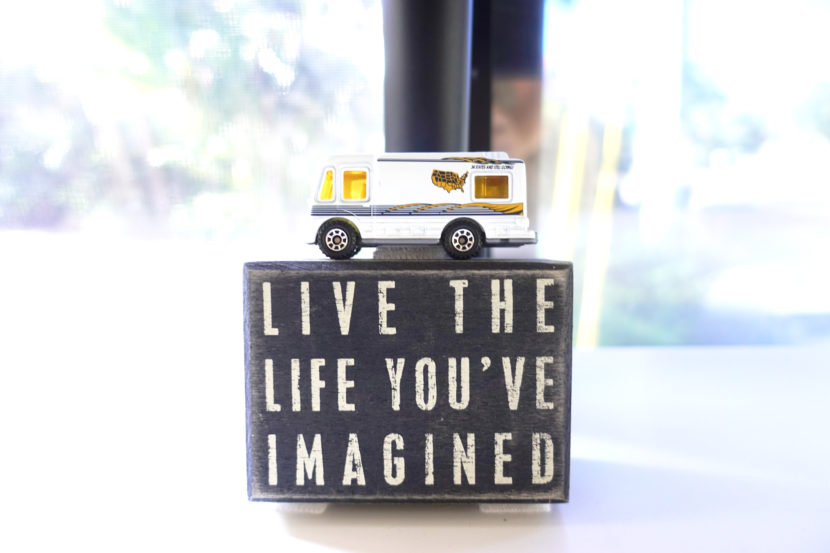 Thank you so much to all of our family and friends who encouraged us to make this dream a reality! Thank you also to the companies who believed in our dream of transforming our 17-year-old motorhome into the home of our dreams to travel the country with, and who sponsored our renovation. Whether you are renovating an RV, building or renovating a house, or even looking to make simple changes to update your home and maximize it space, we recommend checking out these companies and their amazing products!
Diamond Sponsor
Mr. Beams
Platinum Sponsors
3 Day Blinds
Ballard Designs
Rvupgrades
Cliffside Industries
OrganizeMyDrawer.com
Gold Sponsors
Kicker
Mineral Tiles
Dometic
Higher Hangers
Silver Sponsors
HomeSquare
Designer Living
PressurePro
Sherwin-Williams
The post Our RV Renovation appeared first on Hudson and Emily.