Barnyards, tipis, and all things outdoors are really in right now, and these kinds of weddings aren't complete without a few rustic finishing touches.
So, we've collated some examples of our favorite barn-themed wedding decor. We're covering everything from wooden place-card holders to rustic looking thank you notes. Enjoy!
Personalized%20Rustic%20Lantern">Personalized Rustic Lantern
We think this rustic lantern is ideal if you want to add a touch of elegance to your rustic-themed wedding.
It's made out of high-quality fir wood and would make a gorgeous centerpiece for the tables at your wedding breakfast. Then, as evening approaches you can light up the candles (not included) and dot them around your venue.
This is a gorgeous way to add a bit of mood lighting as you and your guests dance the night away.
Plus, if you have a particular color theme in mind, you can pick a candle of your choice to tie everything together.
Lots of brides like to keep the lanterns afterward as a keepsake of their special day. Or, give them away as thank-yous to their wedding party and close family members.
Plus, you can personalize these lanterns by adding up to three initials, as well as the date of your wedding.
For your own reference, please find below the finer details:
The lantern is; 7″L x 7″W x 18″H
To clean the lantern, all you need do is wipe it with a damp cloth.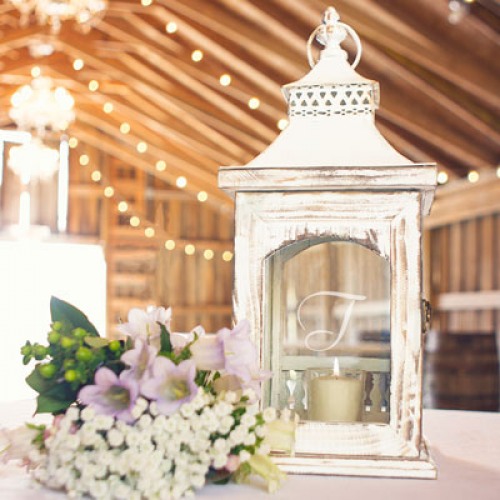 Personalized Rustic Lantern
Rustic%20Real%20Wood%20Place%20Card/Photo%20Holders">Rustic Real Wood Place Card/Photo Holders
These rustic wooden place card holders and the perfect finishing touch if you're throwing a barn or rustic-themed wedding.
They're literally made from real wood, so they're ideal for adding a touch of authenticity to your wedding decor.
You can use these beauties as either place card holders or, photo holders. There's nothing cuter than scattering some of your favorite photos of you and your partner around your wedding reception.
You might want to know the following details:
These place card holders measure approximately: 1″H, 1.75″ diameter and the matching pre-cut cards (included blank) measure approximately: 2″L x 1″ W
Four per set.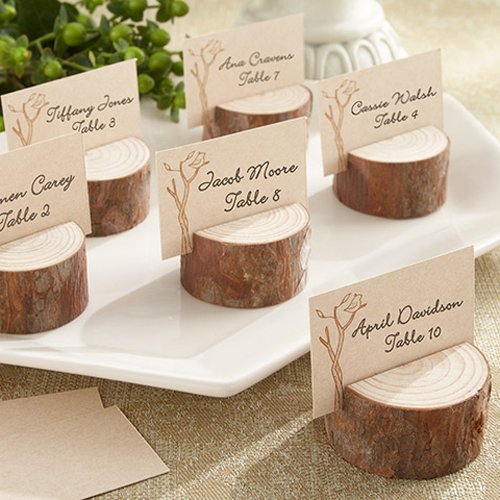 Rustic Real Wood Place Card/Photo Holders
Personalized%20Vintage%20Tent%20Favor%20Boxes">Personalized Vintage Tent Favor Boxes
Are you toying with the idea of adding a few simple DIY touches to your special day? If so, these favor boxes are perfect for you.
These are made from kraft material, the silver foil lace, and white satin ribbon really enhance the beautiful shape of these boxes.
These adorable favor boxes would compliment any wedding sporting a garden, barnyard, or rustic-theme.
Below are some of the nitty-gritty details:
These boxes measure approximately: 3.75″L x 3″W x 1.38″H
You'll get 25 boxes per pack
Minor assembly is required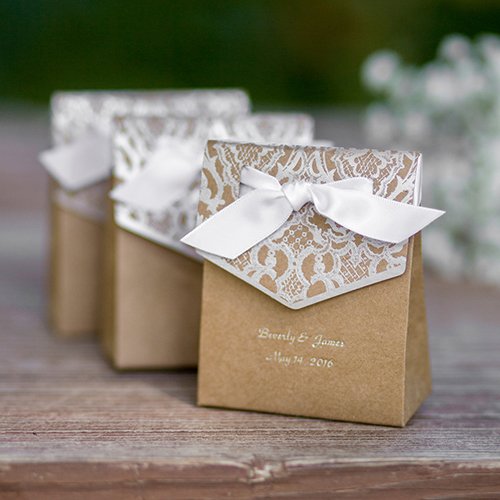 Personalized Vintage Tent Favor Boxes
Ornate%20Vintage%20Framed%20Chalkboard">Ornate Vintage Framed Chalkboard
Here at Cake and Lace, we can't get enough of vintage looking chalkboards, these make for perfect wedding signage!
This one, in particular, is gorgeously rustic. It's blank which means you can easily write anything you want.
This is ideal for artistic couples who want to craft their own unique message to their wedding guests.
For your reference this chalkboard measures approximately: 20″L x 1″W x 25.5″H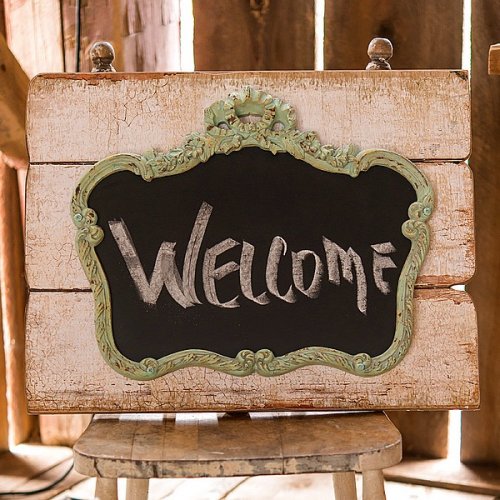 Ornate Vintage Framed Chalkboard
Custom%20Name%20Wood%20Cake%20Topper">Custom Name Wood Cake Topper
Personalized wedding cake toppers are incredibly in right now, and we love this one!
It's made using good-quality birch wood, and all you need do is type in your names when you order. Then, pop it in the center of your cake. Then voila, you've got the perfect personalized wedding cake accessory!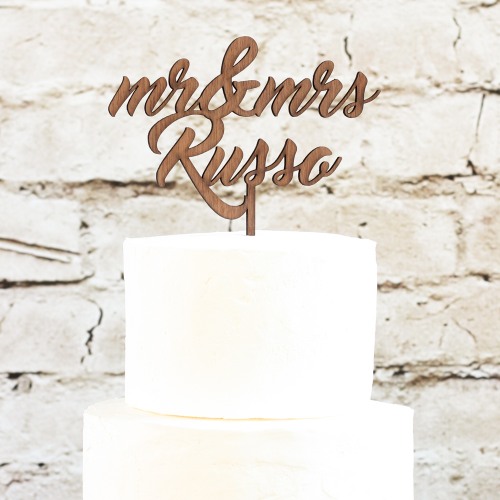 Custom Name Wood Cake Topper
Personalized%20Wood%20Heart%20Shaped%20Confetti">Personalized Wood Heart Shaped Confetti
This custom heart shaped wooden confetti is utterly gorgeous! Perfect if you're on the hunt for something unique to make your wedding stand out from the crowd.
They're perfect for scattering on the tables at your wedding reception, or for tucking inside your guest's invitations.
Just so you know, each set comes with 150 pieces. There are 50 larger pieces (approximately one inch in length) and 100 smaller ones (about 0.5 inches in diameter).
The bigger heart-shaped confetti is adorned with the initials of the happy couple as well as their wedding date.- Can you think of anything cuter to have on your special day?!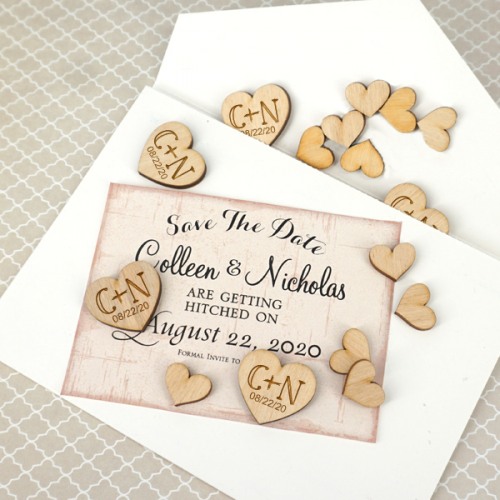 Personalized Wood Heart Shaped Confetti

Rustic%20Wreath%20Thank%20You%20Notes">Rustic Wreath Thank You Notes
It seemed apt to round off this article by talking about thank you notes. If you decide to throw a rustic-themed wedding then these vintage-style thank you notes are a must.
This kraft paper wedding stationery features a "thank you" design, enclosed in a pretty wreath. Plus, you'll get enough blank, kraft envelopes for each letter included- win-win!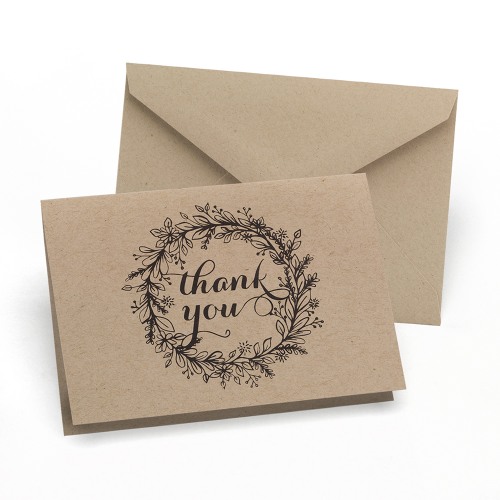 Rustic Wreath Thank You Notes
Did You Enjoy This Blog Post on Rustic Wedding Decorations?
We hope this blog post fuelled you with inspiration!
Please let us know in the comments, which out of these finishing touches you liked the best; we'd love to hear from you!
If you liked this article, then we're sure you'll love the other feature we did on personalized wedding favors. Be sure to check it out- Enjoy!
*In the spirit of full disclosure, our affiliate links are used throughout this post. However, we only promote brands that have a good track record of providing high-quality products. Happy planning!
The post 7 Rustic Wedding Decorations We Can't Get Enough Of appeared first on Cake and Lace | a wedding blog.