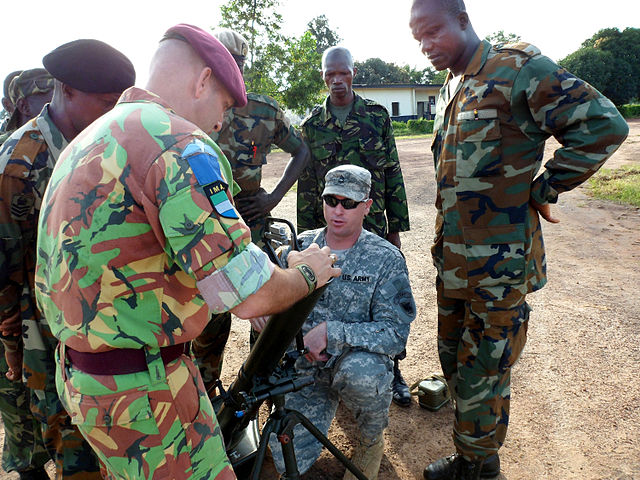 Africa has been a hot bed of military conflict, since, well forever. But most recently, countries like the US, Russia, and China have been heavily investing in the continent both financially and militarily.
Operation Juniper Shield (OJS) is a United States military campaign that began in 2011 and is still ongoing. It was previously referred to as Operation Enduring Freedom Trans Sahara. The mission of OJS is to counter transnational terrorist threats and to enhance regional security in the Sahel region of Africa, as well as in other areas such as the Horn of Africa, the Arabian Peninsula, and the Middle East. OJS is a joint effort between the United States Africa Command (AFRICOM) and the United States Special Operations Command (SOCOM). The main objectives of OJS are to train, advise, and assist partner nations in their counter-terrorism efforts in the region and to support local security forces in their efforts to protect their populations from terrorist activity. OJS also works to disrupt transnational terrorist networks by providing intelligence, surveillance, and reconnaissance capabilities; conducting counter-terrorism operations; and providing logistical and other support.
Table of Contents
Training Programs

Flintlock
The Atlas Accord
African Lion Exercise

History
Training Programs
Flintlock
The Joint Combined Exchange Training (JCET) programme conducts a global training exercise twice a year. These training sessions, known as Flintlocks, are designed to bolster the special forces of the United States and several other countries. Participants include soldiers from NATO members and those from the Sahel. Beginning in 1988 and continuing through Operation Enduring Freedom, Flintlock is currently detained in Africa. The training drills cover airborne operations, medical operations, infantry and peacekeeping training, humanitarian relief, and leadership abilities. The needs of the host country determine how much each area is stressed. Participants are also put through several scenarios involving the abilities they learned during the exercise.
The Atlas Accord
The Atlas Accord was established in 2012 with the goal of logistics-focused training for African military troops. Both classroom and outdoor instruction are part of the practise. In contrast to the previous years exercise, which will continue training in aerial logistics while also incorporating command, control, communications, and computing (C4) methods, Atlas Accord 12 concentrated primarily on logistics and aircraft replenishment.
African Lion Exercise
African Lion, a yearly exercise for security cooperation between the US and Morocco, is the largest training exercise. This programme, which was established in 2008, is intended to teach a variety of abilities, such as aerial logistics, training with non-lethal weapons, combined arms, and manoeuvre exercises. In the two-week exercise, 1,200 Americans and more than 900 Moroccans participate.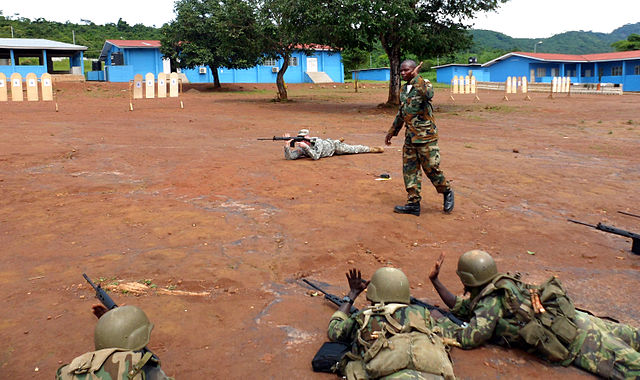 History
On 12 September 2007, a USAF C-130 was damaged from rifle fire by Tuareg forces while the aircraft was engaged in a supply drop to besieged Malian soldiers. No Americans were hurt in the incident. To aid in the fight against terrorism in the area, the Joint Special Operations Command (JSOC) established the Joint Special Operations Task Force-Trans Sahara (JSOTF-TS). Operation Enduring Freedom – Trans Sahara changed its name to Operation Juniper Shield in 2012.
According to ABC News, 150 US personnel set up a drone surveillance operation over Mali out of Niamey, supporting the French military action in Mali, when US forces first entered Niger in early 2013. About 800 US soldiers were stationed in Niger as of 2017, the majority of them are construction workers constructing a second drone base in the country's north. Less than 100 US Army Special Forces soldiers are also advising and assisting Niger's military to strengthen their fighting capability to counter the terrorists. The remainder operate a surveillance drone mission out of Niamey to support the French in their fight against the terrorists in Mali and other nearby countries. atthe US military was granted permission to arm its drones in Niger after the Tongo Tongo ambush in October 2017, which claimed the lives of four US soldiers. The US military had been requesting this permission for months before the ambush.
Additionally, according to ABC News, 300 US military personnel are working in Burkina Faso and Cameroon to complete the same duty as US forces in Niger. With the consent of the Cameroonian government, the US military sent 300 people to Cameroon at the beginning of October 2015. Their main task was to support local forces with intelligence while also performing reconnaissance flights. In order to assist the Cameroonian Army in its conflict with Islamist extremists, the personnel are also in charge of a programme that transfers American military vehicles to Cameroon. Later, according to Army Times, US troops in Cameroon are instructing the nation's infantry forces in IED awareness. According to a May 2016 CNN story, US personnel operate drones out of Garoua to help local authorities by gathering intelligence about the area.
As a result, Operation Juniper Shield is still ongoing, since being started 15 years ago. The operation does not have an expiry date as it is set to run indefinitely.
The post A brief history on Operation Juniper Shield appeared first on Casual Operator.