This is a video-based lesson for intermediate and upper-intermediate students, suitable for both teens and adults. It focuses on listening for gist / detail and provides opportunities for free discussion. Use it to your heart's content.
The actual lesson starts here.
A Lead-in. Look at the photo. This is probably the most famous family in the world this week. Why? Watch video 1 if you don't know.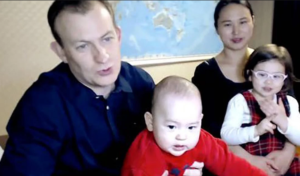 Video 1
B You're going to watch an Interview with the man in the photo and his wife. Match questions 1-6 below to their answers A-F. Use video 2. The first question will be asked at 1:20.
1. Were you stunned (=shocked) by the suggestion that Jung-a was the nanny and not your wife?
2. When you watched it back, could you appreciate just what a sort of perfect piece of comedy it was?
3. Were you wearing pyjamas at the time?
4. Are things getting back to normal now?
5. What was going on your mind when you realized an intruder had got in?
6. What happened when Jung-a realized the children had broken in? What were you doing at the time?
Video 2
C Check using video 3. Notice that the actual questions are slightly longer than 1-6 above.
Video 3


D Watch six very short excerpts from the interview and underline the correct alternatives. Use video 4. The script will appear on the screen after you've watched each excerpt twice.
1. We watched it [a few/lots of] times. Our families and friends [also found / didn't find] it funny.
2. Jung-a's entrance made the whole thing [a little bit / a lot] funnier.
3. You were able to [stop yourself from laughing / think fast].
4. Looking back, it was a [good / bad] idea not to interrupt the interview.
5. The interview [was / wasn't] a complete waste of time.
6. Some people wondered if the whole thing had really been [spontaneous / all that funny].
Video 4
E Discuss questions 1-8 with a partner.
1. What impression do you get from this family?
2. Do you think that the whole thing might have been staged?
3. Should the TV station have interrupted the interview?
4. What would you have done in the man's / woman's shoes?
5. On a scale of 0-10, how funny did you find the video?
6. Why do you think it went viral so fast?
7. When you saw Jung-a for the first time, who did you think she was? Why?
8. Why do you think so many people assumed she was the nanny?
The post 2017's funniest video appeared first on Luiz Otávio Barros.