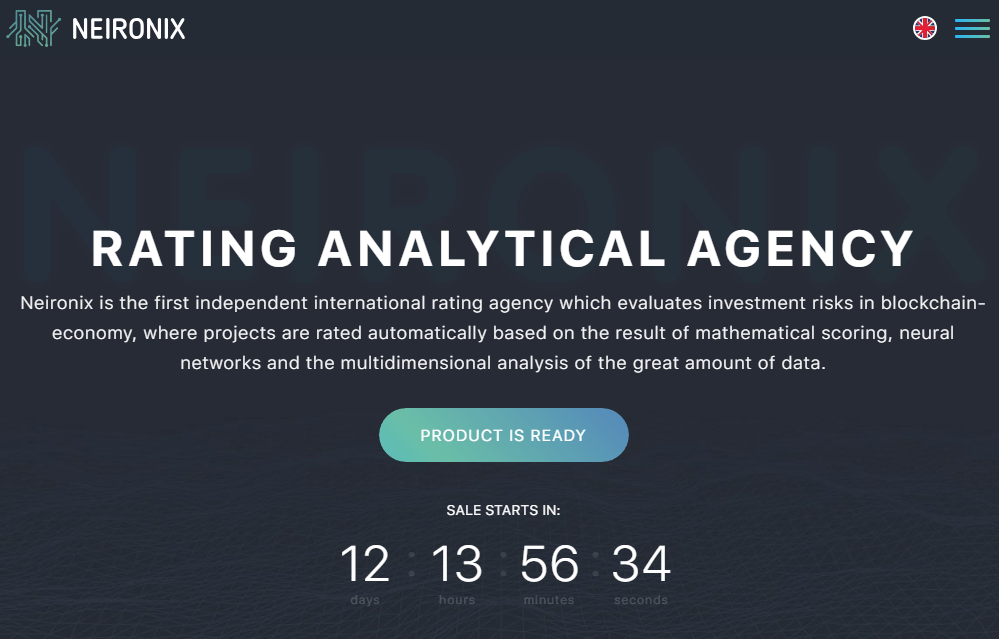 About Neironix
Neironix is the first independent international rating agency for Investment risk evaluation in blockchain economics, where ratings are assigned to the projects automatically on the basis of mathematical scoring results, neuron networks, and multidimensional analysis of large bulk of data. The platform is designed for analysis and subsequent management of risks typical of projects with investments in projects with a high degree of uncertainty. Neironix mission is to become a global provider of financial and analytical information about cryptocurrency markets, required for making carefully weighted investment decisions and building long-term market strategies.
Basic Information
| | |
| --- | --- |
| Token Name | NRX |
| Token Sale | 93,100,000 NRX |
| Social Media | |
| Token Price | 0.5 USD |
| Platform | Ethereum |
| Token Supply | 140,000,000 NRX |
| Hard Cap | 31,000,000 USD |
| Soft Cap | 1,000,000 USD |
| Whitepaper | Click Here For View Whitepaper |
| Website | Click Here For Visit ICO Homepage |
Drop in a share of successful projects
Simultaneously with an increase in the number of blockchain startups attractive for investments, new statistical data has appeared. It demonstrated a global reduction in the number of successful ICO against the total number of startups. For instance, the share of successful ICO accounted for 50% in the first four months of 2017 and dropped to 30% over the period between May and June. By late 2017, only 20% of ICO project startups met the investors' expectations. Following the results of 2017 on the average, there were about 33% of such projects. In 2018, the share of successful projects is expected to amount to about 10%.
Insufficient market regulation
The disadvantage of cryptocurrency investment market lies in the lack of legal rules and mechanisms for
attracting financial resources denominated in fiat currency adjusted for the legislation valid in the countries of issue. The amount of such resources substantially exceeds the capacity of blockchain market. The flows of fiat currency are under the management of venture and hedge funds, which refrain from investments in cryptocurrency projects due to an absence of substantiated and transparent methods of risk evaluation and management for investments in this sphere.
Market demand for Neironix project
Information is the key competitive edge in the cryptocurrency market. At present, numerous advisors, telegram bots, closed chats, and investor clubs are the sources of information and subjective expert opinion (which nobody bears responsibility for). They provide to the users on a fee basis prejudiced information about the possible areas of investments without disclosing all potential risks. The use of untrustworthy data may result in the loss of investment resources. The cryptocurrency market is woefully short of a brand-new product that would provide a comprehensive informational and analytical platform allowing one to evaluate ICO and blockchain projects on the basis of unbiased information about the potential risk factors, clear to a classic investor from the world of fiat economics.
What is Neironix rating?
Neironix practices a comprehensive approach to drawing up the rating using no less than 75 key dynamic
risk factors. This approach allows one to draw an objective picture as to the investment attractiveness of an
ICO or blockchain project, and provide potential investors with unbiased information about the key strategic indicators and potential risks. The rating is based on evaluating the totality of essential parameters typical for subjects of rating drawing or their groups.
Historical record
At the moment of its launch, Neironix contains an accumulated analytical database built on the basis of
events in the blockchain market. The data about 4,138 ICO projects implemented in the blockchain market
over the past several years have been both recorded by the project initiators and collected by the system
independently. Neironix has built the most profound database dealing with cryptocurrency projects and
financial information about the blockchain market. In terms of API resources, they are integrated with 90 cryptocurrency exchanges. Currently, they are analyzing and accumulating statistical data with regards to 5,270 cryptocurrencies and already implemented ICO projects.
Neironix as end product
Neironix enters the cryptocurrency market with a ready-made product. Our product can boast of having
advanced functionality and is the most progressive one in its segment of the global market. As of today, the size of the own investments in the project has exceeded $1,400,000, including $1,300,000 and $100,000
spent for the system development and initial promotion respectively
Member

Andrey Vengerets – CO-FOUNDER, CEO

Ivan Marakhovka – CO-FOUNDER, CTO

PAOLO SAMONTANEZ – Chief Technology Officer

EARVIN ANG – Chief Financial Officer
Also Read – Click Here for Read All ICO Review
Quote This article is writing on 19 Aug 2018 based on information available online & news portal. If you feel it's outdated or incorrect, please write here to update it. Mail us:
[email protected]
Or Whatsapp Us- +13098896258
Disclaimer:
Not all the websites Which listed in Top List are 100% safe to use or investment. We do not promote any of those. Due diligence is your own responsibility. You should never make an investment in an online program with money you aren't prepared to lose. Make sure to research the website. So Please take care of your investments. and be on the safe site and avoid much losing online.
The post Neironix Ico Review: first independent international rating agency appeared first on Coinworldstory.