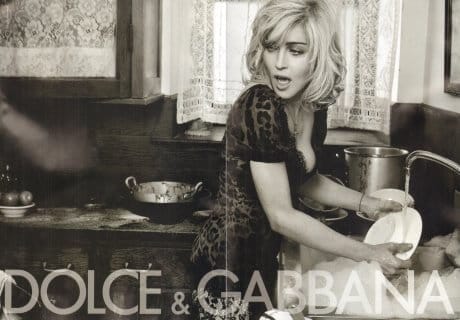 The advertising piece chosen for the critical evaluation within the current paper is a Dolce and Gabbana ad published in a February 2010 issue of Vogue magazine. It is presumed to be a perfect example of how advertisements can create a sense of separation and association with the feminine identity. This Advertisement captures the values that women dream about but can never truly have.

The story that the narrative is selling
The quality that this advertisement emphasises more than anything else is the versatility of a Woman. She looks stunning in a Dolce and Gabbana evening dress, but what is she doing? – she is washing the dishes. The woman looks glamorous in her outfit, yet earthy, owing to the fact that she is doing everyday chores. She is a woman who has achieved a success in the corporate world and still remains attractive. Furthermore, she handles her home chores, albeit with a struggle.
The woman is in the foreground, and at the background we can see the dirty dishes and unattended kitchenware. She has probably come from an evening engagement, and before that she was too busy to do her dishes. Now, she is trying to manage everything, even though she appears overwhelmed by the tasks. At this picture, she looks away from the camera and looks at something that the audience cannot see. It appears that something is going wrong because she has a mildly astonished look on her face; her food might be burning or something might be falling down. Nonetheless, this does not seem to bother her because her eyes do not carry any dazed expression. One, therefore, realises that these household chores are not as significant to her as they would be to a housewife or housekeeper. In fact, her expression makes her look sexy. The rest of her body matches her flawless face and hair. She has a narrow waist and reveals her bust through her low-cut dress. In essence, she is a beautiful female that 'everyday' woman would love to be. This woman is not just physically attractive, but has another life, probably, in a corporate world where she successfully manages to balance things out. She is, therefore, smart and sexy, thus becoming a real dream of every modern woman.
Implicit and explicit messages in the advertisement
The explicit message in the advertisement is the appropriateness of Dolce and Gabbana clothes for the ordinary women. This company is famous for its luxury outfits and accessories. Its designer outfits are often preserved for the rich. However, the firm's owners wanted to redefine that notion by showing that those women also do ordinary things like washing dishes. But at the same time, the advertisers did not want to erase the lavish image in the mind of the consumer. This was the reason why they chose a well-known celebrity, Madonna, to do the advertising. They also made her look like she was not efficient in domestic chores, hence her anguished look. These advertisers wanted to sell 'luxury' to the ordinary females. Elegance is what their clothes are about, so they could not compromise on that value.
A further analysis of the advertisement also reveals that the ad has several implicit messages. First, the advertisement wanted to endorse the affluent life. Most of the Vogue readers are interested in the photos rather than the stories in the magazine. Although a number of them cannot afford to wear brand clothes, that is why many of them read the magazine in order to be aware of the elite lifestyle and modern fashion trends; they need something to aspire towards, and this magazine helps them reach that goal. By selecting a well-known celebrity to endorse their brand, Dolce and Gabbana have given readers an insight into the glamorous life. This advertisement also provides implicit messages on the female perfection. Madonna is curvy and slim. She is a blonde and has a flawless complexion. These features send a powerful message about what it means to be feminine in today's world. The company also shows that women must embrace dual roles, doing their best both at home and away from.
Cultural and national market
The advertisement focuses mainly on a western cultural market owing to the model choice. She is Caucasian, so many Britons and westerners would relate to her, because they belong to the same race. The dress that Madonna is wearing is distinct to a sophisticated western culture. However, the advertisers delineate their product from the masses owing to the lifestyle, social class and the body-type of the model. Madonna is a well-known public figure, while many readers are not of the same status. Additionally, she is not a part of the working class majority, which adds power and status to her image in a modern culture. Her body type is also not representative of the typical British woman's weight. Studies illustrate that the average British woman's waist is well over 30 inches. Consequently, many females may develop a sense of insecurity about their own bodies when they view such advertisements. A number of them may be willing to try out various things in order to conform to such an ideal. One way is to wear designer clothes like 'Dolce and Gabbana'. In other words, these advertisers wanted to present their clothes as that crucial doorway into the well-to-do lifestyle. If they can buy Dolce and Gabbana, then they can be just as sophisticated as Madonna.
How the advertisement helps to build an individual's network in the world
This advertisement links the local market to the international one because it portrays ideals of a capitalistic society. Madonna is an international musician who Vogue readers can relate to, owing to her success. She succeeded in the commercial world because of immense discipline and focus on achieving her goals. These are values that many entrepreneurs and capitalists endorse. The advertisers in the campaign wanted to capture some of these ideals by depicting a model doing an ordinary work. Readers can see that the model probably had some businesses to do as she had returned home after a busy day. She seems ambitious and motivated, which is something that makes other people associate themselves with her. The local consumer thus forms an association with the advertisement because of the global values of capitalism espoused in the advertisement.
Attitude and ambition in the Advert
The main attitude in the advertisement is that of a female industriousness. This advertisement seeks to undo some gender stereotypes that many fashion magazines have endorsed in the past. The advertisement depicts a realistic woman who looks fabulous, handling domestic chores and having a busy corporate life as well. This image, therefore, promotes the attitude of confidence and entrepreneurship.
This advertisement espouses values of a confident and independent woman. It shows that today's woman is self-reliant, but does not shun some typical or traditional roles adhered to females. Such perceptions are yet to gain a lot of acceptance in feminist circles and other groups, which support them and share the same views.
In this regard, this advertisement reflects a distinct western culture. It does not stray too far from the norm and captures capitalist as well as feminine ideals that exist in the world today. Women want to be just like the model in the picture, even if it is not achievable.