Have you ever had trouble finding the right textbook for the right price? Don't you just hate it when you have to drag deadweight of books from class to class? Aren't you tired of piling them up against one another in your room, like in a twisted version of a Tetris game?

Well, then the next resource is right for you. How about upgrading your writing to a whole new level – time to go "E". Coursesmart.com is a great source of e-books and other educational materials.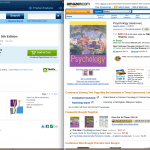 We've found some great deals on this site and we find it to be a great option for students searching for e-materials.

For example, for one psychology book we checked and compared to the price on Amazon.com, the CourseSmart.com price is almost 40% cheaper.

Given this attractive option, why would you want to buy a textbook copy now?!

Pros

One of the most important things we pay attention to, when reviewing any service/website, is its online social presence. (As you've probably noticed, if you have read our reviews before). Well, we can tell you that CourseSmart.com is getting top marks on this particular part of our test.

Their Facebook page is informative and well maintained. What we especially liked were the videos attached to the page: they were mostly promotional, but at the same time quite informative.

However, back to the website – it's easy to navigate and reasonably logical. Most importantly, however, is that it facilitates your search to a great extent. Apart from this, the most important things about this resource are that they have tons of books available in their online library – which is a great advantage.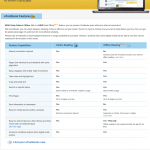 We also liked their "Features" page, which clearly describes the essence of the products they offer and what you receive with each of the given purchase options.

Their partners are also worth mentioning. The venerable Purdue Online Writing Lab (OWL), Wiley Plus (reputable online courses solution) and others are cooperating with them on this effort.

Cons

There isn't that much to say about CourseSmart.com in terms of cons. Of course, this doesn't make this particular service the optimal solution for buying courses online. This makes it a highly preferable option. However, at the same time – we are all individuals, so some people might not find this service to be right for them.

In addition, there isn't that much information on the site to browse through (readily available that is, because most of it is hidden in the footer). We consider this to be an overly simplified solution for the site.

We couldn't find some of the latest books on this site, and college specific books. Again, this list is pretty limited – most of the books are there.

Conclusion

We suggest you consider using this service – it's time to go digital and leave all of those heavy textbooks in the 20th century. There is a trial option available, so you can always back down and stop using their services.

Browse through their available books, and compare their prices to other similar services and major booksellers, just to be sure that you're making the right choice. We are sure that there are better deals online, but the margin might not be worth the effort, because there aren't that many cheaper services and prices vary from book to book.