Tis the Season to be Jolly and show how festive technology can be. Technology sure does not ignore the fact billions of people are celebrating the Holidays.
Christmas
cheer is being spread within Mobile Apps, Websites and, Blogs. Even Christmas decorations are redesigned using technology. Also, Google has shared a lot to chow their Holiday cheer this year. Check out some of the ways you can enjoy the Christmas festive technology and how you can share some yourself.
Mobile Applications
Did you know that Christmas is also the unofficial Developers App Day?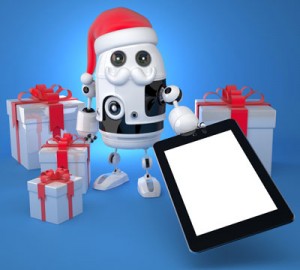 According to Flurry, 328 million apps were downloaded on Christmas Day last year in the United States. This is not too surprising though.With mobile devices being one of the most popular gifts to give during the holiday season it is only natural as soon as you have that device you start downloading Apps. Then as you meet with you family and friends you begin to share what you have found and download what they have found.
Being a publisher and developer you use this statistic to your advantage. This past September developers have been hard at work perfecting their App then beta testing it in November. Pretty Soon it is perfected enough to become available 2 weeks before Christmas.
App Icon Festive Dress up
I'm sure you have notices your mobile Apps and the Apps in the App store updating their icon to something festive for the Holidays. This is one of the main ways applications celebrate the season.
Some Examples of popular Apps that join in on the fun are:
Photos found at: itunes.apple.com/ and play.google.com/
Top Christmas Apps this Season
A Charlie Brown Christmas
Apple 4.99 Android .99
Interactive storybook narrated by Peter Robbins (the original Charlie Brown voice).
NORAD Tracks Santa
Apple and Android Free
Track Santa throughout the world and see what he is doing and how you can help him.
Christmas Story Books
Apple and Android Free
Collections of Christmas stories such as "A Christmas Carol" and "Twas the Night Before Christmas".
ElfYourself
Apple and Android Free with extras to buy
Turn your friends and family into elves and make them dance to a Christmas song.
Talking Santa
Apple and Android Free
Talk to this animated Santa and tap and touch him to make him respond in various ways.
Christmas Radio
Apple and Android Free
Choose from 50 unique Christmas-themed internet radio stations.
Websites and Blogs
Make your Website Festive
Use WordPress Plugins – Add things easily to your WordPress Site such as Advent Calendars, Countdowns, Holiday Popup Messages, and Christmas animated images to spruce up your website for the holidays.
Don't have WordPress? Still use these ideas to add extra flair to your site with some simple code.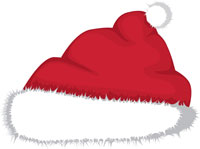 Creating a Landing Page – Create a temporary landing page for your site as just a way to wish happy holidays or to highlight a promotion on your site. Make it easy to the rest of your site to avoid a high bounce rate just because your users can not figure out how to get past your holiday landing page.
Make a Festive Logo – Take your signature Logo and dress it up to make it festive. Edit it in Photoshop or your preferred photo editor or just hand it off to your graphic designer. It does not need to be a big change, just some extra flair your customers will notice.
Don't Forget Your Social Media – Take all of what you have done and incorporate it to your social media. Change your profile picture to your new logo. Change your cover photo to a matching image you added to your site. Send out a post telling your followers to check out the changes you made to get more attention and clicks to your website.
Christmas Lighting
Technology Controls Christmas Lights
The new things is to make a light show on your house with your Christmas Lights. Control when the lights turn on and off and even coordinate it with some music. The way to do this is to use a computer software or even your smartphone app.
Computer Software
Light-O-Rama
Animated Lighting
WowLights
Smartphone Apps
LumenPlay
iTwinkle
For the Technical Advanced create a light show using Raspberry Pi
Check out the DIY instructions
How Google Celebrates the Holidays
This year Google has put out several festive things from their logos to an App called Santa Tracker.
Google is famous for celebrating almost everyday with a enhanced logo. This holiday season was no different.

Google Doodle December 24

Google Doodle December 23

Google Doodle Winter Solstice December 22
Google is also famous for hiding Easter eggs depending on what you search. To celebrate the holidays they created Easter eggs if you type "Christmas", "Kwanzaa", and "Hanukkah"
Google's Santa Tracker – You can play on your phone or on your desktop. Play Christmas related Games and Learn about Christmas too.
Google Spotlight Stories Presents: Special Delivery
A company named Boston Dynamics, with Google X, put out a video using their technology skills to create robotic reindeer to pull a sleigh.
The post Where Technology and Christmas Come Together appeared first on Appletree Mediaworks.