Best Smart TV Buying Guide: Welcome to TechRadar's round-up of the best smart TVs and smart TV platforms you can buy in 2018.
A decade ago, you'd have to look mighty hard to find a 'Smart TV.' Sure, they existed, but it wasn't anything like today where 99% of TVs 40 inches and above come locked, stocked and loaded with a smart TV platform.
What existed back then were awful, third-party services that never got an update and suffered from massive holes in their content library.
But those days are over.
TV platforms on offer have matured dramatically over the past few years with platforms like webOS, Tizen, Roku TV and Android TV leading the charge. TV makers no longer shove half-baked TV platforms into their flagship sets and instead actually focus on your entertainment and ease-of-use above all us.
These days, the best smart TV platforms actually enhance the viewing experience. They help you access streaming content services and curate your viewing. If you want viewing recommendations, your smart TV should provide them.
So, what's the best smart TV platform you can buy? We've ranked the the world's major connected TV platforms, putting equal emphasis on ease of use, functionality, stability and content support. After you've seen the best picks in each category, you can click through to the next page to see a detailed break down of every platform.
What's the best smart TV?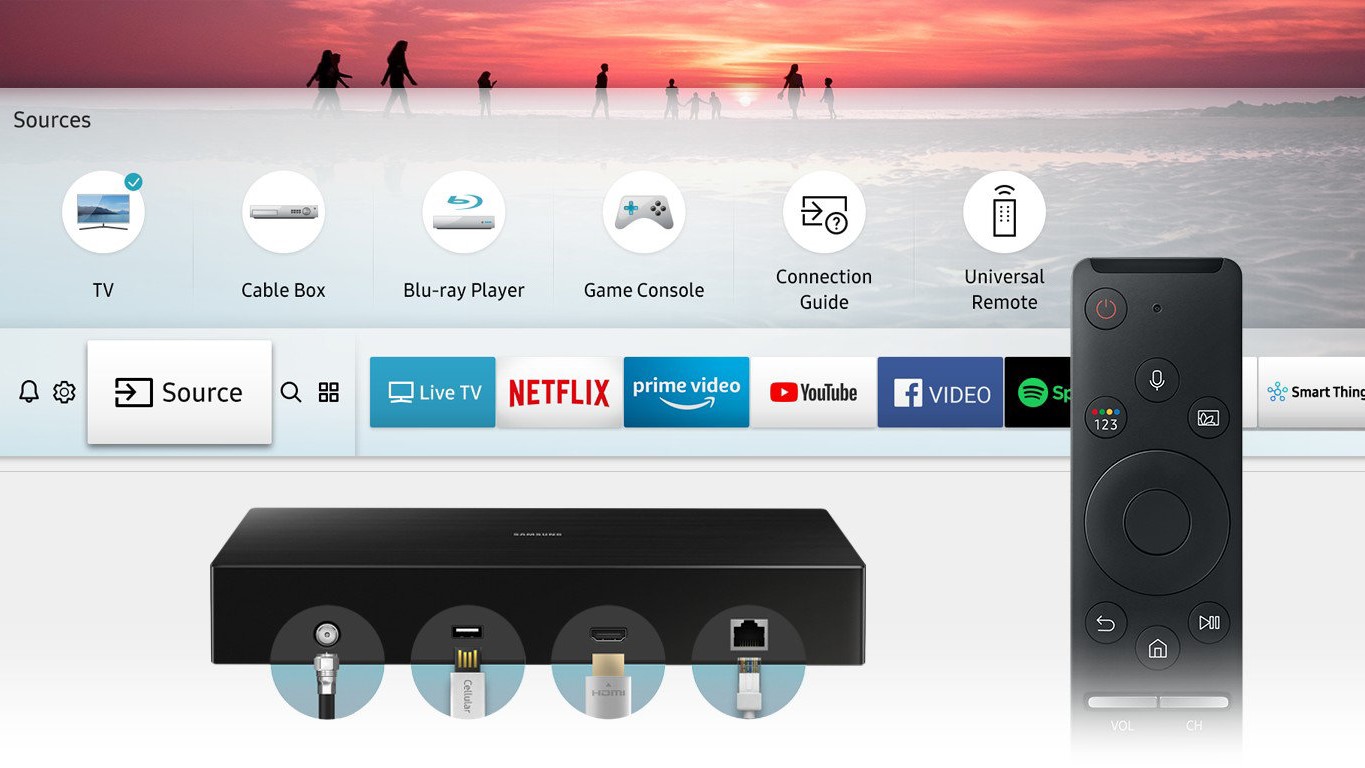 While the 65Q9FN's Smart TV system is based closely around the Eden platform Samsung has been busy refining for the past couple of years, expect a few tasty new morsels that add to the experience without taking anything away.
For starters there's now compatibility with Samsung's SmartThings platform, which provides an onscreen hub for monitoring and even controlling other smart devices (fridges, washing machines, lights etc) on your network.
There's also much better integration of the TV listings and live broadcasting into the TV's content searching features: There are now hour-by-hour show recommendations, for instance, as well as TV shows getting much more prominence in the content browsing menus.
Samsung has delivered enhanced interactivity with your smartphones and tablets too, as well as some seriously cool new gaming related features.
Overall, a slick, easy to use and helpfully customizable interface belies the impressive sophistication and comprehensiveness of Samsung's latest smart TV engine.
Read the full review: Samsung Q9FN QLED TV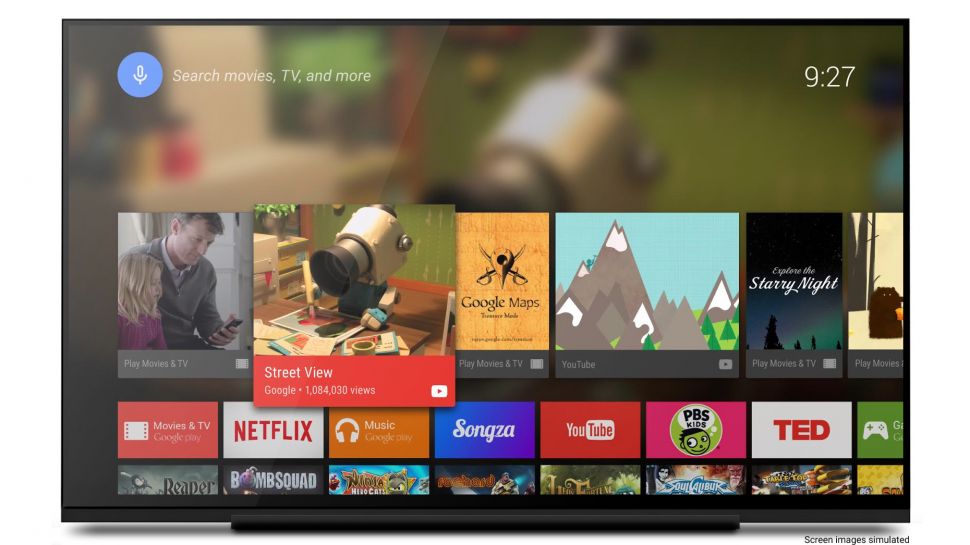 The Bravia A1 OLED combines innovative engineering with stunning design – making it easily one of the best TVs to sport Android TV.
Not only does it look great, but it sounds great, too, despite not having a soundbar. Instead, it uses a pair of sonic actuators, positioned on the rear of the panel which vibrate, creating stereo sound. Bass comes from an 8cm subwoofer in the stand.
The set's Android smart platform has Chromecast built-in, making it easy to cast content from a compatible mobile phone. Apps include Netflix and YouTube in 4K.
Picture quality is drop dead gorgeous. A Triluminos wide colour gamut display, colour vibrancy is high, while a 4K Reality Pro picture processor maximizes image detail. Integral to the set's image success is Sony's new 4K HDR X1 Extreme image engine. Object-based HDR remastering does a great job making regular SDR TV look like HDR.
If you're looking for the top Android TV display, the A1 is the model to beat.
Read our full review: Sony Bravia A1 OLED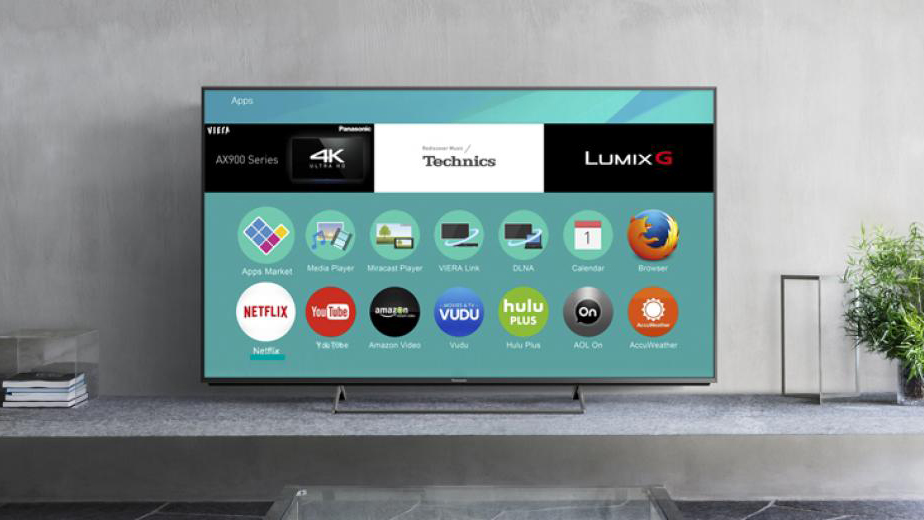 Panasonic's My Home Screen smart platform is decidedly simple compared to much of the competition, but that's not necessarily a bad thing. Currently on its third generation, it remains largely the same as the Firefox OS on which it was originally based.
When you press the Home button on the remote, you get a choice of three options: Live TV, Apps, and Devices. This simplicity is the platform's greatest strength, making it easy to navigate and find things by helpfully storing all the apps in single location; you can also pin your favourite apps to the home page for quicker access.
Since the smart platform is relatively simple, it doesn't require a vast amount of processing power to operate, which makes it responsive, robust, and free from crashes. My Home Screen isn't fragmented like some platforms, nor does it bombard you with recommendations, it simply delivers all the streaming and catch-up services you need.
Thanks to Freeview Play it's a fairly comprehensive list of catch-up services with BBC iPlayer, ITVhub, All4, My5, BBC News & Sport and UK Play. The iPlayer app supports 4K and HLG (Hybrid Log-Gamma – the broadcast version of HDR), both of which the BBC are trialing during the World Cup. There's also Netflix, Amazon and YouTube, all of which support 4K and HDR, along with services like Rakuten and Chili Cinema. In fact the only major streaming service missing is NOW TV.
Read the full review: Panasonic FZ952/FZ902 OLED TV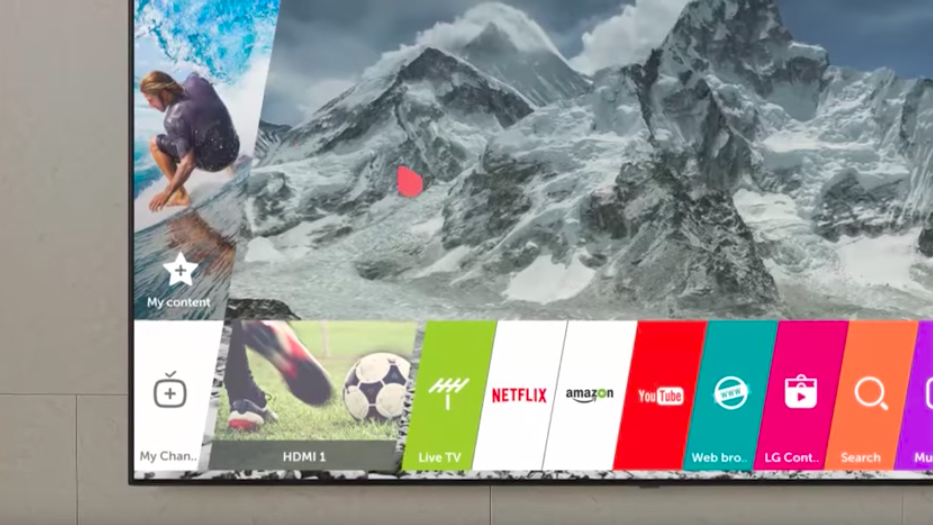 At the heart of the OLED65E8's smart features lies webOS: LG's groundbreaking, oft-copied but never bettered interface. This still does a brilliant job of finding and organizing all the myriad content sources available to modern TV viewers, thanks to its simple, attractive layout, and effortless customizability.
LG provides access to all of the main video streaming apps, including the full 4K, HDR implementations of Netflix, Amazon and YouTube. UK users can also benefit from Sky's Now TV platform, as well as Freeview Play, which provides the catch up TV services of all the main UK terrestrial broadcasters in a handy umbrella interface.
LG in Europe has also recently added Rakuten TV, providing the continent with its first film streaming platform that supports both Dolby Vision HDR and Dolby Atmos sound. The US, of course, can get such streams from VUDU.
WebOS is no longer the be all and end all of LG's smart features, though. There's now a much enhanced voice recognition/control system, for instance, which provides straightforward access both to the TV's features and an exceptionally comprehensive and effective voice search feature. This looks through (some) apps, the internet and the TV listings for answers to your content requests.
The OLED65E8 is compatible with Alexa and, following a recent update, Google Assistant, and even has the potential to monitor and control other devices and appliances on your home network via its ThinQ platform.
Our only issue with webOS is that the single scrolling bar of icons along the bottom of the screen can start to get pretty long once you've added a few of your own apps.
Read the full review: LG E8 OLED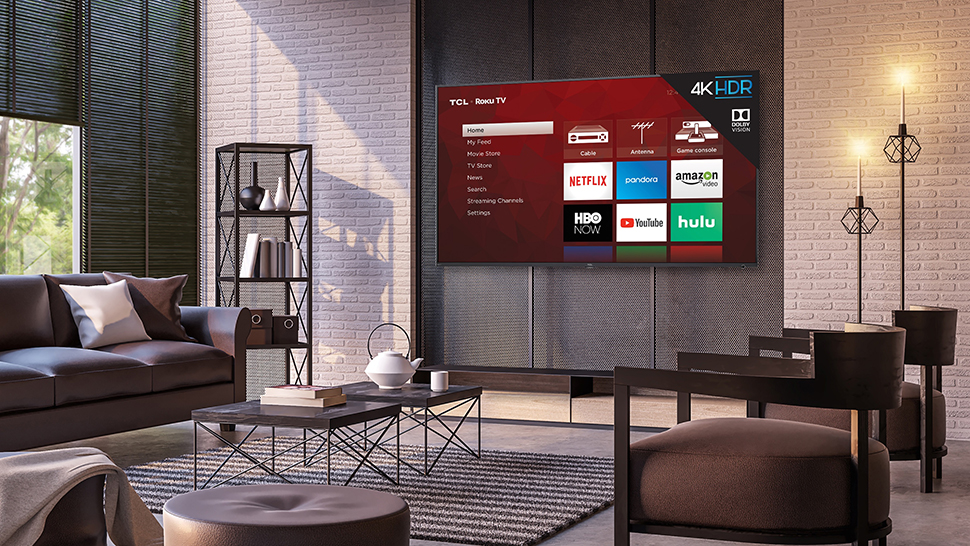 Once you get this TCL TV up and running, you'll be met with the familiar veneer of Roku TV – an egalitarian operating system that handily retains its top spot as (arguably) the best operating system year after year. It's intuitive to use (if a bit boring) and its lack of ties to a particular streaming platform allow it to point you to all the places content can be found without bias.
That last bit is important, especially if you've ever used an Apple TV or Amazon Fire TV, both of which would much rather have you stream from their ancillary streaming services over any of the third-party ones. Because Roku doesn't have ties to a major streaming service – other than a vague deal to include FandangoNow on the home screen of the OS – it doesn't push you any direction you don't want to go and happily supports everything from Netflix, Hulu, Sling TV and Amazon, to lesser-known channels like Pluto.tv, tubi, Crackle and others.
That's to say nothing of Roku's own streaming service that it launched at the end of last year, which provides its own collection of entirely free movies that change in and out every few months. Most aren't anything to write home about, but this month's featured film is Whiplash – which, if you've never seen it, is entirely worth capitalizing on the free admission.
While it'd be nice to see the inclusion of artificial intelligence and personal assistants on Roku TV – similar to what LG is doing with WebOS and Samsung has done with Tizen and SmartThings – all things considered, this is still one of the best TV operating systems and a fantastic overall TV.
Read the full review: TCL 6-Series Roku TV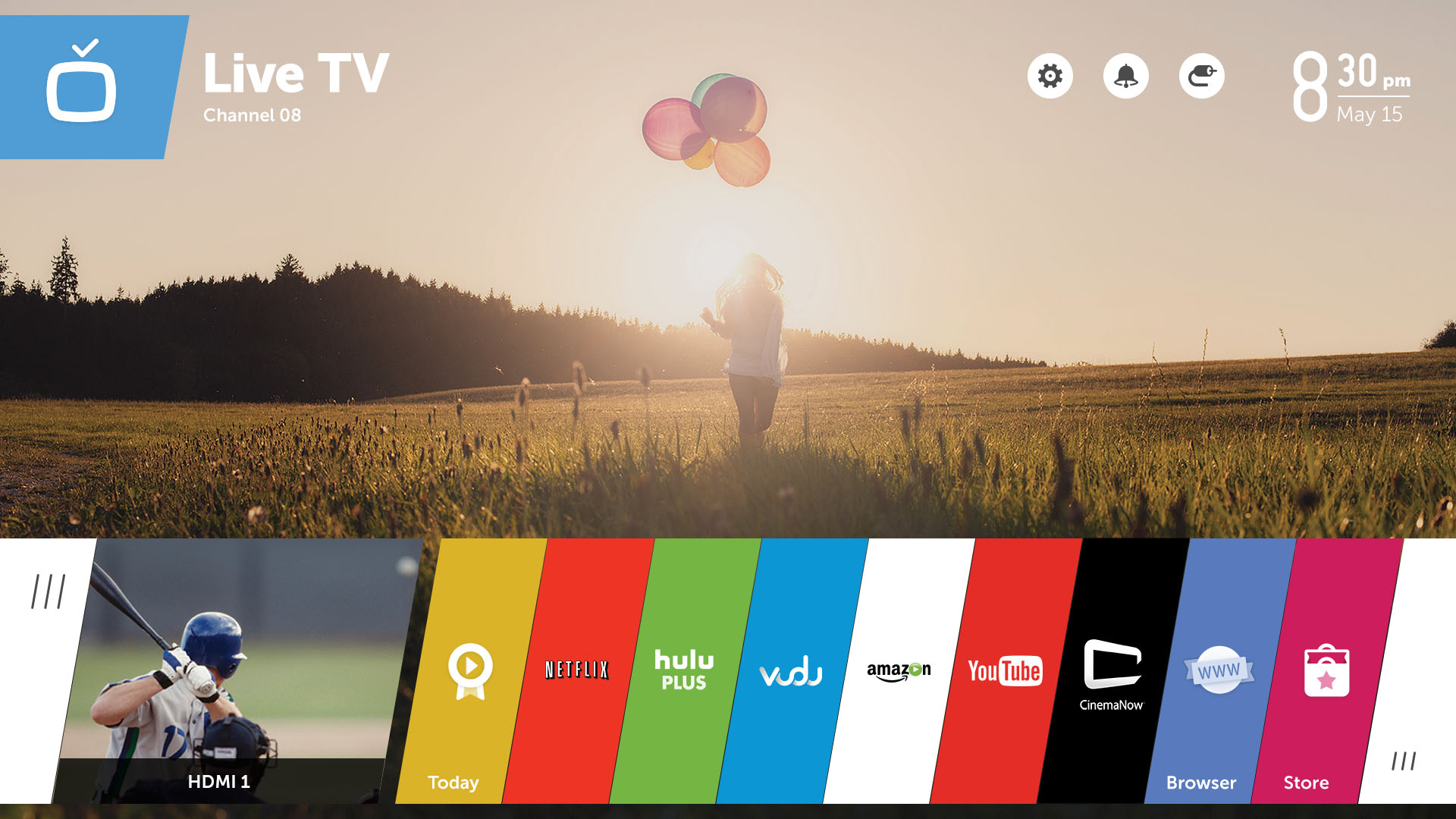 1. LG: WebOS
LG rewrote the rulebook for Smart TV platforms, with its webOS. The brand started the trend for minimal, simplified user interfaces back in 2014, and has gradually refined its offering.
We're now up to the 3.5 iteration of webOS, but LG has shown remarkable restraint with all revisions.
The UI, which is still built around a Launch Bar for apps, inputs and features, remains tidy and customisable. You can change the running order to best suit how you use the set. If you like to Miracast images from your smartphone, grab the Screen Share app with LG's cursor-based Magic Remote and move up further up the pecking order.
App support is excellent. Netflix streams 4K with both HDR and Dolby Vision, as well as Dolby Atmos audio when available. There's also Amazon with UHD HDR and YouTube in 4K. Other options include Now TV, Sky Store, Wuaki.TV plus all the main channel catch-up services.
As we've seen on earlier webOS builds, these streaming apps remain open and live, even when you navigate away from them. This means you can pause Star Trek Discovery, browse the TV listings for The Walking Dead, and then return to the action.
Other cool new features include 360 degree video playback (from 360 degree videos on YouTube) and an OLED still image gallery. LG screens also have Freeview Play in the UK, which means a full larder of catch-Up TV.
For US viewers, there's Netflix, Amazon, YouTube and Google Play TV and Movies, as well as Hulu, VUDU, MLB.TV, and FandangoNow.
Five LG TVs with webOS: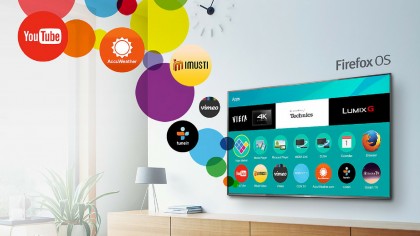 2. Panasonic: My Home Screen 2.0
If you live in the UK, Panasonic's My Home Screen 2.0 is one of the most customisable smart TV platforms around. Built on the open-source code of Mozilla's Firefox TV OS, Panasonic's My Home Screen 2.0 smart TV interface combines an intuitive minimalism with extensive customisation.
The platform looks simple but has some inspired functionality. The home screen launches with three buttons (Live TV, Apps and Devices), but you can pin more as required, perhaps for a favourite streaming service, or a specific input. There are now also folders for multiple users, while a My App button on the remote can be customised for faster access to favourite content. A revamped Media Player supports 4K HDR10 and HLG HDR.
App provision is good. Netflix streams in 4K with HDR, Amazon Video and YouTube, also offer 4K support.
Catch-up TV service support is integrated through the provision of Freeview Play. This include iPlayer, ITVHub, Demand 5 and All4. Usability is great. The OS is extremely convenient to live with, yet powerful enough to cater for a variety of different users, be they family members who just want their favourite channels pinned to the home screen, to TV enthusiasts keen to dive quickly between sources.
Five Panasonic TVs with Firefox OS: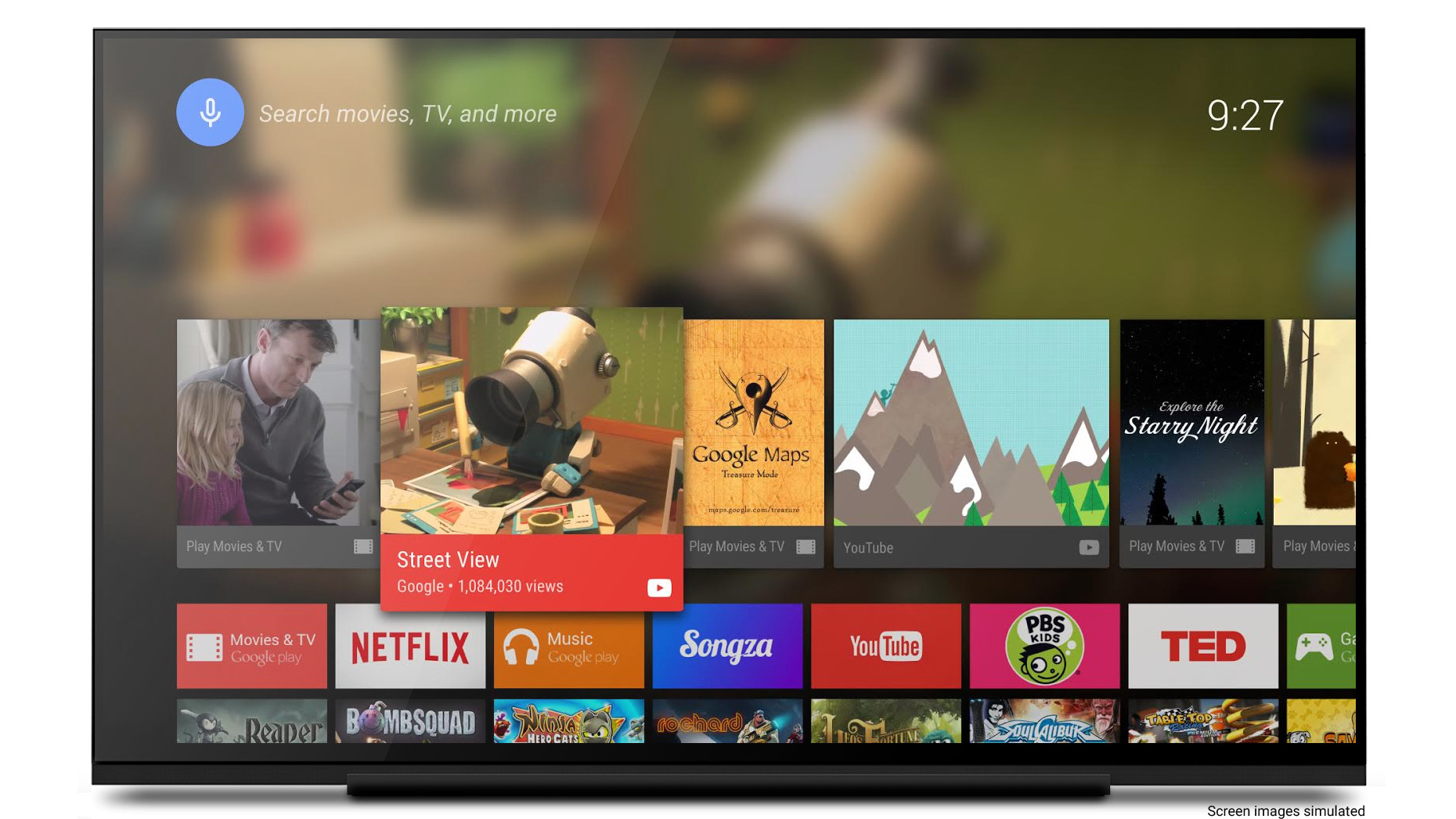 3. Sony: Android TV
Android TV is the nearest the smart TV universe has to a standardised operating system, but there are still variations between brand executions.
Sony has the most comprehensive Google solution. For UK viewers, it has rather cleverly layered a YouView programme guide platform on top, deftly addressing one of Android TV's big weaknesses – catch-up TV provision. This You View app ensures that all the main catch-up services are provided, accessible via a roll-back 7 day epg.
Other supporters of Android TV are Philips (via maker TP Vision) and in the US, Sharp. It's also available on the Nvidia Shield TV streamer and Razer Forge TV.
While other TV platforms make a virtue of their minimalism, Android stacks the screen with various layers of content. Press the Home button on the remote and up pops a full-screen page that's dominated by a carousel of videos from YouTube and from Google Video.
There's also a row of specific Sony selected content, followed by apps for Netflix, Amazon video, links to the Google Play Store, Google Play Music, Google Play Movies and TV, YouTube and so on.
Owners of Android phones/tablets can use their device to control Android TVs via Sony's TV SideView app. We also expect to see growing interaction with Google Assistant.
Android screens also have Chromecast built in, which simplifies streaming from mobile Android devices (iOS users can download the AirBuddy app to Google Cast). Controllers from Logitech and Razer also promise gaming without needing a console.
There is a caveat though. In our experience, Android is the least stable of the various Smart Platforms, with Sony TVs exhibiting more than their fair share of failures. It's not unusual to be notified that various aspects of the Android platform have stopped working. Some of these messages are completely inscrutable. Usually the best option is to simply restart the TV. Google is known to have a major upgrade to the Android platform in the works. Let's hope it address these concerns.
Five Sony TVs with Android TV:
Three Philips TVs with Android TV: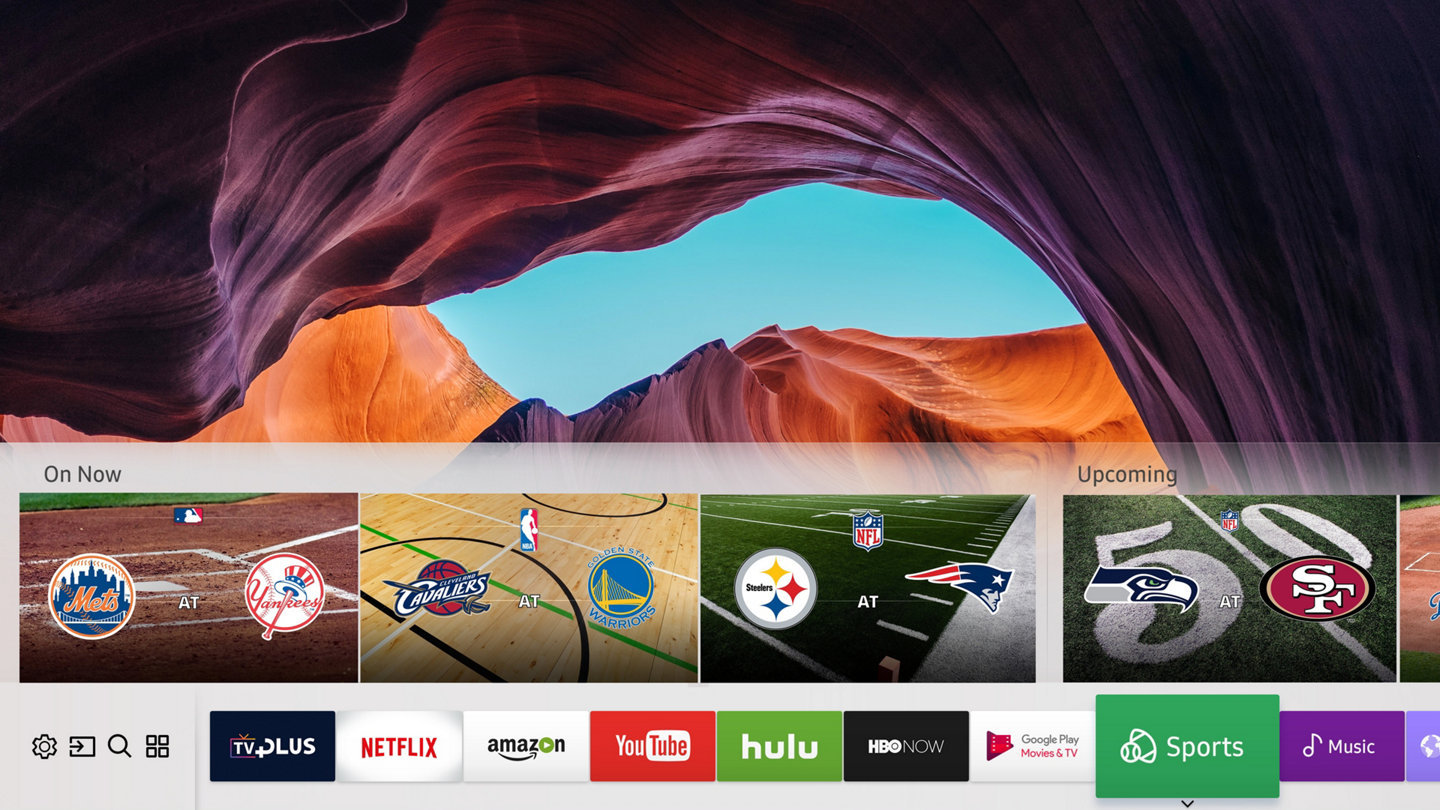 4. Samsung: Smart Hub and Tizen OS
Samsung is another brand keen to keep things simple. Its Tizen OS clearly owes much to LG's webOS interface, in so much as it consists of icons, apps and shortcuts all accessible via icons held a horizontal strip across the bottom of the screen. A dynamically changing 'Recent' box in the far-left corner cycles between recently used apps and TV channels.
But it's not overly intelligent. A featured section in the centre promotes apps you haven't used lately, which can feel like irrelevant adverts, and they keep returning. This isn't based on your activity or habits, which is a shame.
We like the fact that on-screen icons can be changed; a sense of identity is welcome when it comes to some AV inputs and key apps you use everyday.
The OS cuts down on clutter, although this sometimes works against navigation; there are plenty of occasions when it's necessary to go hunting for a specific app. Thankfully that's made easier by a Smart Hub multimedia page that divvies-up content from apps and from your own USB sticks/home network.
For reasons best known to itself, Samsung has not signed up to Freeview Play, which means it misses out on the elegance of a roll-back programme guide, however it does offer access to all UK catch-up TV apps; BBC iPlayer, ITVhub, All4, Demand 5 are all here, as is Netflix, Amazon Video and YouTube.
In the US, there's Netflix, Amazon Instant Video, Hulu, HBO Go / HBO Now, YouTube, Spotify and Vudu. (Want even more apps? Check out our 10 best Samsung Smart TV apps gallery.)
There are a few nice extras in the Tizen Smart Hub, too, such as a split-screen option for watching live TV while browsing an app, but Samsung's effort doesn't quite match LG's webOS or Panasonic's My Home Screen OS.
Five Samsung TVs with Tizen OS: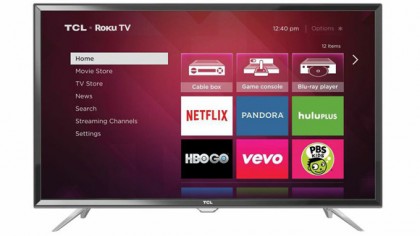 5. TCL, Sharp, Hisense, Haier: Roku TV
Despite Android TV and all the proprietary portals available, there's still room for other connected smart offerings. In Europe, Vestel has its own stripped back smart platform, which is used for TV companies it manufactures for, including Toshiba and JVC. It's unfancy but does the basics.
In the US, TV maker Element now offers a screen with Amazon's Fire TV OS built in.
Perhaps the most interesting second division smart OS is Roku TV. Announced back in 2014 for TCL TVs, Roku TV has found support with low-cost US TV suppliers. In 2017, you can find Roku TV on some Haier, Hisense, Insignia, Sharp and TCL TV models.
As a platform, Roku TV borrows the interface and feature set from the company's popular media streamers, the Roku 2, Roku 3, Roku 4 and Roku Streaming Stick.
What that means is that you'll find a universal search function able to scan over 30 different apps like Netflix, Google Play TV and Movies, Amazon, VUDU and more to find you the lowest price on the TV show or movie you want to watch, as well as around 4,500 channels of content to watch.
Add to that some neat features like a dedicated app that helps you keep track of upcoming movies and TV shows via the My Feed section and a private listening mode when you want to watch TV without disturbing the whole house.
Two TVs with Roku TV:
source : techradar.com
This post first appeared on Daily Kiran, please read the originial post: here