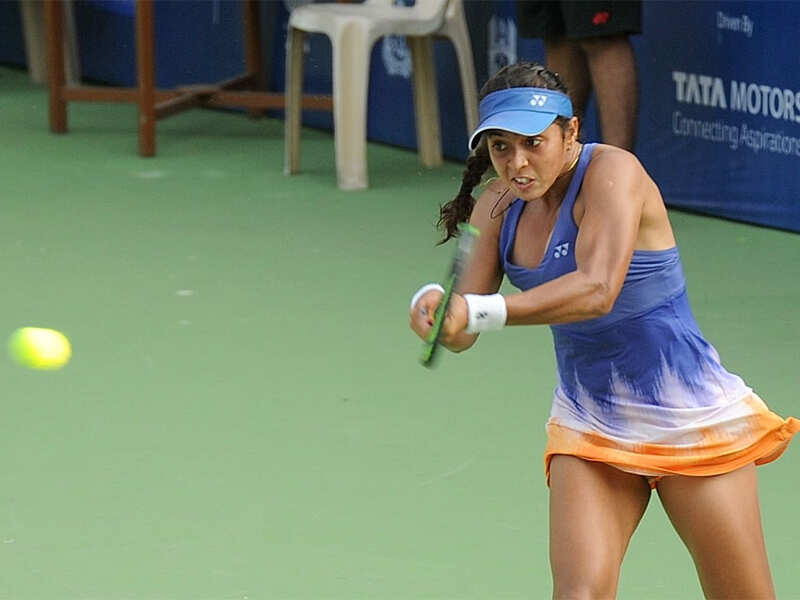 NEW DELHI: Ankita Raina prevailed over her rival in a long-drawn dog-fight after Karman Kaur Thandi's impressive win as India retained their place in the Asia/Oceania Group I in the Fed Cup after beating Chinese Taipei 2-0 in the relegation Play-off on Saturday.
Rising to the occasion, Karman produced a 7-6(4), 6-3 win over a crafty Lee Pei-Chi to hand India a 1-0 lead in the do-or-die tie.
Ankita, who had played some incredible matches against higher-ranked rivals, then ran into a wily left-hander Chieh-Yu Hsu, who is ranked at a humble 377 but forced Ankita to play out of her skin.
Eventually, after an energy-sapping two hour and 54 minutes, Ankita emerged a 6-4, 5-7, 6-1 winner to ensure that India remain in the Group I.
Japan qualified for the World Group Play-off after beating Kazakhstan 2-1. Both Japan and Kazakhstan had remained unbeaten in their Pools.
Ankita, playing the tennis of her life, remained unbeaten in her singles matches in the competition, winning all her four matches.
Running into an opponent who, being a left-hander, fed Ankita a lot of angled balls to her backhand, the Indian girl had to re-work strategy as she was unable to hit the balls deep.
It was a strategy which had paid her good dividends in previous matches but playing on a slower court made her job tough as hitting the ball hard was never enough.
With almost every ball coming back and no free points available, Ankita had to dig deep to find a way in breaking the solid defence of her opponent, whose best rank was 224.
It was incredibly a superior game for a player, ranked just 377. To Ankita's credit she kept herself in the match with perseverance.
The India number one took some time to settle as she fended off four breakpoints in the opening game itself but dropped serve when she hit a forehand wide on the fifth.
A volley winner gave Ankita a chance to get the break back but could not convert. It was the first time in the competition that Ankita was down 0-2 in a match. However, she won three games in a row to take 3-2 lead, breaking Hsu in the fourth game.
She Broke Hsu again in the eighth for a 5-3 lead but Hsu was not ready to throw in the towel and broke back. The Indian though sealed the set when the Taipei player made two unforced errors.
The dog-fight became intense in the second set, which was fought tooth and nail for one hour and 22 minutes.
Hsu broke Ankita in the fifth and then saved three breakpoints in the next game across eight deuce points. It was now turn of Ankita to save a few deuce points as she saved two break points in the next game.
After breaking Hsu twice, Ankita saved two set points to make it 5-5 but lost serve in the 11th and the Taipei player served out the set in the 12th.
Hsu took a medical timeout to treat her left shoulder immediately after drawing parity. It sort of broke her momentum and Ankita ran away with the win, going all out.
Earlier, Lee not only struck the balls hard and clean but also was very crafty. She stayed in control of the points on her serve, making it hard for the local girl. In the entire match, it never looked like Lee is a player ranked outside 450
Karman, ranked 284, played much better than her previous matches but her game kept going up and down. She served well on the slower show court and perhaps had her best serving day of the competition.
Her serve came good on crucial points, which was a key factor in her big win today. She also played bigger points much better than previous days.
Karman produced good service games in the opening tie- breaker when she went up 5-4, in the first game of the second set when she was down a break point, in the seventh game when she was down 0-30 and finally while serving for the match.
She fired seven aces but also missed several easy put- away volleys.
The two players went neck and neck in the opening set till Karman broke Lee in the eighth. Lee hit a forehand wide at 30-30 and then double faulted.
Serving for the set, Karman committed a flurry of errors as she netted a volley and followed it up with stroke errors. A long forehand put her down by a break point and allowed Lee to break back by sending a backhand long.
Eventually, a tie-breaker was forced in which the Indian girl prevailed. Down 1-2, she double-broke Lee, gradually moved up 5-4 and sealed the set with a forehand winner.
Karman saved a breakpoint in the opening set, broke the Taipei player in the eighth game and served out the match in the next game.
Source : timesofindia
This post first appeared on Daily Kiran, please read the originial post: here