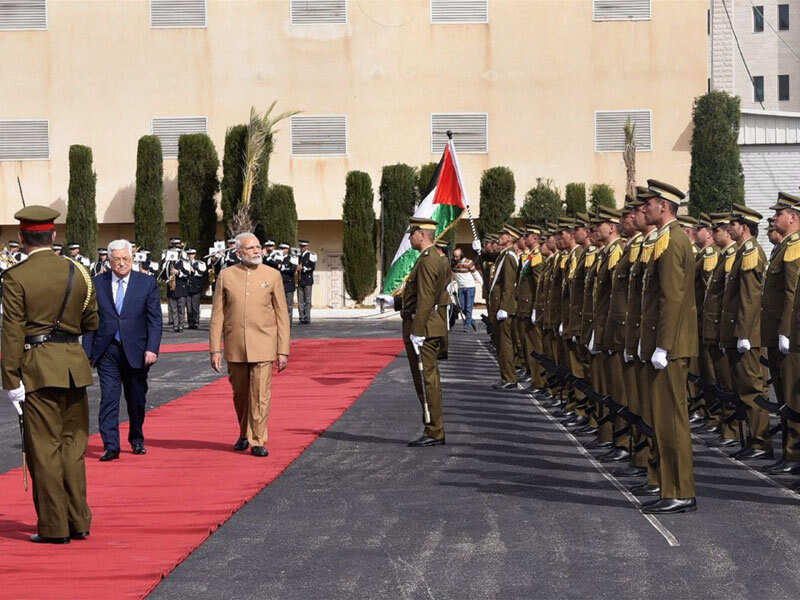 JERUSALEM: Israeli analysts generally accept India's strategic need to demonstrate its traditional support for Palestine with some seeing Prime Minister Narendra Modi's trip to Ramallah as a "comfort prize" for Palestinians amid growing Indo-Israel ties.
Modi, the first Indian Prime Minister to visit Palestine, has reached Ramallah amid heightened tensions in the region after US President Donald Trump recognised Jerusalem as the capital of Israel.
India has consistently voted in favour of resolutions supporting the Palestinian cause at international forums, an issue that has bothered strategic partner Israel.
"I believe that the Palestinians understand that this visit is a comfort prize after Israel and India have grown closer dramatically in the last few years," Lior Weintraub, a former Israeli spokesperson in New Delhi and Washington, said.
India is now prioritising the bilateral relationship with Israel that has a strategic aspect, cultural aspect and economic aspect, over allowing the impasse in the Israeli- Palestinian channel to dictate how India is going to act vis- a-vis some vital national interest that is has, the former diplomat further added.
Israelis are generally accepting of India's strategic need to demonstrate its traditional support for the Palestinians with some seeing Prime Minister Narendra Modi's trip to Palestine as a "comfort prize" for intensifying Indo- Israel ties while others viewing it as a move to safeguard national interest.
Modi's visit to Palestine comes just weeks after Israeli Prime Minister Benjamin Netanyahu's much publicised trip to India. A section of the media and colleagues in his own Likud party hailed his "treatment like a King" in India, emphasising on the personal chemistry between Netanyahu and Modi.
The visit to Palestine may have come as a dampener to many Israeli India enthusiasts who have looked excited at the burgeoning ties between India and Israel but on the contrary there seems to be an understanding of "India's national interest".
"The visit of Prime Minister Narendra Modi in the Palestinian Authority will also have diplomatic significance: On the one hand it is important for the Indians to show that they have not neglected their traditional position when it comes to the Israeli-Palestinian conflict, but (on the other hand) the close relationship between Prime Minister Modi and Prime Minister Netanyahu can help in facilitating a renewal of the talks between the sides," Lior said.
Currently working with The Israel Project as a senior executive, Lior sees Modi's visit to Palestine as a move vital to protect India's national interest.
Senior sources in Israel confirmed that the Israeli government was sounded off much in advance, and prior to, of Netanyahu's visit to India.
"I do not see any reason to crib about anything here. Our relations have matured to a level that we can understand India's needs. It's not an either or situation. It never was," the source told PTI.
Genady Shlomper, a lecturer at Tel Aviv university, sees Modi's visit as a part of India's engagement with the Arab world.
"India has vital interests in the Arab world. The trip to Ramallah is also clubbed with his trip to other parts of the Arab world. India has such a huge diaspora community there and vital economic and political interests. It is not surprising to me that he has decided to visit Ramallah," Shlomper said.
The Indian Jewish community, which so warmly welcomed Modi during his trip to Israel, also seems understanding of India's need to demonstrate its ties with Palestine.
Certain sections of the press in Israel have however raised eyebrows at Modi's decision to lay a wreath on Yasser Arafat's Mausoleum. The iconic Palestinian leader is revered in most parts of the Arab world but a lot of Israelis see him as a "terrorist" responsible for the death of several of their citizens.
Source : timesofindia
This post first appeared on Daily Kiran, please read the originial post: here