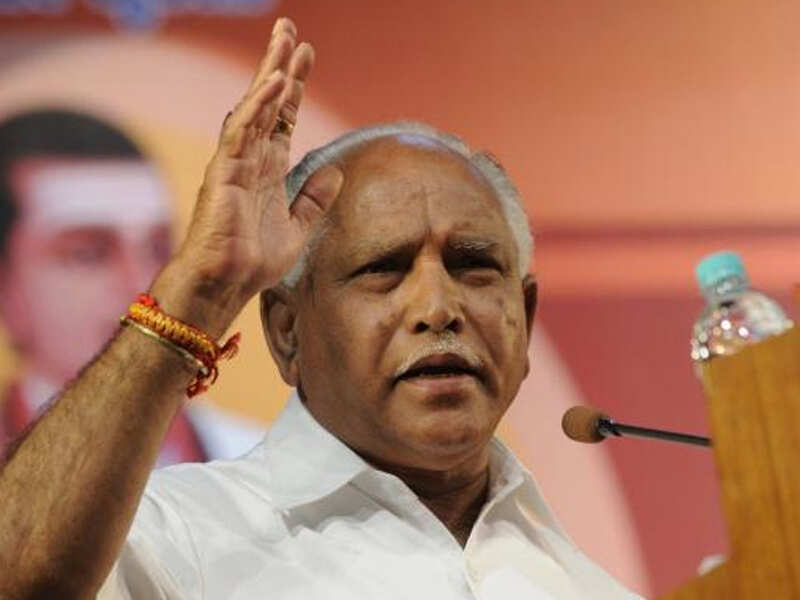 BENGALURU: BJP Karnataka unit chief B S Yeddyurappa on Saturday hit back at Congress President Rahul Gandhi for his Rear view mirror comment against Prime Minister Narendra Modi.
In a couple of tweets, Yeddyurappa asked if the rear view mirror helped Gandhi spot Santosh Lad, Anand Singh and remind him of the land, mining and 'rape scam'.
"Still wondering what 'rape scam' means? Are the objects in the mirror closer than they appear?" he asked.
Anand Singh, who was a BJP MLA and joined the Congress recently, had in the past faced charges of illegal mining and Lad land scam allegation, which both had refuted.
Hitting back at Prime Minister Narendra Modi for criticising policies of erstwhile Congress governments, Rahul Gandhir said he is running the country by looking just in the rear view mirror, "which will cause accidents."
"You (Modi) drive the vehicle by just looking in the rear view mirror, which will cause accidents. This country cannot be run by looking in the rear view mirror," Gandhi said, taking a swipe at Modi at a rally at Hosapete in Ballari district for the upcoming state assembly polls
Yeddyurappa also came down heavily on Chief Minister Siddaramaiah calling him a "corrupt opportunist."
"Dear 10 per cent CM Siddaramaiah, I would like to remind you, your padayatre in 2013 about the mining sector. Now, inducting Anand Singh into the Congress camp has only proved you are a corrupt opportunist. Case of amnesia," he tweeted.
Yeddyurappa was referring to the march by Siddaramaiah as the opposition leader to Ballari against illegal mining.
The reference to 10 per cent relates to a charge made by Modi at a rally here recently, where he had called the Siddaramaiah dispensation a "10 per cent commission government."
Source : timesofindia
This post first appeared on Daily Kiran, please read the originial post: here