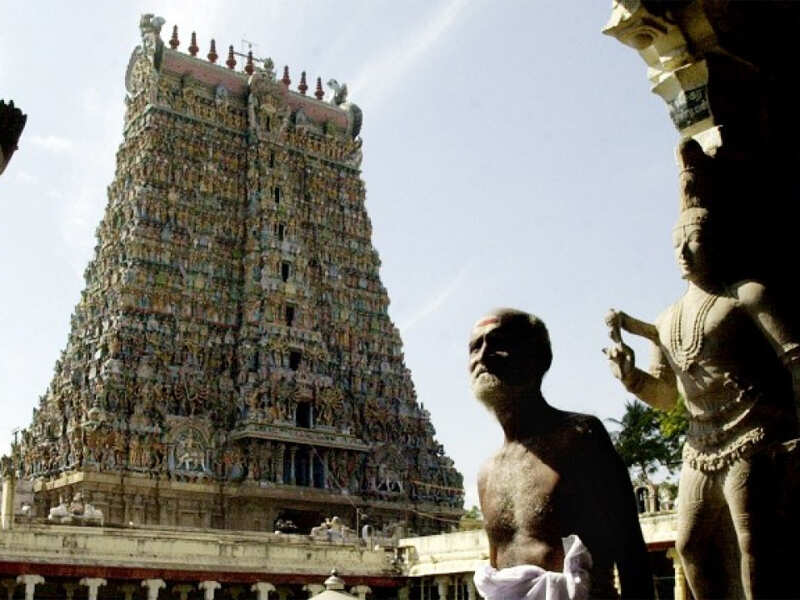 MADURAI: The Madras High Court on Friday banned people from carrying mobile phones to Madurai's famous Meenakshi Amman Temple where a fire mishap gutted several shops last week.
Justices N Kirubakaran and R Tharani of the Madurai bench also suggested deployment of CISF personnel to maintain security at the ancient temple.
The court said the Tamil Nadu government should examine the possibility of forming a high-level committee of archaeological experts for maintaining the temple periodically and providing advice on safety and security aspects.
It ordered that mobile phones should not be carried by anyone barring security officials in the interest of the security of the temple.
The order was issued while hearing a PIL seeking to direct the central and state governments to frame guidelines and safety and security code and implement these immediately.
Petitioner Muthukumar, an advocate, submitted that the recent fire accident in the temple had shocked the devotees, adding though only 115 shops had been permitted, in reality 300 shops had been functioning inside.
The judges also directed the management to inspect the stability of the temple structure as a whole and ensure that fire prevention equipment were kept ready round-the-clock.
The temple staff should also be trained to handle the fire safety and security equipment, the judges observed.
Also, the judges said the entire electrical wiring system in the temple could be re-laid so that there was no short circuit issues.
The judges directed the state government to file a report on or before March 13 regarding the safety and security measures taken so far at the temple.
The petitioner submitted that the recent fire accident in the temple had shocked the people adding though only 115 shops had been permitted, in reality 300 shops had been functioning inside the temple.
He also said the National Investigation Agency (NIA), which inspected the temple in 2009 asked the shrine to be provided "very high level security" in view of the threats.
However, the recommendations of the NIA had not been implemented, the petitioner contended.
The PIL also said the Meenakshi temple had in 1997 been declared a heritage temple by a government order but no action was taken subsequently.
Source : timesofindia
This post first appeared on Daily Kiran, please read the originial post: here