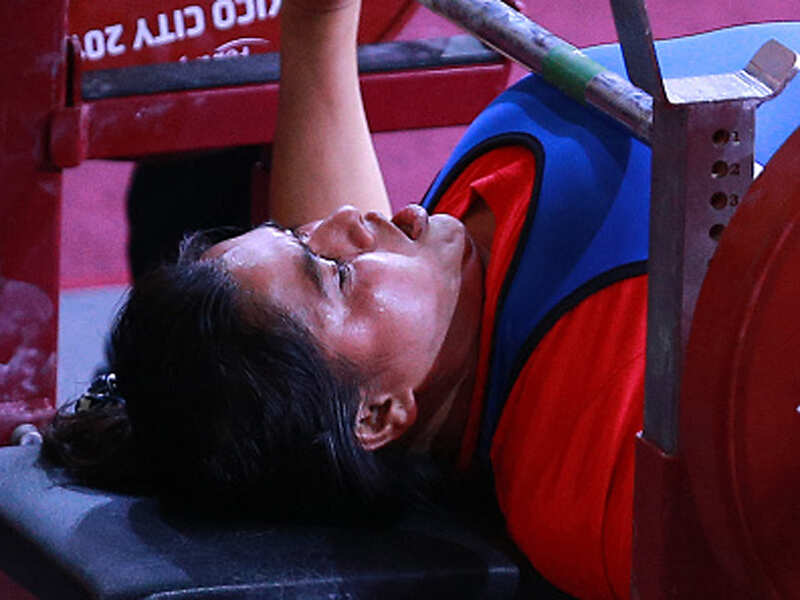 NEW DELHI: Caught in the crosshairs of the Paralympics Committee of India (PCI) and the Indian Olympic Association (IOA), para powerlifter Sakina Khatun, the only Indian para-athlete to clinch a medal in Commonwealth Games, has now knocked at the doors of Prime Minister Narendra Modi to get her name included in the country's contingent for the forthcoming Gold Coast Commonwealth Games in April.
Sakina, who even threatened to commit suicide in front of the IOA headquarters here, has warned of dragging the authorities to courts if rejected for the CWG.
"….with all my due credentials, I am striving to win yet another medal for our country. But I found my name missing from the CWG contingent's list despite having achieved the qualification criteria prescribed by the Commonwealth Games Federation (CGF). I am pained as my dreams of making my mother India proud are going to be shattered," Sakina wrote in her letter, a copy of which is with TOI.
ALSO READ: IOA writes letter to CGF after Sakina threatens to commit suicide

"I have requested our federation (PCI) several times to facilitate the matter and make my entry to the Games. However, till date, nothing has happened and I am afraid the entry to the CWG is closing shortly. I sincerely request for your intervention in this matter," she added.
Sakina, who had won the bronze in lightweight category at the Glasgow CWG, has written a similar letter to sports minister Rajyavardhan Singh Rathore. Sakina is presently No.2 in the CWG and third in the Asian rankings. She participated in the Para Powerlifting World Cup in Dubai from February-March 2017 and stood fourth in the 'Women Open' 45kg category, thereby fulfilling the CGF's qualification criteria which says "has completed in at least one (1) recognised IPC powerlifting competition between the compulsory period of September 1, 2015 and October 31, 2017".
TOI wrote to the Gold Coast Organising Committee (OC) to seek clarity on the issue. The OC informed that "the Athlete Allocation System defines the qualification pathway, which in the case of powerlifting required the Commonwealth Games Association (read the IOA) to nominate the athlete prior to the closure of the qualification period, with the results of all nominated Athletes to be considered by the CGF and IPC".
"The Gold Coast OC doesn't play a role in picking the athletes. As para powerlifting is a qualification discipline, the OC helps facilitate a process that is defined by the Athlete Allocation System as written and agreed by the CGF and the International Paralympic Committee (IPC)," the statement added.
However, both the PCI and IOA have chosen to pass the buck. "The OC notified the IOA of the para athletes selected. The IOA will be facilitating the acceptance of their entries. The decisions regarding qualification were made by the CGF and the IPC. We can't select an athlete on our own. When PCI wrote to us requesting to demand the OC for including Sakina's name, we immediately did that. Now, it's up to the OC to accept her entry," a senior IOA official said.
PCI, in its defence, stated, "Indian contingent's total size for the CWG will be 236. IOA has offered just five slots to the para athletes and, for the rest, it wants to accommodate the able-bodied athletes and its hand-picked people as team managers and Games officials. It's happening because the competitions for the able-bodied and para athletes will happen simultaneously and the contingent will include both categories of sportspersons. It (IOA) doesn't want to pitch for the inclusion of Sakina's name as that would disturb their calculation. If the IOA wants, Sakina can participate," a PCI official informed.
The last date for sending the entries to the OC is March 7, 2018 and IOA secretary general Rajeev Mehta has written a letter to the national sports federations (NSFs) to forward the name of athletes selected by the end of this month.
It would be interesting to see if Sakina's name finds mention in that list or not.
Source : timesofindia
This post first appeared on Daily Kiran, please read the originial post: here