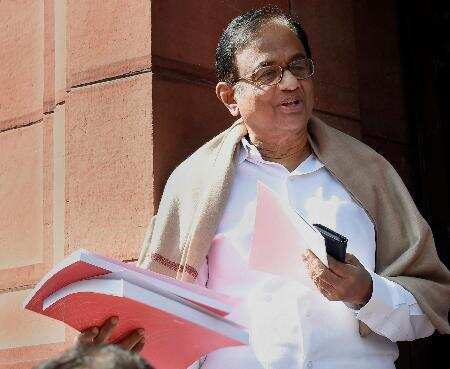 NEW DELHI: The CBI is conducting an internal inquiry into how a 2013 draft report prepared by it in connection with the Aircel-Maxis probe reached former Finance Minister P Chidambaram's residence, from where the Enforcement Directorate had seized it during a raid, CBI sources said.
Sources in the ED said the document was seized by the sleuths of the agency on January 13 from the Jor Bagh premises of the Chidambaram family.
The agency, on that day, had searched a number of premises in Delhi and Chennai, linked to Chidambaram's son Karti Chidambaram.
The ED, the sources said, subsequently sent an official note to the CBI informing it about the recovery and seizure of the document.
The CBI sources said the agency is now conducting an internal inquiry over how these documents were allegedly leaked.
It is understood that the document is a CBI draft report on the Aircel-Maxis deal case which was later submitted to the Supreme Court in a sealed cover by it in 2013 and sources indicate that some portions of the seized report match with what was submitted then.
When asked for his reaction on the issue, Chidambaram told PTI, "I don't comment on cases."
However, sources close to him said that the foremer finance minister will give a response if the probe agencies approach him.
The senior Congress leader, on January 13, had termed the ED raids against his son "a comedy of errors" and claimed that the officers were left "embarrassed" and "apologetic" as they could not find anything at his Jorbagh house.
"Since they (ED sleuths) had to justify the search, they took some background papers related to a statement made by the government in Parliament in 2012-13. In Chennai also they found nothing, seized nothing," the senior Chidambaram had said.
The ED case pertains to a Foreign Investment Promotion Board (FIPB) approval granted in 2006 by the then finance minister P Chidambaram.
The agency had said it is investigating the circumstances of the said FIPB approval granted by the then finance minister (P Chidambaram)" under the Prevention of Money Laundering Act (PMLA).
The ED also alleged that Karti has "disposed of" a property in Gurgaon, which he had allegedly rented out to a multinational company "to whom foreign direct investment (FDI) approval had been granted in 2013".
It charged that Karti had "also closed certain bank accounts and attempted to close other bank accounts in order to frustrate the process of attachment" under the PMLA.
The agency had said that the FIPB approval in the Aircel-Maxis FDI case was granted in March, 2006, by the then finance minister, even though he was competent to accord approval on project proposals only up to Rs 600 crore and beyond that it required the approval of the Cabinet Committee on Economic Affairs (CCEA).
"In the instant case, the approval for FDI of 800 million USD (over Rs 3,500 crore) was sought. Hence, CCEA was competent to grant approval.
"However, approval was not obtained from CCEA," it had alleged.
Karti is also being probed by the ED in an another money laundering case pertaining to the INX media deal.
Source : timesofindia
This post first appeared on Daily Kiran, please read the originial post: here