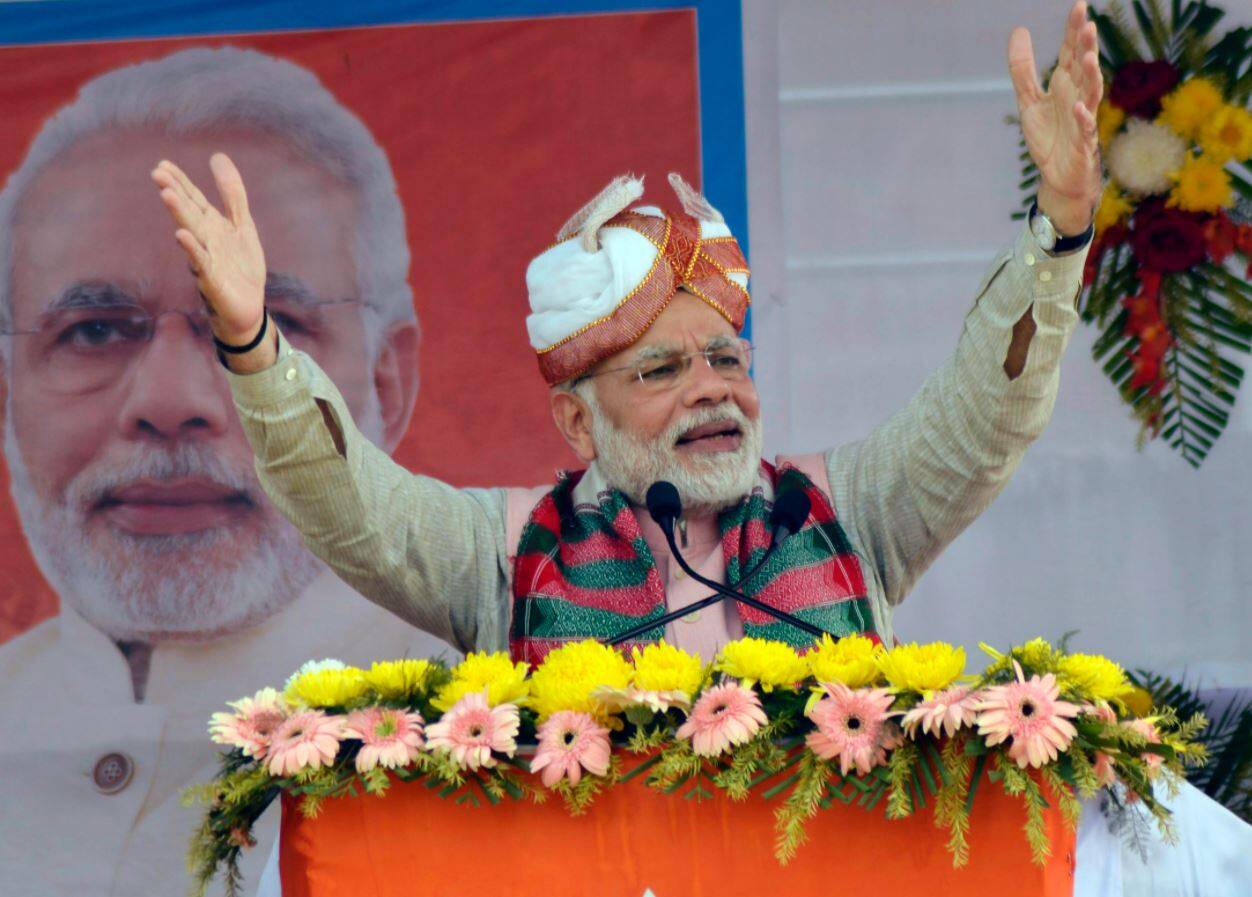 SONAMURA/KAILASHAHAR (Tripura) : Prime Minister Narendra Modi today accused the Left Front government in Tripura of subjecting people to "slavery", and asked the voters to "throw it away".
Addressing two rallies in the poll-bound state, Modi coined a new acronym 'HIRA' — H for highways, I for Internet way, R for roadways and A for airways —, hardselling the BJP as a tool for ushering in prosperity and development in the state which the Left has ruled for 25 years without a break.
Launching a scathing attack on Chief Minister Manik Sarkar and his party, Modi said the people in Tripura feel intimidated by the communists.
"For something as basic as a ration card, people here have to approach the party office. Even when somebody gets murdered, police does not register a case unless they get the approval from the CPI(M)," he told an election rally at Sonamura in Sipahijala district, 50 km south-west of capital Agartala.
The communists here force common people to depend on them for everything, he said, adding "this is the new face of slavery".
He claimed Tripura has hardly witnessed any development under the Left rule.
The prime minister said people wear 'manik' (gemstone) for changing their fate, but this Manik (Sarkar) failed to bring prosperity to people.
"Throw away manik (Sarkar government) and go for 'hira' for prosperity and development in the state in the upcoming election," he urged the gathering.
He also promised 7th Pay Commission benefits to government employees if the BJP was voted to power.
The BJP, which hardly had any presence in the northeastern state, has, in the recent past, positioned itself as the key rival of the CPI(M)-led Left Front in its bastion.
The tea grown in Tripura is very famous, he said, and added that three more 'T's have to be adopted in the state for prosperity and development.
"T for trade, T for tourism and T for training, especially for the youth, are the need of the hour," he said.
Referring to the Rose Valley chit fund scam, Modi said people were "looted" in the state and some of them even committed suicide, but the government did nothing to address their woes.
"If we come to power, we would give exemplary punishment to those responsible for the scam," he said.
Opposition parties have alleged that ministers in the Manik Sarkar government were involved in the scam.
The CBI had grilled Minister for Social Welfare and Education Bijita Nath and CPI(M) spokesperson Goutam Das in connection with the case.
As part of its 'Act East Policy', the government was committed to the development of the northeast, the prime minister said.
"If Rs 100 is used for any work in Tripura, Rs 80 comes from the Centre. The Marxist government does not spend money for the development of the state and does not furnish details of expenditure," he said.
Later, addressing a rally at Kailashahar in Unakoti district, Modi said his party would fulfil the dreams of the last king of the state Bir Bikram Kishore Manikya Bahadur.
"Democratic atmosphere in Tripura has been vitiated with the communists at the helm of affairs.
"The last king of the princely state of Tripura, Bir Bikram Kishore Manikya Bahadur had nurtured a dream of developing the state on all fronts. If BJP comes to power, his dream would come true," Modi said.
Tripura goes to poll to elect a 60-member Assembly on February 18 and results would be declared on March 3.
Source : timesofindia
This post first appeared on Daily Kiran, please read the originial post: here