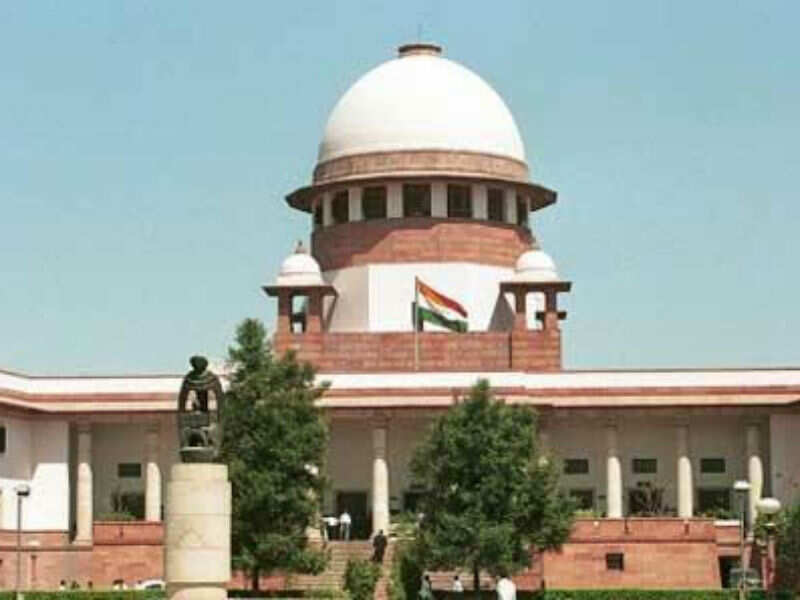 NEW DELHI: There is a need to strike a balance between individual's privacy rights and the state's responsibilities at a time when the nation faces threats of terrorism and money laundering and to keep a tab on welfare expenditure, the Supreme Court said on Sunday.
Its observation came after a senior lawyer, challenging the validity of the government's flagship Aadhaar programme and its enabling Act of 2016, said the Constitution does not allow a surveillance State as it is technically possible now to track every transaction, profile individuals or even "compromise constitutional functionaries".
A five-judge constitution bench headed by Chief Justice Dipak Misra, hearing a petitions challenging Aadhaar, said no system in the world was secure and the issue was not as to how data is collected, but how the information so collected are used or misused.
"We live in the times of terrorism and money laundering and welfare expenditure (of the state), and this has to be balanced (with individual rights)," the bench, also comprising Justices A K Sikri, A M Khanwilkar, D Y Chandrachud and Ashok Bhushan, said.
Senior lawyer Shyam Divan, representing petitioners like former Karnataka HC judge Justice K S Puttaswamy, several activists Aruna Roy, Shantha Sinha and veteran CPI(M) leader V S Achuthanandan, referred to the affidavits of former security personnel, Samir Keleker and J D'Souza, to highlight the fact that Aadhaar and its enabling law would lead to "real time surveillance" of citizens.
Divan said the Central Identities Data Repository (CIDR) stores and manages data of Aadhaar project and the government is empowered to collect records during the lifetime of an individual, leading to the profiling of the person.
"The Constitution does not permit a surveillance State," he said and further dealt with the mechanism as to how the information can be accessed by the State when a person indulges in any activity by using the Aadhaar number.
"It is technically possible to track every transaction. It is possible to track the location of every device in real time…The extent and scope of the surveillance over time will deepen," he said, Adding that Aadhaar Act enabled such type of pervasive actions.
"There are other ways as well. No security is perfect. But biometrics are a problem because you can't change them if lost or stolen or hacked," he said during the day-long arguments.
"Data collected over an individual's lifetime can become a tool of political blackmail. This can compromise even constitutional functionaries," Divan said.
The bench asked as to what extent the court can go into aspects of "technical evidence", as there was a distinction between the existence of a mechanism and its abuse.
The court further asked whether it can scrutinise the decision of the government, especially when it was established that no system in the world is "secure".
"Aren't we accepting Google Maps tracking us and other private corporations," the bench asked.
"When you are tracked by the State in real time, it tantamount to a police State. The Constitution does not allow this. Google is not the Indian State, and the issue is one of consent also", Divan replied, adding that though Google is powerful, but it is not so "powerful qua me as the State".
At the outset, he referred to provisions of the Aadhaar Act and submitted that they are unconstitutional on grounds including that it allowed Private Enrolment Agencies to collect details and such entities were not covered by law.
" UIDAI does not appoint the private enrolment agencies and it has no privity of contract with them", he said, adding "you do not have legal and constitutional framework…entire process of collection of data is not backed by the law".
The court then said its nine-judge-bench verdict on privacy had held that there has to be a law to deal with it.
Divan then referred to the grounds of his challenge to the Aadhaar scheme and the law. The scheme allowed State to keep surveillance over its citizens which is violative of the fundamental right to privacy, he said, adding that the pre-Act and post-Act scenario on this count remained unaltered.
By enabling private agencies, the citizens' right to "informational privacy" has been infringed, he said, adding it would lead to a situation where an individual cannot hold a bank account, mutual fund and mobile number and hence, would violate "autonomy and dignity" of an individual.
In a digital society, every individual has the right to protect his or her personal information, he said, adding that it helped the State to profile its citizens.
The scheme violates the principle of "less governance" and rather turn the State into a "totalitarian" one, he said.
If government disables the Aadhaar account of an individual then it would lead to his civil death as he will not be able to have anything like mobile or open bank accounts, he said, adding if the biometric details of a citizen does not match with the already collected ones then a person would die in the eyes of the State.
Divan then disputed the passage of Aadhaar Bill in the House, saying it was illegally termed as "Money Bill" and said it would be further argued by senior lawyers like Kapil Sibal at a later stage.
The advancing of arguments remained inconclusive and would continue on January 30.
The apex court had on December 15 last year extended till March 31 the deadline for mandatory linking of Aadhaar with various services and welfare schemes of all ministries and departments of the Centre, states and union territories. Source : timesofindia
This post first appeared on Daily Kiran, please read the originial post: here