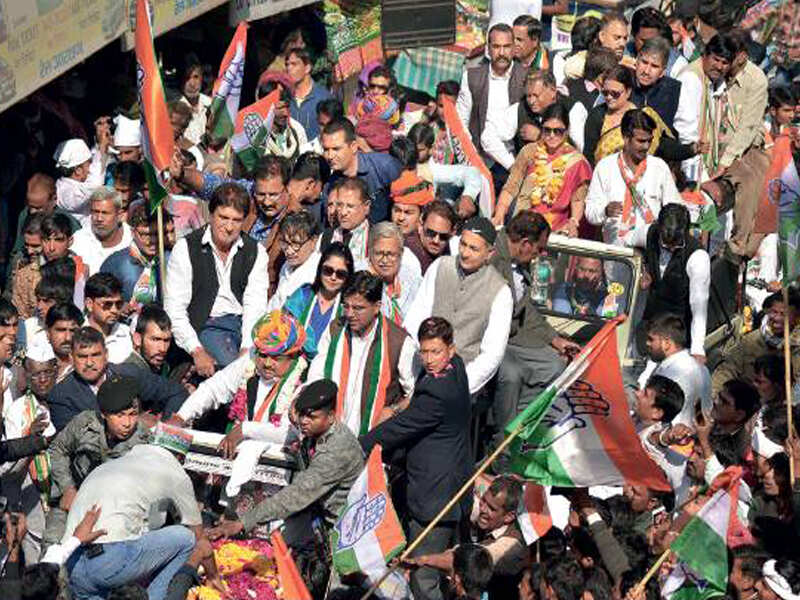 AJMER: On the last day of campaigning on Saturday, Congress held stormy roadshows and addressed mass gatherings in Ajmer demanding vote for Congress candidate Raghu Sharma.
On the last day, Congress played well and brought star campaigner UP Congress president Raj Babbar and Congress secretary and film star Nagma who drew large number of fans and supporters that made the roadshow a success. Both star campaigners also offered prayers in the dargah along with PCC chief Sachin Pilot, giving a message to Muslim voters.
First time in last twenty years, Congress was seen united with enthusiastic workers. The roadshow started from Pushkar Road, situated in Ajmer north state assembly constituency and went to different routes and entered Delhi Gate. Here, market associations and different organizations welcomed Pilot and supporters cheered.
Supporters were shouting for Pilot and the roadshow was welcomed at many points where supporters and workers showered flowers and garlands on star campaigners. The rally went to Nullah Bazaar and then to Madar Gate, station road and ended at Shrinagar Road. Shopkeepers shook hands with Pilot and assured their support. Workers marched on foot for about ten kilometres along with the rally.
There were banners and flags of Congress everywhere. Shouts of 'Pilot you fight we are with you' reverberated everywhere.
There was frenzy among fans to meet Raj Babbar and Nagma. At the end of the rally, Pilot addressed supporters and said that time has come when people are ready to bring a change and bypolls will make clear that they do not want a corrupt government.
Later, Pilot along with the star campaigners went to Naya Bazaar and addressed a public gathering. He said that BJP morally and emotionally knows that it has lost the elections because people have compared the work of the two parties.
"I went to Pushkar to offer prayers in the Brahma Temple and during these visits I found that people of Ajmer are terrorised and their faces are full of anger and frustration. That shows how they dislike BJP government," Raj Babbar said.
He further said that people trusted BJP in Uttar Pradesh and now number of rapes and loots has increased there and people are realizing they took a wrong decision.
Source : timesofindia
This post first appeared on Daily Kiran, please read the originial post: here