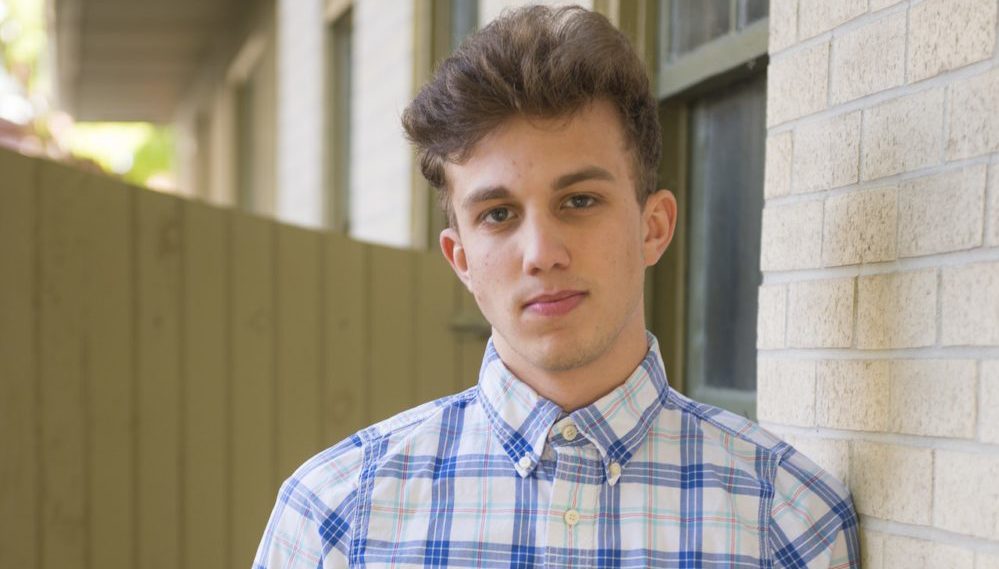 This goes out to all my Sexy Baby Blinkos who helped me reach 893,000 subscribers.
It's hard to know where to start outside of saying two of the most simple words in the English language: I'm sorry. We've all had to say it at some point in our lives, but this is truly a first for me. I grew up as a perfect child with parents who loved me, bought me whatever I wanted, and knew that I was infallible. If there was ever a time that I had to apologize, it was insincere. But this is different.
With the help of my fans, the Sexy Baby Blinkos, I've been able to produce my daily 17-minute TV show on YouTube. I've traveled the world over the last year and vlogged from some truly mind-blowing places. In Dubai, I got to shake hands with a prime minister and build my own sand island shaped like a hashtag spurting out of my dong. In North Korea, I was privileged to push the button that triggered that week's "fireworks test." And in jolly old England, I teabagged one of the Queen's guards outside Buckingham Palace before being knighted for surpassing 780,000 subscribers. That's all thanks to my Sexy Baby Blinkos, who were chill enough to comp me hotel suites and meals and buy my merch! This past year was a balls-to-the-wall party, from dancing in bikinis on the beaches of Normandy to throwing $100 bills into an active volcano. With all that behind me, I am heartbroken to announce the David Blinky World Tour will be coming to an abrupt end.
Please know that when I posted my African safari video I did it with the best intentions. I had hoped to raise awareness for endangered species, and it was only after I posted the video that I learned I had shot, killed, and used the horn of one of the last remaining black rhinoceroses as a phallus. I was just trying to do the Blinko thing, living in the moment regardless of views. This time it cost me everything. Please know that I have demonetized the video and will no longer be profiting from the slaughter of one of our most majestic and bangable creatures.
I would also like to offer a sincere apology to the Kline family. When I hunted down that lion to prove I was the ultimate alpha male and found your son's digested body inside, it was not the appropriate time to exclaim "you've got be kidding me" and collapse into a fit of laughter. I thought it was one of Pete's classic pranks, but clearly, he was not kidding. I would also like to apologize for not calling you guys when he went missing two days earlier. Pete was one of my best friends, and his body of work can still be seen on his channel Pete Pranks Chicks! I know he would prefer to be remembered for that time he swapped tampons with miniature confetti cannons than being eaten by a lion.
Lastly, I am sorry to all the people of Namibia. My attempt to "blend in with the locals" was supposed to funny. But following a barrage of messages from viewers across the globe, I now understand that blackface is a culturally insensitive form of humor that went out of style after I did it at my brother's frat party in 2013.
I do this shit every day. Sometimes I hit upload and send the video to my massive fanbase without thinking. I made a very human mistake and I hope those who are just viewing my channel for the first time know that my African safari was not truly reflective of ya boi, David Blinky.
Huge thanks to all the Sexy Baby Blinkos who sent me messages of support during this hard time. Please know that I will always be there for you, living in the moment regardless of views. I plan to live in the moment a lot over the next month as I will be taking a break from vlogging to evaluate my life choices and seek help for an unrelated opioid addiction.
Also, after receiving so many messages of support from the Sexy Baby Blinkos, I realized just how many of them are actual middle schoolers. In retrospect, this makes the title "Sexy Baby Blinkos" very inappropriate and I promise that when I return to YouTube I will provide a brand-new name for my fans. #SexyBabiesNoMore #Sorry #Apologized
Don't forget to like and subscribe, and I'll see you all next month for my much-anticipated return to YouTube.
The post My Dope-Ass Apology appeared first on Robot Butt.