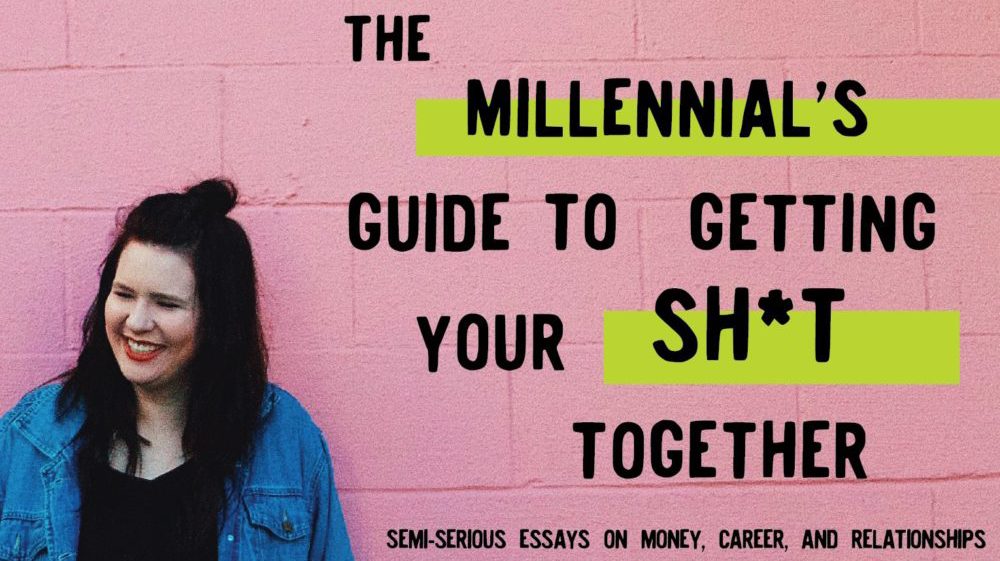 Hello Fellow Humans and Those of Artificial Intelligence,
My name is Catie Hogan and I'm a financial planner by day and comedy writer by night. A weird combination, I know. I'm passionate about two things: funny and money, but for a long time, I really didn't have much of either in my life.
After I got my own shit together, I was determined to find a way to help people who were like me: drowning in student loans, stuck in jobs they hate, and consistently dating horrible people. So this year I released my debut book: The Millennial's Guide to Getting Your Sh*t Together. It's humorous, but informative essays on money, careers, and relationships. I think it contains a lot of valuable advice you can apply in your own life.
For example, if you want to learn how to talk about money with your significant other, I've got an essay for that. Here's an excerpt on creating a financial date night from the chapter How to Actually Become Financially Literate:
"Step 3: Talk to your significant other about this past month's income and expenses. DO NOT blame one another for going over budget or impulse buys. Be calm and collected when talking about monthly expenditures. Remember, resentment will not get you laid. Try this instead: discuss each of your financial strengths and what you think YOU need to improve upon. Accountability is so hot."
Wow, tips to get your finances in order and improve your sex life? YOU'RE WELCOME.
If you need some suggestions on how to successfully navigate a job interview, I've got an essay for that, too! Here's an excerpt from Nailing the Interview:
"Here are a few examples of bad questions to ask during an interview:
What's your policy on inter-office hookups?
What time does everyone usually head to happy hour?
How often do you drug test?
Will my office be next to that dime piece? *points to attractive person walking by*
Are you single/pregnant/sick? (Don't be an idiot. Keep it professional.)"
Don't worry, I also include questions you should be asking, but they just aren't as entertaining as this horrendous list of questions I collected that were actually asked in real-life interviews.
The final third of the book is dedicated to developing healthy relationships. If you aren't sure which type of relationship for which you're best suited, don't worry, I cover that, too! Here's an excerpt from Types of Relationships Available to You:
"Polygamous relationships tend to be more closely linked to certain religious affiliations and generally refer to a man taking multiple wives. When I think about polygamy, I immediately think of that weird show Sister Wives. I've never actually met anyone in a polygamous marriage, but it's apparent that polygamy is more work than I care to take on…but then again, I think I could handle being sister wives with my best friends. Like how cool would it be to drink wine and talk shit about your spouse with your best friend every night? If this is how polygamy works, I might be interested. I just don't want to live in a rural part of Utah. Also, I really don't think this is how polygamy works."
If you're searching for insightful relationship advice, you'll probably want to read something else. Most of my advice comes from the lessons I've learned in dating the world's most unstable people. In all seriousness, I do believe in advocating for financial literacy and helping Millennials become the best they can be. While my book is often quirky and lighthearted, I do my best to put my real life coaching and financial planning skills to use for your benefit. I'd be honored if you read it and then showered me with the praise and attention I so deserve.
The Millennial's Guide to Getting Your Sh*t Together is available on Amazon in both paperback and ebook form.
The post Hey Millennials, Want to Get Your Shit Together? Read My Book, 'The Millennial's Guide to Getting Your Sh*t Together' appeared first on Robot Butt.