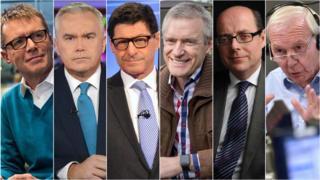 Image caption
Six of the BBC's leading male Presenters have agreed to make pay slashes after discoveries over equal wages.
The BBC said Huw Edwards, Nicky Campbell, John Humphrys, Jon Sopel, Nick Robinson and Jeremy Vine had all admitted reduced wages.
The move follows Carrie Gracie's resignation as BBC China editor in protest at unjust remuneration between males and international journalists.
Vine said: "It needs to be sorted out and I reinforce my female colleagues."
The Radio 2 and Eggheads presenter was the best-paid of the group, paying between PS700, 000 -PS7 49,999 in 2016/17. The brand-new stipends haven't been revealed.