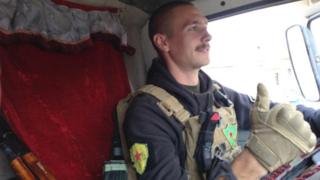 Image copyright
Facebook
Image caption
A 24 -year-old British mortal has been killed in Syria, the BBC understands.
Oliver Hall, from the Portsmouth area, assembled Kurdish armed groups to fight against so-called Islamic State.
Another British fighter described him as a "lovely lad" who was "excited to be there".
Kurdish beginnings say Mr Hall was killed on 25 November while clearing quarries in Raqqa. He is the seventh British humankind to have been killed in Syria with the Kurdish-led group the YPG.
He had no prior military training before hurtling to the conflict in August.